The year 2015 was a year of new records on the art market as it introduced us to the most expensive painting ever sold. In case you're wondering which one it is – well, you might have to wait a bit, since two outrageously expensive paintings were sold for the approximately same amount of money, described as close to $300 million. For those of us who sometimes forget that art is easily transformed into a commodity, all of this may come as confusing and disturbing, likely to give rise to a myriad of questions. Let's see what we know of these striking purchases and about the two platinum artworks themselves.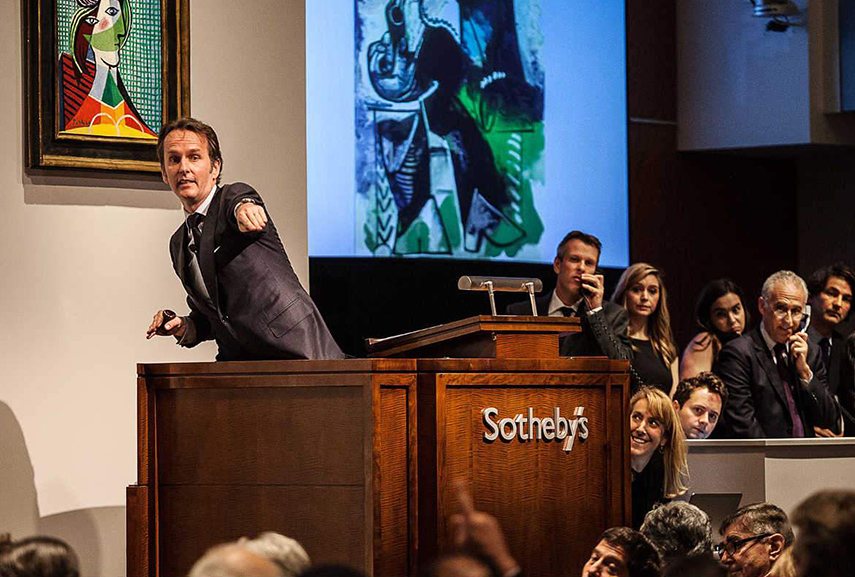 A Million Reasons - The Most Expensive Painting (s)
The group of most expensive paintings usually includes more or less the same artworks that only switch places, moving up and down the list. It contains artworks by the world's most renowned artists such as Andy Warhol, Pablo Picasso and Vincent van Gogh. Noticeably, the majority of artists is not alive anymore, meaning that they won't be able to create more art and that is what makes their works sought after as well. These pieces are circulated among the wealthy collectors and business people, while by all logic they should probably solely belong to museums, which is one of the main reasons why they are valued at such high prices. In February 2015, a new record was set in a private sale 0f Paul Gauguin's When Will You Marry (Nafea faa ipoipo), when it was sold to Al-Mayassa bint Hamad bin Khalifa Al-Thani, the sister of Qatar's current prince. Whether it is still on the first place or not is not certain, as another painting was sold in September 2015, and the exact price of both paintings is kept secret. The other painting is by the American artist of Dutch origin, Willem de Kooning, named Interchange, and it was sold in a famous purchase made by Kenneth Griffin who bought 2 works from David Geffen for $500 million. The other painting, apparently sold for $200 million, was Pollock's Number 17A.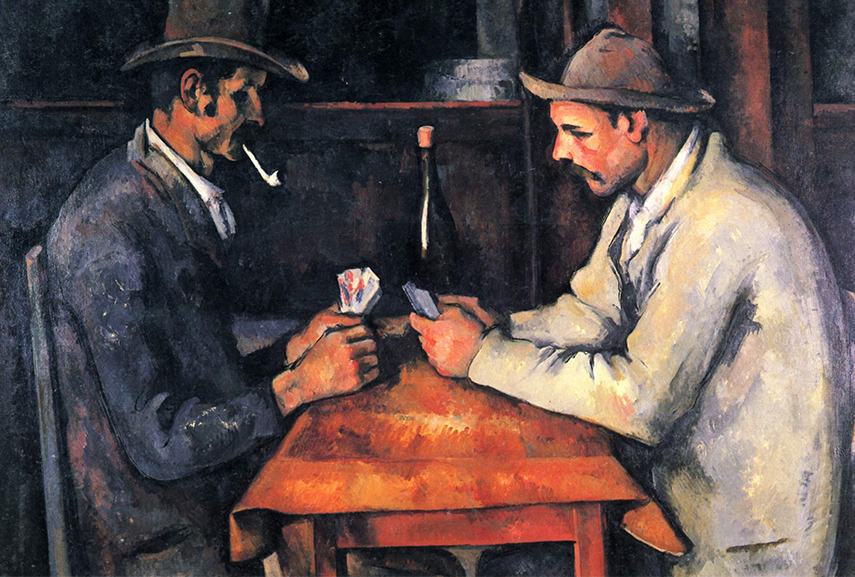 Paul Gauguin - When Will You Marry?
So what do we know about these two artworks? Gauguin's oil painting measures 101 by 77 centimeters. It was created in 1892, a year after he first went to Tahiti to learn about their culture and to venture into true wilderness. However, what he found was not what he had expected, as the island had already been colonized and their civilization was subject to Western influence even back then. Nevertheless, he decided to depict their native people, mostly women, in a style that was neither realistic nor idealistic, but was rather a typical example of Post-Impressionism. Gauguin illustrated the semi-colonized indigenous society, but his depiction was still typically European, as it assimilated non-European environments with the exotic and the unknown. It was his attempt at creating primitive art. Two women in the painting exemplify the duality - the younger woman is wearing a white flower to signalize that she is looking to get married, which symbolizes the Tahiti tradition, and the other one is dressed in a pink dress that clearly belongs to the more sophisticated Western fashion. Interestingly, Gauguin's painting was only moderately well received while he was alive. This particular artwork was valued at 1500 Francs by the artist, but it was not sold until 1917, when the Geneva-based Maison Moos gallery bought it.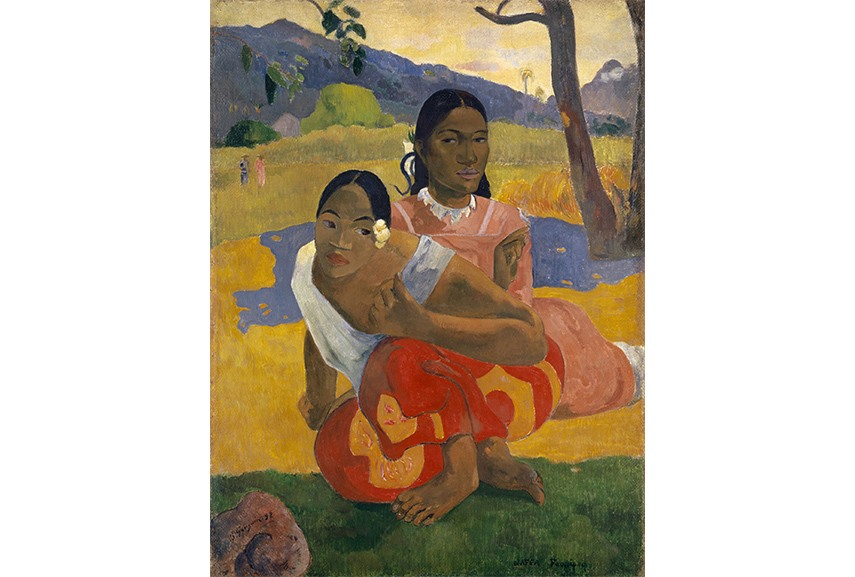 Willem de Kooning - Interchange
The idea to tackle the primitive was initiated by Gauguin, but it could be partly discerned in de Kooning's work, which makes an interesting basis for comparison. Their styles have apparent differences, being that they worked in different periods in art, but they were both seeking for a way to create pure, primitive art. De Kooning played an important role in Post War art and though he never officially proclaimed himself a proponent of Abstract Expressionism, he is widely recognized as one. However, unlike Pollock whose art is considered to be archetypal in this regard, Willem de Kooning occasionally used figurative language to create his works. Woman III, de Kooning's painting from 1953, is also one of the costliest paintings ever, and it illustrates his endeavor to distribute the internally primitive through the expressive depiction of a woman. On the other hand, Interchange does not offer clear figurative visuals. It is an abstract painting that measures 200.7 by 175.3 centimetres, and it was created in 1955. It was first sold for $4000 in the same twelve months. However, 3 decades later, it made its first record - it was sold for $20.68 million, as opposed to the estimated $4-6 million, and it was then known as the most expensive painting by a living artist. This masterpiece is considered a preeminent work that basically explains Abstract Expressionism as rendered by de Kooning.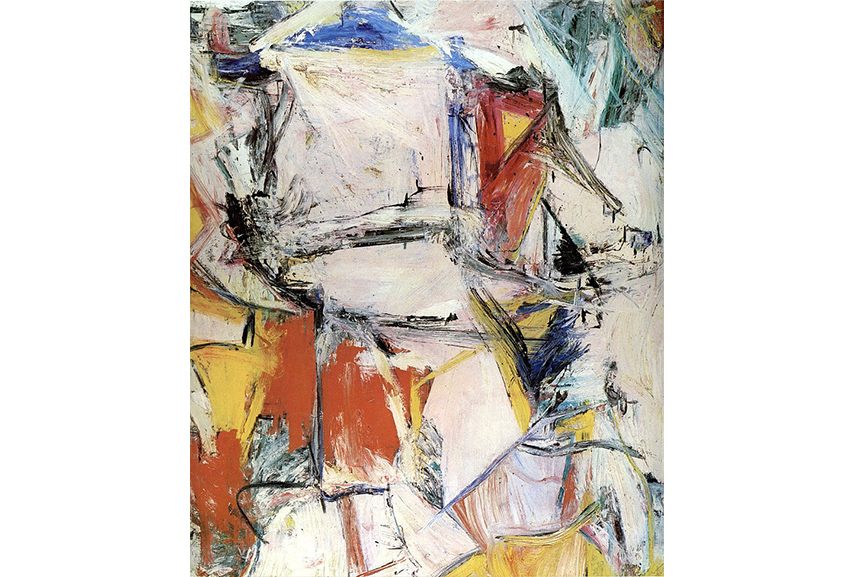 Overpriced or Priceless?
So there you have it. Two paintings are worth 600 million dollars together, and paradoxically, each of them is supposed to represent an individual pursuit of creative freedom and to confront the meaning of primitive art, unrestrained feelings and expression. Neither Gauguin nor de Kooning will be able to enjoy the money that their artworks were sold for, but the rest of the world might be able to enjoy their artworks, when they are on loan at museums. But really, how can you know how much a classic piece of art is worth? Saying that they are too expensive is natural when comparing them to other types of commodities, such as real estate, gold, etc. But are we sure that art can be measured in dollars? Maybe there's no such thing as too much, when it comes to it.
Featured image: Paul Gauguin's When Will You Marry. All images used for illustrative purposes only.