We have another one in The Widewalls Collection for you. This time it's the world famous LV Child by British street artist Beejoir. This one also hangs in our office and reminds us of the important things in life day-in-day-out. Arguably the LV Child was Beejoir's breakthrough in the international contemporary urban art scene. Because, we're Widewalls we knew this would happen and bought the damn thing. However, that not all there is to it: We also loved the imagery. Signature for Beejoir he fuses social criticism and artistic aesthetics in every single artwork. Yes the signature LV logo is aesthetically appealing but the political statement is what makes the LV Child special to us. Beejoir derived the inspiration for the LV Child from mutilated beggars outside a Louis Vuitton shop. People were leaving the store with thousands of dollars worth of fashion in their shopping bags but ignored the handicapped beggars, sitting on the street and asking for a dollar. This perverse paradox of our society is the idea behind LV Child.
Beejoir - LV Child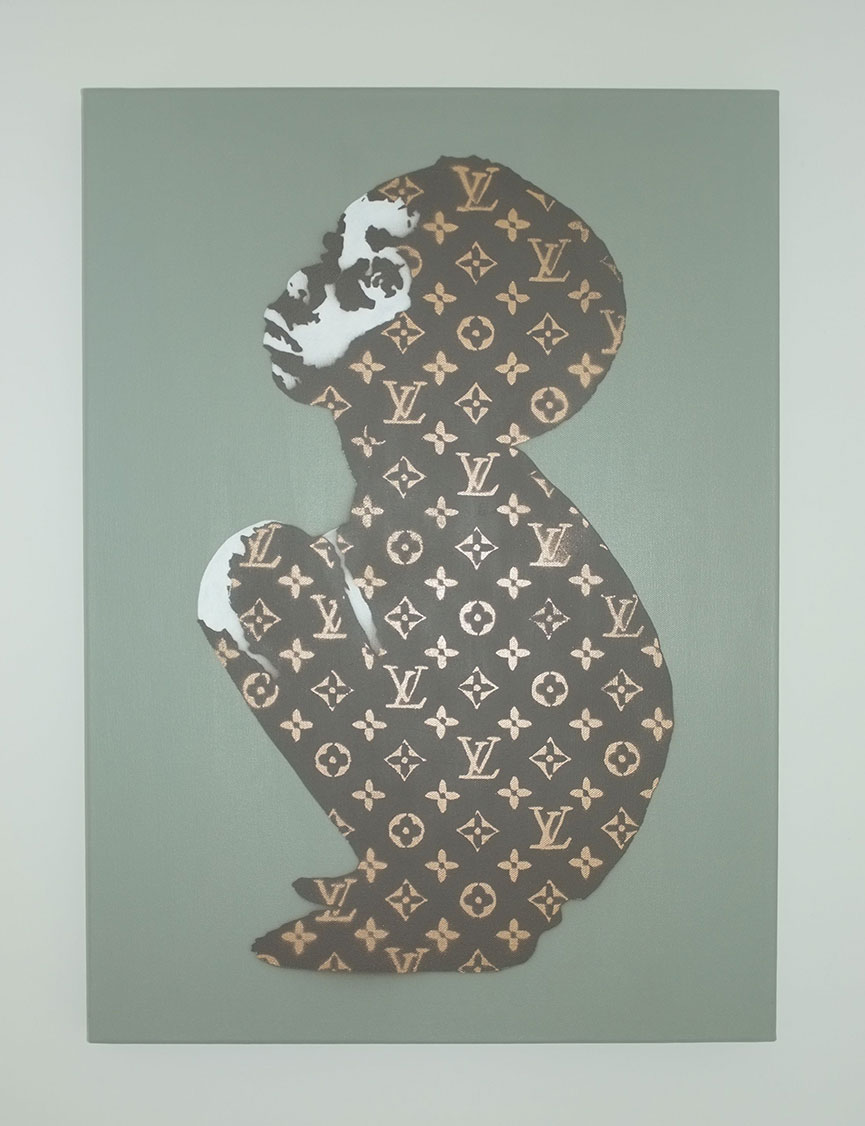 Beejoir – Background
The artist Beejoir is best known for his dry-humored and politically focused street art. He works in a broad variety of media experimenting with painting, printmaking, sculpture, photography and stencil. Beejoir was born in the UK but now spends much of his time living and practicing in Bangkok, Thailand. He exhibits in both the UK and abroad and has an international following. Beejoir's trademark slurs and rants have appeared on walls all over the world, and his unique style of formulating two very different images together has created some beautiful and powerful images over the past few years. Among his best-known images are his LV Child, Turin Scam and his dripping spot paintings. His trademark slurs and political rants have appeared on walls from Bangkok to Shoreditch. Painting, printmaking, sculpture, photography and stencils are his mediums. Contrasting visual elements and saturated colors make his work personal and accessible eye catching. One step beyond and the familiar, comfortable frame disappears leaving yourself mumbling and scratching your head, immersed in considerations regarding the ultra-violent nature of the shiny happy people, the unsustainable way of living we are buried in and a huge feeling of guilt.