More you ask? Yes there's more. This week's Widewalls Collection features a series of seven by the one and only Futura. These artworks are signed by Futura and held in monochromatic black and white. Each painting is 35cm x 27.5cm and depicts a different Japanese-comic-inspired Futura figurine. Originally these works were not intended to be a series of seven, each painting was to be sold individually. However, (there's always an 'however') together they look like fearsome Futura 'Power Rangers'; we like asymmetry; they just strike you so much more in the complete constellation; and we wanna have as much from Futura as we possibly can. Probably most of you know why the last reason is the most important. We cannot emphasize enough what a fucking legend Futura is. Like Basquiat and Haring, Futura has transcended from original raw graffiti tagging to recognized contemporary art. Not only that but he has created an entirely new segment in this art form. You know… the stuff we write about here everyday: Urban Art. That' right, that was Futura. If I got you hooked now, read the background on him further down, it's fascinating.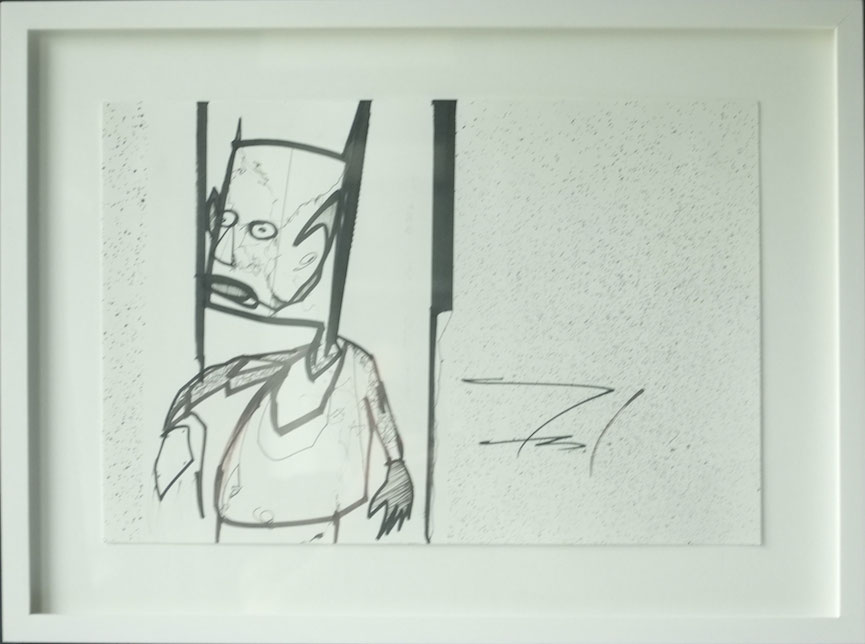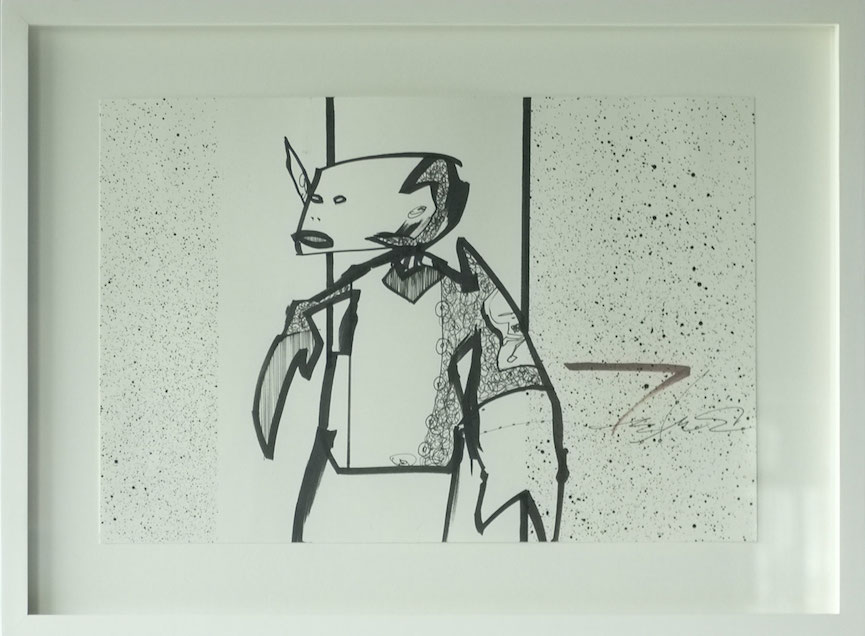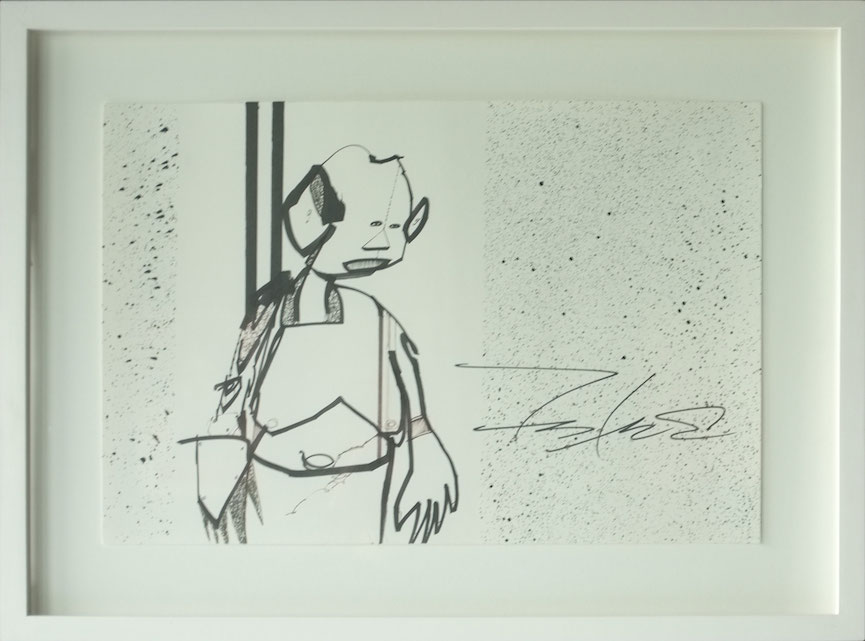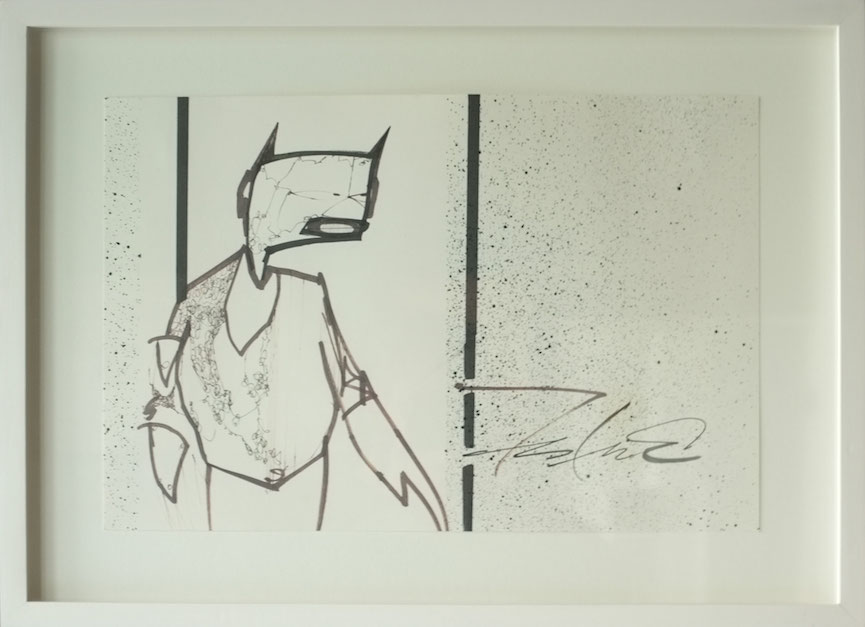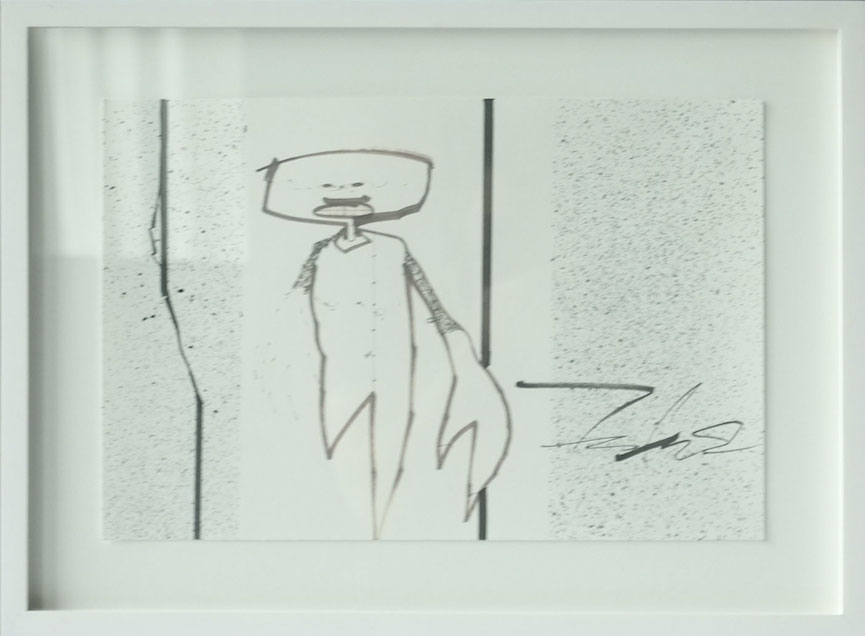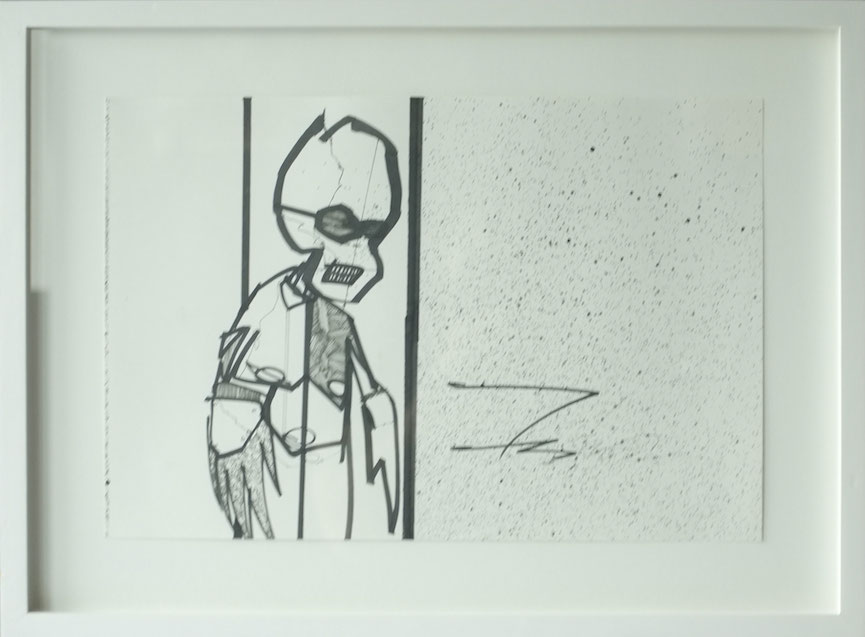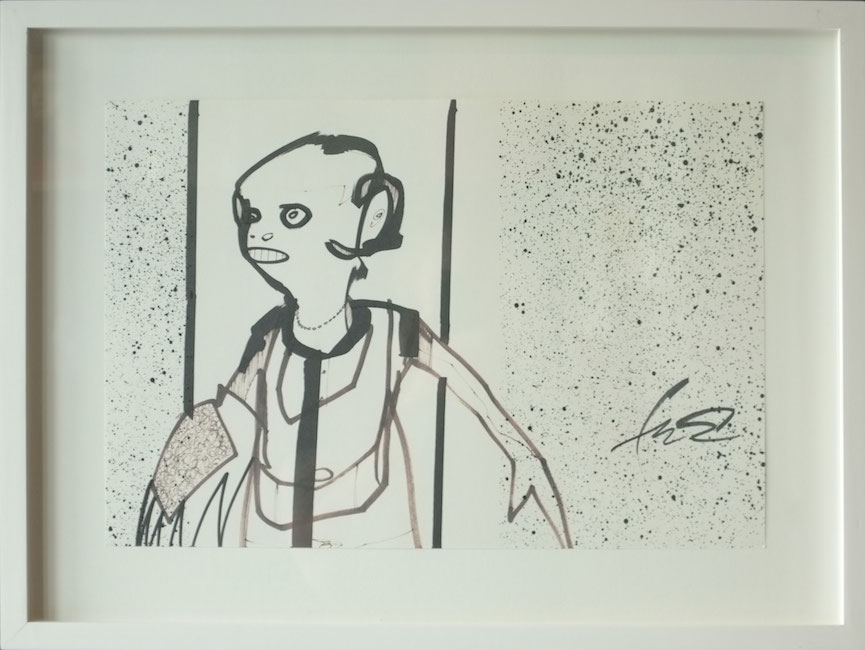 Futura – Background
There is no one else quite like Futura. He helped define the street art movement, but he is not a stereotype. He's an established and internationally renowned artist, photographer, sculptor and graphic designer, but his first medium was the urban fabric of downtown New York City. He defined the graffiti movement of the early '70s, painting an entire subway car without lettering, his work instead defined by an abstract, expressive aesthetic. There is no one else quite like Futura, and according to the man himself, Futura isn't even real.
Futura born in New York 1955 is the pseudonym of Lenny McGurr, a graffiti legend that is best known for his Abstract approach to street art. The New York-based artist became a graffiti writer at 15. After reading Alvin Toffler's seminal work Future Shock, Lenny settled on the superhero pseudonym Futura 2000 (dropping the 2000 after the new millennium passed). He began painting on the subway system as a teenager in the early 1970s. Futura helped to define the New York's street art scene, went on to tour with the Clash, then found himself exhibiting alongside prominent New York artists Jean-Michel Basquiat and Keith Haring at Fun Gallery.
In 1981 Futura toured with band 'The Clash', during this time he began creating graffiti works 'legally' as a live on-stage painter for the group. He painted the backdrops for The Clash's European tour and designed the sleeve for their This Is Radio Clash single, and in 1982, handwrote the sleeve notes and lyrics sheet for their Combat Rock album. He continued to tour with the band and spray paint backdrops during the performances.
During the 1980s, graffiti art predominantly focused on lettering, Futura's work was less literal. The abstract style of street art pioneered by Futura has been highly influential and has become increasingly popular as a result Futura has also worked in conjunction with British DJ James Lavelle in order to create imagery that has largely defined the DJs increasingly successful 'UNKLE' project.
Futura also works and designs for his Japan based clothing label 'Futura Laboratories'. He has exhibited at venues the world over including ICA (London, UK), Solaria (Fukaoka, JP), TBM Experiment (Rome, IT), and Gallery du Jour (Paris, FR), among various others.
More recently, Futura has transitioned into working as a graphic and commercial artist. He has worked with companies such as Nike, Recon, and Medicom Toy, and designs clothing for his label Futura Laboratories. His work has been exhibited at MoMA PS1 in New York, the Grotinger Museum in the Netherlands, and the Gallery Du Jour in Paris and a variety of other museums and galleries around the world.