A blind grandfather who encouraged his work, the impact of the early 1980s punk rock scene and skateboard culture, as well as the energetic imagery of the Nordic mythology… All elements of an inspirational equation called Dennis McNett. The artist was born in 1972 and since 2001 he has been working and living in New York. He resides in the space between high art, design and street art, creating sophisticated prints, hand-carved wood pieces, graphics and installations. McNett's commercial work does not lack mesmerizing aesthetics, as he has proven through collaborations with Anti-hero skateboards and Vans. His work has been featured in The New York Times, Trasher and Juxtapoz magazine, to name a few.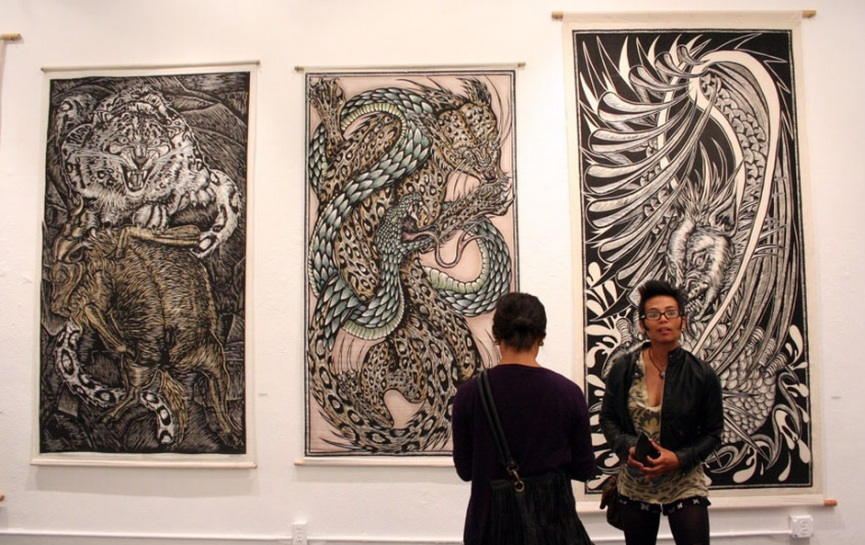 The Resurrection of Fenris
Who is Fenris? It is a character of Nordic mythology, but for Dennis McNett, Fenris represents something more… According to the legend, the great wolf was one of the children of half-giant half-god Loki. Afraid of him, the gods banished his sister Hel to the underworld and Fenris was tricked into being bound. During a great battle between gods and giants, Fenris hunted down Odin and devoured him. In the aftermath of the battle, Fenris was killed by the son of Odin. This is the point of the story where McNett decided to intervene. Contrary to the legendary narrative, McNett wrote that Hel, who had a power of resurrection, had brought Fenris back to life and had given him bat wings so that he could fly the earth and seek revenge on the gods. Thus, Wolfbat was born…
The Birth of Wolfbat
For McNett, the mythological being Fenris represented beauty and freedom, and the artist's inner child could never understand why was the great wolf persecuted by the gods. Soon, the Nordic legendry, somewhat transformed by the artist, began to take form of contemporary connotations. Gods were actually corporations, banks, "the man", trying to impose their world view to the giants, the people, who are beautiful and strong in their own way, as the artist would say. And just like Fenris, we are bound, by the 9 to 5 regime, finance, rules and regulations, surveillance… Wolfbat, however, represents the power of symbolic resistance. It is a depiction of taking back one's freedom, a story of spirit that wants to wake people up. A 16ft. Fenris, created by McNett was resurrected and paraded in 2006 at the Deitch Art Parade in New York, thus marking the birth of Wolfbat. On August 17th 2014 works of Dennis McNett will go live at 6PM. The Wolfbat collection of prints and small works can be seen at the FIFTY24SF GALLERY in San Francisco, and the full collection is available at Upper Playground Store.