For all of you who are currently in Los Angeles and wondering what to do and where to go, gallery Blum & Poe invites you to the opening of their upcoming shows featuring even two fantastic young and talented artists (here you can read about just opened exhibition at this LA gallery)! Theodora Allen, resident of Los Angeles and Daniel Lefcourt, born and raised in New York have, besides the birth place, a lot in common – both are beautifully gifted and have backgrounds in art. Finding alternative approaches and methods for creating their art, both Allen and Lefcourt have gained respect among the art community for their individuality and uniqueness. And while Allen's paintings explore tropes of the natural world, works of Lefcourt are result of a set of spectral images with an intense physical presence…
Symbolic Imagery of Theodora Allen
Using a wide range of symbolic imagery, the works of 30-year-old artist Theodora Allen are focused on investigating the natural world and the rudimentary tools we use to navigate it—both emotionally and physically. The paintings resonate with the spiritual-leaning aesthetics of such edging countercultural movements and figures like the visionary poet William Blake, designer William Morris, the Pre-Raphaelite Brotherhood, early abstractionist and mystic Hilma af Klint, and the zeitgeist of 1960's California hippie idealism. However, these allusions to past philosophies and ideologies are rather discouraging. These images depict fluttering moths, wild flames, guitars without strings, an occasional counting hourglass, and the common weed or dandelion. In Allen's new paintings that will be shown in Blum & Poe next month, the LA based artist depicts a spectrum of enigmatic and mysterious still lives. Here, the space is demarcated through interlocking planes of symmetry and framed within a stylized architectural niche…
Unique Technique of Daniel Lefcourt
For the New York born and raised artist Daniel Lefcourt, the upcoming show at Blum & Poe will be his first solo at the gallery after numerous group and solo exhibitions mostly in USA, as well as the exhibition at Malmö Konsthall, in Malmö, Sweden. Lefourt's newest work includes large-scale paintings, relief panels, as well as a selection of works on paper. All of the works in the show are derived from small cultivated accidents created in the studio – a puddle of water and glue spilled on a debris-covered tarp or a spot of paint dropped arbitrarily on a board. With no more than a few inches in size, the scenes are digitally photographed dozens of times from a number of angles to generate a three-dimensional computer model, from which a low-relief foam carving is manufactured. Paint is cascaded into the low-relief mold, allowed to dry, peeled off, and adhered to a large canvas, all of this creating a stunning and beautiful visual experience.
Both solo shows start March 7th at Blum & Poe, located at 2727 South La Cienega Boulevard, Los Angeles and will stay on view until April, 18th 2015.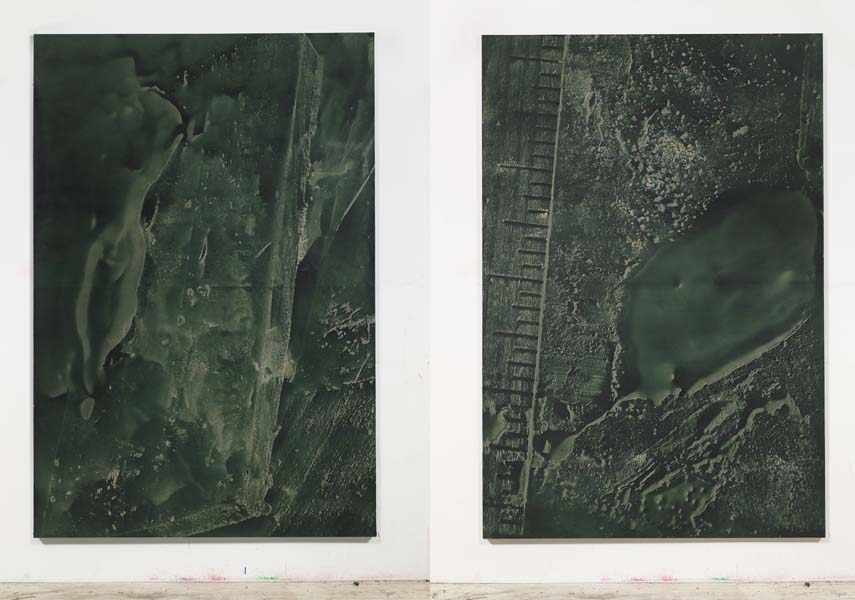 All images courtesy of artists and Blum & Poe LA gallery.
For more exciting exhibition announcements, sign up for My Widewalls today!