Why would this constitute an important duality? If the market value of pieces created by street artists reaches high prices, doesn't that mean that the social commentary of artwork can find its way to a broader audience? After all, Bambi is an artist who draws inspiration from the popular culture. This is the realm where Bambi wants her voice to be heard. Bambi has built her reputation on celebrity homage as well as the socially and culturally significant pieces. After all, the rebellious nature of street art reflected in the creative process which involves lawbreaking, as well as the symbolic resistance directed to the notions of mainstream is very much present in the work of Bambi. In this regard, perhaps Bambi's practice isn't that much different than that of Banksy. Is this the inevitable path for a successful street artist – from rebellion to the pop culture adoration?
Pieces of Rebellion
Bambi's piece from 2010, titled Hero to Zero, depicting an aggressive young man with a chained dog resonates a strong sentiment which refers to an ex-British soldier who had become mentally unstable after the return from war-torn Afghanistan. The piece called Rude Pope brings to light an equally intriguing and, in a way distressful, contemporary social commentary. Also, it could be argued that some of her artwork which pays tribute to different celebrities actually constitutes a deeper interaction which she aspires to achieve with popular culture. It is certain, however, that the I Wish piece, which depicts a little girl and a list of wishes, resonates a greatly personal message wrapped in straightforward symbolism.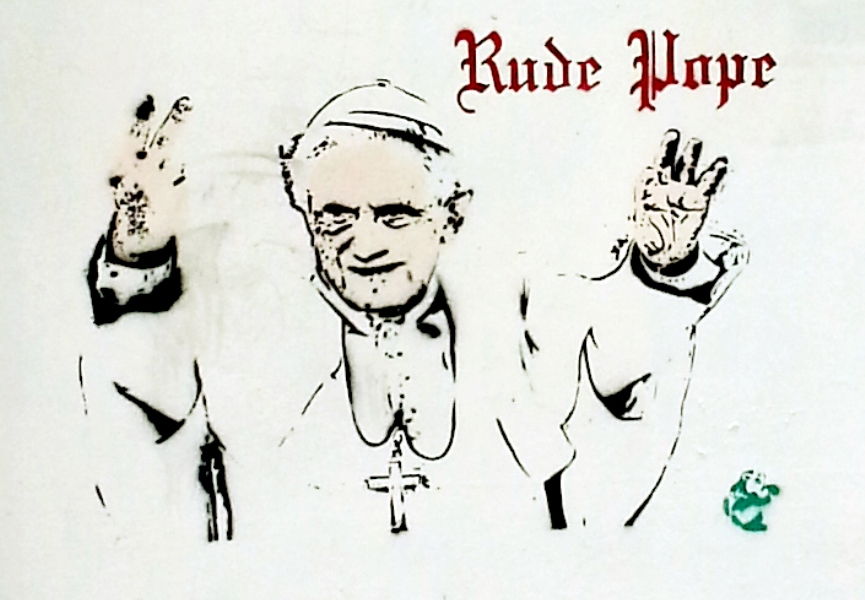 Pieces of Stardom
On the other hand, Bambi has become a sought after artist among celebrities. It was, in fact, the moment when Kanye West presented the Perfect B*tch piece to his bride to be, which depicted Kim Kardashian, when Bambi became a global pop phenomenon. Soon enough, other commissions were coming her way, including the portrait commissioned by actress Michell Rodriguez for her then girlfriend as well as portraits commissioned by Brad Pitt. Her artwork was bought by Robbie Williams in 2012 and the list of celebrities who are fans of Bambi also includes Adele and Harry Styles of One direction, to name a few.
Bambi and the Future
This is the question that comes to life not only in the presence of Bambi, but street artists around the world: Are we coming to a point when street art's energy is beginning to fade away? If it is up to the judgment of the author of these lines, the answer would indubitably be No. After all, we have argued many a times here that street art is more than a movement, more than a subversive culture and that it will probably continue to exist for years to come… However, there is the issue that has been proven so many times by the power of historic discourses: movements tend to reach a critical point, after which they transform or become artifacts of the times gone by… Perhaps the story of Bambi has once again brought to the spotlight the fear of the great tidal wave of popular culture overwhelming the potential which resides in the phenomenon of street art. Is this a justifiable fear? What is next for street art?
Stay up to date with the life and work of your favorite artists with a free sign up for My Widewalls!