The world of fashion has seen various talented figures who brought elegance, posture and sophistication to a new level. The man who promoted an entirely revolutionized image of a woman as a rootless dominatrix, the one who seduces but is hard to be seduced is none other than the celebrated designer Thierry Mugler.
Currently on display at Kunsthal Rotterdam is an impressive, immersive exhibition celebrating his almost five-decades-long practice. With an outstanding number of artifacts, it tends to unravel the visionary worlds of one of the leading fashion minds ever.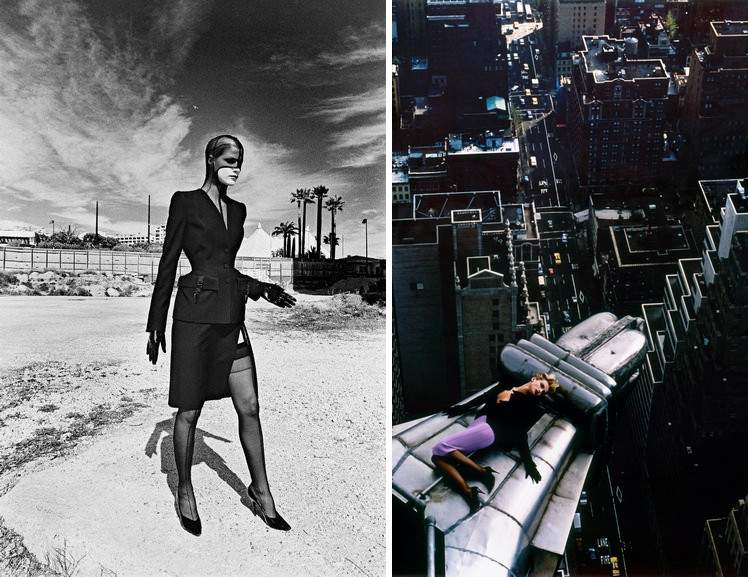 The Thierry Mugler Retrospective
The curator Thierry-Maxime Loriot and Nathalie Bondil, Director General and Chief Curator of the Montreal Museum of Fine Arts, decided to explore Thierry Mugler's artistic development through the decades by underlining the main characteristics of his brand - supreme sculptural futuristic cuts, glamorous silhouettes, super-heroine shoulders and strict lines, a corseted waist of powerful women in constant metamorphosis, as well as the use of innovative materials such as metal, vinyl and latex.
The exhibition offers a unique plunge into Mugler's Imaginarium, a combination of his perfectionism, high-end Hollywood prestige, surreal eroticism, and science fiction.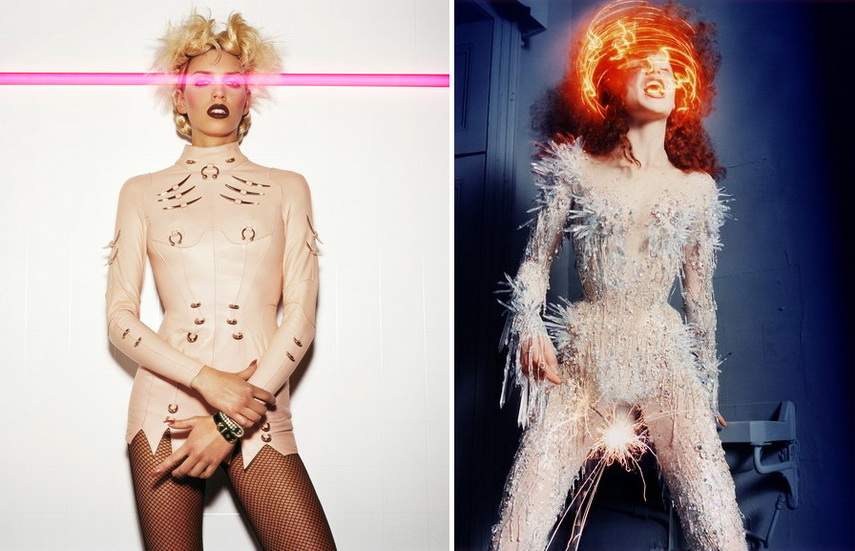 The Thematic Sections
The installment encompasses more than one hundred and fifty artifacts, some of them on display for the first time in Europe, made by Mugler between 1977 and 2014, including never-before-seen stage costumes, accessories, clips and videos, archival documents and sketches. On view is also a great number of outrageous shoots taken by the world's leading contemporary fashion photographers such as Avedon, Newton, Bourdin, Goude, LaChapelle, and others.
The immersive galleries were specially crafted by artists such as Philipp Fürhofer and Michel Lemieux, with the special effects made by the Rodeo FX studio. The grandiose Swarovski crystal chandeliers were made for one of the galleries by the London-based designer Tord Boontje, while the custom-made mannequins were produced by Hans Boodt Mannequins from Rotterdam.
To cover all the layers of Mugler's lasting career and the recurrent motifs and fascinations, the exhibition is dived into six thematic sections: Macbeth & the Scottish Lady, devoted to Mugler's designs for the troupe of the Comédie-Française of William Shakespeare's famous play Macbeth back in 1985; Stars & Sparkles, focused on his innovative and rather theatrical approach to fashion show including celebrities as models; Belle de Jour & Belle de Nuit, as a new definition of the glamazon, a modern, uncompromising woman launched by Mugler in the 1970s; The Photographer's Eye, focused on Mugler's several-decades-long collaboration with Helmut Newton and Guy Bourdin which started in the late 1960s); Metamorphosis, devoted to the designer's obsession with by the animal world; and finally Futuristic & Fembot Couture, which explores Mugler's fascination with machines and high technology.
In the show are also projects in which Mugler acted as a director such as the iconic 1990s video Too Funky by British pop star George Michael, as well as short films starring actresses Juliette Binoche and Isabelle Huppert. His costumes for the Zumanity show by the Cirque du Soleil, costumes for Mylène Farmer and Beyoncé's tours and videos, aswell as numerous gowns made for divas like Diana Ross or Liza Minnelli and others are on display as well.
Thierry Mugler: Couturissime at Kunsthal Rotterdam
Thierry Mugler at Kunsthal Rotterdam
This spectacular retrospective will be accompanied by the grand monograph edited by the curator and published by the Montreal Museum of Fine Arts Publishing Department and Phaidon. This publication will provide a full insight into Mugler's impressive oeuvre including rarely seen material, images by the photographers such as Jean-Paul Goude and David LaChapelle, numerous sketches, polaroid shots and other photos taken during fashion shows, etc.
Thierry Mugler: Couturissime will be on display at Kunsthal Rotterdam until 8 March 2020.
Featured images: Max Abadian - Manfred Thierry Mugler, creator, 2018. Photo © Max Abadian. All images courtesy Kunsthal Rotterdam