Rooted in buoyant tradition and history and at the same time so vibrant and buzzing with creative energy, Vienna is slowly proving to be a force of its own. There is the peace and quiet desired by many of the international and local artists who have decided to make this European city their home. And while some might take this tranquility is the sign that arrival of new things here is slow coming, many would disagree. In the end, doesn't the saying go: Good things take time.
With the opportunity of gaining one of the most prestigious art education diplomas, many of the Vienness students understand early on that practice makes perfect and that a professional outlook and approach to creativity is a must. This stands at the core of various off-spaces, workshops, and artists' studios that push the town towards becoming one of the top creative cities in the world. Against the traditional and famous institutions stand new spaces run on new energy. Maybe we should have kept this gem as a secret, but as we felt that this city is unjustly pushed to aside, so we bring Vienna and its diverse art scene into focus.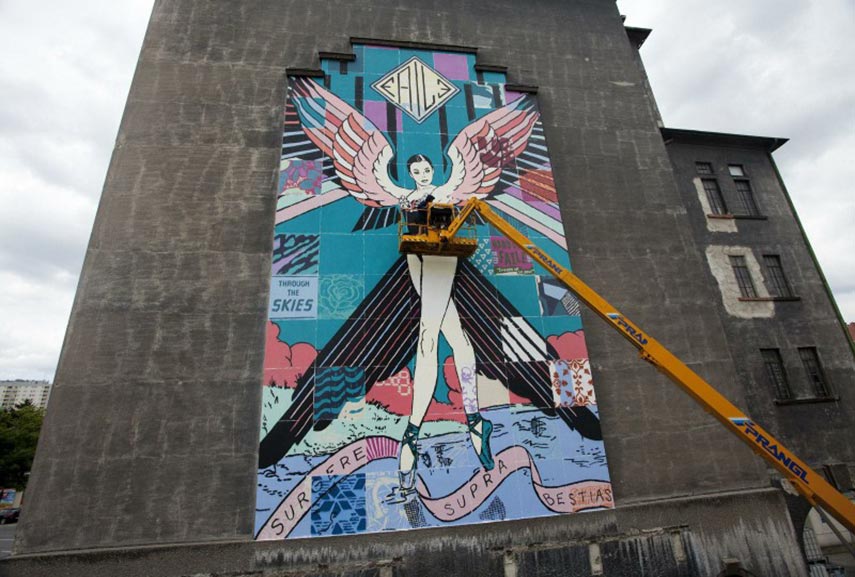 Things to Do in Vienna When You're Looking for Art
Beautiful Blue Danube waltz, Secession legacy, old Schonbrunn Imperial Palace, wonderful Baroque and Neo-Classical architecture, old glamorous 19th Century cafes where Sigmund Freud used to go out – shadows of an Old Imperial metropolis are all over the Austrian capital. Even though a thriving contemporary scene is alive and well in the city, Vienna is perceived as an old Imperial, beautiful place, proud of its enormously rich history, the town of Habsburgs and Maria Theresa. Indeed, Vienna attracts millions of foreign tourists every year – and the majority of them come to see the Old, Classical Vienna; a city that has always been a bridge between Eastern and Western Europe, between the Orient, the Balkans and the West. But, this rich metropolis has so much to offer when it comes to Modern and Contemporary art. There are so many things to do in Vienna except visiting Palaces and Emperors' Buildings. Unfairly marginalized on the global contemporary scene, the time has come to put Vienna on contemporary art map of the cities that every art lover has to visit.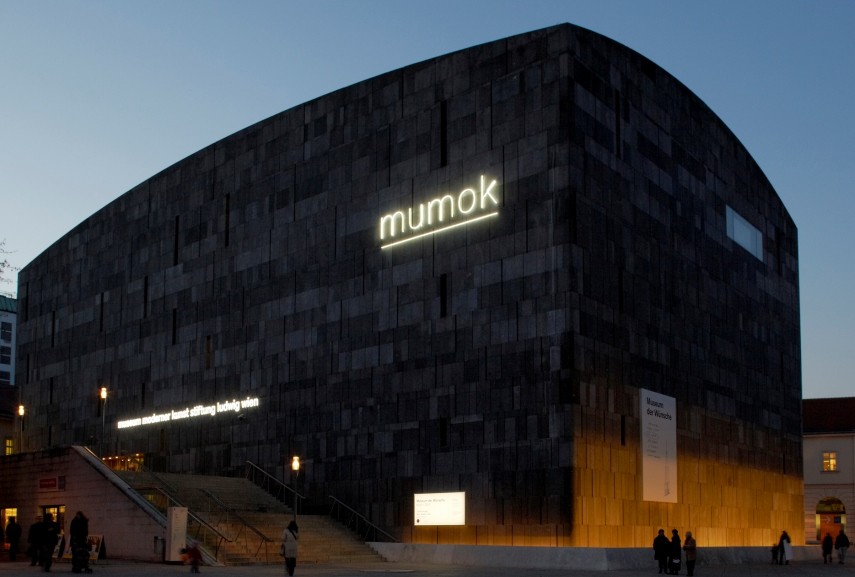 Different Faces of Creativity in Vienna
Following with the major trends of contemporary art, the creative production in Vienna (speaking of the visual arts, but also of literature, music, and theater) is another example of multi-originated diversity of expressions. From traditional paintings, installations, sculpture, performance, and mixed-media governing the production palette, one of the possibly most prolific rising stars are the emerging street artists. The urban art scene is booming and younger generation artists are quickly becoming recognizable for their own unique styles.
This is especially true for the remarkable Austrian street artist Nychos, whose images of dissected animals and humans invite the public to dig deeper and to examine what lies beneath the vibrant paintings and murals. With a desire to promote and connect authors from all over the world, Nychos in 2005 founded the Rabbit Eye Movement. Originally started as a street art concept, today it is a full-time gallery and agency. Following closely, there are various events such as " Cash, Cans & Candy" in organization of the Hilger NEXT Gallery, the Buckers Festival, and Calle Libre, describing itself as a Festival for Urban Aesthetics. Taking a stroll along the Danube canal we find one of many remarkable places where the eye is awarded with the bright and colorful murals and graffiti pieces. For sure, whereever you step around this magical town, art is will be there.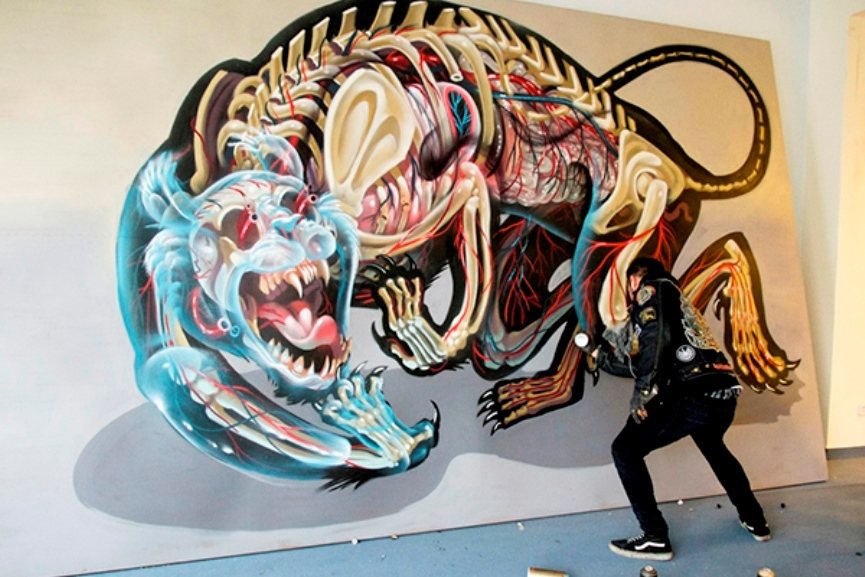 Vienna Museums – Albertina, Belvedere and KunstHaus, Hundertwasser Museum
The list of Vienna Museums is impressive. Unfortunately, we don't have enough space to name them all, but we will mention the most important ones. In addition, we'll skip some of the famous Viennese museums, but focus only on those who have amazing collections and exhibitions of Modern and Contemporary art.
Let's start the walk through Vienna from Albertina, a museum set in an impressive building within the grand Hofburg Palace. The museum's collection is vast, and it's officially the Europe's largest and most important private collection of classical modernist paintings. The collection includes works by Claude Monet, Pierre-Auguste Renoir, Edgar Degas, Paul Cézanne. In addition, those who like Cubism may enjoy a number of works by Pablo Picasso and Georges Braque. There are also expressionist masterpieces of Ernst Ludwig Kirchner, Karl Schmidt-Rottluff, Wassily Kandinsky, and Emil Nolde. Figurative and abstract surrealism is represented by works of Max Ernst, Paul Delvaux, René Magritte, and Joan Miró. The art history of the second half of the 20th Century is presented with works by masters such as Alberto Giacometti, Francis Bacon, Gerhard Richter, Georg Baselitz, Anselm Kiefer, and Alex Katz.
Belvedere is world-famous historic building complex that served as a palace for Habsburg Emperors, and it is located near the center. But, inside of this ostentatious Baroque complex there is the Belvedere Museum with its outstanding collection of artworks. The Belvedere Museum is best-known for having the world's largest collection of Gustav Klimt's paintings. But, it's not only about Klimt. While wondering the Belvedere's corridors, visitors can see Impressionist paintings by Pierre-Auguste Renoir, Edouard Manet, and Edgar Degas, a number of paintings by Vincent Van Gogh. The collection contains numerous works by Oskar Kokoschka and Egon Schiele, and a number of works by Austrian artists who were part of the Neue Sachlichkeit (New Objectivity). Interestingly, Belvedere Art Gallery frequently hosts exhibitions by contemporary art masters, recently featuring works by Olafur Eliasson or the Icelandic performance artist, Ragnar Kjartansson before that.
Speaking about the Vienna artworld, it's impossible not to mention Friedensreich Hundertwasser. One of the landmarks of the city is Hundertwasserhaus, a stunning apartment house built after the idea and concept of Austrian artist Hundertwasser. It's located 30 minutes on foot from the center. Near this amazing building is KunstHaus – Hundertwasser Museum. The Museum houses the world's only permanent exhibition of Hundertwasser's works.