This summer Thinkspace gallery in Culver City, in California, will host two exhibitions of works by young and talented painters, made in their creator's distinctive, recognizable style. American painter Adam Caldwell will present his new oil painting series in a solo show entitled Dark Stage. The exhibition that deals with art's ability to inspire other artistic forms was made in collaboration with a multidisciplinary troupe that uses acting, dance, theater and music to create unique thought-provoking performances. On the other hand, Gravities exhibition by Cinta Vidal that will be featured at Thinkspace gallery's Project room will deal with the topic of housing, architecture and a unique perception of gravity.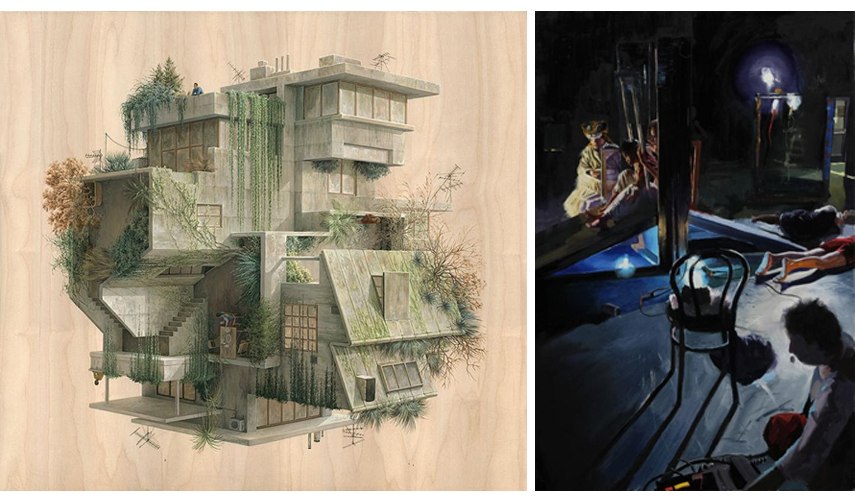 Dark Stage: Solo Show by Adam Caldwell
Painter Adam Caldwell collaborated with Bandelion Dance Troupe to create his most complex series of works to date. For the past two years, the artist worked with a several photographers to capture the best moments from series of improvised performances conducted by the group. The performances varied in topics and often questioned important social issues such as disability, gender, sexuality, race, but the troupe also staged numerous events that deal with the very nature of art. These photos then served as a starting point for his latest body of work that will be on display at Thinkspace gallery. Additionally, the Dark Stage exhibition will present the artist's ongoing series of portraits done in a variety of styles ranging from photo realism to abstraction.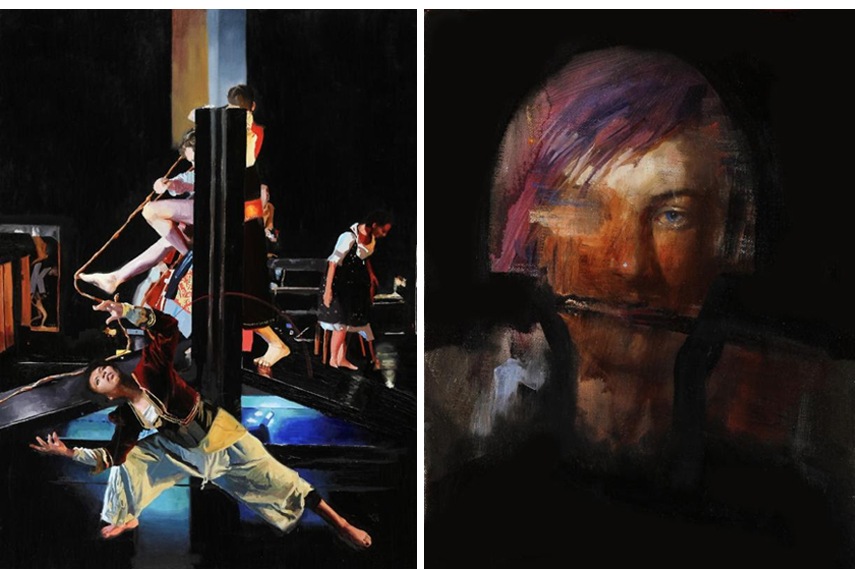 Architectural Paintings by Cinta Vidal
Figurative surreal artworks by Spanish painter Cinta Vidal are painted with architectural precision, drawing the eye to examine every part of her intricate imagery. Her works appear as if they defy gravity with houses and field floating in thin air. The talented artist has recently entered the exciting world of street art and completed a mural entitled Backstage during the POW ! WOW ! event in Long Beach, but the exhibition at Thinkspace will focus completely on her canvas works. Among the series of buildings and natural environments, Gravities exhibition will also feature one artwork that portrays a group of characters floating among suspended furniture which is also a recurrent topic in the artist's work.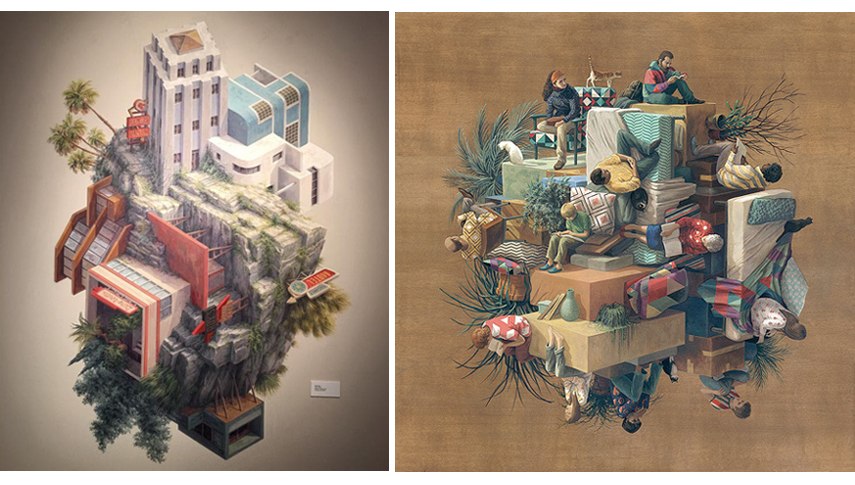 Thought-provoking Exhibitions at Thinkspace Gallery
Dark Stage exhibition will open this Saturday, July 23rd, 2016 with a unique performance by Bandelion Dance Troupe scheduled for 7 pm. New painting series by Adam Caldwell will be on display at Thinkspace gallery's main space. The gallery will also feature an extended performance from Bandelion on Sunday accompanied by a conversation with the artist himself. Exhibition of new works by Cinta Vidal will take place at Thinkspace gallery's Project space in Culver City from July 21st through September 25th, 2016.
Featured images : Adam Caldwell - The Lecturer ;Left : Cinta Vidal - Living On The Rocks / Right : Cinta Vidal - Room With a Views Adam Caldwell - The three Fates ; Left : Adam Caldwell - Saint / Right : Adam Caldwell - Lauren #4 ; All images courtesy of Thinkspace gallery