When Addicted art gallery founders came across Julien Surdeau aka Thirsty Bstrd they recognized each other's artistic cravings as unifying factors. And we at WideWalls recognized the opportunity to invite Thirsty Bstrd for an interview on his prior works and future plans. Since he's as approachable as he is talented, the artist was more than helpful in responding to our needs as well. Those who are already familiar with the French multimedia artist's work respect Julien Surdeau for his skillful use of a variety of media as the artist uses spray paint, stickers, posters, and stencils to create his recognizable street and studio artworks. But apart form his undeniable know-how, he is also known for his playful and satirical approach that adds a humorous note to even the most important social issues. Though he confesses that Batman sign is his favorite pop culture symbol, he often uses other elements of popular iconography including Star Wars characters, fast food chains and celebrities' portraits. Mostly composed of eye-catching images and provocative statements Thirsty Bstrd's magnetic art pieces often act as clever satirical commentaries about social and political issues and consumerist culture. By merging ingenious statements with paradoxical images, Thirsty Bstrd creates artworks that are truly fascinating and thought-provoking. In our exclusive interview with the prolific artist, we talked about his favorite pop culture symbols, humor and of course his latest art collaboration.
Make sure to scroll down and find out more about the intricate street artist Julien Surdeau aka Thirsty Bstrd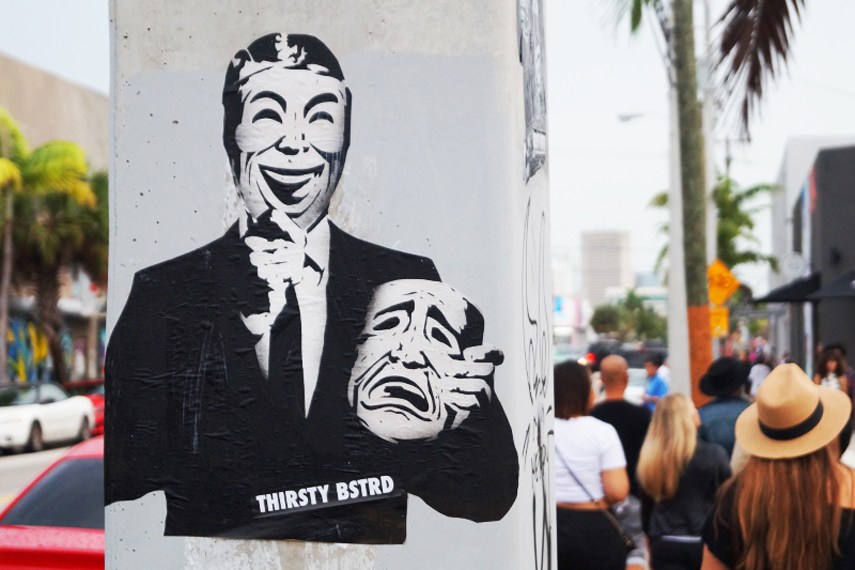 On Batman Sign and Naked Gun Movies
WideWalls : Why did you name yourself Thirsty Bstrd ?
Julien Surdeau aka Thirsty Bstrd : I didn't think much about it. This name has imposed upon itself. Initially, this name came more as a logo for my stickers. "Thirsty" is for "thirsty for creativity", which corresponds to my personality. "Bstrd" is left to the reader's imagination.
WW : Your artworks are characterized by numerous pop culture references. What is your favorite pop culture motif and why?
TB : There are so many! If I had to choose one, I'd probably say the Batman Sign. It has been redesigned many times but you can still read it as the Batman Sign. It's so powerful! It conveys values of justice and courage, when only portraying a bat shadow.
WW : Apart from pop culture iconography, your artworks are also packed with a variety of humorous statements. How important is humor in your work and what makes you laugh personally?
TB : As a spectator, I have no interest in art that is not clearly legible or without an underlying purpose. I like art when it's relevant and fun. Humor is part of how I express myself. I prefer criticism when it's done with a humorous note. What I love the most in humor is parody! It's probably my biggest inspiration. I grew up with Mel Brooks and the Naked Gun movies.
The Child of Consumerism and a Curator
WW : You once said that growing up in the early 90s made you a child of consumerism. Do you still feel that way? What is your opinion about the phenomena of consumerism? Is there a positive side to consumerists culture, perhaps?
TB : I said that to highlight the difference between artists that witnessed the rise of consumerism and my generation which built on consumerism as a culture, as something which is already there. So I'm facing a cultural duality. I'm not only using symbols to mock it, but also because it's my symbols, it's the way I express myself cause I grew up into it. To express the combat between good and evil, I'd use the symbols of the Dark Side and the Light Side, instead of religious symbols. The positive side is that we have common symbols around the world. It depends on us to use it positively!
WW : Apart from being an artist you also worked as a curator? What are the differences between these two jobs and which one do you find more appealing? Why?
I worked as a curator in my own initiative. I started a creative agency and wanted to highlight creativity through various events. So it's always about creating projects. The difference is that dealing with people is more tougher than dealing with yourself! I decided to focus on my art because I had too much stuff in my mind. Being an artist is more important for me. But I still have ideas for group projects!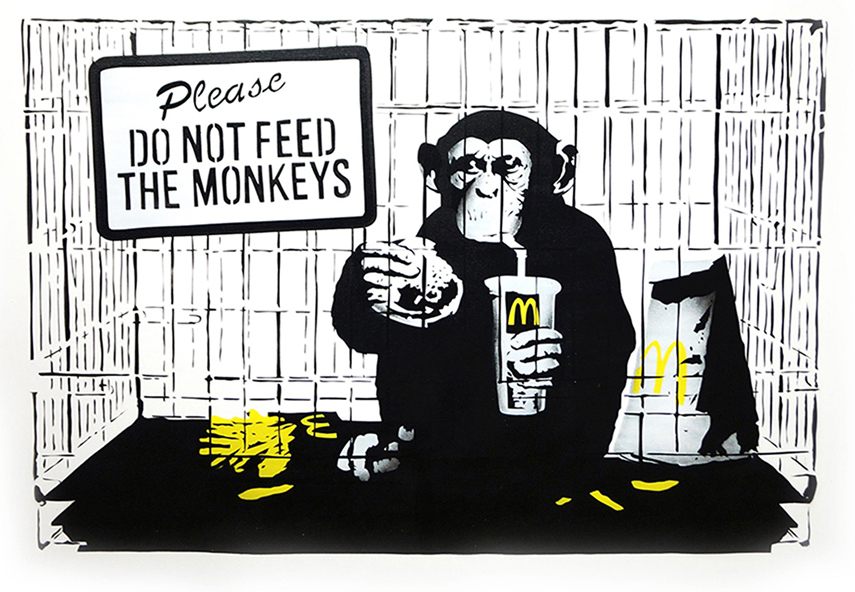 Fast Food Monkey - New Collaborative Print by Thirsty Bstrd
WW : Tell us a little bit about your new collaboration with Addicted art gallery. How was this collaboration initiated?
TB : It started from Instagram as we were following each other. I couldn't have met them otherwise as I'm in Paris and they're in Singapore. I met two people who are really passionate about art and the creative process. As an artist, it's a pleasure to meet and work with people who trust you and encourage you. The idea of the collaboration came naturally as it made more sense to build something together than mail them already made artworks.
WW : The collaboration resulted in Fast Food Monkey series of prints. What inspired you to create this image of a junk food eating monkey?
TB : The Fast Food Monkeys series is based on one of my previous artworks which features a chimp in a cage eating McDonald's burger and fries with a sign Please do not feed the monkeys . The idea came from my love of making fun of signs with a contrast between the ban and the situation, with an allusion to junk food. As people kept talking to me about this monkey, he finally became a true character to me. So I decided to extract the character from the piece and give him his own story as the Fast Food Monkey. He's now a free animal, enjoying his meal.
WW: Could you tell us a little bit about your future plans? What's next for Thirsty Bstrd?
TB : My work will be featured at Spectrum Art Fair during Miami Art Basel in December. I'll be around for a live painting and I'll take the opportunity to do some projects in the streets. I'll send you pictures. I also have a group exhibition coming up in January in Krause Gallery in New York. And my stickers will be part of the DC Street Sticker Expo, a crazy group show of thousands of stickers at The Fridge DC in Washington DC.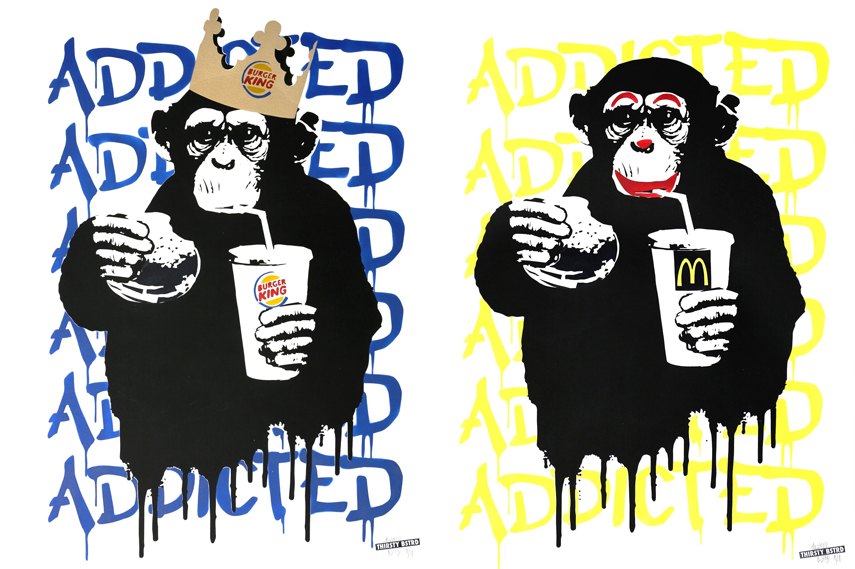 Featured images : Thirsty Bstrd in his studio in Paris ; Thirsty Bstrd's Sticker in NYC ; Images courtesy of the artist