After Art Basel is before Art Basel. In the meantime San Francisco is lining up with some heavyweight street art exhibitions the following week. Fifty 24SF Gallery exhibits and sells prints from some of street art's finest. The San Francisco based gallery family White Walls and Shooting Gallery are both hosting remarkable urban art exhibitions. Both different but at the same venue. Thinkspace Gallery, also located in California is hosting the duo exhibition of American and Mexican artists Nosego and Curoit. Then we also have 34 Fine Art Gallery in Cape Town, South Africa that opens its impressive inventory to the public on December 10th. The inventory also includes a beautiful painting of Nelson Mandela by Jimmy C. Prepare for the following exhibition week.
Inventory – Group Show
Opening: Dec 10
34 Fine Art
The Hills Building, Buchanan Square, 160 Sir Lowry Road, Cape Town, South Africa
34 Fine Art & V Gallery have teamed up to exhibit both galleries inventories. Their artist inventory is an impressive line up of world-renowned urban and contemporary artists. The artist list includes: Banksy, Bambi, Mr. Brainwash, Jimmy C, D*Face, Dotmasters, Ben Eine, Shepard Fairey, Jeff Koons and Takashi Murakami.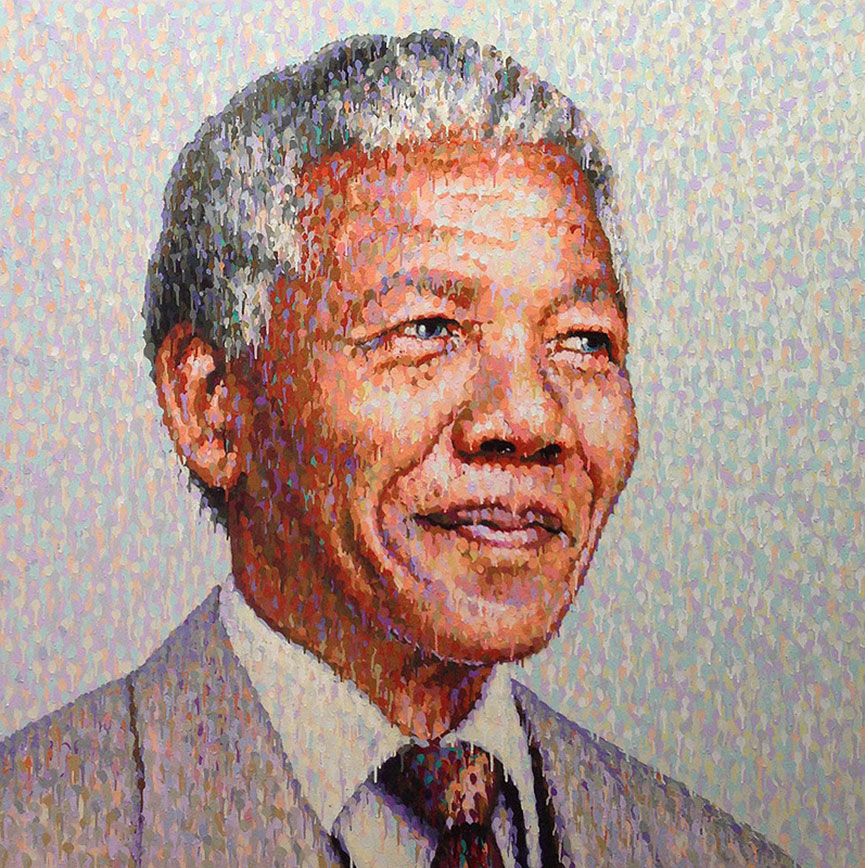 Playground Legends – Print Group Show
Opening: Dec 14
Fifty 24SF Gallery
218 Fillmore Street 
San Francisco, CA, USA
Fifty 24SF Gallery hosts it's annual Holiday Print Show entitled "Playground Legends." The show includes limited edition prints from artists including Brian Flynn, Greg "Craola" Simkins, Dora Drimalas, Estevan Oriol, Herbert Baglione, Jayde Fish, Jeremy Fish, Mars-1, Miss Van, Morning Breath, Munk One, Nate Van Dyke, Pez, Sam Flores, Saner and Smithe.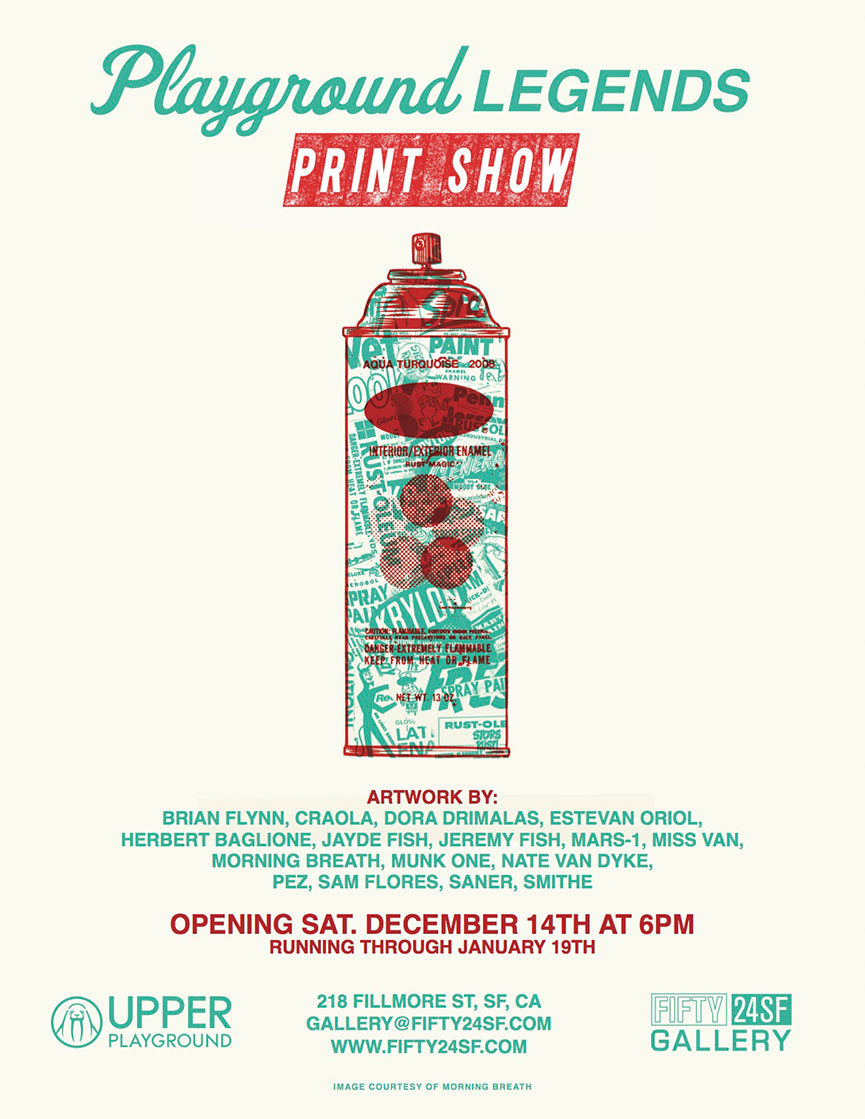 New Work by Ferris Plock
Opening: Dec 14
Shooting Gallery
886 Geary Street, San Francisco, CA, USA
Ferris Plock brings a dedicated focus to his work that is paired with a wild sense of originality. Through a variety of mediums including acrylic, watercolor, spray paint, India ink, gold or silver leaf, and collage Ferris Plock creates highly detailed works, often character-based paintings on wood panel, that combine contemporary pop culture with the aesthetic of Japanese ukiyo-e woodblocks. Widely-accomplished and with a diverse range of artistic interests, Plock has created illustrations for many high-profile clients, has been involved in solo and group exhibitions both nationally and abroad, and also served as the 2010 SF Recology Artist in Resident.
L'Avenir – Group Show
Opening: Dec 14
White Walls
886 Geary Street, San Francisco, CA, USA
L'Avenir features a group of like-minded artists that flourish under the banner of Graffuturism, a term coined by artist and arts commentator Poesia, who edits and publishes the online blog graffuturism.com. Taking inspiration from French philosopher Jacques Derrida and his axiom 'The coming of the Other', L'Avenir literally translates as 'the future', and is direct reference to the progressive and contemporary element hat has influenced this intercontinental group of individuals known for creating a distinct aesthetic of their own. The exhibition is a survey of an emerging movement and features work from Augustine Kofie (US), Borondo (Spain), Chanzme (Poland), Clemens Behr (Germany), Doze Green (US), Duncan Jago (UK), Part2ism (UK), Poesia (US), Robert Proch (Poland), Sainer (Poland) and Vesod (Italy).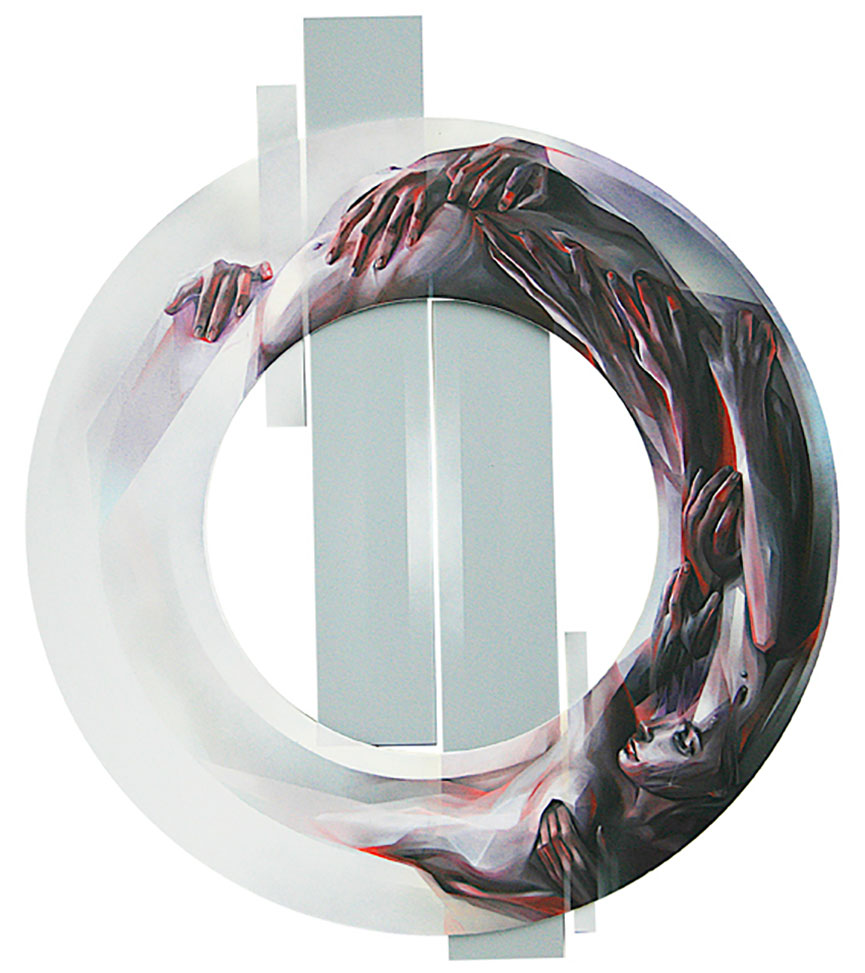 Nosego & Curiot – Unknown Elements
Opening: Dec 14
Thinkspace Gallery
6009 Washington Blvd., Culver City, CA, USA
Thinkspace Gallery hosts Unknown Elements, featuring new works by Nosego and Curiot. Both artists have unmistakably distinct iconoclastic styles, inspired in part by the graphic originality of their respective practices as street artists. Both work with elaborate layers of imagery, building complex visual events through the disarming whimsy and creative disinhibiting of the surreal. Constructing entire worlds of colorful, larger than life, composite creatures and hybrids, each artist explores the symbolic possibilities of juxtaposition; working with the known of the every day and transforming it constantly through free association. The iconicity of both artist's work can be likened to the cohesive staying power of myth: their output is immediately recognizable as their own, populated by recurring themes, characters and motifs, and subject to the internal logic of its own creative cosmology.