At a time when world leaders and freshly inaugurated presidents talk about building walls and isolating nations, the latest Thomas Baumgaertel exhibition at 30works in Cologne focuses on just the opposite - building bridges. The show of the same name will honor this construction for its ability to connect people, to contribute to the exchange of goods and to provide new approaches. The artist, who has already made his name by creating thought-provoking art, takes on current events and comments on them in a highly original and immediately recognizable way.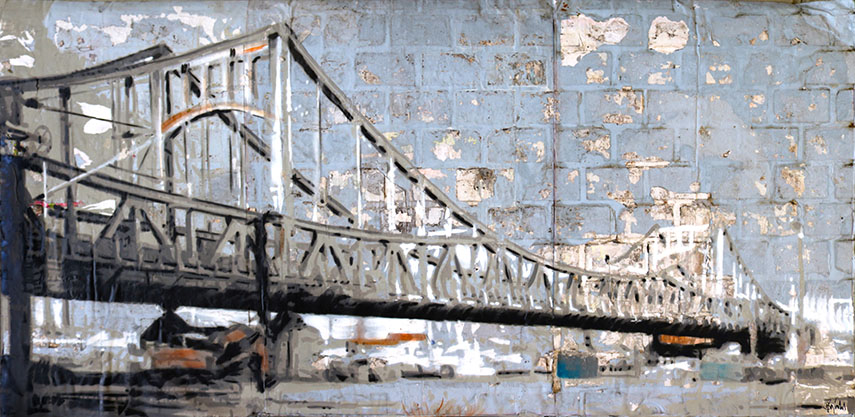 Building Bridges
One of the loudest voices for freedom in art, Thomas Baumgaertel showed strong attitude and clear edge through his art; whether through the symbol of a banana, which came to describe today's art market, of the Holocaust series, on a more serious note. He is most convincing when he draws his artistic and societal criticism into the abstract and poetical picture worlds, where the pure aesthetics and the craftsmanship virtuosity prevail over the world's malaises. "The bridge is an allegory of overcoming obstacles. This is why it is now more urgent than ever to build bridges. Both genuine and symbolic," says the artist. "Bridges are one of the most exciting structures because they are designed to be static and floating, full of ups and downs in their structure. It surrounds a constant play of light and shadow." In his works, Thomas Baumgaertel "portrays" famous bridges such as the Hohenzollern Bridge, the Berlin Bridge and the Brooklyn Bridge, mixing styles such as Romanticism, Impressionism and even Photorealism.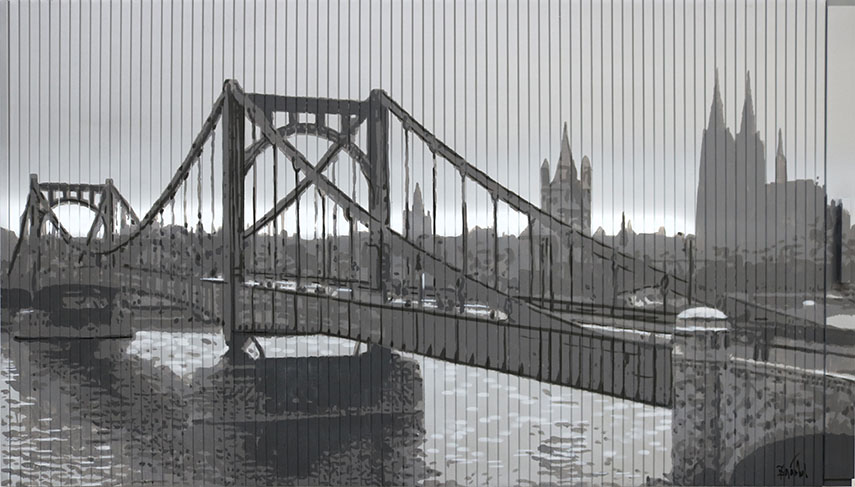 A Mixture of Techniques and Meanings
This series of Thomas Baumgaertel works focuses on a very dynamic exchange between light and shadows, street and contemporary art. He used old posters to construct bridges, which were full of dust and dirt just like the real things as well. With the help of decollage as well, the artist re-uses urban decay to create new things, using it to quote the philosophical equilibrium along with the symbolism and metaphorical meanings of bridges. His homogeneous composition comprises of acrylic backgrounds in shades of gray created by spray, and the wall structure of the posters. These works call for further processing and recultivation, reminding us of what it means to be together as a species. Just like his bridges, the human race hides many plays of light and shadows, yet it should always stay strong and not succumb to any outside pressure.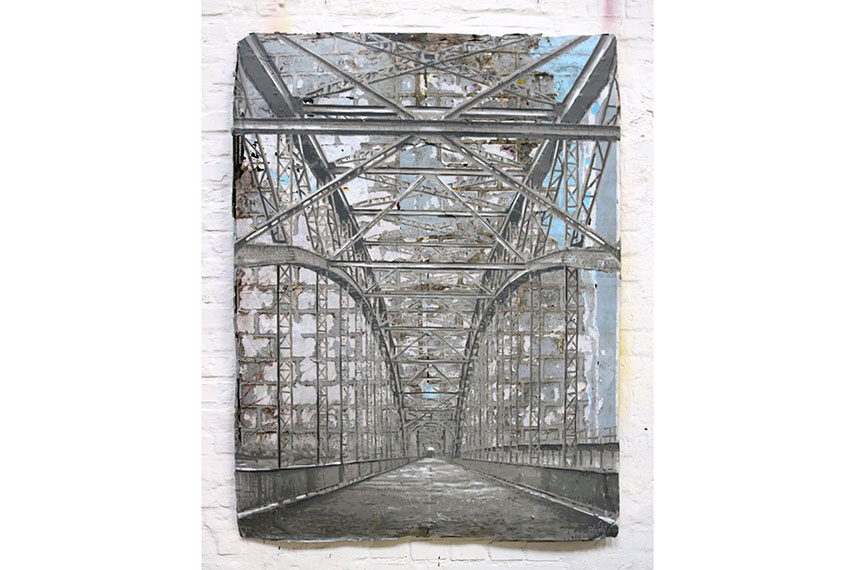 Thomas Baumgaertel Exhibition at 30works
Building Bridges, an exhibition of works by Thomas Baumgaertel, will be on view at 30works Galerie in Cologne, Germany, from March 31st through April 29th, 2017. The show represents a highlight in the oeuvre of the German artist, with 20 brand new works coming straight from his atelier, proving once again the relevance of these pieces on all conceivable levels. The opening reception will be held on March 31st at 6.30pm.
Featured image: Thomas Baumgärtel – Brooklyn Bridge. All images courtesy 30works.