Thomas Baumgärtel is an artist from Cologne whose work can be found at the entrance of about 4000 art museums and galleries both in German and international cities. He is the Banana sprayer. Cologne is a fourth-largest city in Germany and a home for more than thirty museums and hundreds of galleries. Exhibitions range from local ancient Roman archeological sites to contemporary graphics and sculpture. In this city with strong cultural and art history it is hard not to turn to art. Even more hard is to become recognizable for the work you are doing.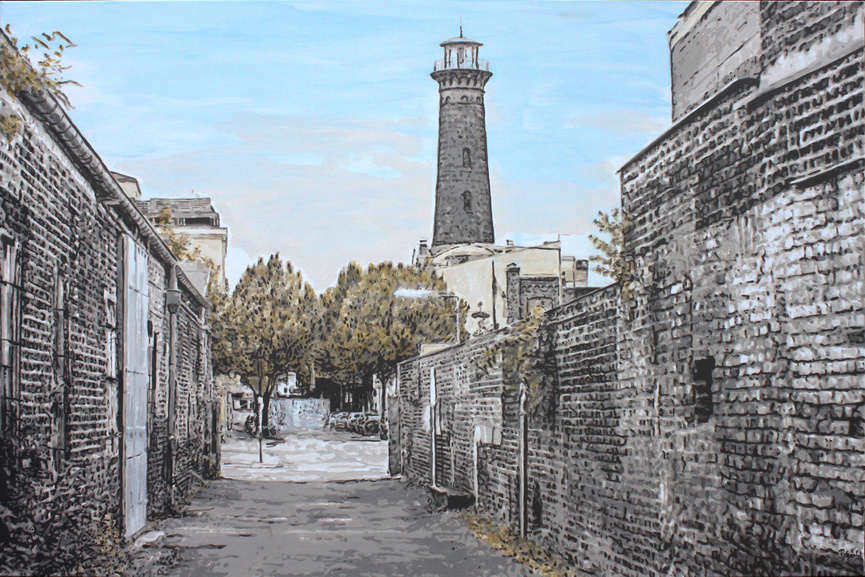 The Iconic Mode
Baumgärtel is street art pioneer, painter, performance and installation artist. His intermedia works include drawings, prints, wall paintings, collages and art objects. But ultimately he is an artist that believes, not in aesthetics, but the ability of art to unravel metaphysical meanings of our age. His works are socially engaged and visually accessible, though not always easy to decipher. He relies on the local and popular iconography in order to situate a message. Particulars are never concrete, they are emblematic of universal ideas. He works with images that easily get inscribed into our minds and political commentary is what he is often aiming at. Good example of the approach is Charlie Brown paste-up with dunce cap, oversized pencil, and banana emblem made as a contribution to the current debate about the Charlie Hebdo shooting.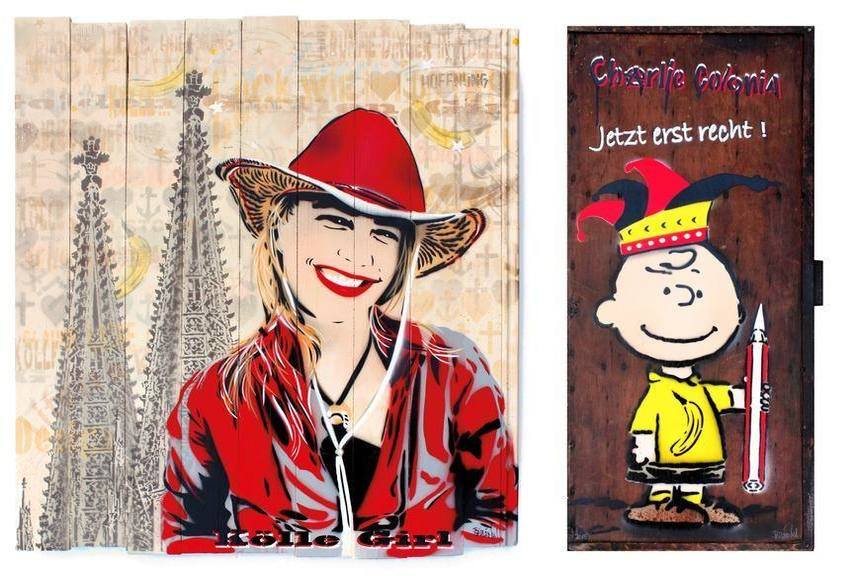 The Banana Meme
His first banana was made in 1986. After that, this stencil showed up across the Germany, then in New York, London, Moscow, Vienna, Zurich… The art banana has become the unofficial logo of the art scene and a worldwide recognizable sign of art. The Ruhr district in Germany was pronounced the European Capital of Culture in 2010, when the officials stated that they are honoured to host the worldwide largest art-banana.
Cologne at 30works
Thomas Baumgärtel's stencils and paste ups are thematically oriented on the city of Cologne. And, Cologne Cathedral is often represented as a background element. This medieval monument, that has a special intrinsic value, that is, with a sublime component to it, dominates the cityscape. Messages are designed in a sort of postcard fashion, and the content of messages is varied and draw a lot from popular culture imaginary. That brings prolific dialectics between contemporary motives and historical heritage embodied in the Cathedral. Post Card communication is obsolete, but Thomas by gesture of re-positioning make use of its communicative values in the street art.
Thomas Baumgaertel's solo exhibition "Cologne" will take place from 21st of February till 13th of March 2015 at the 30-works Gallery.
To find out more about art exhibition, sign up for My Widewalls!