The World War II atrocities were well documented through film and photography, meaning that the post-war generation of artists was able to search for a different kind of perspective focused on the condition of human existence in an overtly shifting world. However, the articulation of the Cold War, the Berlin Wall, and other socio-political circumstances of global relevance culminated with the student protests in 1968, the momentous event which brought an entirely new and critically charged generation of artists.
One of them is Thomas Struth, a prolific German photographer whose lasting practice reflects the other side of solitude, spectatorship, family relationships, public space, and consumerism. His practice is based on a close observation of daily reality implying a devotion to social concerns.
To reexamine his grand oeuvre, the Guggenheim Museum in Bilbao decided to organize a proper retrospective including the archival material that Struth collected over the years along with his famous series such as Family Portraits, Audience, Museum Photographs, a video made in collaboration with media artist Klaus vom Bruch in 1997, and other more recent works.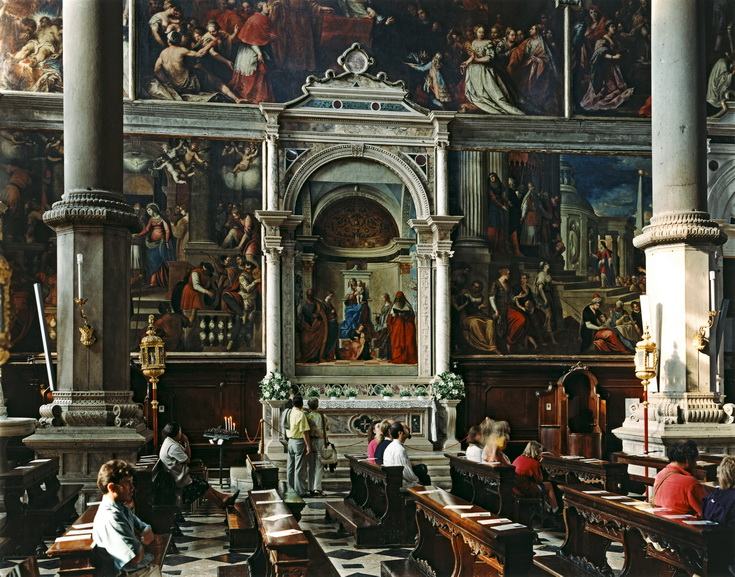 The Photographic Practice of Thomas Struth
Thomas Struth started his career in 1976 after showing a series featuring deserted streets of Düsseldorf. A year later, he teamed up with his fellow photographer Axel Hütte and the two released a project documenting housing issues in East London. In 1978 and 1979, Struth was at P.S. 1 Studios residency in New York and made a series of cityscapes in Paris. During the 1980s he continued to explore cityscapes in Rome, Edinburgh, Tokyo, and switched to family portraits in the mid-1980s.
From 1989, Struth conceived his began work on his renowned cycle, Museum Photographs, featuring group portraits of the visitors of the world's great museums and buildings, spanning from the Musée du Louvre in Paris, over the Art Institute of Chicago to the Pantheon in Rome. The project continued throughout the 1990s.
Between 1995 and 2003, Struth made a photographic series featuring groups of people whether as tourists or as pilgrims found at emblematic locations. The obsession with the jungle made Struth producing outstanding series in between 1998 and 2006, of these ecosystems in Australia, Japan, China, America, and Europe.
In 2010, the photographer captured outstanding shots of remote industrial and scientific research spaces, such as pharmaceutical plants, physics institutes, dockyards, space stations, and nuclear facilities. Four years later, a similar project documenting dystopian settings was made by Struth who photographed panoramic views of theme parks such as Disneyland.
With his recent work Animals(2017-2018), Struth moved forward from observing the human and their commodification and took photos of animals (the project made possible by the Leibniz Institute for Zoo and Wildlife Research (IZW) in Berlin).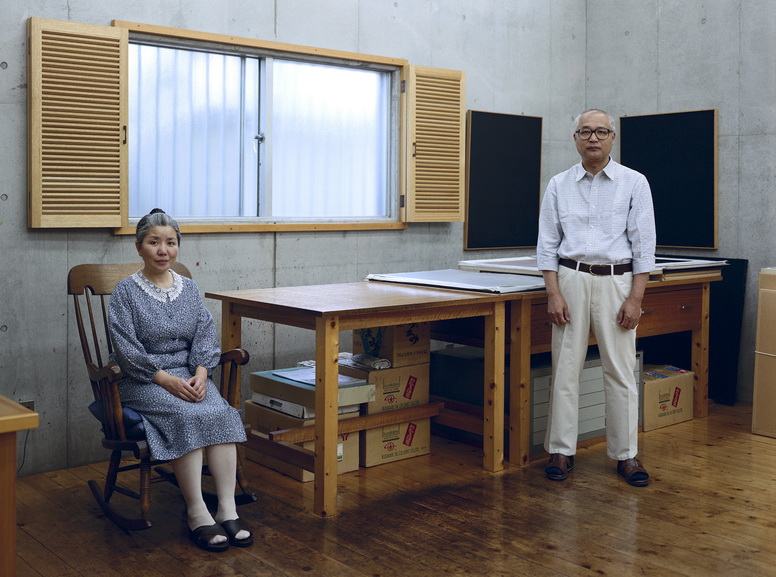 The Exhibition Sections
The entire exhibition at the Guggenheim in Bilbao will be presented in chronological order, so the audience will be able to track down Struth's stylistic development and thematic interests. The first gallery (Gallery 205) will encompass the photographer's early works made with a 35-mm camera while he was a student at the Staatliche Kunstakademie Düsseldorf in 1973–1980, the cityscapes of this city along with the ones taken in New York and Hamburg, all part of the series Unconscious Places.
On display in this gallery, the audience will also be able to the Family Portraits that Struth started producing in the early 1980s. Initially, this series were launched in a collaboration with a psychoanalyst friend from Düsseldorf, Ingo Hartmann, who asked his patients to bring pictures of their families as part of their therapy. The two men made a selection of sixty images, which were then reproduced, enlarged and presented by Struth as black-and-white prints; this visual research was the basis for his series of family portraits.
The second gallery (Gallery 206) will show Struth's rarely exhibited archive which consists of work materials, index cards, sketches, installation photographs of his exhibitions, early drawings, montages, paintings, and other material. It shows the photographer's working process, the references, inspirations, and motifs. The archive will be accompanied by a few spectacular photographs such as Pergamon Museum 1, Berlin 2001, and Aquarium, Atlanta 2013.
The third gallery (Gallery 207) features the mentioned Museum Photographs, a series started by Thomas Struth in the 1980s, as well as his only self-portrait of the photographer observing Albrecht Dürer's Self-Portrait (1500) in Munich's Alte Pinakothek made in 2000. On display will be the commissioned work Struth made in 2004 for Galleria dell'Accademia in Florence on the occasion of Michelangelo's David 500th anniversary, along with other photographs featuring close-ups of visitors observing iconic artworks.
The following gallery (Gallery 209) will feature the mentioned photographs of tropical rainforests and jungles Struth found across the globe, while the fifth gallery (Gallery 203) will show commission series the photographer made within the international project called the Place exploring the complexity of Israel and the West Bank. On display will also be the mentioned Berlin Project Struth made in 1997 with media artist Klaus vom Bruch.
The next gallery (Gallery 202) will feature Struth's 1990s photographs made at the Lindberg Hospital in Winterthur commissioned by Dieter Schwarz, the director of the Kunstmuseum Winterthur, contrasted with shows a mentioned series of artificial landscapes of theme parks. At the center of this gallery on display will be a video installation by Thomas Struth created in 2003 for the Bern Biennial titled Read This Like Seeing It for the First Time, Frank Bungarten and his guitar class at the Lucerne School of Music, Bern 2003.
Finally, the last gallery (Gallery 208) will show the series made by the artist while visiting NASA's Space Museum, along with Nature & Politics started in 2007, consisting of images of vast international companies and research laboratories, and the series Animals, portraits of deceased animals the photographer started working on in 2016.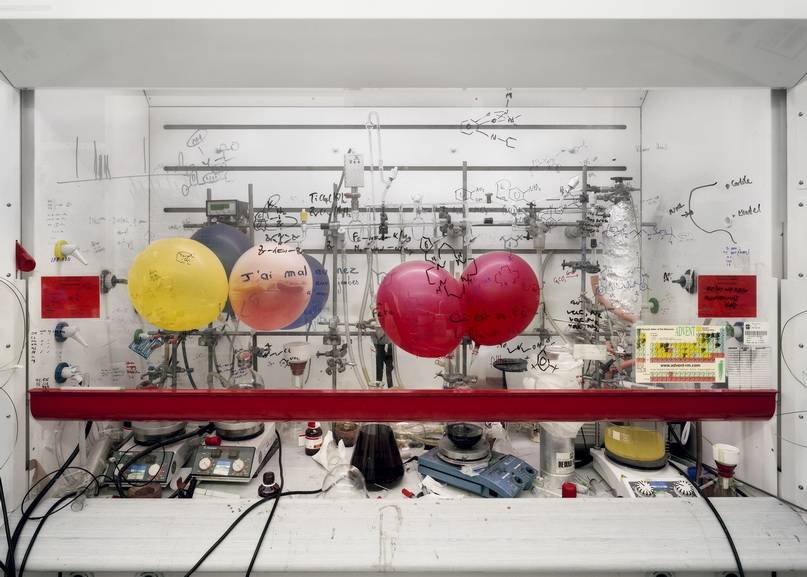 Thomas Struth Retrospective at Guggenheim Bilbao
After describing all galleries briefly, the impression is that the upcoming exhibition tends to unravel all the aspects of Struth's practice and contextualize them properly in regards to his devotion to concise social articulation.
A fully illustrated and richly equipped catalog including critical texts and an interview conducted by Okwui Enwezor with Thomas Struth will accompany the show.
Thomas Struth will be on view at Guggenheim Bilbao from 2 October 2019 until 19 January 2020.
Featured images: Thomas Struth - Audience 07, Florence, 2004. Chromogenic print, 179.5 x 288.3 cm. Kunstsammlung Nordrhein-Westfalen, Düsseldorf © Thomas Struth; Mountain, Anaheim 2014. Chromogenic print, 212.1 x 332.4 cm © Thomas Struth; Hannah Erdrich-Hartmann and Jana-Maria Hartmann, Düsseldorf 1987. Gelatin silver print, 66 x 84 cm © Thomas Struth. All images courtesy Guggenheim Bilbao.