A Los-Angeles base artist, Thrashbird is widely praised for his rebellious billboard takeovers, wheat-pastes and political content. Using humor and satire to portray relevant social issues such as our unhealthy interest in popular celebrities, selfie culture and our increasing reliance on new technological tools, his works are known to be fierce and visually powerful, always questioning the status quo. He came into prominence after creating his most recognizable character named the Clone on the streets of Los Angeles - the slender figure obscured by a black hoodie who is leaned inward and glued to its phone. Provoking confrontation and dialogue, his works question the necessity and the visual pollution brought to us by advertising. With his billboard takeovers, the artist takes the public space away from the big companies and replaces them with art. While his identity remains anonymous, his stamp has been unmistakable.
In an exclusive Widewalls interview, Thrashbird talks about his beginnings in the street art world, his inspiration, street art as the act of resistance, future plans and projects, and much more. Scroll down and enjoy!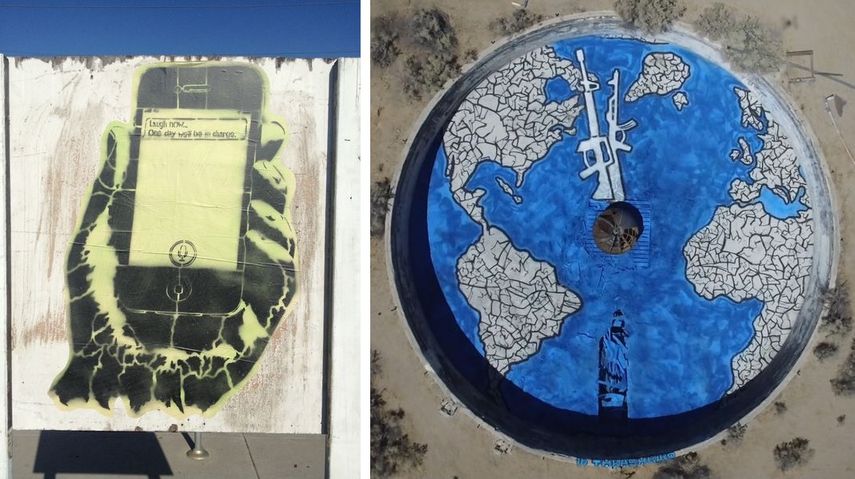 Street Art As Activism
Widewalls: How did you start and when did you do your first piece?
Thrashbird: My journey down the street art rabbit hole began about 20 years ago. I can't remember the content of the very first piece of art I put on the street. It was probably a spray painted stencil. Probably done under cover dark at night. Probably someplace without much exposure out of fear of getting arrested. It was probably a skull or something in that vain as I was a teenager and hadn't formed an artistic purpose or identity yet. It would have been something I thought was "cool" looking at that early pubescent age.
Another way to answer the question would be to talk about the first piece of art I put on the street as Thrashbird when I had a purpose. I realized I could use street art as a form of activism. That was in 2010. The content was a commentary on the power of brand association. It was a wheatpaste of a photo I had taken of a McDonald's sign next to an American flag. I cooked my own wheatpaste at home from flour, water, and sugar., store bought Glue is very toxic to the environment. home made is nontoxic to the environment. I watched YouTube to videos about it to find the best recipe to use to make the strongest glue. The pot boiled over on the stove and spilled all over the floor. It was a son of a bitch to clean up off the floor. The floor was sticky for a week after that.
I had previously printed up 20 or so posters at Kinko's, the glue in a bucket and brush to apply I set out late at night on the Hollywood streets on a Sunday night. I figured that would be the best time because I would encounter the least amount of people. I found a dilapidated building with a wall that seemed like the right spot to put up my first poster. Things went smooth because the posters weren't very big. It looked great.
Widewalls: Where do you get your inspiration from?
Thrashbird: This is a question I find difficult to answer. I can never seem to convey it in writing. Which is why I make visual art. The only way I know how to answer this question is to say that I draw inspiration from everywhere. I find that I am deeply affected by social injustices and hypocrisies. I speak to this outrage through street art. An example of where inspiration comes from would be my outrage at the Militarization of the modern American police forces across the USA. The struggle and suppression of blue collar America are something that will probably always come up in my work. I'm also fascinated by the rise of mediocrity to fame, and how people seem to be ok with rewarding that. The outcasts and dissenters in society will always be a source of inspiration for me.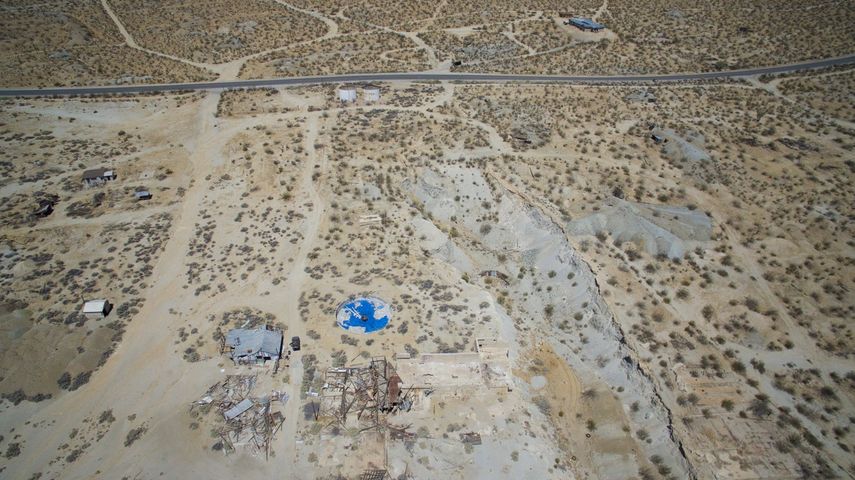 Taking His Voice to the Street
Widewalls: What do you want people to see while looking at your work?
Thrashbird: When I look at artists work I am looking to see them in their work, their unique voice. That's where the connection to it happens. I feel when you can see an artist voice you also then see yourself in it. That moment of human connection is everything to me. If I can't see this then the work doesn't interest me. This is what I want people to see when they look at my work. I want people to see a mirror when they look at my work. That's what I see in it. The message of a piece holds value when it's genuine. I think only when an artist's voice is in their work does it become authentic. You know, it becomes relatable and accessible.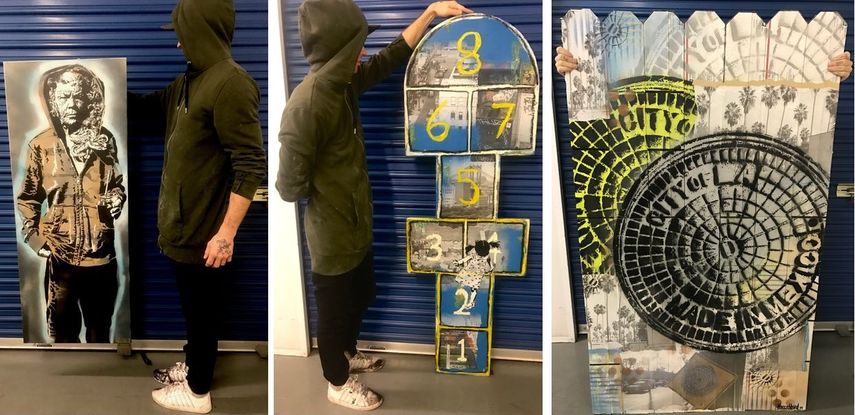 Widewalls: What is the main purpose of your work?
Thrashbird: I make the work that I do and put it illegally on the street to communicate with the world around me. The act of putting up an illegal piece of street art communicating an idea is a powerful, tangible, clear sign of protest and dissent. This disruption resonates with the viewer deeper, I believe. I don't feel like that happens on social media. I am inspired to take action for myself when I see street art in public. I'm trying to pass that on. Even when I completely disagree with the viewpoint, street art carries more weight for me than anything online.
I'm tired of Instagram activism, I am tired of people hiding behind digital screens and filters. We as people have to get off the fucking couch and act, we all have voices, but barking on social media isn't really doing anything to change things. Praying for change isn't working either. People must take educated, relevant action to create the change they are looking for. The change will ask sacrifice of all of us, small individual acts of sacrifice start as a trickle, as the flow together it becomes an ocean. Viewing illegal art on the streets empowered me to start taking small active steps of resistance.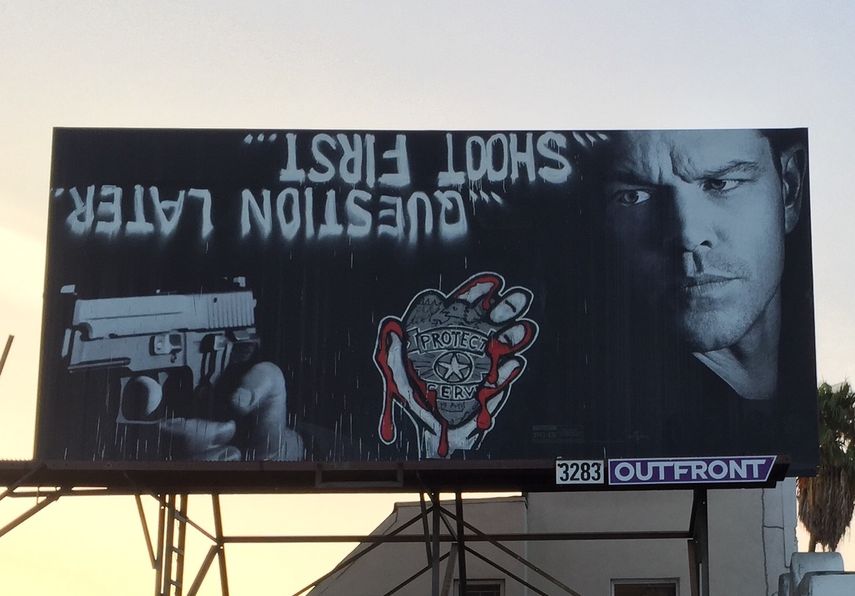 Future Plans and Projects
Widewalls: What are you working on right now?
Thrashbird: Currently, I'm working on a documentary I have been holding close to the chest until now. I have been working with director/ filmmaker Danielle Eden in planning for 2 years, tentatively titled Graffiti Cowboy.
The film will have 4 chapters and will chronicle my Rural street art journeys road tripping thru Americas Abandoned Ruins. I'm hoping to complete the world's largest piece of illegal graffiti ever during the filming.
The work created in these abandoned landscapes utilizes and integrates the surrounding environment. How I describe it in short form, I paint the things I see in the Ruins, like a kid drawing pictures in the Clouds in the sky. The works range from playful to political. The story is that of the artist's journey set in the American west. It showcases the idea that you don't have to have a lot of money to live your dreams. You have to take action.
Each chapter of the story is going to talk about the different ideas I have on life and art. In one of the chapters we will be Driving US Highway 50 dubbed "the loneliest Road in America" it will dive deeper and reflect on my relationship to the Solo artists Journey, my battle with Depression, isolation, and suicide.
Another chapter will be dedicated to something that is very important to me which is children in the arts. We will be doing community outreach in Rural America working with kids creating Murals and teaching them the value of critical thinking and creative outlets.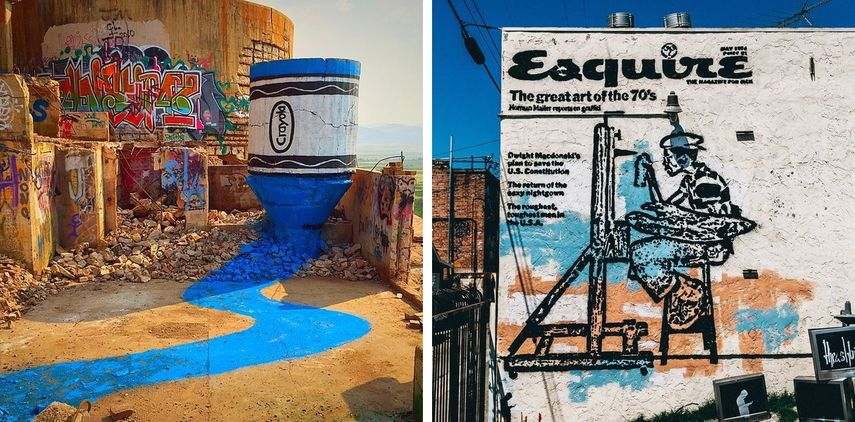 Widewalls: Where do you see yourself and your art in 5 years?
Thrashbird: My life has been so transient the past few years, with so many unexpected turns it's almost impossible to guess where I'll be geographical. I really don't have any specific plans of where I want to be living then. I can say that I will most definitely be in the mountains during wintertime. I need the peace and tranquility that comes from solitude and snow covered landscapes to reset. Those spaces allow me time to clear my head and rest my mind. Maybe I'll move to Antarctica. I hear it's nice there.
My extensive traveling of the western Untied States has given me a closer look at rural America, it appears to me that exposure to the arts is very low in these communities. I want to bring art to kids in rural America. One of my big goals as an artist has been to work with kids in art. In the future, I will be dedicating a lot of time to community art outreach in rural America. Teaching and working with kids on public art projects. Art opened up my life and I will be forever grateful for this. I'm going to pass that forward to kids because they are the future and they deserve a future they can smile for.
Written by Julia JM.