One of the artists' greatest inspirations has always been their own imagination, and their desire to share their stories with the outside world; to channel and evoke emotions alike. The latest exhibitions at Haven Gallery, featuring three talented creatives, will show us the way to their wondrous fantasies, each with a distinct narrative that comes to reflect on landscapes, both the ones on the inside and out. In the paintings and sculptures of Matt Dangler, Brian Mashburn and Scott Radke, we might recognize our own selves, or the quite familiar aspects of the world which surrounds us.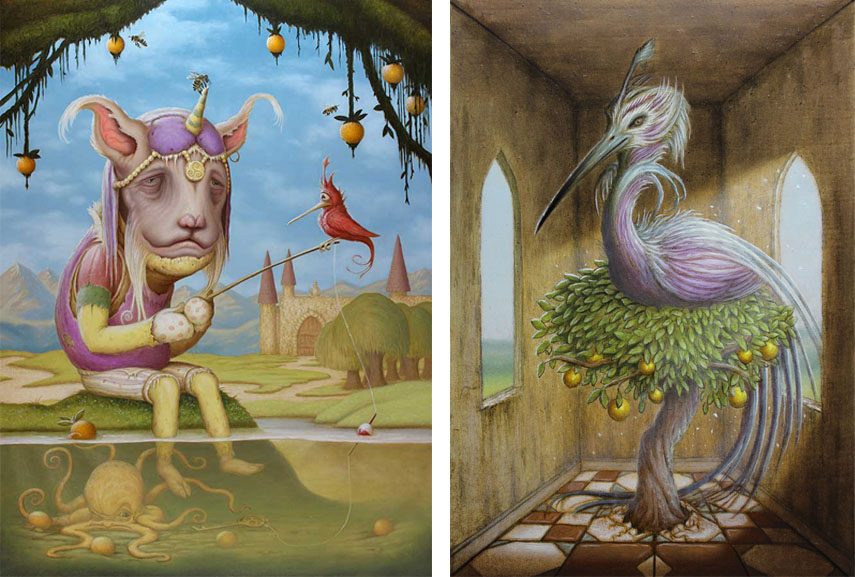 Matt Dangler - The Hidden Ones
A creator of eerie creatures as if drawn straight from a fairy tale, Matt Dangler presents his collection of artworks titled The Hidden Ones. It is the first time that the artist reflects on an inner well of love, opposed to a coping mechanism from pain. His animal characters, often hybrids of different species and calling to mind Alice in Wonderland, are placed in surrealist scenarios, soaked in vivid colors and following a particular aesthetic. In fact, Matt Dangler pays much attention to the subject matter and color schemes present in his work, as these have tapped into everything that he can offer and experience - "opposed to bits and pieces of focused research", according to the artist himself.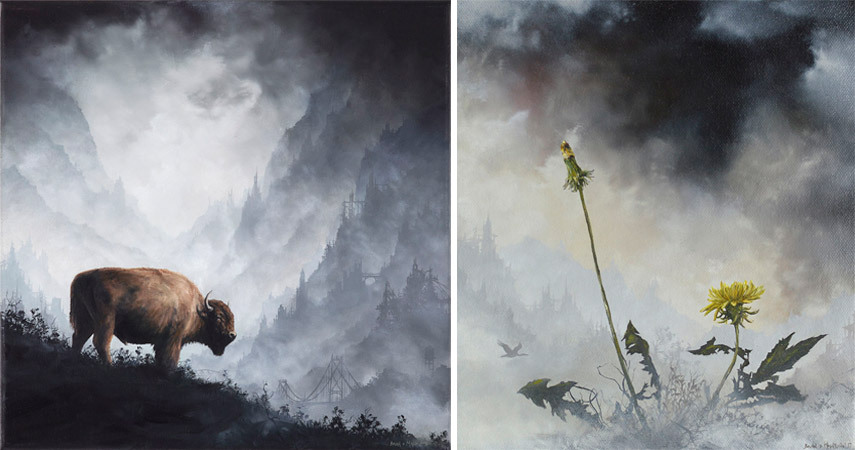 Brian Mashburn - Overburden
The term "overburden", as artist Brian Mashburn interprets it in his series of paintings, embodies an entitlement philosophy with regard to ethical land usage; a sort of manifest destiny-tinged belief that man (contingent on race and class) should conquer nature, that man is above nature. His scenes of dystopia reference the myriad ways in which humans interact and ultimately destroy the natural world, as well as the impact nature itself has on us, our economy, our culture. Dying trees, malevolent skies, plants and animals struggling to survive in such world are all portrayed in Brian Mashburn's canvases, as the artist is interested in the various attitudes and entitlements that accompany the man's relationship with nature.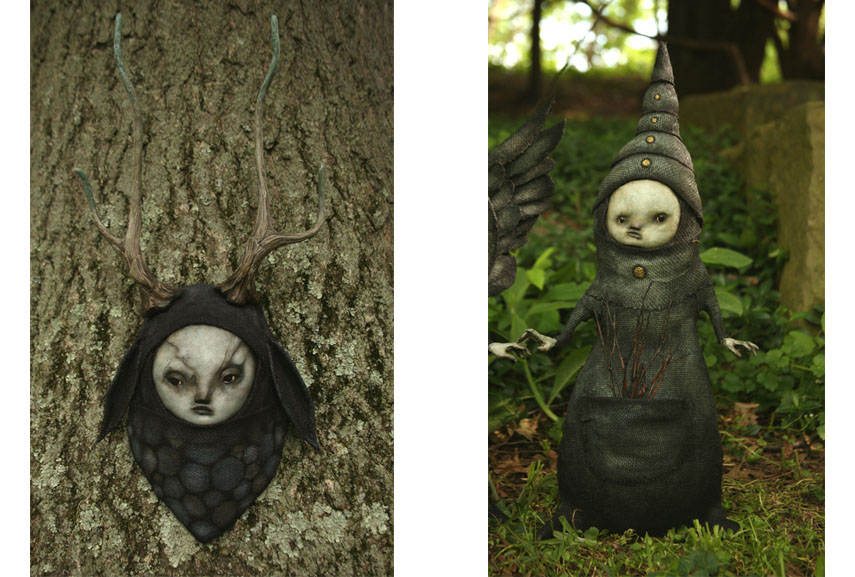 Scott Radke - Home at Last
Resembling trolls, sprites and elves, the peculiar sculptures in Scott Radke's Home at Last series carry great emotion and stories in their childlike faces. Their bodies, on the other hand, combine animals, anthropomorphic beings and celestial bodies, each of them being unique and offering a strong presence. Whether wandering through the woods or hanging on trees, these figurines mirror our most instinctive emotions on their surface, at the same time intermingling humanity with nature. As we observe their meticulously detailed features and outfits, they playfully pull at our imagination and invite us to follow them into their secret worlds.
The exhibitions at Haven Gallery in Northport, NY, USA, open on August 5th and will stay on view through September 10th, 2017.
Featured images: Matt Dangler - Shiftypillar, detail; Scott Radke - Vestige; Brian Mashburn - Spruce Trees. All images courtesy Haven Gallery.