Located in Culver City, known as the art district in Los Angeles, Thinkspace Gallery is committed to the promotion and dissemination of young and emerging art. A catalytic conduit for the emerging New Contemporary art scene, the movement straddled between popular culture, graphic art, design and street art, the gallery is dedicated to creating a visible platform for its recognition and proliferation. Three internationally acclaimed artists – Josh Keyes, Ken Flewellyn and Terry Arena - will soon fill the gallery with their creativity. Keyes is presenting the solo exhibition Implosion, offering a fractured look at a dystopian and psychologically fraught post-human universe; Flewellyn will be presenting the exhibition Stay Gold, featuring portraits of women that challenge our assumptions about identity and cultural homogeneity; and Arena will be presenting the show Swarm, featuring beautifully detailed and delicate renderings of bees in precisely drawn graphite.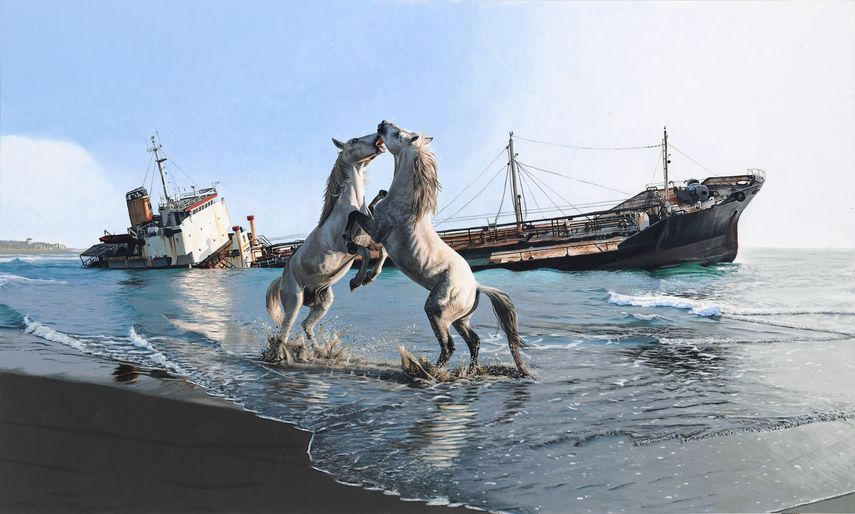 Implosion
A Portland-based artist, Josh Keyes has spent last fifteen years exploring civilization's final frontier – a world dispossessed and in bleak transition. In his latest body of work, we can see the remnants of an anthropomorphic past coexisting uncomfortably alongside a displaced natural world. Through his unique type of eco-surrealism, the artist suggests a future that might not be that too far away - a future where ecological exhaustion has led to inversion, dislocation, chaos, contradiction, and disjuncture. In this tragically irrevocable future, water levels have surged, habitats are destroyed, unlikely species commingle, humans are gone, and the world has unraveled to a state of absurd disorder and irremediable loss. Keyes' visual methodology refers to another thing as well – the estranged state of human condition.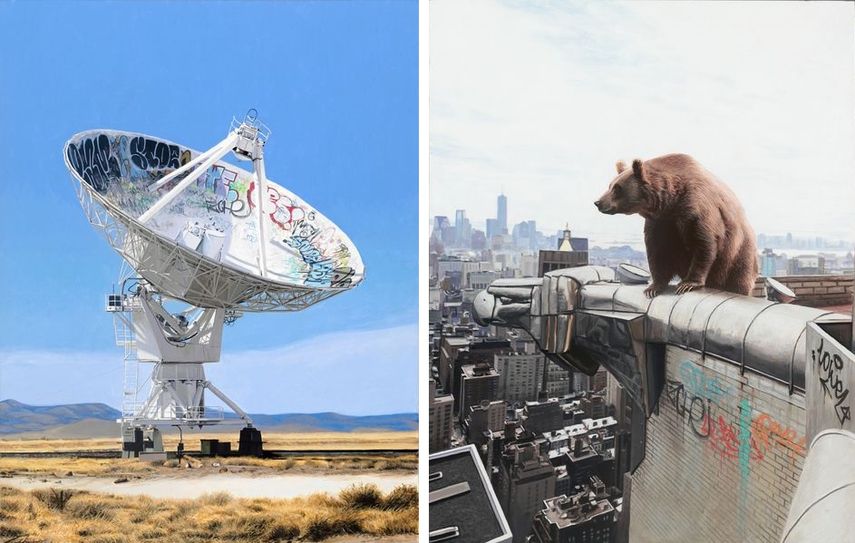 Stay Gold
The Los Angeles-based realist painter and Thinkspace veteran, Ken Flewellyn is fascinated by the intersection of diverse cultures, personal histories, and Hip Hop. Coming of age as a boy during the 80s, his work has always been about music and its impact on his personal vantage point. The idea of cultural heterogeneity has influenced recurring themes in his imagery and has shaped his belief in the positive power of cultural mash-up. He also borrows visual motifs from Japanese culture and aesthetics, depicting subjects that always remain anonymous. Their identity is relayed only through revelatory objects such as tattoos and accessories that point to something beyond the seen. What makes his work so appealing is the juxtaposition of formal cultural garb and pop cultural accouterments.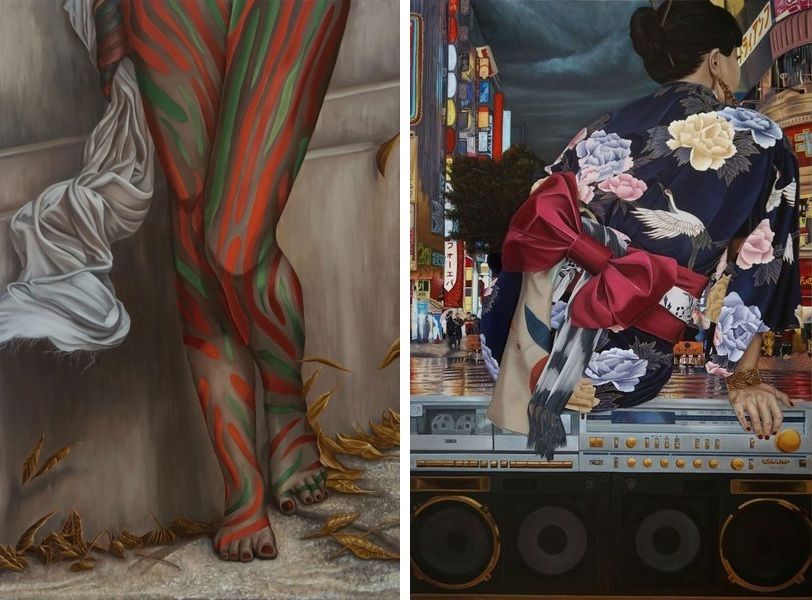 Three Artists at Thinkspace Gallery
Lastly, Terry Arena creates monochromatic pieces as minimal compositions surrounded by negative space, resembling specimens in Petri dishes. She presents us with intimate examinations of the endangered insects so essential to our survival. Grouped together into small systems, Arena's renderings invoke both the idea of interconnectivity and the impending destabilization and imbalance of nature's fragile symbiosis.
The exhibitions Implosion by Josh Keyes, Stay Gold by Ken Flewellyn and Swarm by Terry Arena will be on view at Thinkspace Gallery in Los Angeles from August 5th until August 26th, 2017.
Featured images: Josh Keyes - Tears Of Moon; Ken Flewellyn - Stay Gold; Living Large; Flash & Flare; Josh Keyes - Tears Of Moon; Spray; Float. All images courtesy of Thinkspace Gallery.