A fifth solo exhibition of Tim Doyle art titled Unreal Estate V explores and re-imagines Pop culture locations. It will soon be presented at SPOKE NYC as a part of his on-going UnReal Estate series. Now he showcases new spaces from the most popular cult cinema and television's classics and recreates them with his unique and signature illustrative style. For the first time in his long artistic exploration, he combined both television and cinema in a unique print display, merging everything from The Simpsons to Hayao Miyazaki's Howls Moving Castle. Since he started the conception of this unique print series in 2012, he has tackled everything ranging from the popular and recognizable to the more underground and cult-classic locales.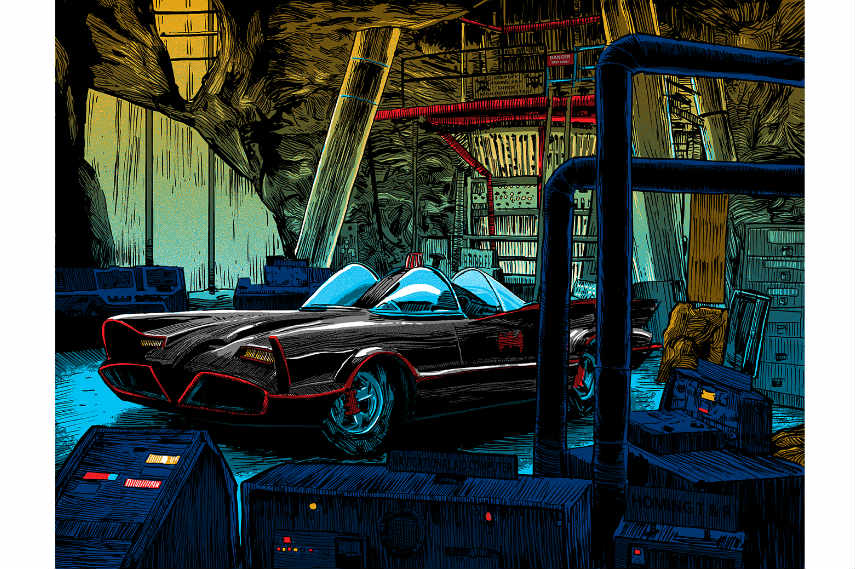 The Process of Illustration and Screen-Printing
In Unreal Estate V, Tim Doyle searches for new meanings and interpretations of the well-known scenery through a body of ten works. Using original pen and ink drawings as well as hand-pulled screen prints, the artist creates his works through a long process consisting both of hand-made and digital processes. He starts by creating hand-drawn illustrations, which he then scans and digitally colors. After that, he screen-prints all his editions from his home studio in Austin, Nakatomi. The artist adds special elements to each design by utilizing printing techniques such as split fountains and glow in the dark inks, showing his ranging talents as both an illustrator and screen-printer.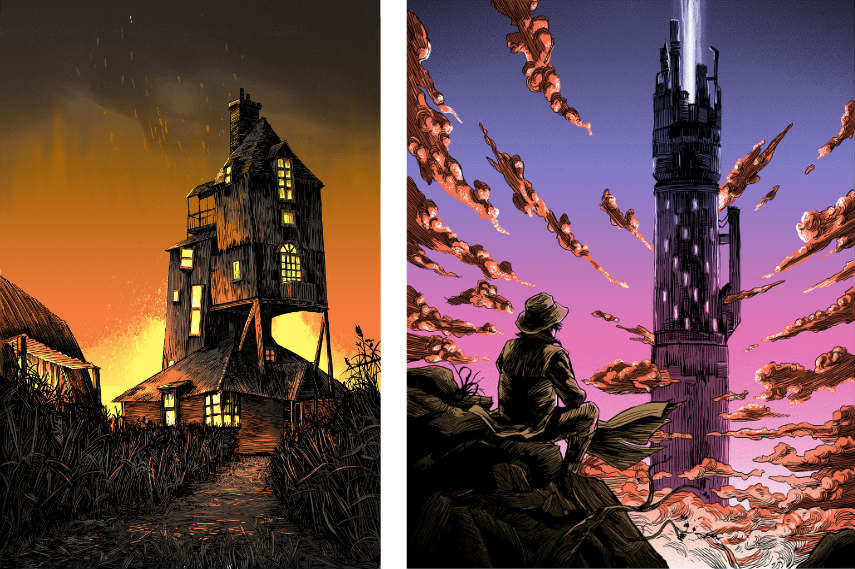 Changing Our Perception
In February 2012, the first solo art show by Tim Doyle was presented at Spoke Art Gallery in San Francisco and the response of the visitors was overwhelming. This is the premiere occasion in which he showcased his ongoing concept of Unreal Estates, which is now well-known and appreciated for its recognizable dark illustrative style which transforms bright and vivid environments into images covered with melancholy. By doing this, the artist allows us to freely explore imaginary locations which only exist as a memory in our minds, making us question the way we perceive places which we could never actually visit and making us re-build them again within our imagination. In his new series, Doyle continues playing with the idea of Pop culture and examining the way it shapes us.
Unreal Estate V - Tim Doyle Art at SPOKE NYC
This debut NYC solo show by Tim Doyle titled Unreal Estate V will be on view at SPOKE Art Gallery in New York, from Saturday, May 6th until Sunday, May 28th, 2017. The opening will be held on Saturday, May 6th from 6 pm till 9 pm. As a special treat to attendees of the exhibition, there will be an exclusive limited edition giveaway print, only available to the first 50 people at the opening. Do not miss this opportunity to recreate well-known spaces and position them in completely new settings which unite brightness and vividness with nostalgia and melancholia.
Featured images: Tim Doyle - In the Gutter Original print, Half of All Time is Nighttime. All images courtesy of SPOKE NYC.