Although fashion photography features models, clothes and other fashion items, it often crosses its boundaries and steps on the territory of fine art photography and becomes legitimate artwork in its own right. What makes it different is the approach or the specific gaze of those behind the camera; these photographic works often reflect certain narration and devotion to a well-articulated concept.
Numerous contemporary photographers experiment and combine different elements to produce a staggering effect, and some of them simply do it with a special touch; one of them is Tim Walker, the former assistant of Richard Avedon, known for his simple, yet surreal portraits of celebrities and highly imaginative editorial shoots rightfully earned his fame. The exhibition titled Wonderful Things at The Victoria and Albert Museum in London does not come as surprise - on the contrary, it comes as a climax of his twenty-five years long career.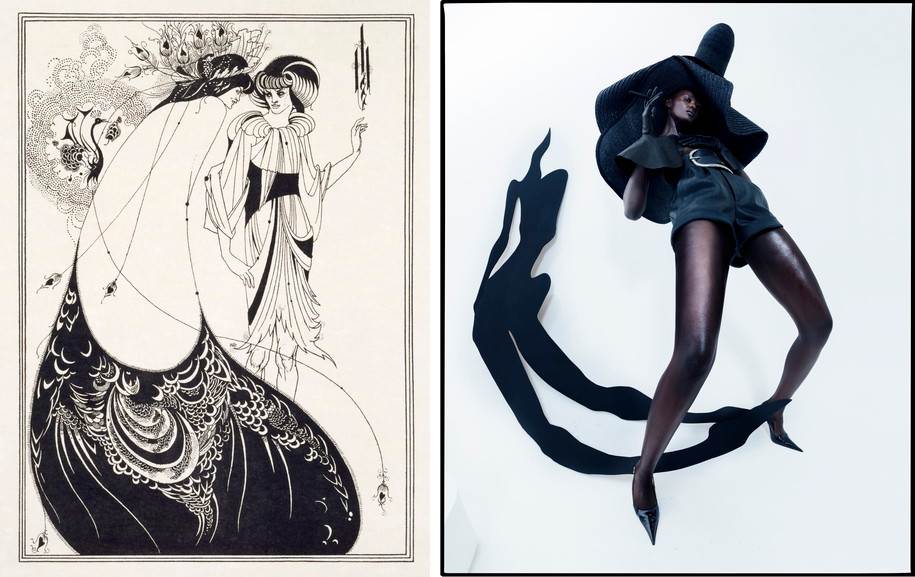 The Exhibition
Tim Walker appeared in the 1990s and quickly rose to fame for his visual storytelling potentials which harness camp aesthetic, black humor and futurism. The famous photogrrapher took shots of the most important figures in the world of fashion such as Stella Tennant, Edie Campbell, or Karen Elson and designers including Balenciaga, Alexander McQueen, and Comme des Garçons. He avoids using Photoshop or any other digital processing tools to underline the natural beauty of inspiring locations around the world.
For this occasion, the photographs of Tim Walker will be contrasted by the works from V&A's collection. The photographer had a unique opportunity to explore the collection from the basement up to the attic, to find his inspiration and release a new series. There, Walker experienced outstanding stained-glass windows, erotic illustrations, Indian miniature paintings, and a fifty-meter-long photograph of the Bayeux Tapestry, to mention only a few gems.
Those visits resulted in ten new photographic projects to be presented in a collaboration with his long term creative director Shona Heath; her designs will guide the visitors through Walker's imaginative narratives.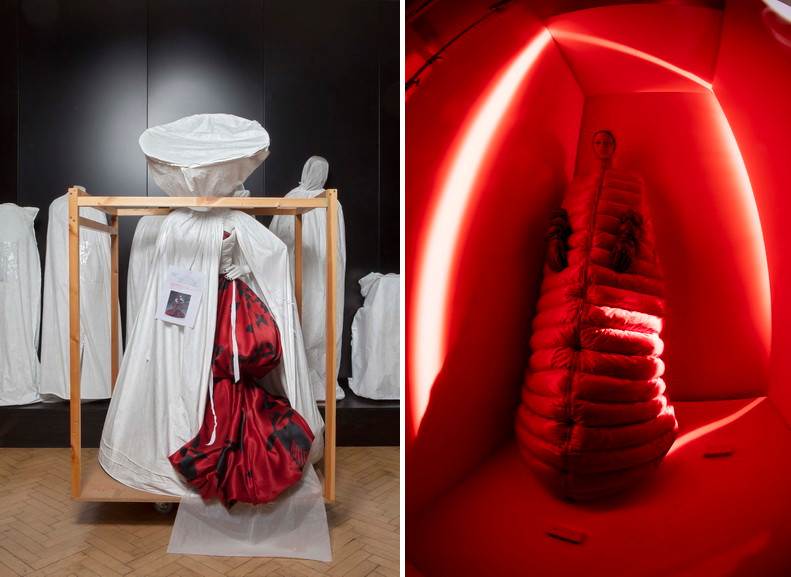 The Installment
The exhibition will open with a selection of hundred photographs made by Walker in previous projects as well as excerpts from his Super 8 films. Portraits of Peter Blake, David Hockney, Sir David Attenborough, Cate Blanchett, Riz Ahmed, Björk, Beth Ditto, Timothée Chalamet Claire Foy, Daniel Day-Lewis, Saoirse Ronan and Solange Knowles will be on display alongside the photographer's muses Tilda Swinton and Lindsay Kemp, models Kristen McMenamy and Kate Moss, and the artist Grayson Perry. This part will end with five projects devoted to the nude.
The main exhibition space will reveal a more surreal atmosphere, enriched with texture, color, and sound consisting of ten rooms each featuring Walker's new photographs inspired by the artworks found in the museum's collection.
The first room titled Illuminations will evoke the interior of a burned-out cathedral. The sixteenth-century stained glass panels and an illuminated manuscript meticulously crafted in the 1470s for the Duchess of Brittany will be contrasted with Walker's large-scale framed prints close-by.
The second one called Pen & Ink will focus on the aesthetic of Aubrey Beardsley's provocative illustrations from the 1890s, where works of this enigmatic figure will be joined by ten photographs made by Walker as a response to the black and white neogothic virtuosity performed by Beardsley.
Handle with Care will take into account the works Walker encountered at the museum's textile department. The images featuring Karen Elson, James Crewe, and Sgàire Wood will be shown alongside a dress from Alexander McQueen's 2009 The Horn of Plenty collection. The curiosity is that the scene revisits the photographer's first encounter with the dress at The Clothworkers' Centre for the Study and Conservation of Textiles and Fashion.
The final room will be reminiscent of a grand country mansion where a film projection within a fireplace and the portraits inspired by the famous British poet and critic Edith Sitwell's clothing and jewelry aim to tackle her eccentricity and charm. Alongside a portrait of Tilda Swinton (who is a distant relative of Sitwell) taken at the family's manor house, Renishaw Hall, will be on display.
The installment will also include few of Walker's film installations to be found at the museum's permanent galleries, including the Tapestries Gallery and Norfolk House Music Room. During the exhibition, the V&A's Photography Centre will screen Walker's latest film, The Steadfast Tin Soldier; this ballet performed by dancers from the Michael Clark Company wearing costumes inspired by paper dolls in the V&A Museum of Childhood is based on the Hans Christian Andersen tale rewritten by Tim Walker as a gay love story.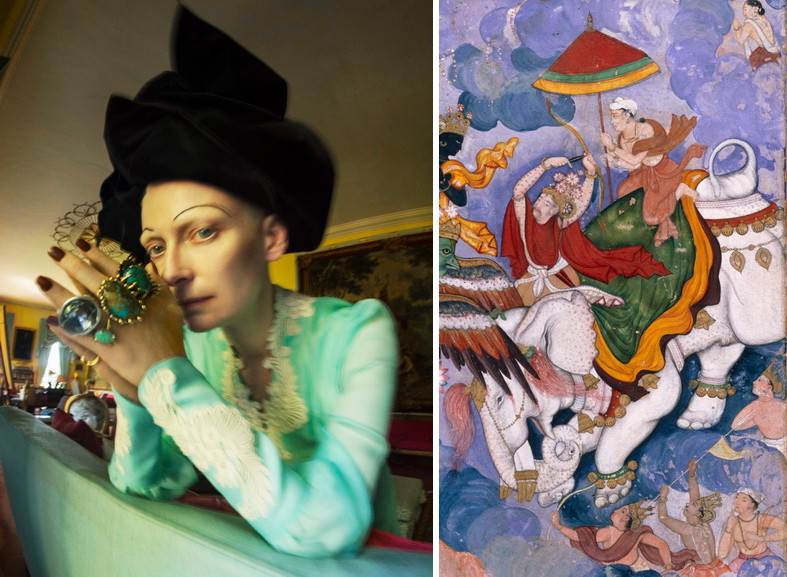 Tim Walker at Victoria and Albert Museum
The upcoming exhibition will evidently expose the enchanting visions of Tim Walker by underlining the complexity of his work which could not be possible without his team consisting of stylists and creatives such as Katy England, Amanda Harlech and Jerry Stafford, and hair and make-up artists Malcolm Edwards, Julien d'Ys, isshehungry and Sam Bryant, among others. The curator of Photographs at the V&A Susanna Brown stated the following:
We started discussing this project back in 2015 and it's been a marvelous journey. Tim embarked on a sustained exploration of the museum and many V&A colleagues helped to spark his imagination by unlocking our collection stores and sharing the fascinating stories behind the objects with him. Tim has a wildly inquisitive mind and boundless energy, he never stops innovating and these new pictures are some of the most spectacular he has ever made. Tim's photographs and Shona's exhibition design combine to create a show that I think our visitors will adore. The book which accompanies the exhibition reveals more about his complex process and includes fascinating interviews with Tim and twenty of his closest collaborators.
Tim Walker: Wonderful Things will be on display at the Victoria and Albert Museum from 21 September 2019 until 8 March 2020.
Featured image: Tim Walker - Karen Elson, Sgaire Wood & James Crewe. Fashion: The Row, Saint Laurent by Anthony Vacarello, Daniela Geraci, Sarah Bruylant hat, Molly Goddard, London, 2018 © Tim Walker Studio. All images courtesy V&A.