"Invisible Sculptures that remain constructs on websites. Whole archives full with artworks, which no one really get's to see. Homepages, forever mislaid in the dead zone of the Internet. What we survey is a cultural production that avoids both culture and production. The result is artworks on the edge of our own practice. They reject the concept of artwork or avoid it. A way of production becomes evident that put's Total Collapse, free fall into work - as an accessible boundary zone."
- Philipp Höning and Timothy Shearer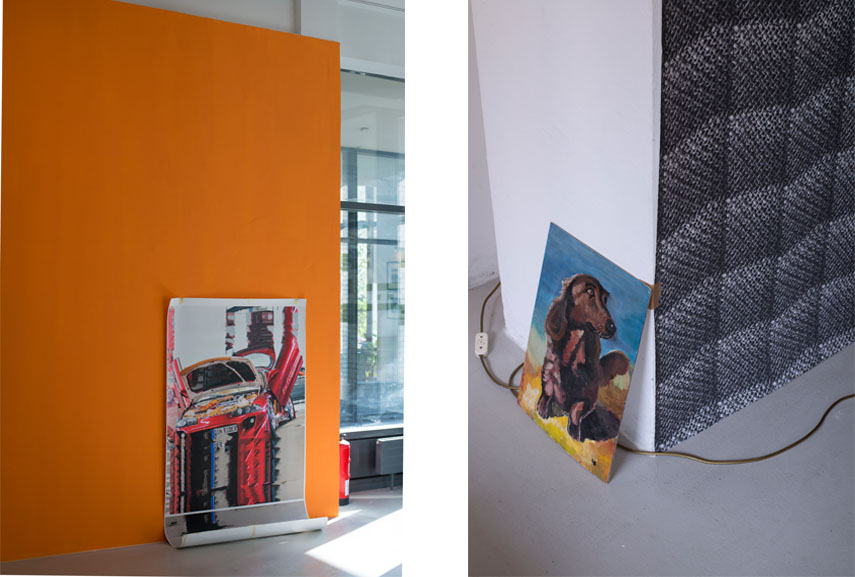 Total Collapse
Thorsten Schneider: Let's start with a stupid question. In your statement for the current exhibition titled "BIGOTHER" the following formulation is irritating: "A production process becomes obvious, which performs the Total Collapse and the free fall as a permanently accessible periphery." That sounds very disillusioned and somehow strange. What do you mean by that?

Philipp Höning: Total Collapse doesn't exist. It is just a linguistic excess for the press release. The story of collapse would be told with the black hole. Timothy and I are ten years apart, but we are both socialized in a twilight zone. There is no more clear ideological attribution. The 2000s/2010s seem to be a big interrogation point for us. But there are tangible matters, which help us to wander around this interrogation point.
One very specific example is the places we live in: Cologne, Dortmund, Düsseldorf. To a certain degree they seem to be designed in the '80s and '90s to look like "cities". The whole contemporary urban public space concept we live in is subordinated to an identity constraint. The quality of architecture is measured by the recognition to something already known: New York, Tokyo. But you don't conceive of these places via this skyscraper-image. 
If you are in between these surfaces there is a total discomfort, which is immediately real, beyond any symbolical order and which cannot be captured in truisms like dreariness, tediousness, fakeness or even non-place. Once you attempt to really absorb this environment you begin to stumble into these blind spots. All you do is orbit around these blank spaces; you apprehend them as gravitation fields to provoke the plunge.
Timothy Shearer: It sounds disillusioned because it is. Total Collapse has been sold for its entertainment value for such a long time that the meta-narrative has gotten into some pretty weird territory. Our norms of reality have become subverted by elasticity. Then again, norms and reality are just constructs anyway. The late '90s and the turn-of-the-millenium slid, crashed into the projection of themselves. For critical thinkers, this trajectory was apparent - that's why it's an important point of interrogation. To be concrete - the Y2K mania, which was much more a phenomenon in the United States, didn't instigate Total Collapse. Yet, you could sense the desire for it like stale buttery popcorn. The catharsis that didn't happen on 01.01.00 ruptured on 9.11.01. We've been echoing through the dissolve ever since.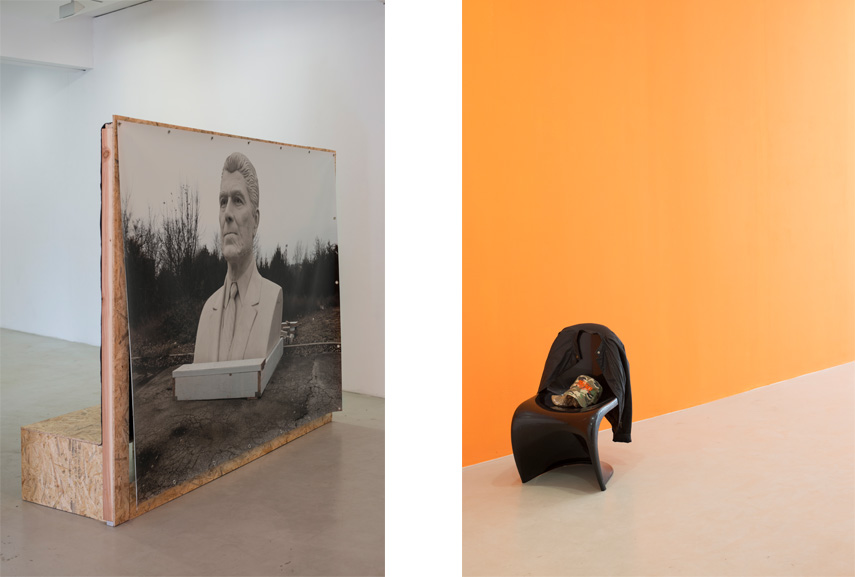 BIGOTHER
Thorsten Schneider: There is a similar discomfort perceptible by visiting your exhibition. Everything seems to be a bit worn out and raddled: numerous objet trouvés and found footage; a huge mash-up made of cultural waste. Are you re-staging a perspective of cultural pessimism on the present? Is there a degree of cynicism, or what do you see is the potential of this material?
Philipp Höning: Cultural pessimism requires a certain understanding of culture, to be able to allege a failure. I think we both are far from this. But there is no point in developing some kind of resilience.
You wake up every morning and, at that moment, the struggle with pressure from the outside begins. The process begins even beforehand because the level of heteronomy, precariousness and social stability determines how and if you sleep at all. There's grinding and chafing everywhere.
Cynicism is the first attempt to solve this problem. In my opinion, it leads to the pathetic cowardice of the cultural pessimist, who becomes a gallerist for the "secular market" - with the difference being that he can tell you the exact reason.
 On the other hand, there is an ungovernable, passionate rage, a disgust towards political circumstances and their social and substantive results. Without that rage there would be no point in being an artist anymore. As a disgusted subject, you have to really argue out the inconsistencies of a society referred to as "neoliberal"; let them congeal into material and turn away from exhaustion again and again. That's all you have.
Of course, there is a passion for the bruised. But we can never really leave the spectrum of the provided commodities. Maybe it's more the peripheral than the bruised. 
The unfinished computer games full of dead ends, the cigarette butts, the consumer-wise unattractive wallpaper, the dead presidents. It's not about exploiting marginalized material to find the edge of what's still showable. That would actually be a cynical perspective, and in practice a recirculation of the culturally excluded into the hipster-cosmos.
Here we are different. Timothy nevertheless stakes everything on the card of manic and intensive production. He doesn't look for the ugliness. He instantly pervades this attribution by an enormous sense of texture and depth, and he finds them as textures permeated with history.
 When I throw clumps of clay against a wall and then equip these clumps with office-chair-rolls, it is more an attempt to feel inside these objects and imagine what could be of use for them to lead an incommensurable existence in a seemingly commensurable world in total absence of a cost-benefit analysis.
Timothy Shearer: I guess it's a re-staging, a juxtaposition, of cultural phenomenon. I don't see my approach as cynical; it's more like holding a mirror in front of the representation of a double negative. Go back and analyse the brain-fuck-tactical style of D.Rumsfeld statements. Imagine playing chess with a computer that is well versed in the algorithms of non-sequiturs. I don't want to preach cynicism to a choir of pessimists, but maybe I am fooling myself. I don't know. I see a lineage of information in the material that is perhaps re-presented in an abstract form in order to avoid being didactic, to avoid getting pinned down. Perhaps I'll be concrete in reference to Presidents, living and dead. When I visited the U.S. in March of 2016, the trending sound-byte was "How did we get here?!" - to which I thought who are "We", what is "here" and "Where is this story going?" The photo of the bust of R.R. was taken that same year in December. It was located on the periphery of an empty parking lot of a former Make-Your-Own-T-Shirt outlet. The outlet seemed to have closed permanently; there were no people inside and the doors were locked. There were spare remnants of commerce lying about. I know for a fact I saw "BUY 3 GET 1 FREE" on a sign in faded color. I am fairly certain "For Rent" was on the window too, but that's where my memory gets slippery.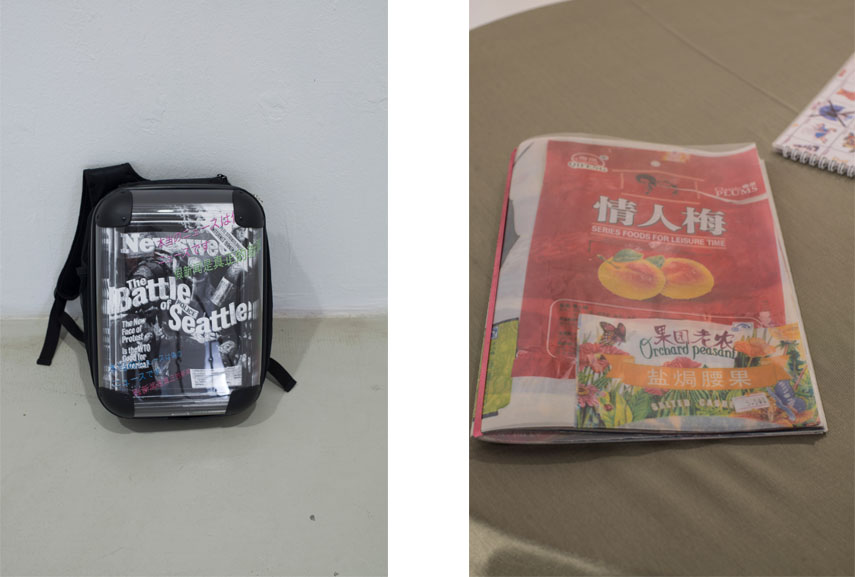 Determined by Politics
Thorsten Schneider: Is your work political? Should a work of art be political or not at all? What do you expect from your work and its recipients?
Philipp Höning: The act of working parallel to the logic of labour, not inside it can't be separated from the political field. And, first of all, there is always this strict division of purpose and means, which is inherently political, but protects the art from becoming at the same time Agitprop. As said before, our environment is hugely determined by politics, so is our material. But for me the moment of production is depending on a lack of emotional detachment. When you bite through the grinding and crunching, the contradictions - you work inside the free fall, you don't always step away and contextualize. That would be, again, resilience, the death of integre production.
Timothy Shearer: In all honesty, I've often asked myself that same question.
Timothy Shearer and Philipp Höning "BIGOTHER" curated by Georg Imdahl
Kunstraum Düsseldorf
31.03. – 07.05.2017
Catalogue presentation
Thursday 04.05.2017, 20h
Featured images: Exhibition View "BIGOTHER" - Philipp Höning and Timothy Shearer - curated by Georg Imdahl, 2017, Kunstraum Düsseldorf, Germany, Courtesy: The Artists and Kunstraum Düsseldorf.