My name is Dereck Seltzer and I am the fiance and former creative partner of the artist and musician Tina St. Claire, also known as Tfail. Together we formed the Los Angeles based creative team TMRWLND, working collaboratively on zines, murals, installations, paintings and prints.
I met Tina in 2011 while guest curating a show for Thinkspace Gallery in Los Angeles, we spoke briefly and in that time she discerned she wanted nothing to do with me. I had made a poor first impression, she on the other hand had me completely smitten. After quite a bit of back and forth she finally gave me a chance, and from that day we spent all of our subsequent ones together.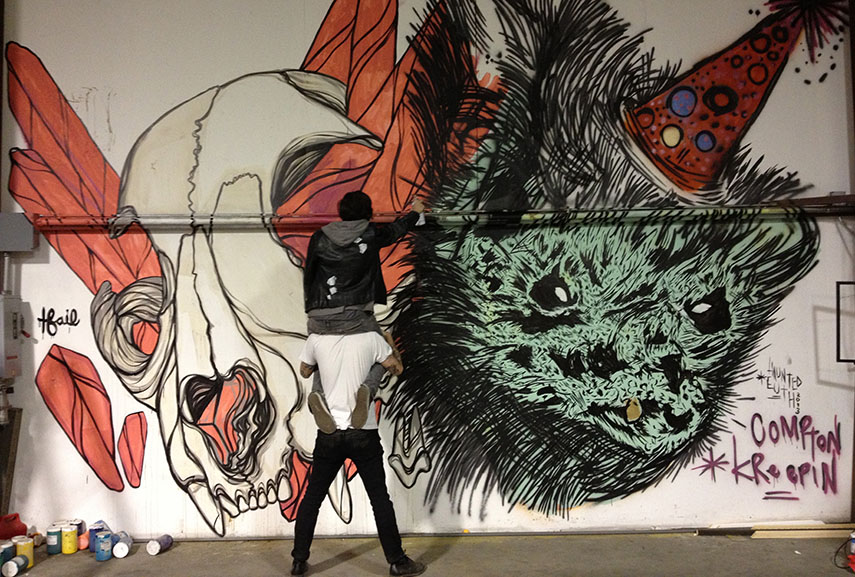 The Unique Talent of Tina St. Claire
A self-taught illustrator with a impressive self-cultivated fan base, Tina St. Claire's striking visual lexicon was immediately recognizable. Her work was rooted in portraiture, powerful and ethereal images of young women gazing defiantly with pupil less eyes into the cataclysmic abyss the world presented to them. She worked tirelessly and without reserve, creating a massive body of work which showed an understanding of her true voice and merit far beyond her years. She knew exactly who she was and her work reflected upon those qualities and personality traits which defined her, creating a style that was bold and iconic but instilled with a sense of grace and vulnerability.
Toward the end of 2015, Tina began to show signs of an illness, undiagnosed despite six different trips to the hospital and numerous meeting with doctors. On December 25, 2015, Tina was diagnosed with stage four Glioblastoma Multiforme, a particularly virulent form of cancer which attacked her brain, damaging her left frontal lobe and eventually causing catastrophic damage to her CNS and brain stem. On March 9th, 2016 at 6:25 a.m., Tina St. Claire died in my arms as I held her and I spoke my last words to her, reassuring her that I loved her and that I would see her again in time. She was 31 years old.
Tina was prolific in all manners that could be applied to the word and her creative output remained consistent up until her passing. She spent time drawing in the hospital and even worked on a series of prints later as she awaited brain surgery. For her the art was a byproduct of her life and a means to push herself beyond her comfort zones and to explore new ideas and find inspiration.
After viewing her medical records and speaking with doctors, it has become evident that Tina created all of her artwork while she had early stages of GBM, which had been put into remission by her immune system. That means that her entire visual catalog of well over 200 completed pieces is the work of a young woman living with a terminal form of cancer, creating images of her story that convey strength, courage and triumph in the face of impossible odds. I believe the example she set forward could change the way that we as a culture view terminal illness, providing imagery and a positive narrative for what can be achieved in moments when all hope seems lost.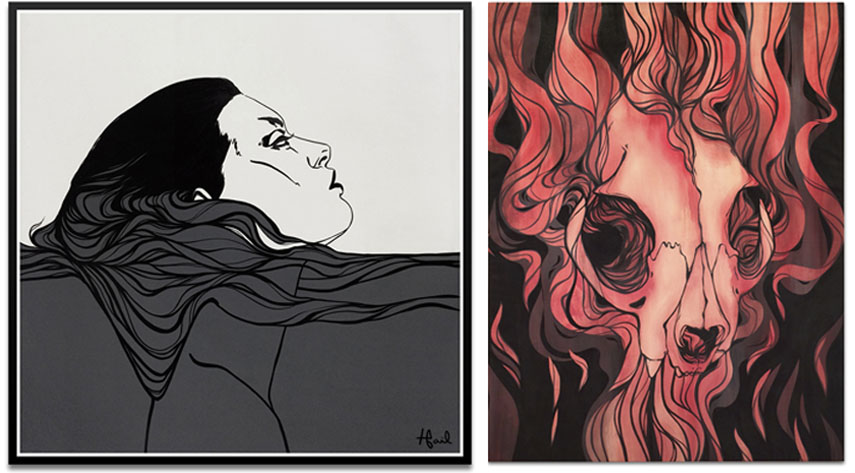 Heroine
I am currently working alongside filmmaker and Director Rich Ragsdale to produce a documentary on Tina's art and to bring exposure more exposure and awareness to Glioblastoma Multiforme, the cancer which took her life. I am sharing this story with you for Tina. I promised her while she was in the hospital I would make sure to continue her story for her and to make sure she wasn't forgotten. Thank you for taking the time to read this story.
Written by Dereck Seltzer.
Featured images: TFAIL action shot on the set of a David Lachapelle photoshoot; Tina St. Claire and Dereck Seltzer - Dreamland Summer. Acrylic and Enamel on wood panel. 60 x 60 Inches; Dereck and Tina at the 4th annual Supersonic Invitational at Spoke Art, SF. All images courtesy Dereck Seltzer.