The exhibition Super Science Fair of Dave Perillo and Tom Whalen Art at Spoke Art Gallery in San Francisco represents an enjoyable visual travel into the sci-fi world inspired by classic types of the genre such as Willy Wonka or Godzilla. The artists used their recognizable bright and illustrative vector styles to reimagine these cultural staples in a modern but yet nostalgic limited-edition print spins. Similar in artistic styles and topics they choose, Dave Perillo and Tom Whalen share also background in design and typography. In addition, their fascination with sci-fi culture led them to pick famous and favorite films and characters - from Aliens to Xenomorphs - for their concise and dynamic work.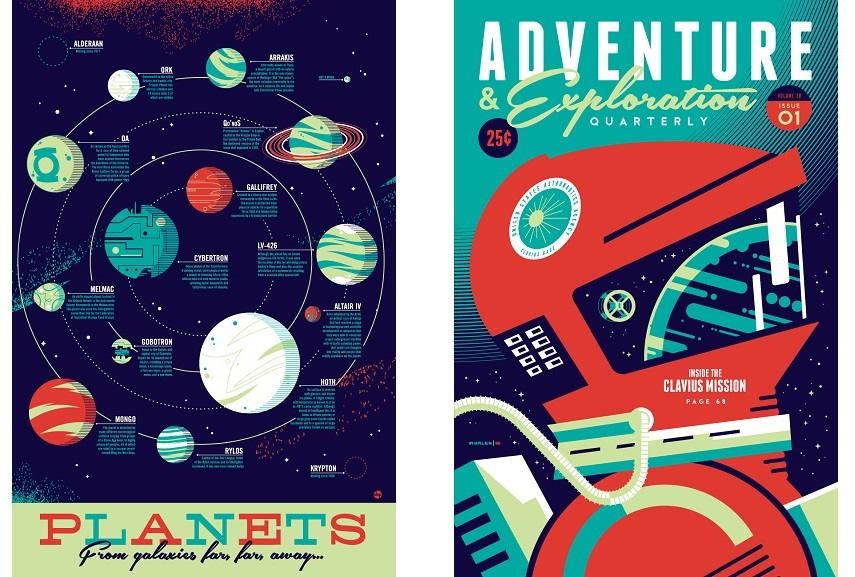 New Sci-Fi Iconography of Perillo and Whalen
Dave Perillo and Tom Whalen share the same penchant for sci-fi visual tropes, but the variety of influences their work exhibits surpasses the limits of sci-fi genre. Mid-century advertisements form the stylistic frame of their works, where letters and slogans are dispersed among and around sci-fi imagery. They also cite cult classics and pop culture elements in their artworks for Spoke Art show. Citations and references to other visual productions create new iconography of already known sci-fi gems, including detailing planets from galaxies far, far away, Pee Wee's Breakfast Machine, and a spec sheet for the U.S.S. Sulaco. The journey through this science fair is also a journey through a visual experiment where contemporary take on classics of the sci-fi genre create postmodern, innovative, and, above all, fun bricolages.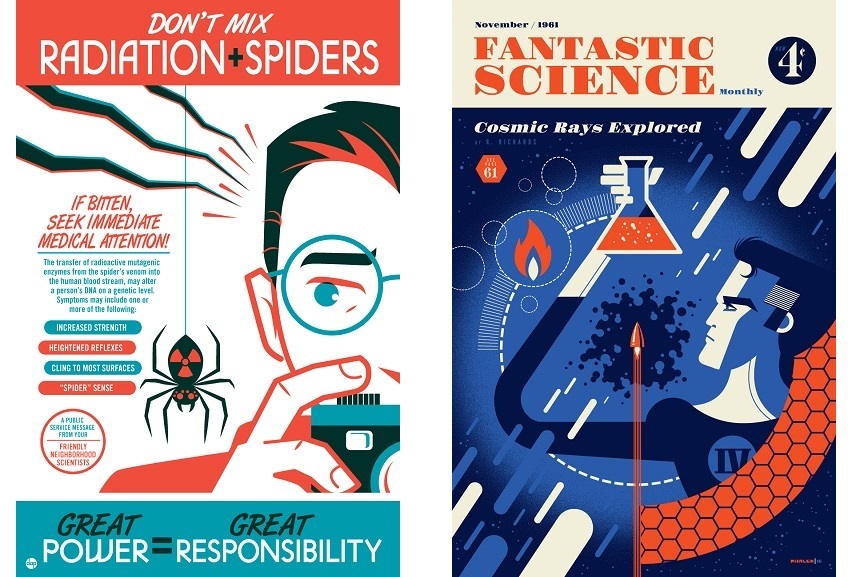 From Disney to Saul Bass – Artistic Influences at Super Science Fair
Dave Perillo and Tom Whalen are illustrators from Pennsylvania. Dave Perillo's unique illustrations are a variant of iconic cultural symbols such as 1950s Sci-Fi Movies, Hitchcock, and Hanna Barbera. Tom Whalen combines illustration and design in his practice. His posters often combine drawings and typography into distinct design. So far he has worked for an impressive list of clients, including Marvel, The Beatles, and Disney. For Super Science Fair Perillo and Whalen again reach for an interesting combination of sources. Mary Blair, Jim Henson, Charles Schultz and Walt Disney are the influences Dave Perillo cites. His works on display include informational pamphlets, guides, public service announcements, but also a more quirkier topics such as how to grow a dinosaur and time travel through the ages. They seamlessly combine elements of the '50s and '60s advertising with sci-fi heroes. List of references Tom Whalen uses include illustrators such as Steve Ditko, Jack Kirby, Saul Bass and Todd McFarlane. In his latest work Whalen combines Reed Richards (Fantastic Four) and Dr. Bowman (2001: A Space Odyssey) as pulp magazine covers.

Dave Perillo and Tom Whalen Art at Spoke Art Gallery
Spoke Art Gallery specializes in new contemporary illustration, painting and sculpture. It is located in San Francisco's Lower Nob Hill neighborhood, and features each month a wide variety of solo and group shows of both local and international artists represented by the gallery. Super Science Fair of Dave Perillo and Tom Whalen Art will open on Thursday, November 3, with an opening night reception from 6pm-10pm. The exhibition will be on view through Saturday, November 26, 2016.
Featured image: Dave Perillo - Phonehome, detail. All images courtesy of Spoke Art Gallery.