The development of visual arts in Yugoslavia during the first couple of years after World War II was mostly under the influence of Soviet social realism. However, that started rapidly changing quickly after 1948 when the former Yugoslav president Josip Broz Tito took a different political course and departed from the rigid ideological matrix imposed by Stalin.
Ever since then, various artistic groups started experimenting, important exhibitions featuring leading modernists took place in Belgrade, the country's capital, along with other important cultural events. The opening to a myriad of Western influences created an internationally inclined atmosphere in Yugoslavia that eventually laid foundations for the burst of avant-garde tendencies in visual arts, literature, theatre, and cinema throughout the 1960s, especially enforced by 1968 student protests.
One of the most important and surely the most radical artists and filmmakers from Yugoslavia was Tomislav Gotovac (1937-2010). This notable figure developed a multidisciplinary art practice based on performativity and motion pictures. Practically until the end of his life, Gotovac made art with equal vigor, while attempting to react to the current moment in a well-balanced critical manner.
Although he is best known for his contribution to the experimental film and his name can be found in every relevant survey of this 20th-century phenomenon, this artist was the precursor of performance art in a described socio-political context, and his actions practically gave a nod to a slightly younger generation including the world's leading practitioner of performance art, and his countrywoman, Marina Abramović.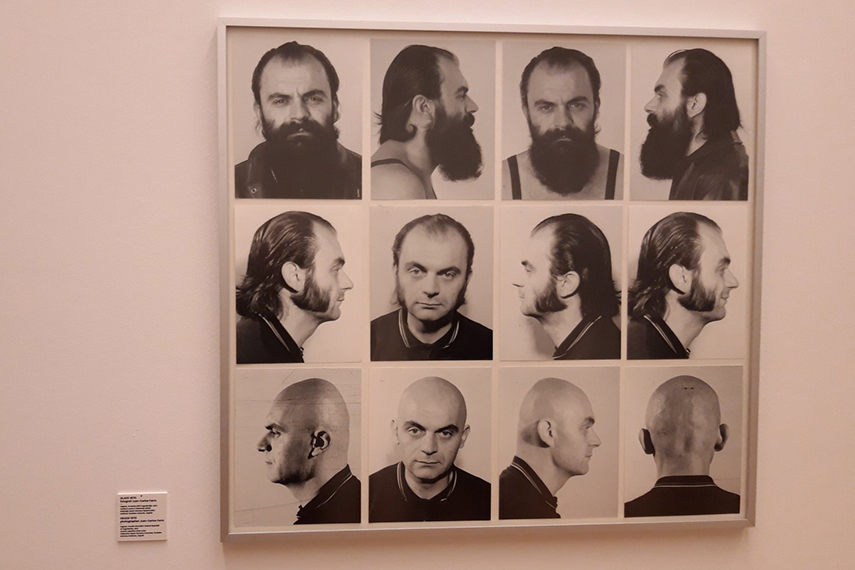 Experimenting With Film
Tomislav Gotovac's first impressions with art are actually related to the film which he adored watching as a child in the cinemas of Croatian capital of Zagreb. The artist studied the Faculty of Architecture for a year and worked as a clerk for several years before attending the Academy of Theater, Film, Radio, and Television in Belgrade in 1967.
By then Gotovac was already a devoted practitioner; as the artist stated in 2003. his first performance took place in 1954 in Mostar, later titled Pajama + toothbrush; in 1962 he shot his first film in Zagreb, while his first collages were made in 1964. In brief, by the end of his studies, Gotovac was a high profile avant-garde artist with a rich multimedia production which basically made him the key figure of the period.
In retrospect, his early structuralist films stand side by side by the ones made by prolific authors like Michael Snow, Hollis Frampton, or Peter Kubelka. In his works, Gotovac played close attention to procedures of film directing, including quotes and extracts of images and music as references and homages to other film directors (especially the Americans) and musicians who inspired him.
Gotovac, or simply Tom as he was often called by his friends and colleagues, developed a fascinating aesthetic under the influence of American cinematography and jazz music. However, the element that marked his approach entirely novel was the principle of repetition that allowed the action and characters to fall into the background in favor of the essential creative process. That is best expressed in his iconic trilogy of films such as Direction, Blue Rider, and Circle, all made in 1964.
Alongside the experimentation with motion pictures, during the 1960s Gotovac started using editing principles in his visual arts practice, creating collages based on themes in his everyday life reminiscent, for instance of Kurt Schwitters, and the Fluxus movement.
Tomislav Gotovac - I am innocent - Excerpt from the movie Plastic Jesus
The Contribution To Performance Art
The relationship between all of Gotovac's works is tight and rooted in the film experience. While the aforementioned collages are a manifestation of the process similar to editing, so are his early photographic performances are organized as if they were a film. However, aside from the motion pictures as an omnipresent tool of expression, there was the artist's naked body which he used to cross the boundaries between private and public while subversively speaking about the sexuality and the ritual. This strategy made him at the forefront of the first generation of body artists, despite the fact Gotovac didn't use his body as a canvas, but rather as a presence that was threatening for the society framed by rigid social conventions.
Some of his earliest actions were simulations of everyday acts often performed in front of the camera such as The action of taking 120 pills from 1957 or Showing the Elle Magazine from 1962. In early 1970, Gotovac focused more on depicting the activities typical for the sphere of art through performances such as Haircut and Shaves (1970, 1971), and Watching TV (1980).
However, in 1971 Gotovac gained major notoriety for the performances conducted for the cult classic of Yugoslav Black Wave called Plastic Jesus by Lazar Stojanović. This astounding and rather bold film was eventually censored due to its subversive content, mostly because of explicit sexual content and the documentary material featuring Josip Broz Tito (Stojanović was imprisoned for three years, while Gotovac was unable to graduate until 1976). The same year, Gotovac did the performance Trčanje gol centrom grada (Streaking) when he ran naked through Belgrade's Sremska Street. This controversial piece was reenacted by the artist ten years later on Ilica, Zagreb's main street, in a performance titled Zagreb, I love you (running naked, kissing the asphalt).
At the end of this decade, the artist released the avant-garde film Glenn Miller (School Playground I), dedicated to the famous musician to whom he dedicated other performances as well. Throughout the years, Gotovac produced numerous performances and street actions while constantly revisiting and exploring the dominant subjects present in his entire oeuvre such as the political power of film, public display of nudity and sexuality, the artist's persona and the articulation of the history of cinema.
Renata Salecl - Representing the unrepresentable: the legacy of Tomislav Gotovac
Tomislav Gotovac - The Gentle Giant of Postwar Yugoslav Avant-Garde
It is hard to encompass the full extent of Tomislav Gotovac's exuberant practice with a single text, but after this brief attempt to summarize it, it becomes clear that for this artist life and art were not two separate things, but a constant flux of behaviors, actions, reinterpretations, and reinventions.
That being said, it is mandatory to underline that Gotovac himself perceived each decade of his life as an art movement (1956 -1967 Employment action, 1967 -1976 Art education action, 1976 -1986 Hair-cutting and shaving action, and the most important decade started in 1986 with the action Paranoia View Art (The art of paranoid view to the world) based on a worldview that a paranoid optic provided the reinterpretation of political events).
As the title of the last chapter says, Gotovac was indeed a giant of postwar Yugoslav avant-garde, not only in physical, but in a symbolic sense as well, and unlike any other practitioner from that period a gentle, charming joker that he was continually engaged himself to emerge in new frameworks, projects, exhibitions, and performances.
In 2005 Gotovac changed his name to Antonio Lauer, in 2007 he was awarded the Croatian Association of Visual Artists' Life Achievement Award, and three years later he passed away leaving behind an extraordinary legacy that was perhaps best honored with the opening title of 2008 seminal exhibition As Soon as I Open My Eyes I See a Film: Experiments in Yugoslav art in the 60s and 70s curated by Ana Janevski at the Museum of Modern Art in New York, based on Tom's epic artistic and life credo, as well as a more recent 2017 Gotovac retrospective held at the Museum of Modern and Contemporary Art in Rijeka, Croatia.
Featured image: Tomislav Gotovac, via Tomislav Gotovac Institute. Images used for illustrative purposes only.