I met with Donald Trump the week of his inauguration in 2017 along with civil rights leaders including Martin Luther King III to discuss topics that are of critical importance right now: voter suppression and voter ID. Though I am now a professional artist and activist, I was then a lawyer and advocate for civil rights.
I secretly tape-recorded the one-hour long meeting at Trump Tower which landed me on the New York Times front page digital shaking hands with Trump. Trump said very alarming and offensive things in regard to African-Americans in the meeting, and I have recently revealed the secret tape to highly reputable publications who have reported on it including the New York Times in which I am quoted in a front page article, Politico, and The Daily Express.
In the meeting, Donald Trump told me and Martin Luther King III, "I listen better to the African-American people than anybody else. Anybody else in this room."
He said that on Martin Luther King Jr. Day.
I went to Trump Tower to discuss my concern with voter suppression particularly against minorities, but Donald Trump made light of the voter suppression and admitted that low African-American voter turnout helped him win the most unlikely of victories. He said, "Many Blacks didn't go out — to vote for Hillary because they liked me. That was almost as good as getting their vote."
I am the son of an immigrant and leading immigration attorney, so I was personally and very deeply hurt when Donald Trump said, "They're bringing drugs. They're bringing crime. They're rapists. And some, I assume, are good people" at his campaign launch in 2015.
I voted for Hillary Clinton in the 2016 primary and general election, but after coming face to face with Donald Trump, I knew I had to do more.
At the 2017 Whitney Biennial I was disappointed that despite the election of Donald Trump five months prior, there was no artwork directly addressing him. In early August last year, after having visited the 2019 Whitney Biennial three times, I began a two-month long performance artwork and protest known as "MAKING THE BIENNIAL GREAT AGAIN!"
While still working full time as an attorney fighting for civil rights, I spent every night and weekend moonlighting at the Whitney Museum bringing a satirical Donald Trump performance which conveys my experience of meeting the president directly to other people who may not have that opportunity.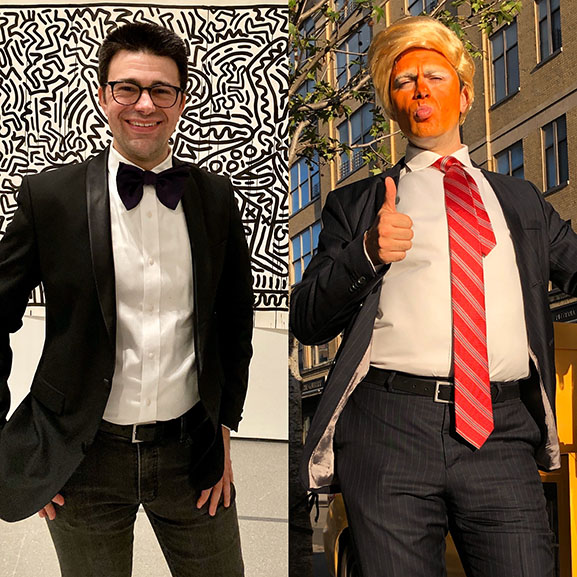 Tootsie Warhol's Trump-Inspired Art and Activism
My performance was very much inspired by Marina Abramović's endurance performance, The Artist is Present that I witnessed at MoMA in 2010, and I continue to draw inspiration from Pope.L and his famous "crawl" performances as they were chronicled in a 2019 retrospective at MoMA. On my third day in the Biennial galleries, the head of security at the Whitney banned me from the museum when in costume (though I have been allowed to return in costume during festive parties), so I endured the broiling and humid August and September weather which causes so many New Yorkers to flee to the Hamptons as I stood outside of the museum for many long weeks.
I endured threats and shouts as I ran to and from the Whitney in my costume which features a pillow from Bed, Bath & Beyond, professional clown face paint, and a gold wig. I became one of the creatures that makes New York City like no other and was spotted on @subwaycreatures twice. Most people though, loved engaging with me and couldn't help but laugh and appreciate my gritty determination to make Trump's presence felt at the Whitney Biennial.
I met a mother and her young son from Greenland just as Donald Trump was inexplicably attempting to buy Greenland as if it were a hotel deal in Atlantic City. They laughed and enjoyed the fact that not every American thought their country was for sale.
I love the Whitney. I have tremendous respect for the Whitney Museum, the director, Adam Weinberg, the curators, Jane Panetta and Rujeko Hockley, and I greatly admire the job they did with the 2019 Whitney Biennial overall. But major museums have a platform and a responsibility to provoke important conversations. The 2019 Biennial was very good, but it wasn't truly great until I made it great by bringing Donald Trump into the conversation in a meaningful way.
Tootsie Warhol - Donald Trump In Front of The Whitney
Now is The Time
"Now is the time."
Dr. Martin Luther King, Jr. repeated this short but powerful phrase many times in his "I Have a Dream" speech 57 years ago, and it still resonates strongly with me today.
In June, I formally announced that I am filed with the Federal Election Commission as a candidate for president in 2020. I am an independent, anti-Trump, write-in candidate with a bold platform to appoint Greta Thunberg as the administrator of the EPA to fight global warming and to create cabinet positions for Secretary of Black Lives Matter and Secretary of the #MeToo Movement to which I would appoint Whoopi Goldberg and Rose McGowan.
I wake up and fight every day to use my art as a means for my activism with a singular goal: to defeat Donald Trump in 2020. I believe I am the only artist whose work has prompted a response from the White House, as Deputy White House press secretary Judd Deere said in a statement, "Donald Trump's record as a private citizen and as president has been one of fighting for inclusion and advocating for the equal treatment of all. Anyone who suggests otherwise is only seeking to sow division and ignore the President's work for underserved communities."
As the United States has passed the grim milestone of over 200,000 deaths to the coronavirus, more than the number of fatalities that the US suffered in World War I and the Vietnam War combined, we face the most important election in US history.
"It is what it is."
This is what Donald Trump said in response to the epic loss of life Americans have faced from his failed coronavirus response. Millions of Americans are now confronting the systemic racism that our country has never shed.
Black Lives Matter.
But Donald Trump has refused to acknowledge this and has compared police brutality to missing a golf putt. He said, "They choke, just like in a golf tournament, they miss a 3-foot putt."
Kamala Harris, who I very much admire and hope becomes Vice President in 2021, wrote in her memoir about the fight for victims of the #MeToo movement in the US Senate Hearings to confirm Brett Kavanaugh as Supreme Court Justice, "We chose this fight not because we were sure we could win but because we were sure it was right."
This is why I am using my art to stand up to Donald Trump against all odds. Message me and join me in this fight, because I am sure it is right.
Written by Tootsie Warhol.
Featured images: NYT Front Page Digital Donald Trump and Tootsie Warhol, January 2017; Left: Tootsie Warhol Campaigning in NYC, May 2020 / Right: Tootsie Warhol at a BLM Protest in NYC, June 2020.