Yes, we are aware of that. In those 10 Pop Art "paintings" that you'll find below, there are two artworks that are not paintings. So what? They are important, as well, and they have also shaped the 20th century, just as paintings did. Don't be a nitpicker. Ok, so, when we have cleared that up, let's get to the point: we have chosen for you 10 works from the famous Pop Art movement that had shook the world and left a deep mark in the 20th century art.
Pop Art had emerged as an intrinsic respond to then-dominant abstract expressionism. The year was 1950-something, the Cold war was raging, and some of the artists we'll mention below wanted to challenge tradition and old way of thinking about art. Pop Art started in the middle of 1950's in Britain, and spilled over to the United States at the end of the fifties. Of course, as every other movement, Pop Art had roots in previous years and previous art - because of the usage of everyday's objects as inspiration, Pop Art could be linked to Dada and readymades. The goal of Pop Art was to bring art closer to the general public - to create art with elements of mass culture, that are known to everybody. It's characterized by a lot of humor, irony and sarcasm towards its own achievements and subjects of interest. It is often said that Richard Hamilton was one of the first artist that begun shaping the movement in Britain, so we'll start with his work.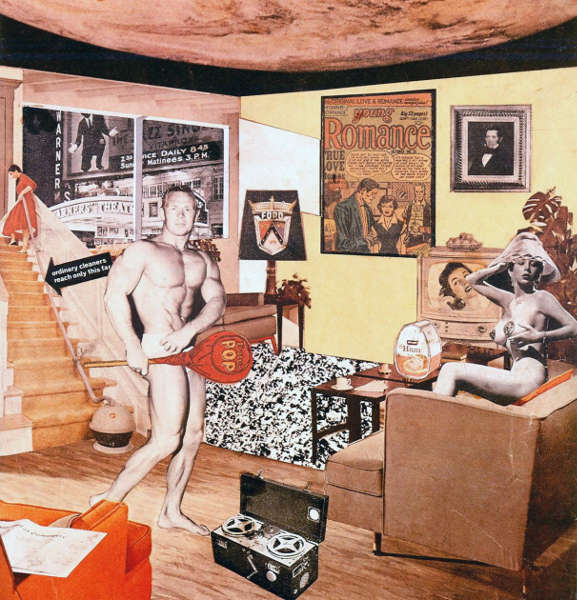 Richard Hamilton - Just what is it that makes today's homes so different, so appealing?, 1956
The number one on our list, that was built chronologically, is a collage Just what is it that makes today's homes so different, so appealing? by English artist Richard Hamilton. This collage was made by images that were taken from various American magazines - living room is from Ladies Home Journal, or, to be precise, from an advertisement for Armstrong Floors, that also gave a title to the whole work: "Just what is it that makes today's homes so different, so appealing? Open planning of course - and a bold use of color". The living room is packed with, then, state of the art home technology - a TV, a tape recorder, a vacuum cleaner - as well as with prototypes of desired appearance, both for men and women. However, although it was a "dream situation" for many families, Richard Hamilton noticed that there's a horrible emptiness beyond it all - the influence of American mass culture and consumerism had started to erode the common sense. Created in 1956, this was the first pop art piece that had a huge success.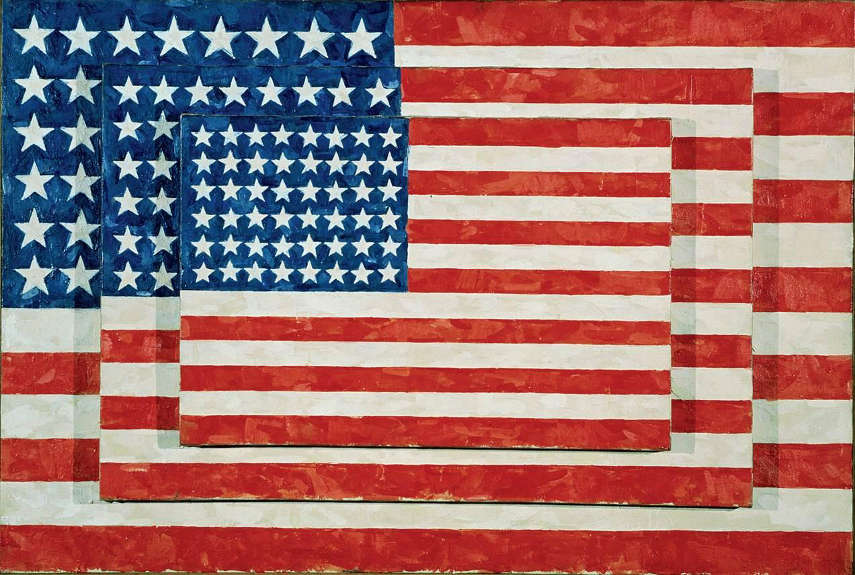 Jasper Johns - Three Flags, 1958
When Jasper Johns had created his first Flag (in 1954-55), that was the symbolic breaking up with Abstract Expressionism and its non-objective style. Johns had chosen a flag as a recognizable and everyday object, as something that "the mind already knows". The middle and late 1950's were the time of all that McCarthy lunacy and witch-hunting all across the United States, and this is the reason some see a duality in his "Flags" - were they a symbol of oppression, or a symbol of pride and patriotism? However, Johns did not want to interpret his work - he referred to his paintings as "facts", and meaning was something every viewer had determined for himself. This Johns' work Three Flags is even more striking than his first Flag, since it creates a sort of a 3D effect, with the smallest flag on top.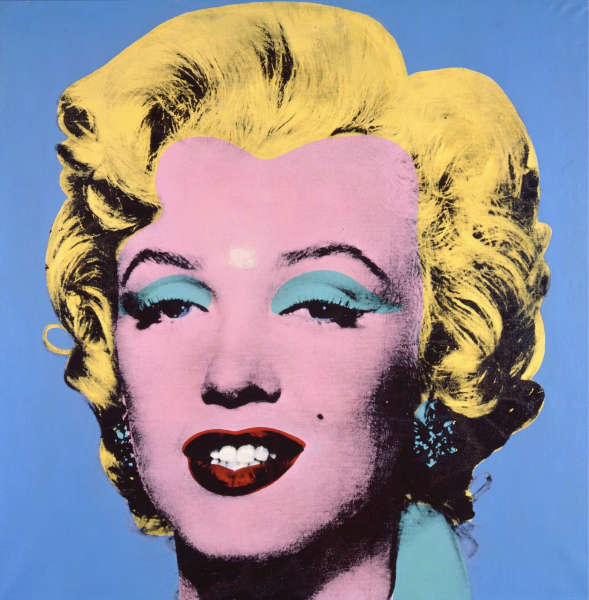 Andy Warhol - Marilyn Monroe, 1962
It took Andy Warhol just several months to make more than 20 silkscreen paintings of Marilyn Monroe, after she died in August 1962. Warhol took the photo of Marilyn from her 1953 movie Niagara and created what's possibly the most famous pop art work. In this artwork, Warhol had connected two very important motifs for him - death and a celebrity. However, we have chosen to present you not the Marilyn Monroe from 1962, but the so called Shot Marilyn from 1964. Warhol created total of five Marilyns - red, orange, light blue, sage blue, and turquoise and stacked four of them up against the wall of his studio The Factory in Manhattan. But then Dorothy Podber came, who was a friend of one of Factory photographer, and asked Warhol if she could shoot his stacked paintings. Warhol thought that by "shoot" she had meant to photograph them, and said "yes", but Podber actually took the revolver from her purse and shot paintings. The bullet came through all four paintings, which were from then known as "The Shot Marilyns".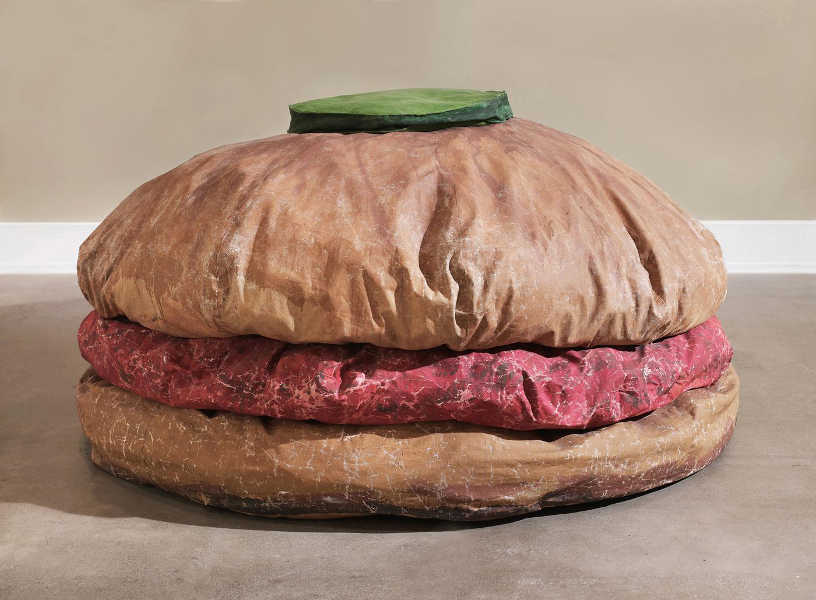 Claes Oldenburg - Floor Burger, 1962
Dada movement had boldly stated that even the most ordinary objects could become art (Marcel Duchamp and his readymades). Claes Oldenburg wanted to go even further. He re-appropriated an ordinary junk food - a burger - made it huge and exhibited it as a piece of art. Oldenburg wrote in one of his essays that anything can and should be considered art. This Floor Burger was one of Oldenburg's first soft sculptures, and it had a lot of urban legends connected to it - one of them says that first visitors of Oldenburg's exhibition at Art Gallery of Ontario actually jumped on his Burger, as if it was a lazy-bag or something. Some art students created a nine-foot-high ketchup bottle and paraded outside of gallery, says another. However, today, Floor Burger is one of the most popular pieces in Art Gallery of Ontario.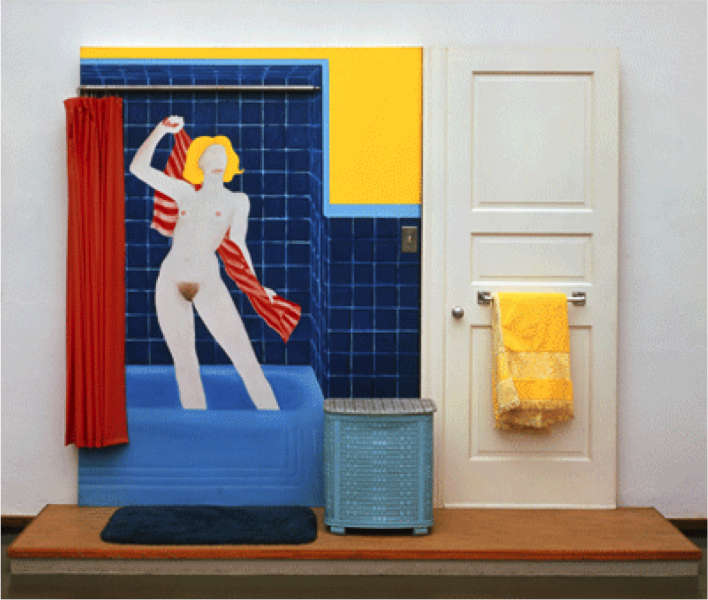 Tom Wesselmann - Bathtub 3, 1963
So, check this out: you are a painter, that emerged just a couple years ago with your Great American Nude series. You have this beautiful girlfriend that you want to marry, but you're still not married. She's your muse and your inspiration: she poses for you, and you make your art modeled after her. Then you put up an exhibition, and her mother comes to see it, without knowing that you and her are together. So, this mother had a thing or two to see: her daughter, nude, posing for some stranger! Yep, this is the story about Tom Wesselmann's Bathtub 3 from 1963. However, Wesselmann did marry this girl that same year. We don't know whether her mother was happy.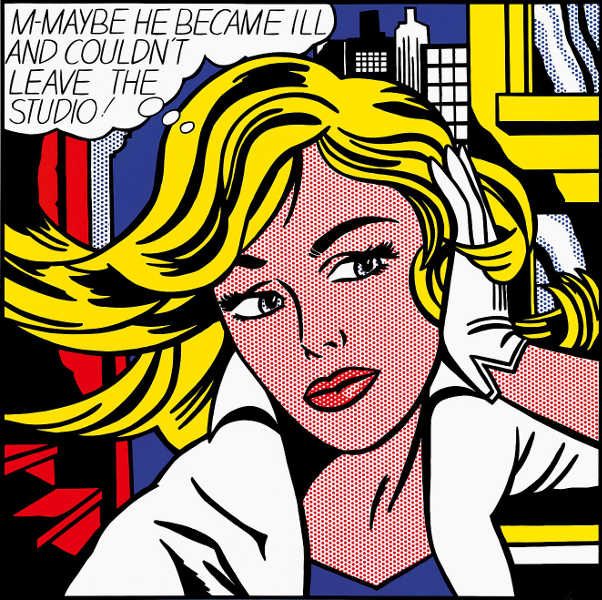 Roy Lichtenstein - M-Maybe (A Girl's Picture), 1965
For some reasons, Lichtenstein wished that his paintings look completely mechanical and stiff. He usually chose comics - action ones and teen comics - as sources for his works. M-Maybe is a typical Lichtenstein: beautiful, blonde girl, looking worried and obviously waiting for a man that is important to her. She says: M-Maybe he became ill and couldn't leave the studio, and we all know from the first moment that "he" did not become ill, and that "he" have forgotten about her. M-Maybe belongs to the period after 1963, when Lichtenstein started to paint his comics-women uniformly, with similar appearance. This particular work was sold during the same year that it was finished, in 1965. Prices for Lichtenstein's works were growing, and were selling for several thousands of dollars. The owner back then estimated M-Maybe at $12,000, and sold it for $30,000 to German collector Peter Ludwig. The man just knew what he was buying.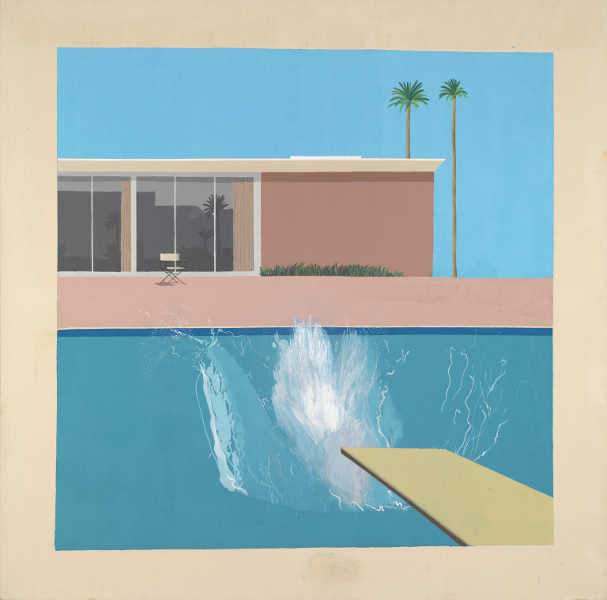 David Hockney - A Bigger Splash, 1967, Tate, London
It was quite a shock for David Hockney to find out that virtually everyone in Los Angeles had a swimming pool. Coming from a cloudy and wet and cold England, he liked a lot the climate of Los Angeles, as well as its relaxed lifestyle. And then, there were swimming pools everywhere. From 1964 and 1971, Hockney painted a lot of swimming pools, and A Bigger Splash was his most successful one. Ironically, with all those swimming pools around him, this Hockney's painting had a photography of a pool for inspiration. A Bigger Splash is a part of three "splash" paintings, with The Splash and A Little Splash being other two, both finished one year before A Bigger Splash. In Hockney's own words, photograph of a splash freezes the moment and depict the splash the way it couldn't be seen in real life, because it happens too quickly. "I was amused by this, so I painted it in a very, very slow way", said Hockney of his painting.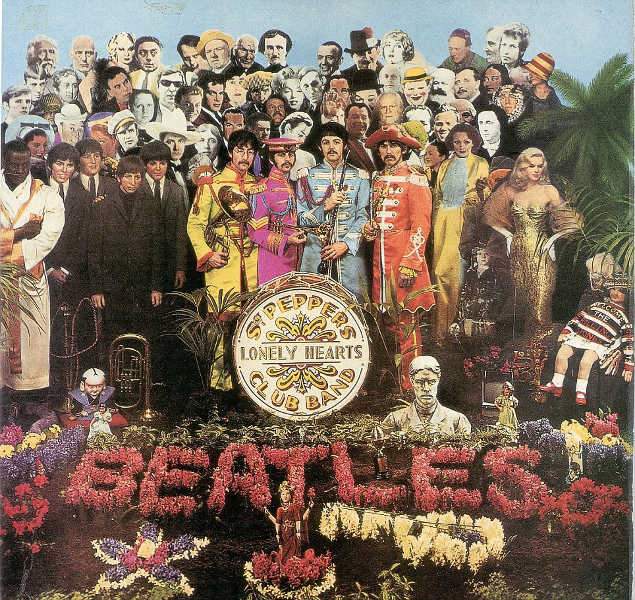 Sir Peter Blake - Cover for Beatles' album Sgt. Pepper's Lonely Hearts Club Band, 1967
Many think that Beatles' album Sgt. Pepper's Lonely Hearts Club Band is one of the most important rock albums. However, it's probably unanimous that the cover of Sgt. Pepper's Lonely Hearts Club Band is the most famous rock album cover of all time. Without a doubt, it's a piece of art, and we don't need Sir Peter Blake confirming it ("In my mind I was making a piece of art rather than an album cover. It was almost a piece of theater design" - Blake's words about this cover). The Sgt. Pepper cover had won a 1967 Grammy Award for Best Album Cover, Graphic Design. And the music was astounding, as well.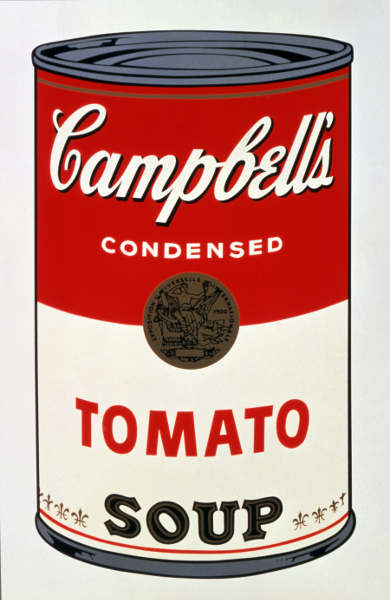 Andy Warhol - Campbell's Soup Can I, 1968
There's this well known story that Andy Warhol was inspired by the things he loved. He loved money, he loved celebrities, he loved Coca-Cola, and he loved Campbell's soup - and he made his art out of each of them. Warhol's Campbell's Soup Cans are probably one of two things that most people first think of when his name is mentioned - the other thing being his Marilyns. Campbell's Soup Cans were among his first silkscreens, but not the very first - the dollar bills had that honor to be first. The other story that goes around is that Andy Warhol had created works that were inspired by comics, and that his works looked like Roy Lichtenstein's - because of that, the story goes, Warhol had turned to soup cans, in order to differentiate his work from Lichtenstein's. And, oh boy, he had surely differentiated himself and his work!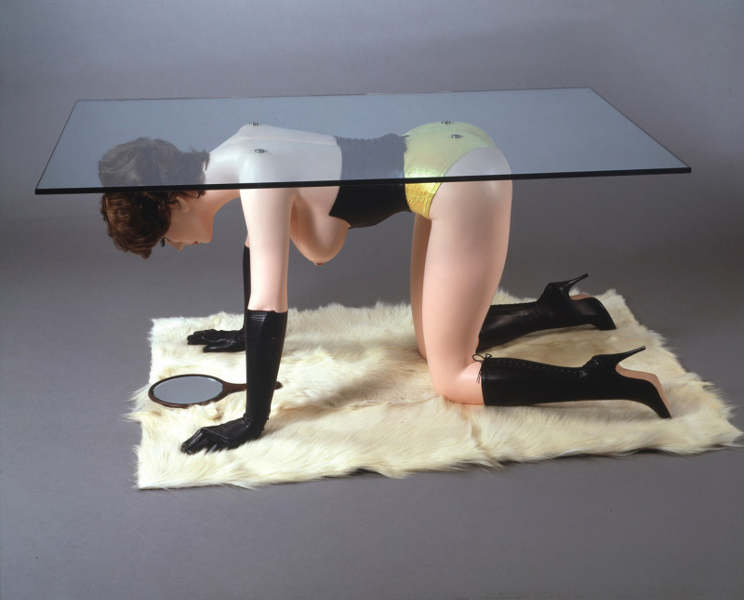 Allen Jones - Table, 1969
Feminists were furious. Allen Jones' series of sculptures consisted of Hatstand, Table and Chair, and common for them all were - women, in what feminists thought was completely misogynistic. Half nude, in bondage, women were shown as parts of the furniture! This Jones' work caused an outrage, and brought up claims that it was a consequence of Jones' castration complex. Some protestors threw sting bombs at Jones' exhibition in 1978, and on March 8th 1986, one demonstrator had spilled paint stripper on Jones' Chair. Jones firmly rejected the accusations of misogyny, saying that has nothing to do with his work. "As an artist, I have a responsibility to art. As a human being, I have a responsibility to society. I was brought up a socialist and I think of myself as a feminist and I don't need to defend my political stance", said Jones on one occasion.