Lasting for three days, the Design Festival Bern 2017 will bring together designers who will be showing their works in the areas of graphic, product, and interaction design at several locations in the city. As a special exhibition during the festival, SOON Galerie will present top French artists for whom the graffiti and urban cultures are the foundations of their established artistic personality. Titled French Connections, this unprecedented exhibition will bring together a whole generation of major French artists - L'Atlas, Antoine Casals, Come, Franck Pellegrino, HOBZ, Mambo, MIST, Nelio, Aurel Prevost "Rubbish" and Tanc.
L'Atlas, Antoine Casals, Come, Franck Pellegrino, and HOBZ
A street artist, painter, photographer and video artist, L'Atlas is well-known for his unique and recognizable lettering style that and works that combine topography and typography. On the other hand, the artist Antoine Casals has based his work on volumes and perspectives. He uses a combination of different materials to create a misleading world denouncing Man's place in our consumer society. Benjamin Affagard aka Come produces "Street Vitrines" creating urban environment dioramas integrating each an original work inspired by and in collaboration with graffiti artists. While the illustrator, tattooist and graffiti artist Franck Pellegrino is known for his typical Art Deco-inspired style, HOBZ finds his inspiration in pop culture and comics.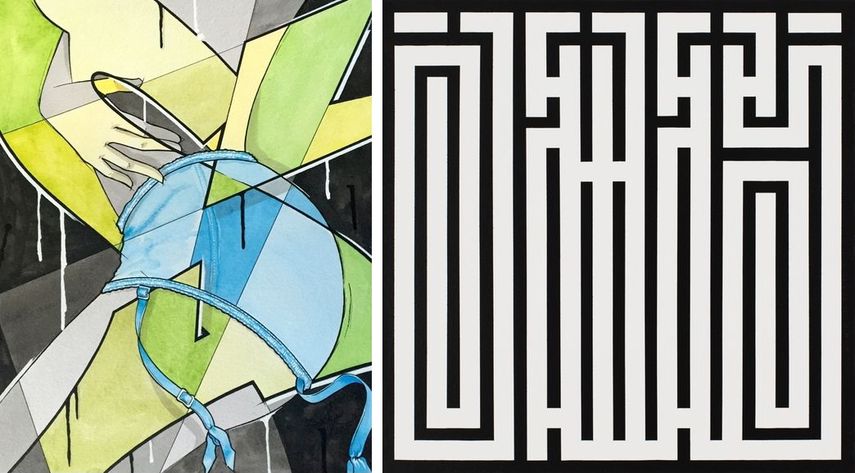 Mambo, MIST, Nelio, Aurel Prevost "Rubbish" and Tanc
Creating an expressive graphic universe, Mambo describes his works as mental maps, or as illustrations of the brain, full of emotions. On the other hand, MIST is known for his acid colors and wildstyle works that leave nobody indifferent. Characterized by a unique artistic approach, Nelio blends abstract art, architecture, Cubism, graphic design and the graffiti mural. While Aurel Prevost "Rubbish" dedicates himself to the delicate and lacy sphere of paper cutting, showing a meticulous craftsmanship, Tanc is known for his exploration of the possibilities of the line, not seeking perfection, but spontaneity.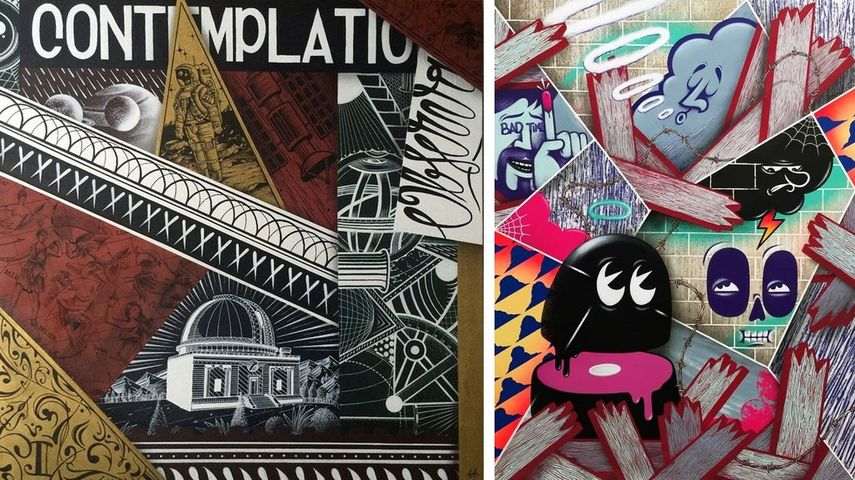 Top French Artists at Design Festival Bern 2017
Immersed in a variety of genres, all of the artists exhibited will present themselves with five works, united under the common denominator of urban inspiration. Revealing the power of the French art scene, the exhibition will certainly mark the cultural landscape of 2017. The exhibition French Connections will be on view at Galerie SOON from May 5th until May 20th, 2017. The opening reception will be held on May 5th, from 5 to 9 p.m.
Featured images: Scotie - SGreen, 2016 (detail); Left: Nelio - Prisma, 2014 / Right: Antoine Casals - Dark side of color 2; Left: Mambo - Broken, 2015 / Right: Come - Droguerie quincallerie, 2014; Left: Antoine Casals - Color Rain, 2015 / Right: Antoine Casals - Dark side of color 1