A mixture of strange colorful characters, a style which emanates the energy of cartoonish aesthetics and a mesmerizing combination of visual inputs, including art installations… This is only a part of the list of inspiring forms of artistic expression which are present at The Seventh Letter gallery in Los Angeles. The artists which have built this world of touchy subjects is truly an interesting ensemble of creative individuals…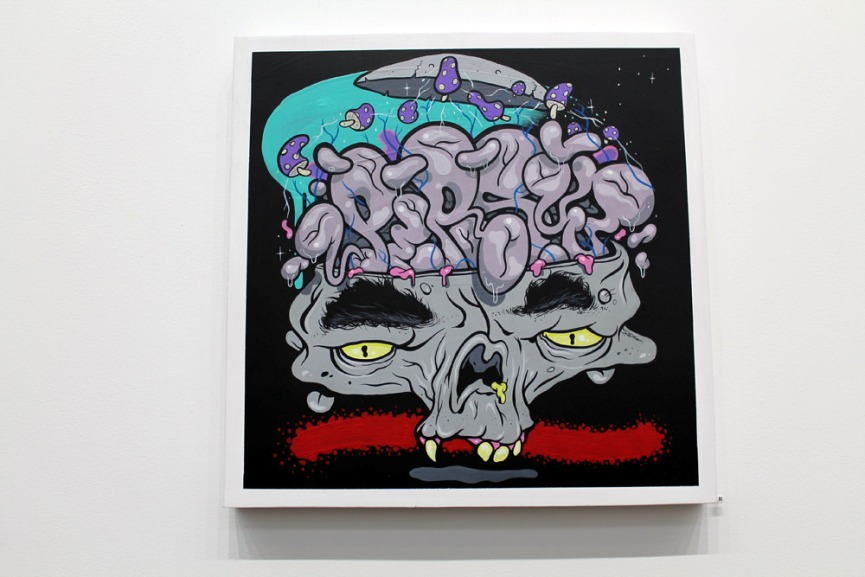 Dabs Myla
We have come to recognize their work, perhaps appreciate it even more, and to wait impatiently for the new work of Dabs Myla. After their stimulating monograph, titled Midnight Fantasy, this duo continues to work relentlessly on their new projects. Just like they have said once, they are "two crazy, workaholic mad dorks in a pod." The creative process of this artistic duo has been evolving over the years as the two are becoming more closer and more in sync each passing day.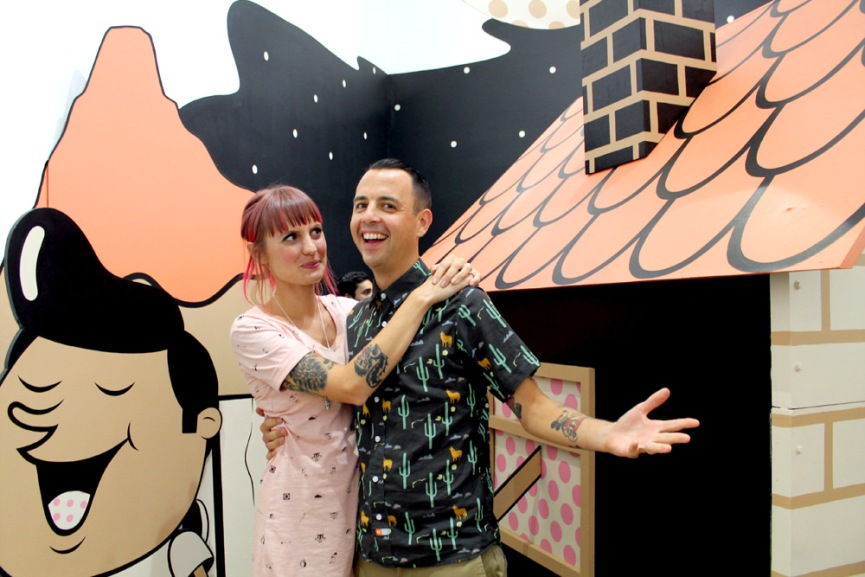 Meet Persue
Persue has been working as a graphic designer commercially for a number of companies, such as DC Shoes, Circa, Vox, Osiris, to name a few… This artist has been heavily influenced by the graffiti and skateboarding culture in San Diego, where he had developed his skills as a street artist. Today, Persue owns and operates Home Mercantile in San Diego, together with his brothers. Home Mercantile is a brand and also incorporates two retail stores. Persue is also known as BunnyKitty.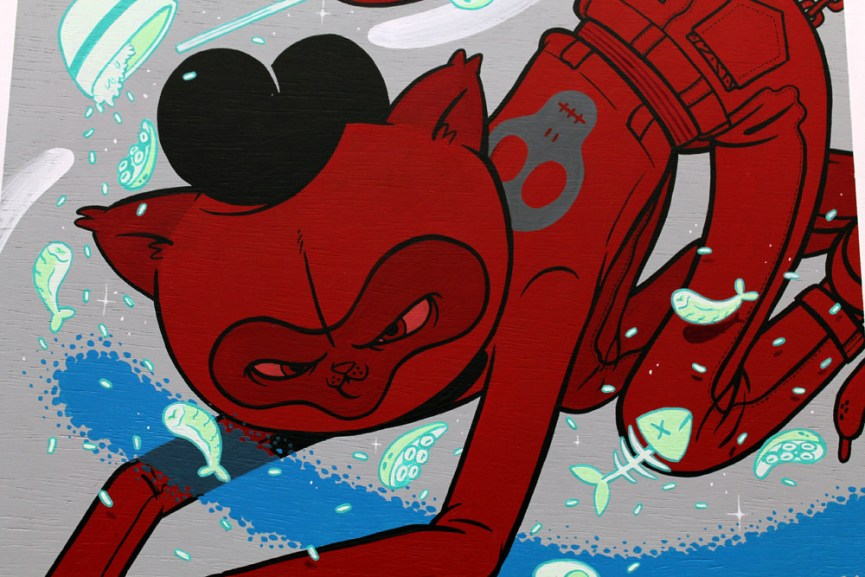 This is Jersey Joe…
Known also as Rime, this street artist started painting graffiti in Staten Island in 1991. During more than a decade of developing his skill and a particular aesthetics, Rime moved to Los Angeles in 2005, in order to concentrate on fine art. Today, he is an artist who has managed to transpire his devotion to walls and streets into gallery space, maintaining the devotion to urban life. He said once that he had felt like he needed to move on from graffiti to become a "true" artist. However, the artist didn't want to change his priorities and went on to say that "to be creative or be an artist you need to do something that's honest, art isn't just painting a landscape."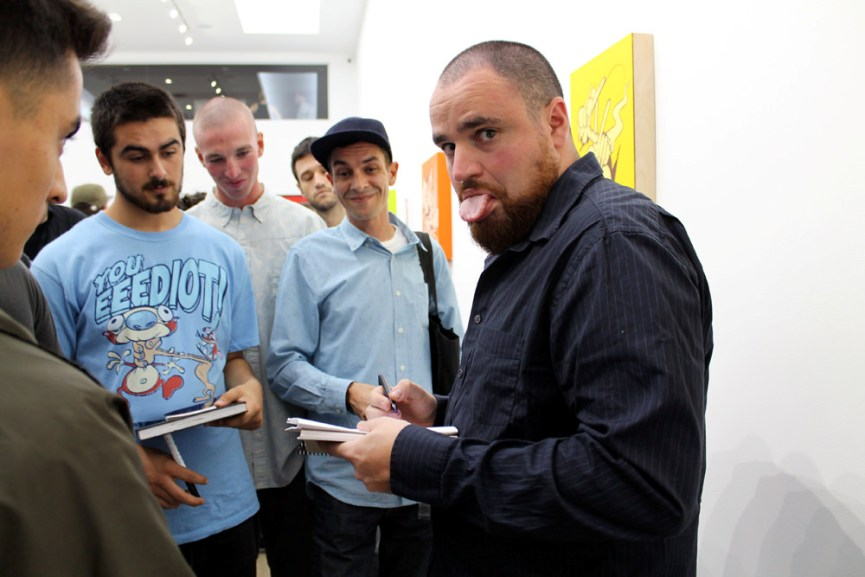 Touchy Subjects
Touchy Subjects is a group exhibition at the Seventh Letter gallery, and it is a chaotic mixture of artwork by Dabs Myla, Persue and the Seventh Letter collective member Rime. The stiles of these artists complement each other to form a scenery of colorful, bubbly and cartoonish combination, resonating the energy of pop art and popular culture. To see everything come to life beautifully in a gallery space, visit the Seventh Letter before October 4th 2014.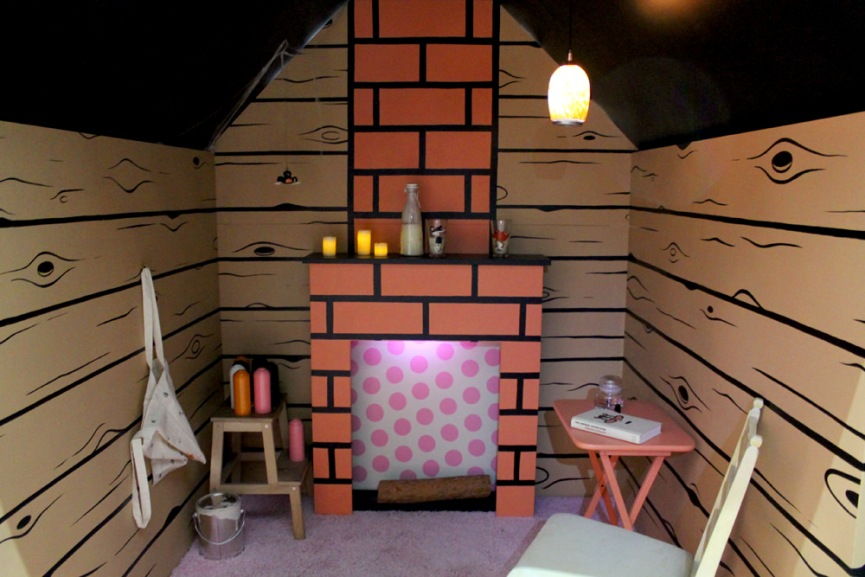 Images courtesy of hifructose.com