The end of the 1980s brought the emergence of a generation of artists determined to reject the artistic traditions imposed by the academia and present an entirely new and, at the time, rather shocking aesthetic. Those young people were the graduates of The Goldsmiths and Royal College of Art classes 1987 – 1990 and they became known as the Young British Artists - YBAs. Some developed successful careers and gained international fame, despite the enfant terrible behavior, the best example being Tracey Emin, who even became a Royal Academician of the Royal Academy of Arts.
Emin had her first solo show in 1993 titled called My Major Retrospective. She also ran The Shop with the fellow artist Sarah Lucas (where the two used to sell merch) and made the now iconic tent Everyone I Have Ever Slept With 1963–1995. Emin became publicly noticed as a demanding, difficult, and some may even say scandalous figure, after appearing on a Channel 4 television program in 1997 while commenting that year's Turner Prize drunk and apparently ignoring the topic.
Just a year later, the artist made her most famous work called My Bed, an installation or rather a ready-made; it was Emin's actual bed in which she spent a couple of days while struggling with an emotional breakdown. With this work, she was shortlisted for the Turner Prize in 1999 and the same year My Bed was exhibited at the Tate Gallery.
One of the most controversial artworks of the 1990s, still perceived as a powerful manifestation of vulnerability, My Bed is a specific self-portrait that offers everybody a chance to identify or project one's own painful experience.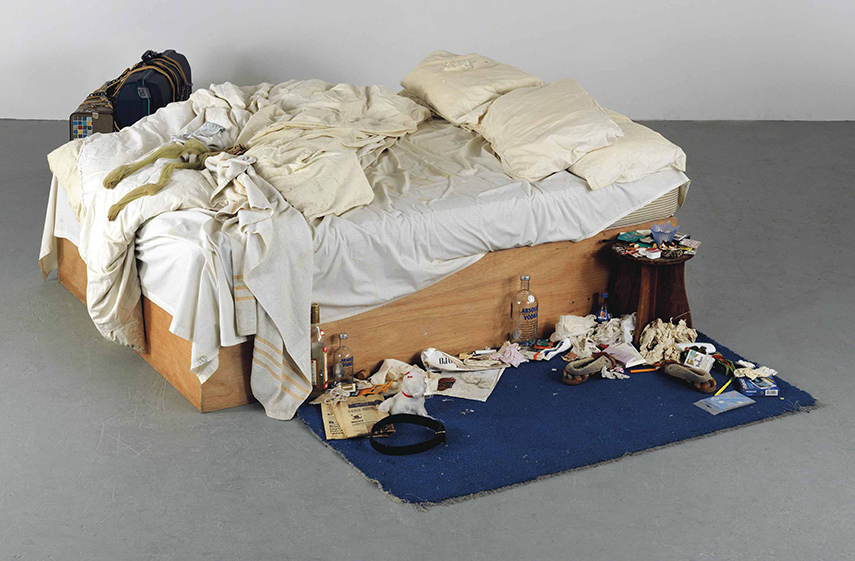 Tracey Emin - My Bed
Tracey Emin was inspired by the difficult depressive phase she's been through while just lying in bed without eating and just drinking alcohol. After coming to her senses, the artist realized the horror she found herself in. After the work was shown publicly, it stirred various reactions, and some critics even ridiculed it by stating that anybody can display a messy bed. My Bed was especially targeted for having sheets covered with menstrual blood stains and secretions, as well as items gathered from the artist's room such as underwear with menstrual blood stains, condoms, and everyday objects such as slippers.
My Bed has to be perceived in the context of the Emin's background, especially the fact she was sexually assaulted at the age of 13; five years later, the artist became pregnant and had an abortion – two crucial traumas which framed her practice in the realm of confession.
A few scholars even made a parallel between the practice of Tracey Emin and Louise Bourgeois, who based her oeuvre on personal experiences and explorations of the female body and sexuality, while the press made a comparison to the French artist Sophie Calle, known for producing artworks based on personal emotional and sexual struggles.
Tracey Emin Speaking About My Bed
Further Interpretation
There is also the context of the time in which My Bed was produced. The late 1990s were marked by the rise of reality TV, the emergence of social networks, and public personas. Emin's work is, therefore, not only personal but also performative and participative, since it invites the beholders to (metaphorically) plunge into it and delve into their own experiences.
There is also a feminist connotation of the work which recalls the famous maxim "personal is political". Although Emin does not consider herself a feminist artist, she stated once that she is a feminist. In favor of this claim is the fact that the artist did not just employ themes of her own female experience, but she also used textiles, a medium reaffirmed by the 1970s feminist artists.
Editors' Tip: Tracey Emin: Works 2007-2017
Moving chronologically through a prolific decade of work—from major public installations to recent reflective paintings and sculptures—this book shows a coherent vision that defies the idiosyncrasies of Emin's evolution as an artist. The same mixture of anger, hope, curiosity, and vulnerability that informs her delicate drawings and handwritten neon works can be felt in the darker tones of recent monoprints and the weight of later bronze pieces. Written by Jonathan Jones, whose text places Emin's work in a broad art-historical context and sees this recent decade of her artwork as an entry point to examining her full career, this is a beautiful monograph on one of the world's most influential living artists.
The Popularity and Art Commercial Status of Tracey Emin's Bed
Just after it was installed in 1999 at Tate Gallery, performance artists Yuan Chai and Jian Jun Xi felt inspired, so they jumped on the bed with bare torsos and had a pillow fight to improve the work. Their action was simply titled Two Naked Men Jump Into Tracey's Bed, and it lasted fifteen minutes until they were removed from the premises by security guards.
Despite various speculations regarding the originality of the work from the press, scholars, and fellow artists, Emin's piece gained the cult status that was confirmed after My Bed was purchased by the famous patron of the YBAs, Charles Saatchi, in 2001 for £150,000 and displayed in the first exhibition at the opening of the Saatchi Gallery.
However, in 2014 it was announced that the work is about to be auctioned, so David Maupin of Lehmann Maupin Gallery, Emin's dealer in New York, estimated it is going to be sold for the £800,000 – £1.2 million. Finally, My Bed was  sold via Christie's for a sum of over or £2.5 million.
During that time, Tracey Emin already earned a prestigious professorship at London's Royal Academy of Arts and was named by BBC Radio 4 as one of the 100 most powerful women in the United Kingdom. Her works found their way in the collections of Elton John and George Michael, and the market value of her works is not in decline for years now.
It seems that My Bed paved the way to the critical reception of Emin's practice by making her an authentic art figure whose specific approach differs from the rest of the Young British Artists.
Featured image: Tracey Emin – My Bed, 1998. Contemporary Installation. Image via Flickr. All images via Creative Commons.