Horizons can be read in many ways - asserts Tracey Moffatt as she prepares for her exhibition at the Venice Biennale 2017, titled MY HORIZON. Horizons can be temporal or spatial; they can be within our reach, or completely unobtainable.
Tracey Moffatt artworks that will be exhibited in the Australian Pavilion push us to reconsider our understanding of horizons and the general condition of the world regarding the issues of forced displacement and immigration. Although she creates the world of her own, Moffatt's works blend reality and fiction in a way that leaves us uncertain of the borders between the two. As the artist explains, she is not interested in replicating reality, or creating an image that has a realistic quality, but in creation of a mood, or an atmosphere, that has a ring of truth to it.
The work Moffatt prepared for the Biennale comprises of all new pieces, including large-scale photography and film. Her highly stylized narratives explore a range of themes, such as interpersonal relationships and popular culture, but for the Biennale her focus has been on journeys. As the exhibition curator Natalie King states, MY HORIZON explores highly political, but also deeply personal fictions. Naomi Milgrom, Australia's Commissioner for the 2017 Venice Biennale, explains that this will be the exhibition that will cement the Moffatt's position as one of the Australia's most successful artists, as someone who "consistently takes the tempo of our times".
We met with Moffatt for the occasion of the Biennale and talked with her about MY HORIZON, her inspiration, production of the works, but also about her future plans, and the meaning of art.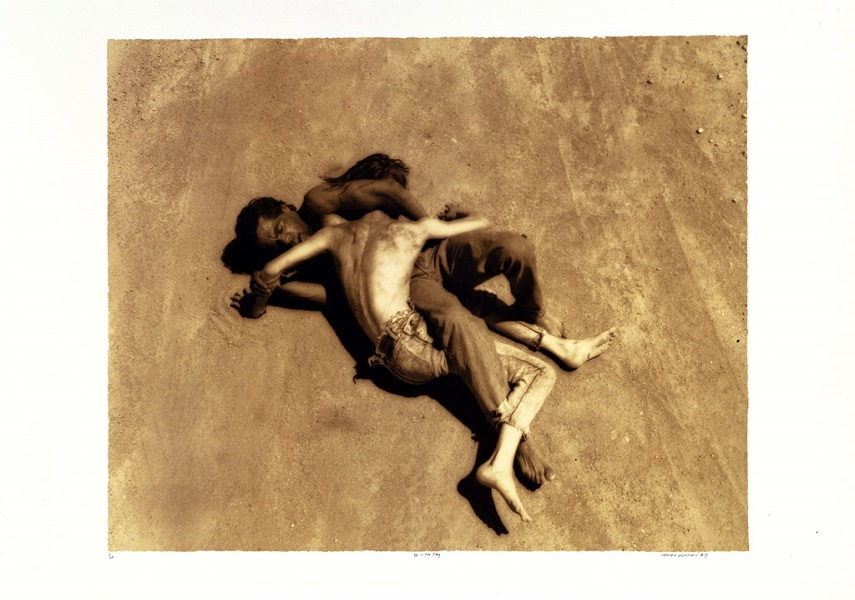 Illegal Journeys and Escapes
Widewalls: So far, the new photodrama Hell from the series Passage has been revealed. It is an almost archetypal composition with three figures in it. Can you elaborate a bit on the implied story and the represented figures in it? Can you tell us more about its production (finding location, models…)?
Tracey Moffatt: My Hell image from my Passage photo series shows three of my characters I have invented for my fictional narrative. We follow the young Mother, the stylishly suited guy with the cigarette and a Motorcycle cop. Throughout my twelve images, these characters move in and out of foggy shadows in a docklands.
The setting is a nowhere location in the late 1940's. The look is of old movies but the story could be about now, about illegal journeys and escapes.
There is a harbour and a boat that is leaving.
The young Mother might have to give up her baby to escape on the boat to another country. All my characters are in a type of Hell.
I nearly died photographing Hell on that hilltop; I was jumping around for hours with my camera as that incredible afternoon light was screaming through my figures. My models are mostly people I find on the streets and people would recommend them to me. It helps if they are good looking, like these three are.
Widewalls: Europe has changed significantly since the beginning of the refugee crisis. Australia and the US also face problems regarding immigration and have strict laws regulating this field. You explore journeys in your art. How much do you draw from the present situation, and how did you get inspired by the theme of journeys?
TM: The refugee crisis of now is not a new story; people throughout history have always tried to cross borders. People will do this in order to survive.
The urgency and desperation of such journeys are in the mood and feel of my Venice Biennale artworks.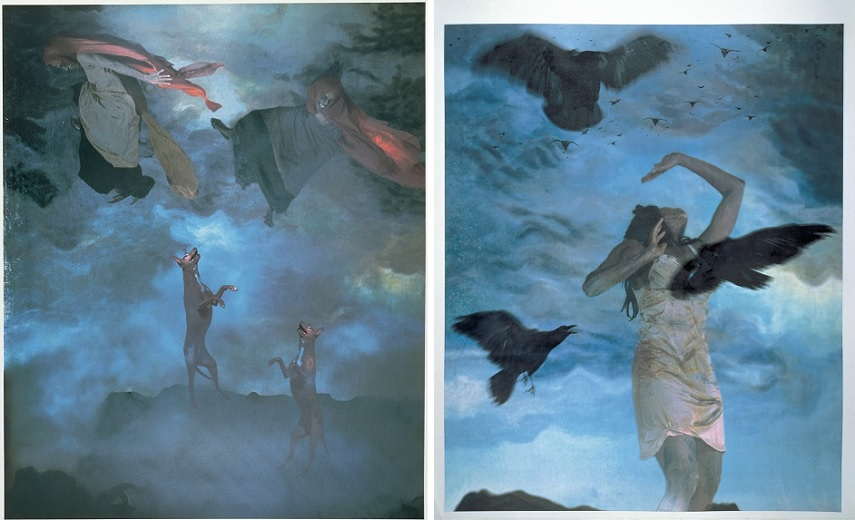 Facing the Devil
Widewalls: Has your personal background informed this choice?
TM: Yes, though I am not a refugee, so I am privileged but I have always felt…to use a cliché felt like an outsider (artist always do).
I have lived in other countries and I have reinvented myself in a sense. As well my escape could be that I disappear into my art making, this can also be horrible and it has been called 'facing the devil'. We/artists face ourselves.
Widewalls: To return to your present work for the Biennale, you mentioned in a press release that you tend to mix facts, fiction and even elements from personal history in your art. How these different aspects blend in MY HORIZON exhibition?
TM: I can take a tiny detail of true story perhaps of my family history and embellish it. I can make it operatic and larger than life. In the end I am a visual artist playing with film and the photographic form, I am not writing a news story.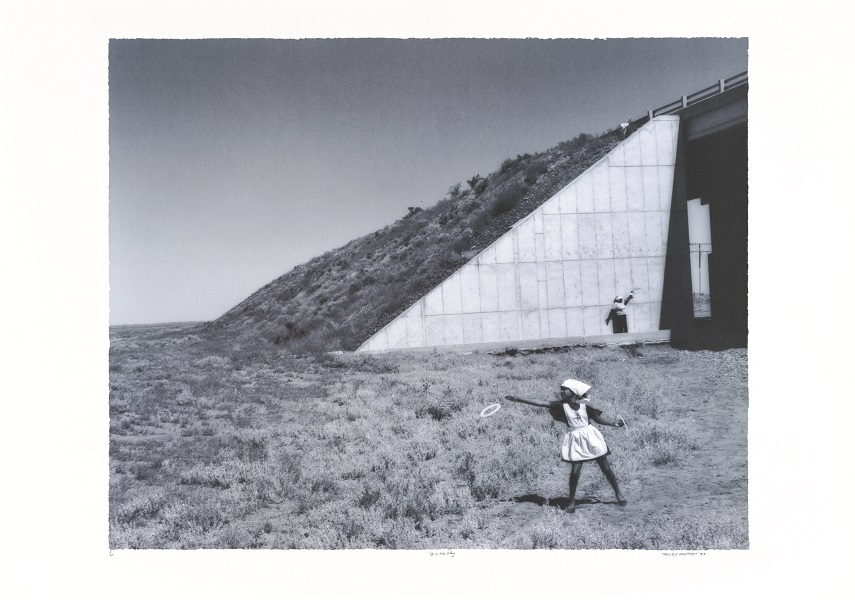 The Truth in a Post-Truth World
Widewalls: Photographer Cristina de Middel stated that, unfortunately, we can master the language of truth, and create false truths, as many politicians do today in this post-truth word. In opposition, she exaggerates clichés and stereotypes in her photos in order to expose them. How would you define the relationship between truth and fiction in your works? Does the road through fiction lead to a better comprehension of reality as in de Middel's case, or are alternative worlds your desired destination?
TM: Fiction can be astounding and extremely powerful. I have no trouble retreating into my imagination. Though in creating the' look' of my photo dramas I am always trying to have the 'mood' ring true, the guts of what I am saying has to be 'real'. Like when an actor delivers a line of dialogue in play or film, we in the audience 'buy it 'believe it or we don't. This expression of 'truth' (and I don't mean realism) is achieved through direction of my models and a grasp of available light, color and composition.
Widewalls: You also deal with the issues of sexuality, displacement, race, and gender. How does your work engage with them?
TM: My invented characters in my Passage series mostly look African; this is so to place my story somewhere else. I have always liked the sound of African cities on my tongue such as Entebbe Nairobi or Kinshasa. Or my setting could be somewhere more familiar to me seen though old movie locations like Brooklyn NY or New Orleans.
If art writers wish to state that my artworks are dealing with all of the above mentioned:
Sexuality, displacement, race and gender then okay…but I am not always conscious of it, so this isn't for me to elaborate on. In fact it makes me blush!
Widewalls: Your aesthetics is based on many sources of inspiration. Could you chart a few of them for us? What do you find visually inspiring?
TM: I don't know where to begin to tell you, have you got a spare week? Best to not ask me this. I am already exhausted from making my Venice Biennale artworks!
[caption id="attachment_370920" align="aligncenter" width="855"]
Tracey Moffatt - Plantation (Diptych No. 6), 2009, from a series of 12 diptychs. Digital print with archival pigments, InkAid, watercolour paint, and archival glue on handmade Chautara Lokta paper, 46 x 50.5 cm (each). Edition of 12 + 2 A/Ps. Courtesy of the artist and Roslyn Oxley9 Gallery, Sydney[/caption]
Art Can Save Us
Widewalls: The title of the 57th Biennale is VIVA ARTE VIVA. How do you see your work relates to this theme?
TM: It is a great theme and I respond to it as an artist who lives for my art.
Widewalls: Christine Macel, the curator of the Biennale, contends that art is a 'yes' to life, that it is the most precious part of the human being. What art represents to you?
Art can save us all. It can remove us from the 'everyday'. It can move us into other realms and when we look and respond to art and creativity this is when we are reaching into our 'higher selves', we lose our egos.
Widewalls: Do you think art can be an agent for social change? Would you say that it has social and political potential presently?
TM: Yes and no, it can depend on the skills and the imagination and humor of the artist.
Widewalls: What or where is your horizon? Where you set your sails to next?
TM: I will be floating off to somewhere warm and remote. I will take my camera and I will try to make shapes. Mondrian is in my head and so is Coco Chanel, but don't ask me to explain…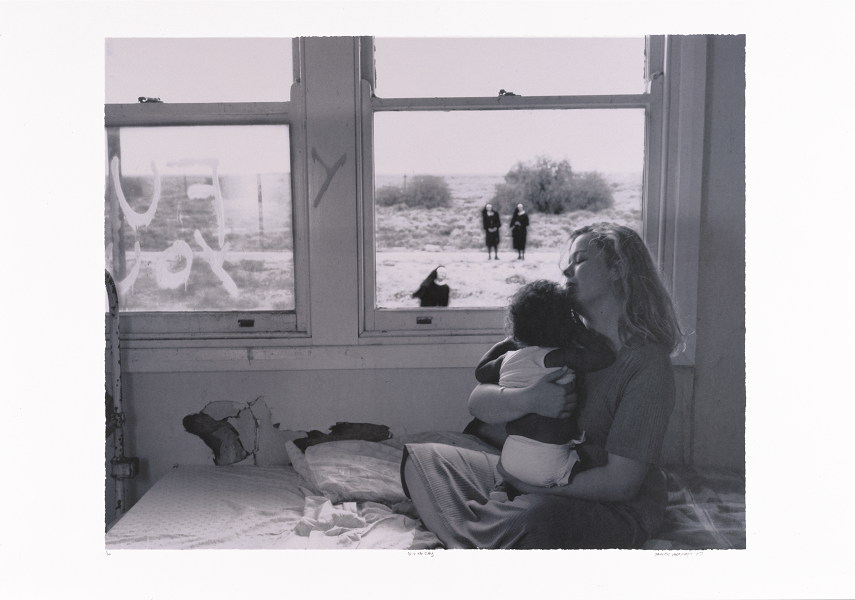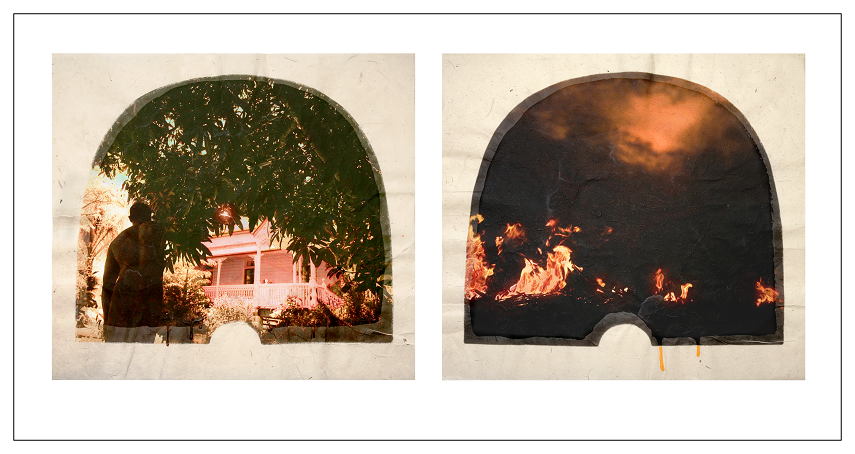 Featured images: Tracey Moffatt - Hell, from the series Passage 2017, type C photograph on gloss paper, 105.5 x 156 cm. Courtesy of the artist and Roslyn Oxley9 Gallery, Sydney and Tyler Rollins Fine Art, New York; Tracey Moffatt by Kate Ballis, courtesy of the artist and Roslyn Oxley9 Gallery, Sydney. All images used for illustrative purposes only.