For over 35 years, October Gallery in London has pioneered the development of the Transvangarde art and promotion of its artists. Aware that the word avant-garde is freighted with a set of subconscious prejudices as to the primacy of the Western artistic tradition, the gallery has coined the term transvangarde to indicate the far more exciting notion of a trans-cultural avant-garde composed of cutting edge artists from all around the globe. The term transvangarde refers to truly vanguard artists who operate between, and even, beyond a single culture. In early 2017, October Gallery will present the show Transvangarde 2017 featuring outstanding work by an international array of contemporary artists who share their particular visions of the world by using their work to express their trans-cultural experiences. Some of these transvangarde artists featured will be Tian Wei, Alexis Peskine, Govinda Sah Azad, Brion Gysin and Kenji Yoshida.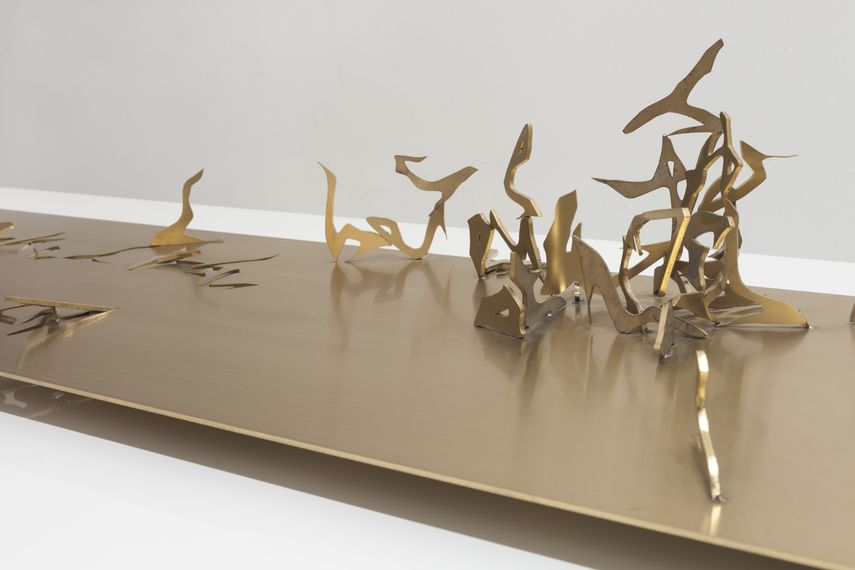 Tian Wei, Alexis Peskine and Govinda Sah Azad
The show will feature new sculptural works and paintings by Tian Wei, an artist born in Xi'an and now based in Beijing. A truly trans-cultural and transvangarde creative, Wei seamlessly integrates the East and West in pieces that are both timely and timeless. In his abstract calligraphic works, he uses oriental scripts and his expression resolves into words understandable in English. The show will also introduce the work of Alexis Peskine, a French artist that focuses on questions of identity. Using a nail as brushstroke to introduce a third dimension, Peskine creates powerful portraits that pay tribute to the many individuals undertaking the dangerous boat journeys from North Africa to Europe. In his practice, the nail represents transcendence – both pain and the force of resistance. Renowned Nepalese artist, Goyinda Sah Azad creates canvases that suggest an infinite universe. In the show, he will present paintings from his Margate Series, a body of work influenced by Turner.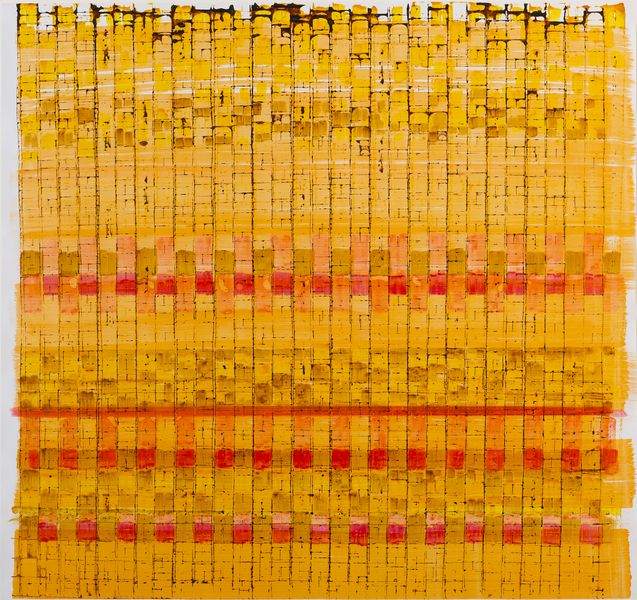 Brion Gysin and Kenji Yoshida
Besides contemporary artists, the show will feature selected pieces from modern masters Brion Gysin and Kenji Yoshida. The multi-faceted artist, writer, traveller, and alchemist, Brion Gysin remains one of the unsung prophets of this century and a master magician with methods applicable by anyone, anytime, and anywhere. He was expelled by Breton from the Surrealists and served as the seminal influence who introduced William Burroughs to the use of permutations and cut-ups in writing. This show will present an intriguing work based on the interior of the Dreamachine, Gysin's 1960 stroboscopic light sculpture that can evoke a hypnagogic state. Pieces by the Japanese artist Kenji Yoshida combine a tradition of Japanese appliqué with abstract modernist aesthetics. The show will feature selected works imbued with ethereal gold, silver and precious metals on canvas.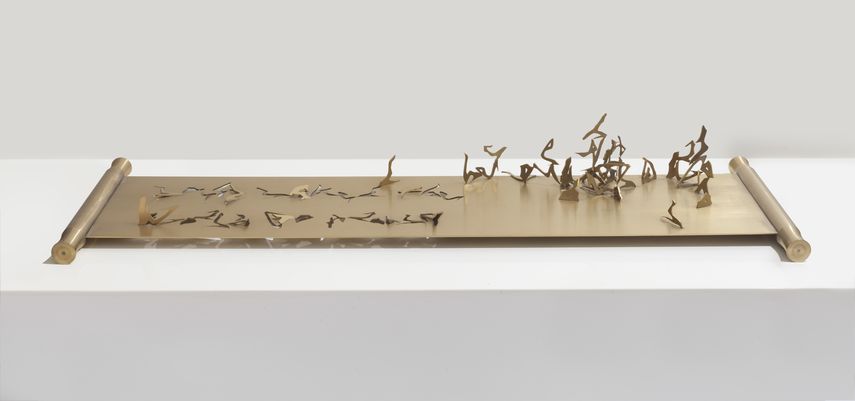 Transvangarde 2017
Founded in 1979, October Gallery has been instrumental in bringing and promoting the very best in contemporary art from around the planet. As a cultural hub in central London for poets, writers, intellectuals and artists, October Gallery also hosts talks, performances, and seminars. The show Transvangarde 2017 will be on view from February 2nd until March 18th, 2017.
Featured image: Kenji Yoshida - La Vie, 2008, photo by Jonathan Greet;  Tian Wei - Black, 2013,  photo Yang Wei. All images courtesy of October Gallery.