Very warm welcome to the very first edition of Widewalls Travel Specials! In the next few weeks, we will take you on a tour around the world and give you tips on where to discover exciting contemporary art. May your journey of art begin!
To start that journey, we will travel to California, USA. More specifically to a Los Angeles neighborhood that only a few years ago everyone considered a wasteland with no hope. Yet, it came to life big style. Conveniently located between Santa Monica, Beverly Hills and the Los Angeles airport, Culver City grew into the city's newest hip neighborhood and became a hub for all those in search of good food and great art. Culver City has been known as the home to some 40,000 people and many film and television production companies, such as Metro-Goldwyn Meyer studios, now Sony Entertainment. But lately, the city has become one of the highest concentrations of fine art galleries in Southern California, often putting on view the best of contemporary art in all its mediums.
Art in Culver City, Los Angeles
The Culver City Arts District
That's right - artistry is so widely celebrated in Culver City that they dedicated a whole district to it and it is the place to be if you want to experience the best of it. Testifying to the dedication and effort put into this area is the fact that in March 2015, USA Today named The Culver City Arts District as one of 10 Best Arts Districts in the United States! There are at least 38 contemporary galleries, 25 boutique and design retailers, artist studios and 17 coffee bars and restaurants along Washington Boulevard, between Helms and Fairfax Avenues and La Cienega and Venice Boulevards. In a fair-like atmosphere, there are days to be spent wandering around creative enterprises dedicated to architecture, advertising, culinary arts, post production, interior design and of course contemporary art through an array of exhibitions and events happening round the clock. In summer, you can enjoy the Culver City Arts District to the fullest with the free, self-guided tour called Artwalk, during which the restaurants offer special promotions and the galleries stay open from noon till 6 and 8pm every day.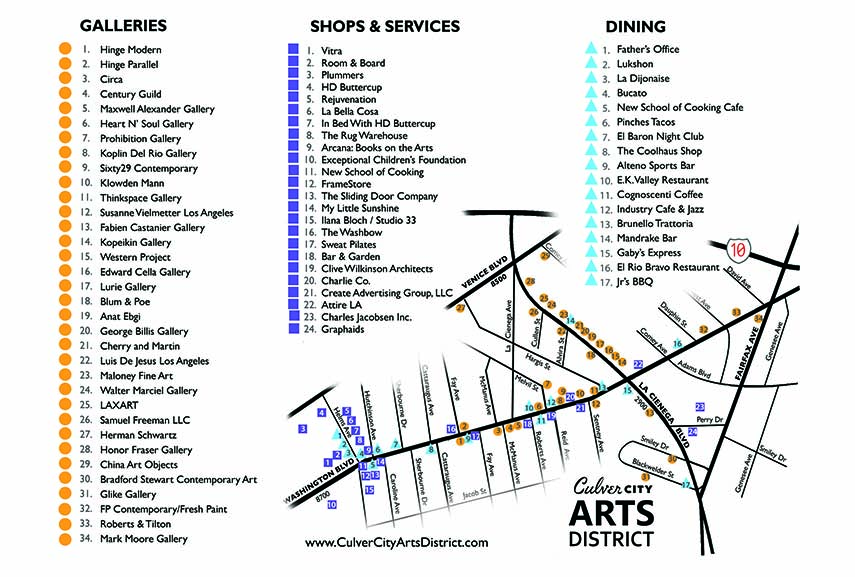 Culver City Art Galleries - A Real Treat
When you wind up in the Arts District, it will be a real struggle to decide where to go first. Some of the world's best contemporary art galleries inhabit the beautiful old buildings of Culver City and no matter when you visit the district, we can assure you there will always be an exhibition that will be worth seeing. Among the galleries there's David Kordansky Gallery, which hosts works by artists like Andrew Dadson (currently on view) and Rashid Johnson, Mark Moore Gallery with Julie Oppermann and Vernon Fisher, Corey Helford with too many great shows to count, and same goes for Thinkspace Gallery. Let's not forget spaces like Katherine Cone, Kopeikin Gallery, Fabien Castanier and Honor Fraser that represent true landmarks of Culver City. Among the big names is also an independent non-profit space called LA><ART, a collective supporting artistic and curatorial freedom and presenting exhibitions and public art initiatives.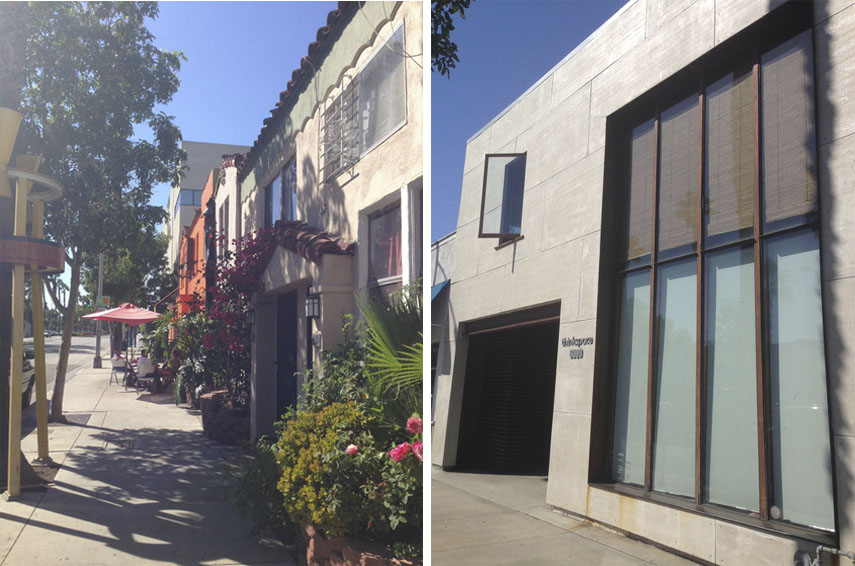 Public Art - The City As One Big Exhibition Space
Speaking of public, it seems safe to say that Culver City is one big art space, containing other, smaller spaces, but also artworks out in the open for everyone to enjoy while exploring the city. For example, by taking the Culver City's downtown public art walking tour, you can witness all the artworks honoring the rich motion picture history, but also contemporary art pieces in forms of sculptures, murals and paintings. One of the outstanding works is a glass building located at 3939 Landmark Street, designed by one of today's most talented designers of today, Frank Gehry.
We hope we gave you enough reasons to visit Culver City and to combine travel with art in the best way possible. As we said, there is more to come, so stay tuned for more Travel Specials!
  Editors' Tip: Movie Studios of Culver City
Did you know that the legendary movie lots bearing the names of Thomas Ince, Hal Roach, Goldwyn, Metro-Goldwyn-Mayer, Lorimar, MGM-UA, Columbia, Sony Pictures, DeMille, RKO-Pathe, Selznick, Desilu, Culver City Studios, Laird International, the Culver Studios, and such nearly forgotten mini-factories as the Willat Studios can all be found in Culver City? After watching pioneer filmmaker Thomas Ince film one of his famous Westerns on Ballona Creek, city founder Harry Culver saw the economic base for his city. Culver announced plans for the city in 1913 and attracted three major movie studios to Culver City, along with smaller production companies. "The Heart of Screenland" is fittingly etched across the Culver City seal. These vintage images are a tour through the storied past of this company town on these remarkable studios.
All images used for illustrative purposes only.