Through January 21st, 2017 the Viennese Galerie Nathalie Halgand is hosting something of an unusual group show, curated by keen on magazine's own Sabrina Möller. Behind the title Tropical Punch lies a concept that tackles protest in a curious way - through its aesthetic. After all, how aesthetic can protesting, as we know it, be? When we think about it, contemporary art is swamped with political statements, whether through photography, video, even painting and installation, to the point where we're used to seeing aggressive and sometimes witty slogans, and more than often there's imagery of violence and peaceful gatherings going all wrong. But what if the motif of the tropical gets involved and even takes over the way protest would look like? What if the popular culture gets even more interlinked with the political ideas, almost driving us towards mistaking it all for something else?
This is a challenge we have the chance to encounter in the Tropical Punch exhibition in Vienna. Here, we can see fruit and plants in a whole new, rather combative scenario, which turns them into a means of political battle - a punch in the face, if you will. They make us face the same old, yet constant cultural stereotypes: inequality, oppression of minorities, compartmentalization, no less serious when presented through the means of tropical motifs - rather, their power and impact are even more emphasized. Through internet-influenced multimedia works by Sol Calero, Signe Pierce, Marc Horowitz, Diango Hernandez, Titania Seidl, Conglomerate TV and Marianne Vlaschits, we can try and see the world around us in a very different setting.
On the occasion of the show, we talked to both curator Sabrina Möller and gallerist Nathalie Halgand about this quite exciting old/new concept. Scroll down to have a read!
AMERICAN REFLEXXX by Signe Pierce
Sabrina Möller - Making of the Tropical Punch Exhibition
Widewalls: How did the idea for the exhibition "Tropical Punch" come to be? What inspired the dedication to this kind of aesthetic?
Sabrina Möller: The tropical motif has always been anchored in art: Whether in Biedermeier with wallpaper of tropical motifs adorning the walls or the idealized ideas of paradise captured in Henri Rousseau's paintings. However, while these motifs were characterized by nostalgia and longing, today they are references to cultural misunderstandings, stereotypes, challenges of immigration and underrepresentation of Latin American artists. We were especially reminded of how immediate this issue is during the U.S. elections. The title of the exhibition "Tropical Punch" offers different types of readings: from the cocktail, to the longing for paradise, to the fist "punch" as a motive of protest.
Widewalls: How did the perhaps surprising juxtaposition of protest art and the motif of the tropical come together? Why the fruit and plant symbolism?
SM: Our concept of the "Exotic" is a Eurocentric one, or as Samuel Leuenberger writes in our corresponding edition of "keen on": "The exotic is a construct of the white man". The general notion of the paradisiac, the tropical, is still plagued by stereotypes, as well as with the completely absurd conceptions of a "primitive" culture. Although the word "primitive" is negatively connoted and often subverts cultural and temporal contexts, these outdated "primitive" misconceptions continue to prevail. The underrepresentation of specific continents in the art market demonstrates this prevalence of stereotypes.
But how does one point out these discrepancies as an artist? In particular, as artists from a Latin American or African state? Do you always have to choose an extreme? Must there always be self-mutilations, escalating demonstrations or noisy slogans to have an effect? Does it have to be loud at all? The almost kitschy motifs of fruits in bright colors - such as Sol Calero and Marianne Vlaschits - confront us with those same stereotypes and at the same time question them. In contrast, the work of Signe Pierce addresses how one deals with the unknown—the Other—and is presented to the viewer by means of real events.
Widewalls: How represented is this kind of imagery in today's visual culture?
SM: The motif of the tropical is omnipresent, and this is quite independent of art. Starting with the Ikea palm, which is located in every second living room; the mango, which can be bought 365 days a year in every supermarket; or the hundreds of thousands of Instagram posts featuring sandy beaches, palm trees and turquoise water.
Widewalls: Can you tell us about your choice of exhibiting artists for this occasion? What kind of media do they work in?
SM: It was important that we consider different perspectives on this topic. This also means that we have chosen both artists with and without who have migration backgrounds. Sol Calero, for example, is from Venezuela and now lives in Berlin. Diango Hernàndez emigrated from Cuba to Germany, while the American artist Marc Horowitz lives in Los Angeles. Everyone has their own story and vision: from the longing for home, for beach hotels and an all-inclusive bracelet, to the focus on differences or the Other. In addition, they all work with different media: from painting to installations, from photography to video.
Widewalls: What awaits you in the New Year? Can we expect more exciting projects like this one?
SM: We just published the issue, keen on tropical punch. For 2017, we plan to focus on both the latest artistic media and the influence of the digital. We will also discuss the future developments of the market and question current models. We are planning two corresponding exhibitions, about which we will soon be able to divulge more.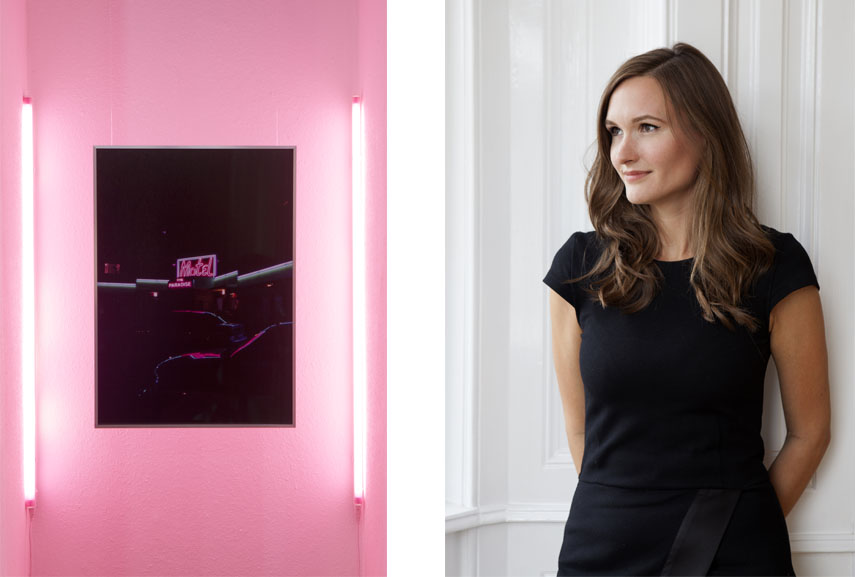 Nathalie Halgand - A Place of Art in Vienna
Widewalls: Your gallery is a young one, yet we notice your name at rather important fairs and events across Europe. What brought you to the idea of opening a gallery and how would you describe your experience so far?
Nathalie Halgand: My vision is to realize ambitious projects with the artists I work with and to combine our visions. My aim is to show a young and high-quality programme on an international level. My motivation are the artists and their ideas and I see it as my mission to promote their works towards a wide audience. So far, it has been a really exciting year when I think of all the exhibitions, fairs and side projects. My experience so far: it's important to find a balance between financial sustainability and the biggest possible freedom for the artistic projects of the gallery.
Widewalls: What are the guidelines behind choosing which concepts and artists to exhibit at Galerie Nathalie Halgand?
NH: I choose my artists intuitevely but then of course there are certain criteria I have, when it comes to work together. What's important to me is that I can communicate the importance of the works to a wider audience with the biggest enthusiasm. I think it's crucial that an artist gathers the information for his works from what he knows, feels and questions. The artist's commitment and interest for the future are important to me and I want that the art presented at my gallery is something that I believe in  the long term.
Widewalls: In this regard, what will a show like "Tropical Punch" bring to the audience? How do you think it will read its message today?
NH: I think that all of the exhibited artists manage to translate the sentiments, questions, worries, fears, and hopes in the world into their works. You will experience a rollercoaster of emotions in the show: some works will make you sad, angry, or thoughtful, whereas other works will make you laugh or walk out of the exhibition with a chuckle.
Widewalls: What are your own views of this kind of context and imagery?
NH: I personally enjoy motives of tropicality, vivid colours and a positive and cheerful imagery. But it's even more exciting when you realize that behind lays something more serious, critical or disturbing when you dig further into the subject.
Widewalls: What can we expect at Galerie Nathalie Halgand in 2017?
NH: In March, we are going to have a Solo Exhibition with New York-based american artist Signe Pierce, she primarily works within photo, performance, video, reality-as-a-medium, and installation. Her works mainly deal with identity perception, surveillance culture, feminized marketing techniques, modern love, and the burgeoning decay of actual reality & physicality. She is going to create new works and we can expect a new performance for the Opening on March 17th. In May, we are going to show a new body of work by the German artist Anna Virnich, whose artistic practice focuses on textile-based tableaus, incorporating found fabrics as well as new materials. She also creates installations using organic materials such as leather, earth or plants which speak to our senses in different manners.
Make sure you also check out keen on magazine's Tropical Punch issue here to find out more!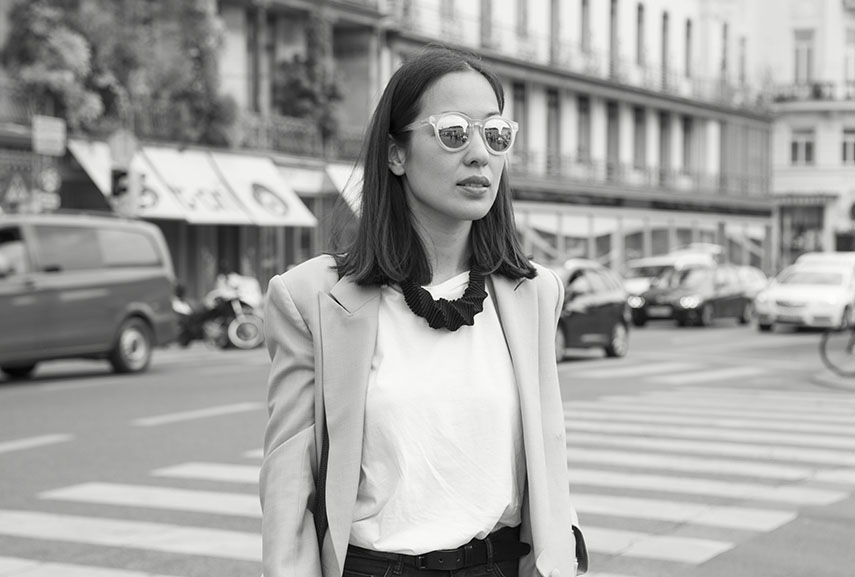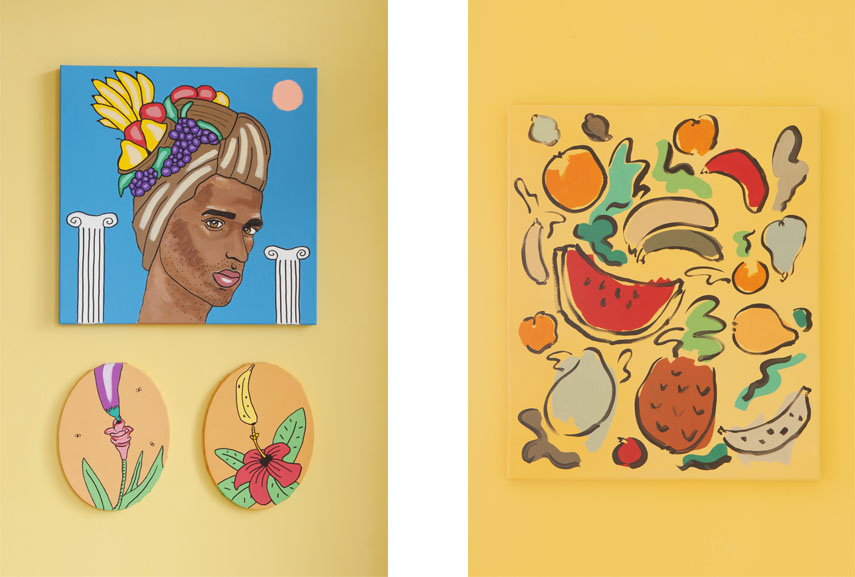 Featured images: Exhibition View, Tropical Punch curated by keen on magazine. Courtesy Galerie Nathalie Halgand 2016/2017 © Julian Mullan.