Street artist Sabo known for his witty and provocative style with which he tackles political issues has created a new provocative street art campaign. Donald Trump is the star of a series of artworks appropriately titled Dump Trump. Dump Trump campaign by Sabo can be seen on billboard and traffic signs all over Los Angeles. This isn't the first Sabo's politically themed street art campaign. The artist has tackled issues such as gay equality, abortion, 2nd amendment and descend of Democratic politicians in the past.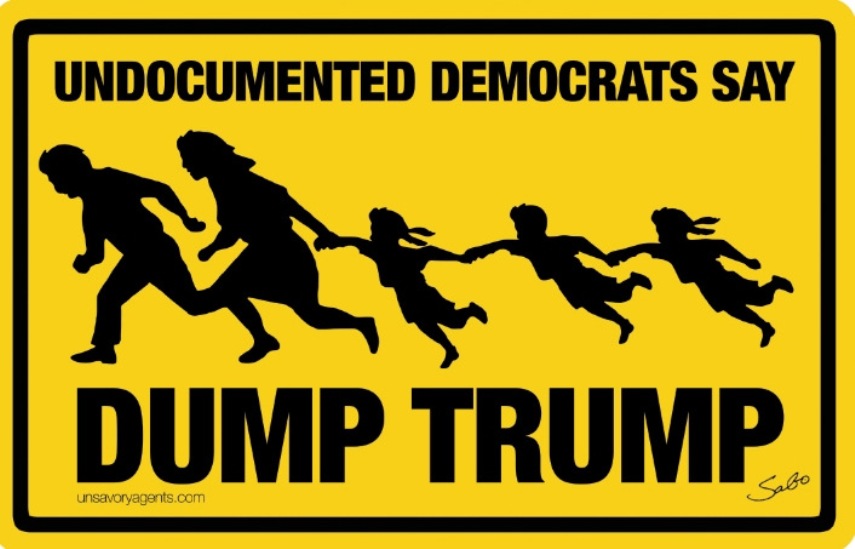 Dump Trump Campaign
Donald Trump has entered the political arena earlier this year, having decided to run for president as the Republican party's candidate at the 2016 elections. The businessman is set to talk with a group of Hollywood conservatives known as the Friends of Abeevent at Luxe Hotel in Brentwood. Dump Trump campaign preceded this meeting and is inspired by the series of controversial comments made by the presidential candidate. Billboards portray Donald Trump crucified while being surrounded by all things related to him including a Miss Universe ribbon, Macy's sign and the logos of several TV stations. The traffic signs are depicting a family while running and most likely refer to Trumps's harsh statements about Mexican immigrants. Dump Trump street art campaign is complemented by a series of flyers placed on car windshields all over the Westside of Los Angeles, also referring to immigration commentary.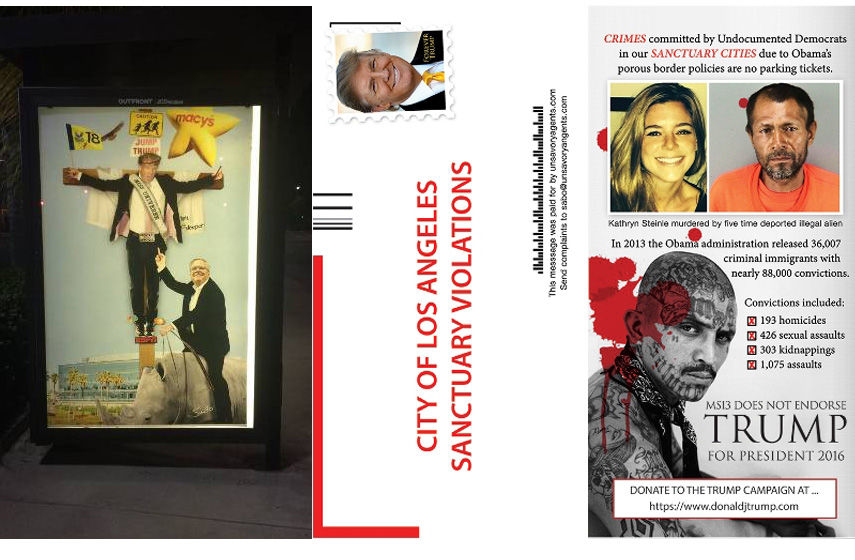 Dump Trump Protest
The street artist is not the only one that has invited people to Dump Trump. The Coalition for Humane Immigrant Rights of Los Angeles (CHIRLA) has announced a DUMP MR. TRUMP protest in front of the Luxe Hotel in Brentwood angered by his statements over immigration. Dump Trump has come under criticism after a series of comments about illegal immigration targeting especially Mexican immigrants. The presidential candidate had named them ''rapists'' and accused them of ''bringing drugs and crime'' to America. The statements were so harsh that even the members of the Republican party had to intervene and tell the businessmen to ''tone down his inflammatory comments'', as Washington Post reports.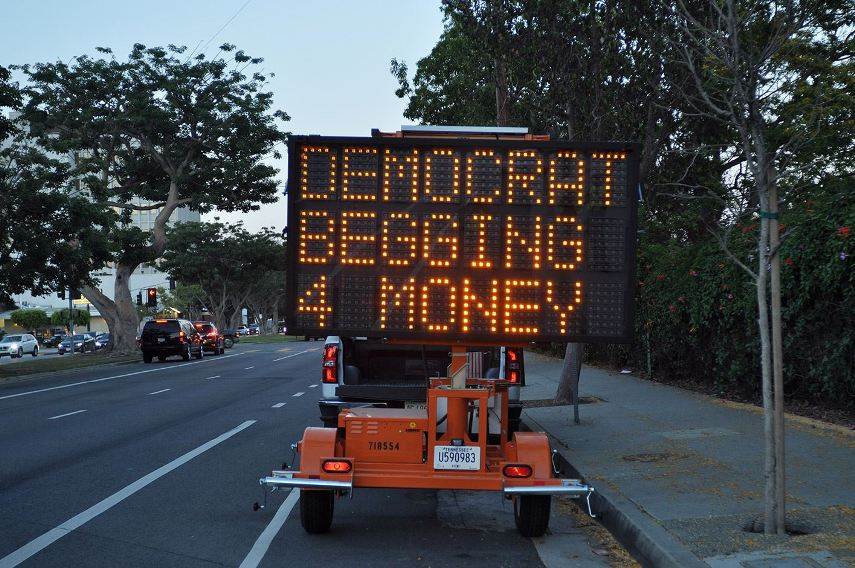 Slamming Democratic Candidates
Democratic presidential candidates were also a target of Sabo's politically charged artworks. For instance, Sabo has drawn Hillary Clinton with a tiara on her head and wearing Elizabethan gown after the Democrat announced her presidential candidacy. Additionally, Sabo mocked the Democrats fundraising events with a series of humorous billboards. While Barack Obama and Hilary Clinton were on a mission of collecting money Sabo was on a mission of his own. The artist had rented an LED changeable message sign and programmed it with amusing messages such as "Expect Delays June 18-19," and "Democrats Begging 4 Money."
Do you think Trump is being Trumped on the streets of L.A.? Leave a comment on our Facebook page.
We bring you the best street art campaigns every day so sign up for My Widewalls for FREE
Featured images: A Detail from Dump Trump Bilboard by Sabo and Artwork by Sabo, courtesy of breitbart
All images for illustrative purposes only