Even though Trump inauguration is just around the corner, American artists are still struggling to find some common ground. Almost two months ago, Trump won the US presidential elections, leaving many people shocked and uneasy. Artists expressed a mixture of disbelief and frustration amid calls for solidarity in their response to the unexpected developments.
The Trump-inspired art that emerged during the campaign season seemed no longer funny because the reality of Trump presidency was no longer funny. Trump's election has been felt as a reset for some artists as they navigate their work in the wake of the election. For many of them, Trump's America is so horrifying that their work feels worthless if it isn't tackling issues now facing the country.
In an attempt not to normalize President Trump, the art world is mobilizing for his inauguration on January 20th.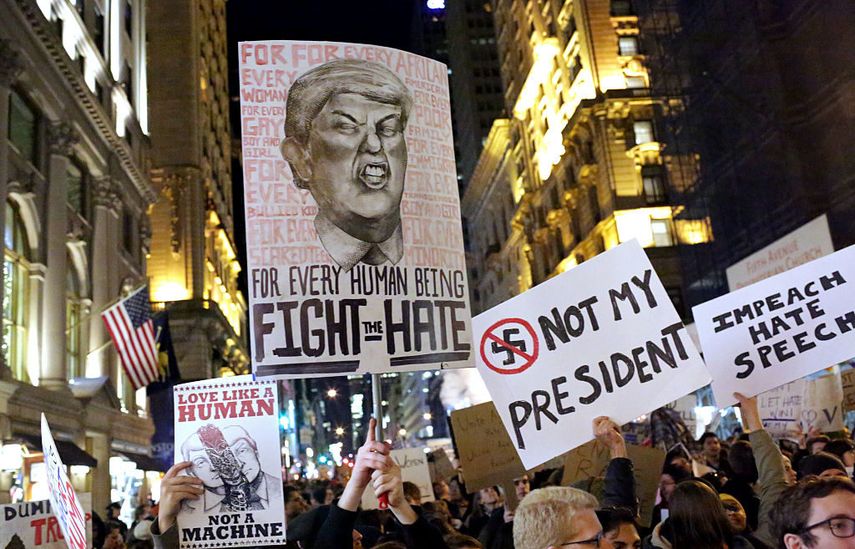 Protest Posters
Shepard Fairey, the American contemporary street artist, graphic designer, activist and illustrator who created iconic HOPE posters that became a totem of the movement behind Barack Obama, has created a new range of posters for the Trump presidency with a rather different concept.
Instead of featuring the President-elect, these posters depict marginalized people such as Native Americans, black people, women, and Muslims. Titled We The People, the series of posters is supposed to flood Washington DC as part of a plan to protest Donald Trump's inauguration on January 20.
Posters will take full-page ads in the Washington Post so that people can carry them into the streets, hang them in windows or paste them on walls. Posters will also be distributed by the Amplifier Foundation and will be available for free download.[1]
Starting as a spontaneous feminist rallying via social media and quickly growing into a movement, Women's March on Washington has morphed into what is expected to be one of the largest demonstrations in the recent American history. Planned for the inauguration weekend, the march is centered across a diversity of progressive issues and it will be an extraordinary display of dissent on a president's first day in office.
The movement has created an open call for art to arm those gathered with powerful visual messages. After receiving over 5,000 submissions, eight artworks were chosen by Carmen Perez and Paola Mendoza from the Women's March on Washington, Cleo Barnett from the Amplifier Foundation and artists Swoon, Jexx X. Snow and Favianna Rodriguez. 
Posters are available online as high-resolution downloads, and around 30,000 of them will be printed out to be available free of charge to participants in the march.[2]  Also, Corey Helford Gallery will provide 1,500 posters for the guests of their gallery on January 21st.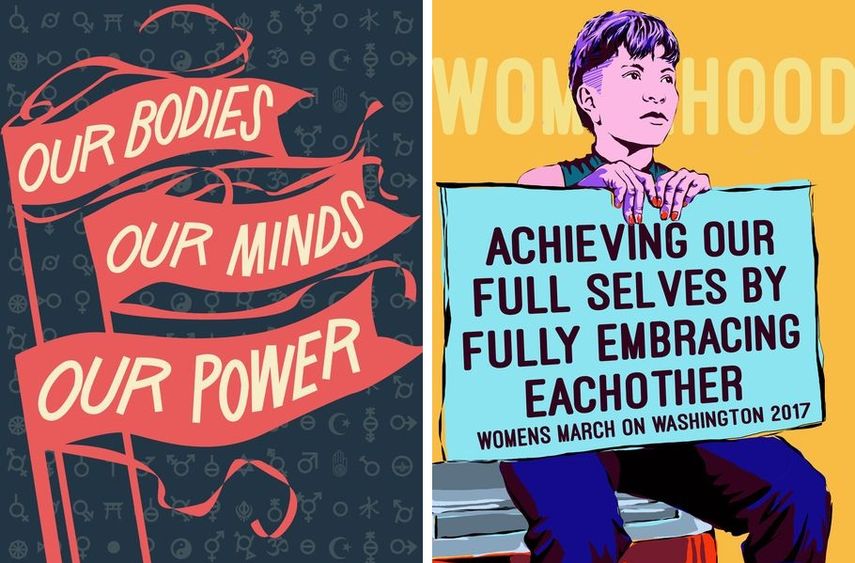 J20 Art Strike on Donald Trump President Inauguration
As Trump inauguration looms closer, the art world has been floating more and more ideas about how to protest the soon-to-be-president. One that has gained a particular amount of attention is an "art strike" endorsed by over 100 artists, curators, critics, and galleries. They have signed a letter for the J20 Art Strike, an art protest that calls for the closure of U.S. museums, galleries, and cultural institutions on January 20, the day Trump will take office. They have signed the call to action "toward an anti-fascist cultural front" made in solidarity with other such calls for noncompliance across the country on that day.
The list of artists who have signed the call includes Coco Fusco, Barbara Kruger, Marilyn Minter, Richard Serra, Lucy Lippard, Hans Haacke, Cindy Sherman, and Hal Foster.
The signatories state that they consider the strike to be "one tactic among others to combat the normalization of Trumpism – a toxic mix of white supremacy, misogyny, xenophobia, militarism, and oligarchic rule", explaining that "the call concerns more than the art field". Calling for a large scale suspension of artistic activity, the protest claims to be about galvanizing the art world rather than seeing it grind to a halt.[3]
The call for a strike has opened up a debate about the effectiveness of the measure. The artist Daniel Keller described the strike as pointless, and the artist Mary Jo Karimnia is not sure how refusing to work for the day can have a palpable effect on the administration, especially when, for some artists, work can be a form of protest in itself. It has been argued by many others that the artists would surely make its most effective statement against Donald Trump by simply carrying on as normal and creating powerful political art.
The executive director of Bard College's Center for Curatorial Studies Tom Eccles stated that "it is not our role to close", but "to watch, to listen, to encourage". Describing the protest as futile, Jonathan Jones from The Guardian wrote it is "the least effective idea for resisting Trump" that "can only help the participants feel good about themselves".[4] Proposed by the most eminent and most comfortable members of the cultural elite, the strike appears as barren liberal grandstanding in a time that requires real and articulated politics.
Yet, while taking a day off, they might use the time to organize a form of action that might be more direct and effective than simply saying "not in my name".
While some art institutions answered the call by closing their doors, others, such as the Museum of Contemporary Art in Los Angeles and the Seattle Art Museum, decided to remain open and offer visitors free admission. The National Museum of Women in the Arts in Washington is inviting visitors to take its Nasty Women tour of its collection for free during the weekend in support of the Women's March on Washington. The Walker Art Center will be also offering free admission in order to provide "a space of gathering and respite where all ideas and perspectives are always welcome".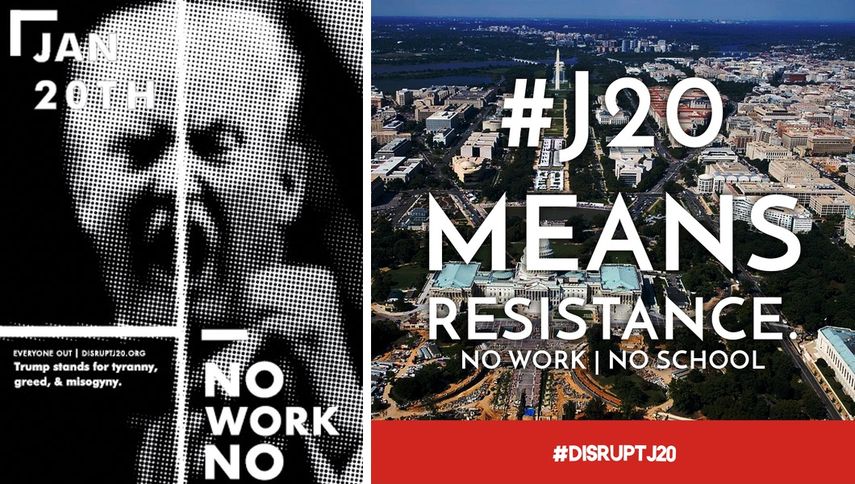 Challenging the Status Quo
It can be argued that all art is political in the sense that it takes place in a public space and engages with an already existing ideology and dominant discourse. By its very nature, art challenges the status quo. It is important for artists not to abstract the meaning from their work, and those who have the privilege of any audience must speak clearly about the issues that matter the most and be the voice of the voiceless.
Artists should now, more than ever, engage, connect, change perceptions, educate, spread critical thinking and inspire discussions.
Trump's victory should be a wake-up call that the American dream is a dead end, leading only to failure and frustration. The neoliberal politics, especially the Democrats' abandonment of the working class, has cleared the space for Trump, allowing him to mobilize different sections of alienated and shattered categories within the American society.[5] The great energy that has been invested over the years into the upbuilding of a variety of movements such as Occupy, Fight for 15, Black Lives Matter and Slutwalks, shows a deeply set urge for a different kind of society – one that is more humane and just.
It would be a pity to waste it on an apolitical fight against "Trumpism". There must be a bold, different agenda proposed for those whose world has crumbled over the years.
References:
Featured image: Barbara Kruger for New York Magazine (detail), via hyperallergic.com. All images used for illustrative purposes only.