In the early 2000s, than an 18-year-old Japanese artist Hiroyasu Tsuri moved to Melbourne, Australia and in a very short time became a significant part of the Australian street art culture. He started calling himself Two-one and soon, through the skateboard and graffiti culture began doing his own recognizable art. The local street art scene was rapidly growing, and so was his success. Along with his new gained popularity in Melbourne, Tsuri decided to educate himself and in 2004 he received a diploma of Visual Art New Media from Swinburne TAFE. Hiroyasu's work often shows 'animal headed human bodied creatures', he calls this on going series "Phycological Portrait" which shows more of the inner character and personality, that exists timelessly and universally, as apposed to ones superficial outlook. Hiroyasu is also exploring ideas with his series titled "Metaphysical Landscape" which often features twisted and stylised still-life / landscapes that stimulate the metaphysical stories to the audience.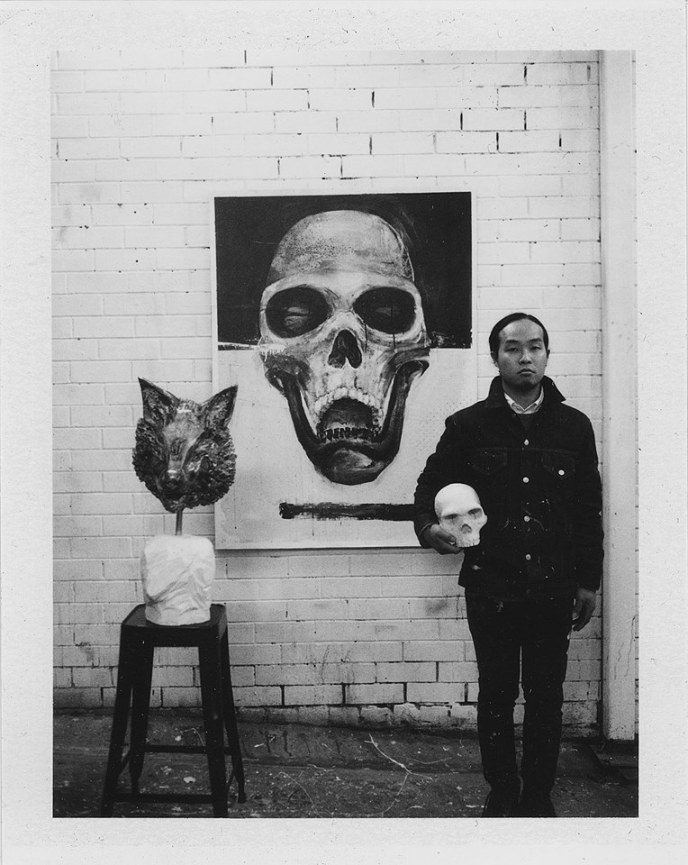 Street Art As A Base
Even though he now has an enviable career in the contemporary art world, he hasn't given up or forgotten his beginnings: "Studio experimentation and street painting resonate with each other and continue to give me new inspiration to create more". Since painting larger size murals, Hiroyasu started to notice the effects of his body movements on his work – 'I like seeing the tags, and marks made by artists while moving physically when they paint, its almost like you are seeing left over energy that the person created'.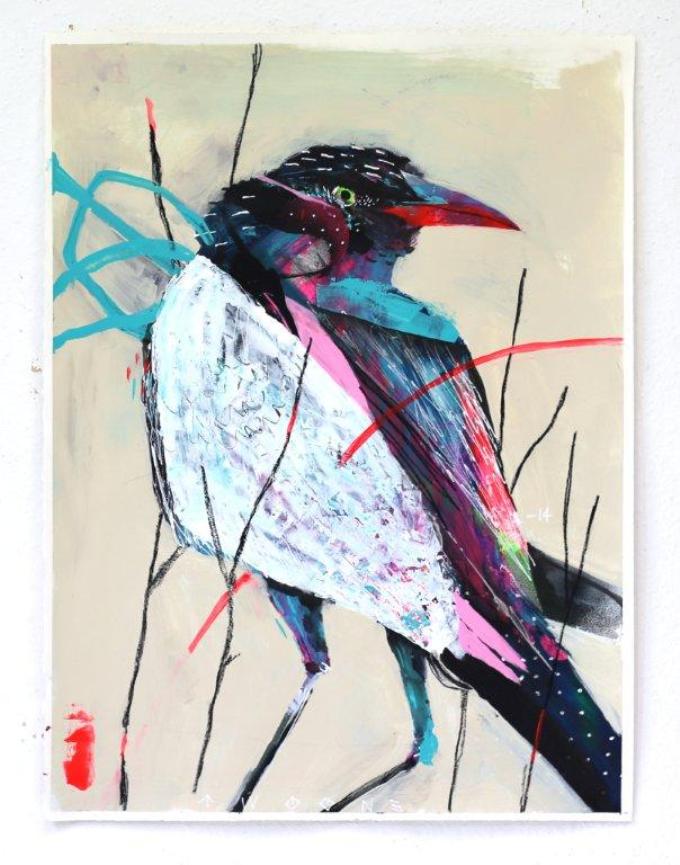 Hunted Hunter's Head
His first solo exhibition in 2008 at Bus Gallery & Global Gallery in Melbourne and Sydney got him a wider recognition and inspired him to expand his field to painting, sculpture, live performances and sound installations. Since then, he has continued to hold regular solo exhibitions including at Gorker Gallery (Melbourne) 2010, No Vacancy (Melbourne) 2011 and Backwoods Gallery (Melbourne) 2012. His latest exhibition in Stolen Space Gallery in London called 'Hunted Hunter's Head' also explores movement. Starting on September 11, running through October 4 Two-one will show the visitors a the gallery why his is one of the best newcomers on the art scene.