Jeff Koons, Dana Schutz, Cecily Brown, Richard Prince, Elizabeth Peyton. If you own their prints of sculpture multiples, chances are they came from Two Palms. A renowned studio and showroom in Soho, New York City, they have been dedicating their practice to the leading contemporary artists of the 21st century, and helping them produce artworks of the highest standard.
Indeed, in the world of prints and multiples, Two Palms are something of a legend. Their constantly-expanding roster of technologies and tools continues to challenge the definitions of these two media, by engaging in a wide variety of innovative printing techniques. Their focus is on the contemporary ways of making as strongly as it is on the traditional techniques such as intaglio and the nearly-lost medium of the Woodburytype.
Furthermore, Two Palms works have been acquired by numerous important cultural and institutions of arts over the years; The Albertina, The British Museum, The Broad, The Met, Tate Modern, The Whitney, Walker Art Center, to name just a few.
To get a glimpse behind the creative processes at Two Palms, we talked to its Principal and Co-Owner, Evelyn Lasry, who works directly with artists, collectors, advisors and curators to ensure the prints land in private and public hands around the world. She tells us about the idea of acquiring prints as an affordable first step into art collecting, the impressive printing techniques Two Palms has been mastering, and her career as co-founder of this exceptional business.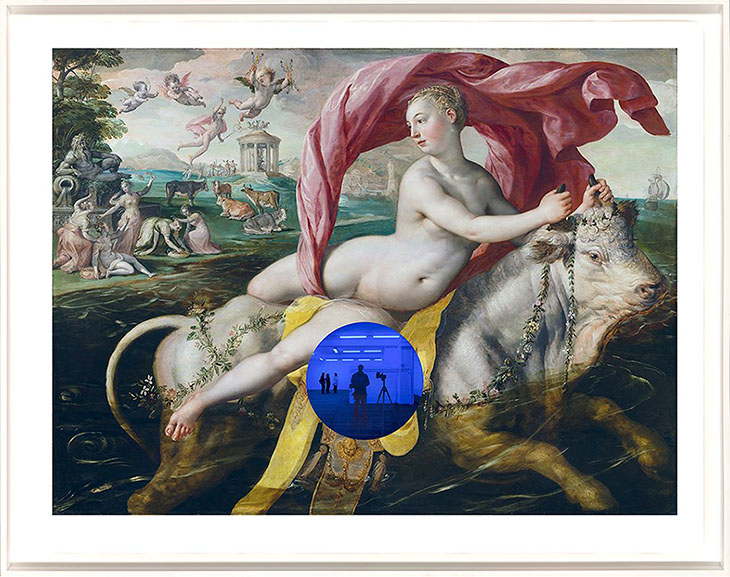 The Story of Two Palms Press
Widewalls: For more than a couple of decades now, Two Palms has been engaged in a wide variety of innovative printing techniques. How would you say you pushed their boundaries? What are the challenges and rewards of your work?
Evelyn Lasry: Our job is to help artists find new ways to make their work. We start somewhere and then try different approaches - the innovation comes out of process and necessity, rather than preconceived ideas.
My husband David, who started the studio in 1994, was never officially trained as a printmaker so he has always been inclined to try things from out of left field. I think any good artist pushes boundaries, and we are lucky enough to get to help them do that.
The biggest challenge in making art is keeping small failures from becoming large ones and never resting when we have success. Almost all of our great discoveries have come from some mistake, or even disaster, in the studio. If you can repeat a disaster twice, it becomes a technique.
The reward is the satisfaction of releasing a work into the world and having the collector tell us they have never seen anything like it… or that it makes their nipples hard (true story!). At that point, it doesn't feel like a job.
Widewalls: Aside from keeping up-to-date with the modern-day printmaking, you also place an accent on traditional techniques. Where does their importance lie today?
EL: We are fortunate to have Craig Zammiello, one of the world's great etchers working for us. When Craig came to us in 2002, he had been working with printmaking artists like Jasper Johns, Robert Rauschenberg, and Elizabeth Murray. The ability to offer our artists the perfect gravure or a simple beautiful line etching expanded what we could provide.
Ellen Gallagher took full advantage of our ability to combine the new with the old in her masterpiece DeLuxe, which featured every form of etching and lithography along with laser drawing, laser burning and material sourcing from eBay. That work premiered at the Whitney Museum in 2005.
Widewalls: Two Palms works with an array of artists we all know and love. Any memorable stories you'd like to tell us?
EL: There have been memorable moments with all of my artists but they wouldn't work with me anymore if I revealed them.
Widewalls: How would you describe your experience in leading Two Palms? What has it brought you so far?
EL: When my husband David started Two Palms in 1994, it was just him and a small hydraulic press. I joined the team in 2001. Last week, we had 17 crewmembers and an artist around the lunch table and it really made me think about how far we have come. After 24 years, David still can't wait to get to the studio every morning. Our crew is smart, capable, and uninterested in making boring art.
The best part is that we all like each other. There is good music, good food, and good humor throughout the day, but everyone is still serious about collaborating with our artists and producing the best prints we can.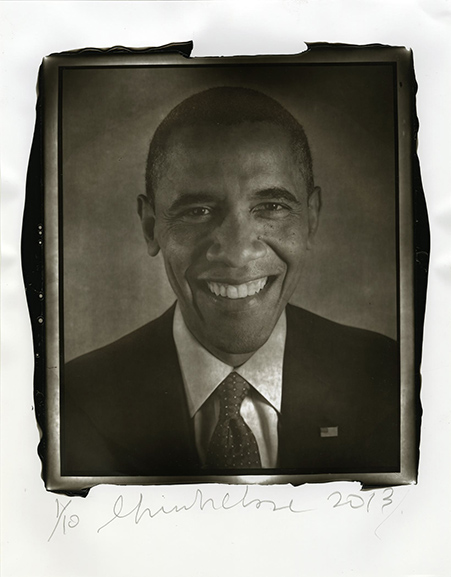 The Art of Woodburytype
Widewalls: Many highlight your dedication to the nearly-lost medium of the Woodburytype. Can you tell our readers what it is and what makes it stand out?
EL: The Woodburytype is a photomechanical printing process that involves making a thin, hardened piece of photosensitive gelatin that is exposed in the sun and hardened. The exposed gelatin is then imbedded into a lead plate using a hydraulic press. The indentation made by the gelatin is used as a mold into which hot inky gelatin is poured. A piece of photo paper is laid on top, and with light pressure, the inky gelatin affixes itself to the paper, creating a Woodburytype image!
This process has never been surpassed in its tonal rendition, in the liquid-like delicacy of its shadows and highlights, in its supple surface relief texture and permanence in the prints. Walter Woodbury developed the Woodburytype in 1864, however, it was quickly abandoned by many printmakers in favor or less labor and time intensive techniques.
It is actually quite rare to have access to a hydraulic press that is as powerful as ours, and when our two master etchers joined the team, one of the first things they realized was the press' potential to produce a Woodburytype. Our printers spent 10 years trying to perfect the necessary gelatin to make the lead printing plates (another failure).
We happened upon Barret Oliver during our research. He had just claimed to have successfully produced a Woodburytype print. We invited him to New York and brought him to meet Chuck Close. Over the course of a year, they made a group of fantastic Woodburytype portraits. Chuck's Woodburytype image of Barack Obama is the first Woodburytype of an American President since Hessler & Ayer's Woodburytype portrait of Abraham Lincoln, printed in 1881.
Later, Matthew Barney saw Chuck Close's Woodburytypes in our studio and loved them. He was just finishing up his film River of Fundament and wanted to make use of some images from the film. Barret spent about 4 months making gelatins of the images, exposing each one in the sun and then washing it for three days. He then brought the gelatins to our studio to press them into polished lead plates under 500 tons of pressure in our hydraulic press. Matthew liked the resulting prints, but thought they needed further transformation and suggested that we try to grow metal on them. We lasered hundreds of tiny holes in each Woodburytype, mounted them to copper plates, and attached annodes. From there, we submerged them in an electrolytic solution and electroformed copper nodules through the holes. To finish off, we plated the copper nodules with nickel and 24 karat gold.
The project took three years to resolve. The complications were immense: Woodburytypes are made of gelatin which melts at 70 degrees, but electroplating nickel is performed around 140 degrees. As you can imagine, we melted a lot of Woodburytypes! We finally figured out that we could cut a hole in the door of a mini fridge and plate the Woodburytypes in a bucket that we lowered into the hole. We had to invent new cold-electroforming solutions, which we kept refrigerated at 50 degrees.
We had an insane failure rate. The gelatin was contaminating the solution, and we were going nuts trying to keep everything in balance. Our etching room looked like a meth lab from Breaking Bad. Most of the edition was pre-sold, and thankfully everyone was both supportive and incredibly patient. The end result is really a remarkable object.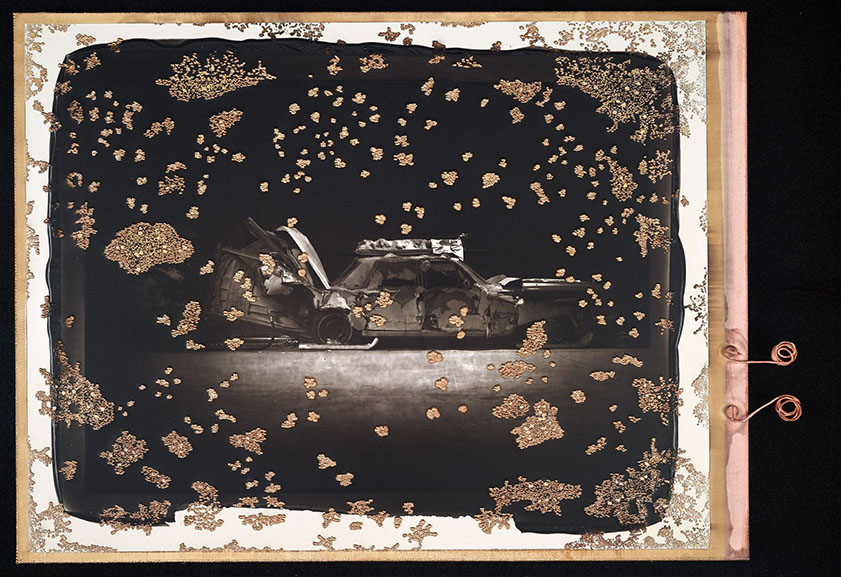 Thoughts on the Print Market
Widewalls: What are your views on the prints market at the moment?
EL: At the moment, we find it quite strong. I think more and more people are interested in what's going on in contemporary art worldwide, and, as a result, more people are discovering printmaking and finding that they can afford to buy a print from an artist whose work might otherwise be unattainable. The growth of the online art market has also been a big boost to our business and has helped people all over the world discover Two Palms.
One thing I will say is that I would love to see more people take an interest in learning about printmaking. Many people assume that prints are simply editioned reproductions. I love having collectors visit the studio so they can discover the incredible amount of work that goes into making a print and the many different variations of mediums and techniques that exist. People are often shocked to learn that monotypes are unique works and that all of the works we produce are original pieces.
Widewalls: What would be your advice to someone who is a novice, or is just about to start collecting prints? Why are prints such a special collectible?
EL: Take your time, don't rush, and go see a lot of prints before you start bringing things home. The two fall print fairs, the International Fine Print Dealers Print Fair and the Editions/Artist's Book Fairs are great places to see the best new prints and rare old prints. The Art Basel fairs always have a fantastic group of print dealers and publishers from around the world.
Every artist we work with considers their printmaking activities as essential to their oeuvre as a whole. The ideas they get in the print studio feed their work in their own studios, and vice versa. Not to mention, they like the idea that their editioned works are accessible to a wider audience.
Widewalls: Can you tell us about what's coming next for Two Palms?
EL: There is a ton going on in the studio right now! Dana Schutz is working on a major etching project and she has an amazing hand with print materials. It's a treat to watch her work. We have been researching and developing new projects with Matthew Barney, Philippe Parreno, and Jeff Koons. On top of all that, we have had a few new artists in this year, namely Cameron Jaime and Nona Faustine Simmons.
I love the different approaches all of our artists are taking right now. What ties them together is a high level of intellectual rigor and a spectacular end product!
Featured image: Evelyn Lasry, courtesy Two Palms Press.