For the fifth year in a row, The Art Market 2021 by UBS and Art Basel is written by renowned cultural economist Dr. Clare McAndrew, founder of Arts Economics. Based on an in-depth survey of art market insiders, the report is a detailed survey of the industry, and an important indicator of its future.
This particular report might just be the most important one yet, as it looks at the now infamous year 2020. We have been looking forward to hear how the COVID-19 pandemic influenced the global art and antiques market, based on the experiences of dealers, auction houses, collectors, art fairs, industry experts and others involved in the trade.
The main outtakes of the report can be divided into six main chapters, and here they are.
The Art Market 2021 - A Report by UBS and Art Basel
Perhaps the most anticipated question for this report is: have the global sales gone down in 2020? The answer is yes - but not by a lot. They are estimated at $50.1 billion, down 22% compared to 2019 and 27% since 2018. When it comes to the traditional leaders of the market in particular, sales in the US fell by 24% in 2020 to $21.3 billion, China's decreased by 12% to $10 billion, and the UK's by 22% down to $9.9 billion. The big three still account for a majority of global sales at 82% - breaking down to 42% for the US, and 20% each for China and the UK.
As expected, online sales of art and antiques reached a record high, however, resulting in a total of $12.4 billion, twice as much as in 2019, and accounting for a record share of 25% of the market's value.
As we know, many businesses had to refocus their strategy to online selling. According to the report, although there were many transactions online, the volume of sales was estimated to have decreased by 23% to $31.4 million, its lowest since 2009.
Dealers
2020 was definitely not a great year for art dealers. Their aggregate sales declined by 20% to an estimated $29.3 billion. The most significant average annual declines were reported by dealers with turnover greater than $10 million, at 31%.
Dealers' top priorities, as expected, were to focus on existing clients, online sales, and finding ways to cut costs.
While as much as 48% of dealers accessed loans for their businesses during 2020, 28% of dealers overall were more profitable than in 2019, and 18% maintained the same level. 1% of the dealers surveyed had closed permanently, citing difficulties meeting overheads and the financial implications of the cancellation of art fairs as some of the primary reasons for closing.
40% of dealers' planned exhibitions were cancelled in 2020 due primarily to the COVID-19 pandemic.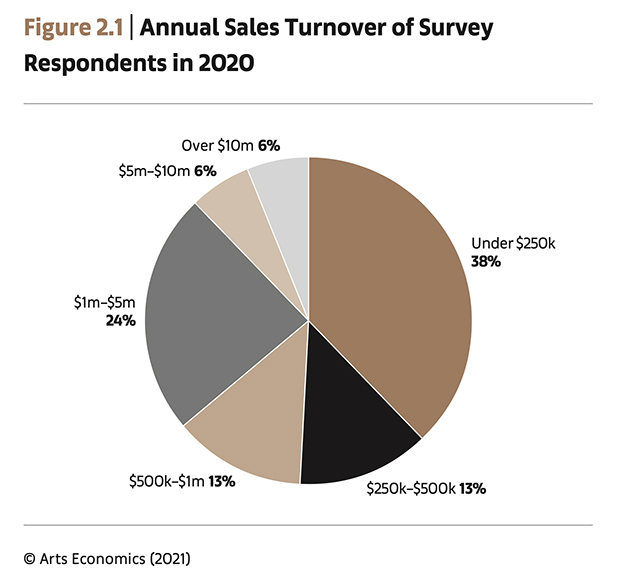 Auction Sales
The year 2020 also brought a decline in sales for auction sales: $17.6 billion, 30% less compared to 2019 - excluding the private sales, which are estimated to have reached over $3.2 billion (up 36% on 2019).
Interestingly, Greater China overtook the US to become the largest market, with a 36% share.
Online, 67% of the sales referred to artworks between $5,000 and $250,000, with only 6% of artworks were valued at over $1 million. That being said, sales over $1 million continue to be reserved for the offline fine art public auction sales, at 58%.
In 2020, the largest sector in the fine art public auction market was Post-War and Contemporary art - 55% - totaling in $4.7 billion and still representing a decline of 23% year-on-year. After losing almost a third of their value in 2019, sales of Modern art fell another 23% in 2020 to reach $2.2 billion.
Nearly all of the major auction houses saw declining sales in 2020 - Total sales through all public and private channels at Sotheby's in 2020 reached just over $5 billion, down from a reported $5.8 billion in 2019; Christie's reported total global sales through all channels of $4.4 billion for 2020, down 25% year-on-year from $5.8 billion in 2019; and Phillips achieved sales of $760 million through all channels in 2020, down 16% on 2019.
Overall, 2020 saw declines in both the value and volume of works sold across all price segments of the fine art auction market.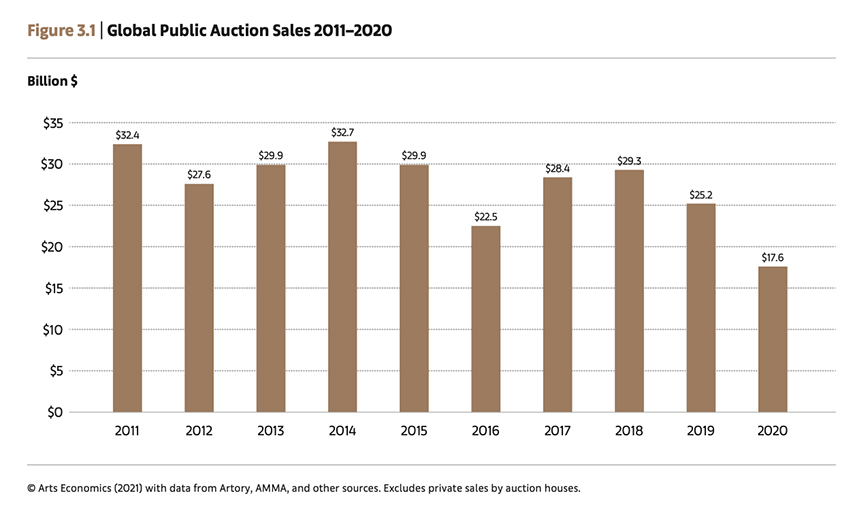 Art Fairs
A total of 365 global art fairs were planned for 2020. 61% were cancelled, and 37% held live events. Out of 138 art fairs surveyed, 62% offered an online viewing room (OVR) or a digital version of the fair.
The share of art fair sales from live events declined dramatically in 2020, accounting for just 13% of dealers' total sales, with an additional share of 9% made through art fair OVRs.
On the upside, if we can call it that, art fair costs for galleries were a mere 16% in 2020, compared to 26% in 2019.
When it comes to those who bought art at online fairs, 41% of high net worth (HNW) collectors surveyed did so, with 45% reported making one through an art fair's online viewing room. 68% of HNW collectors would be happy to attend a fair by the end of Q3 2021, and over 80% into Q4.
Visitors to art fair OVRs in 2020 averaged 100,000 per event. 83% of works offered on OVRs were for prices less than $50,000, and only 5% for over $1 million.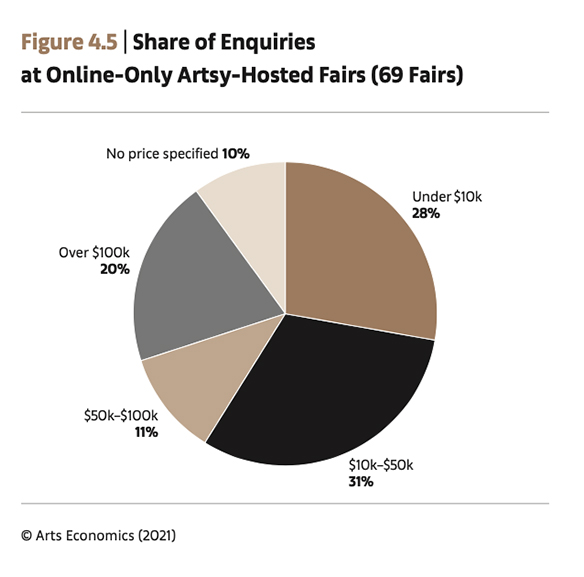 Online Sales
Here's one thing that did the opposite of declining in 2020. Online sales reached a record high of $12.4 billion, doubling in value from 2019. As aforementioned, e-commerce's share of the art market is now at 25%, an all-time high.
Dealers at all levels showed significant increases in the online component of their sales, with those in the $10 million-plus segment more than tripled their share of online sales, to 47%. 32% of online sales made by dealers in 2020 were to new buyers, down from 57% in 2019. 31% of online sales went to buyers who previously had contact with the gallery, but only bought online from them for the first time in 2020.
The most commonly used channel for purchasing art online by HNW collectors surveyed in 2020 was online auctions, used by 49% to complete a purchase. Gallery OVRs were the second most popular overall (47%) and art fair OVRs ranked third (45%).
Curiously, online channels were not the first preference for viewing art for sale: 66% of HNW collectors preferred to attend a physical exhibition, 22% preferred online, and 12% had no preference of one over the other. Another interesting statistic: just over one third of HNW collectors had used Instagram to purchase art in 2020.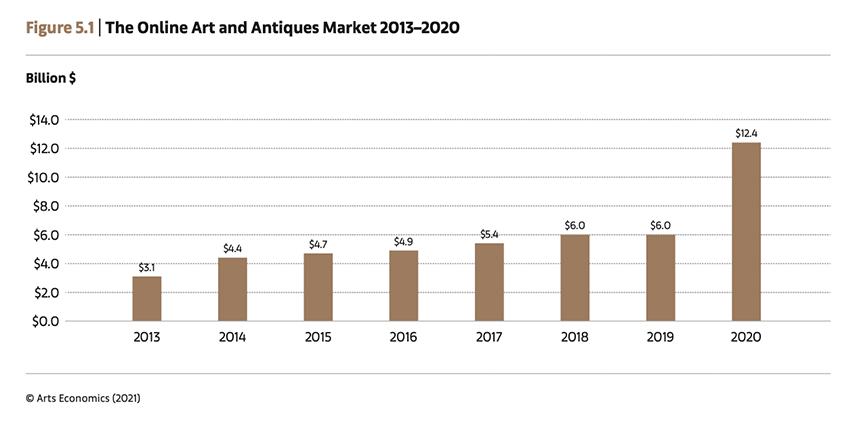 Collector Perspectives
Who are today's art collectors? According to the report, millennial HNW collectors were the highest spenders in 2020, with 30% having spent over $1 million versus 17% of Boomers.
Despite the restrictions in place, HNW collectors still purchased through a range of channels, with 81% having bought art from a gallery in 2020, and 54% at auction. Dealers were the most preferred channel for purchasing art, with the majority of HNW collectors (57%) preferring to buy from their gallery or physical premises, while 29% liked to purchase from them online and 14% by phone or email. One quarter of HNW collectors reported spending over $1 million on art in 2020.
46% of HNW collectors focused only on galleries they had bought from before in 2020, with a further one third doing this alongside being open to working with new galleries. 41% were also only buying works of artists familiar to them or whose work they had bought before.
The report also states that the strong performance of financial markets over 2020 led to wealth preservation and growth for many high net worth individuals, who are key collectors in the art market. In fact, in 2020, the number of billionaires rose 7% and their wealth grew 32% over the year.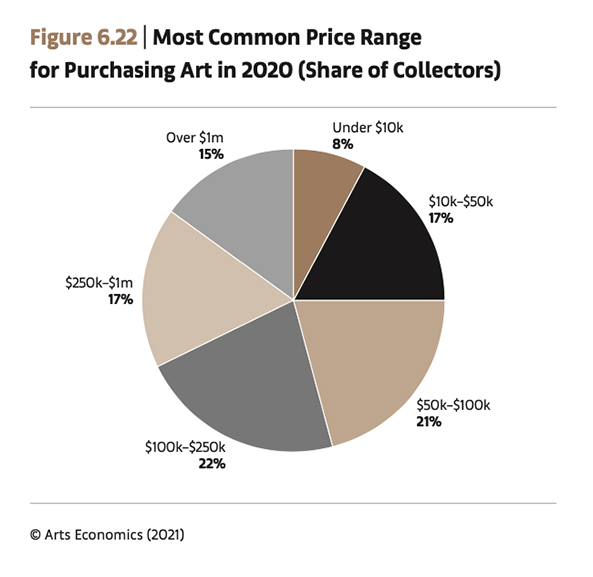 In Conclusion...
The UBS & Art Basel Art Market Report 2021 estimates that there were approximately 305,250 businesses operating in the global art and antiques market in 2020, directly employing about 2.9 million people. The majority of them were small and micro-sized businesses.
Employment in the auction sector was estimated to have declined by 2% year-on-year, and despite ongoing pressures on businesses from COVID-19, most dealers expected employment to stabilize in 2021.
While international travel may take some time to revive, foot traffic statistics show some early indications of an eagerness to return to live exhibitions.
The biggest challenge remains in how to attract audiences in the first place and convey quality amid an increasing volume of online offerings.
For the full report, please click here.
Featured image: The UBS & Art Basel Art Market Report 2021, cover.