As it has become tradition now, around this time every year we take a look back at the global art market, in order to decipher it and give it a little more sense. Among the most relevant reports, as you know, is the one issued by UBS and Art Basel, which gathers and analyzes data from dealers, auction houses, collectors, art fairs, art and financial databases, industry experts and others involved in the trade.
In the Art Market Report 2019 issued today, we find out that the market is "robust and growing", according to Art Basel's Global Director Marc Spiegler, while author Dr. Clare McAndrew emphasizes on the importance of the issue of gender in the art market that this report has tackled.
Let's examine the key findings.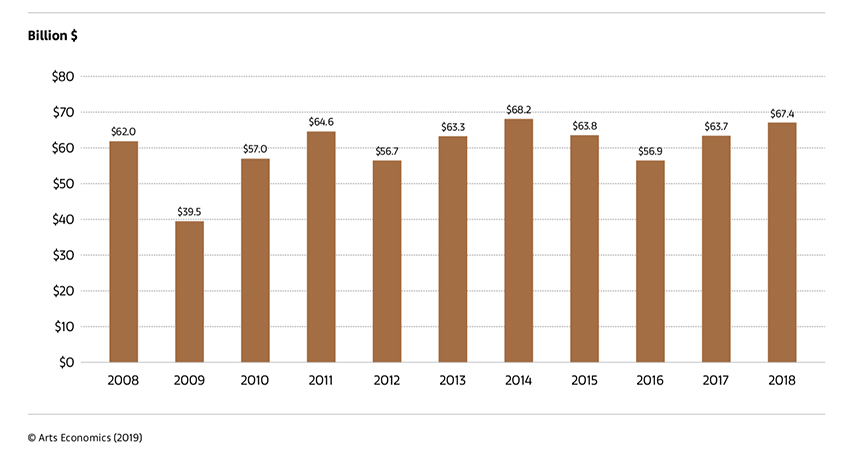 The Art Market in 2018
We begin with perhaps the most important number of the report - the sales in the global art market, which in 2018 reached $67.4 billion, up 6% year-on-year. It represents the second-highest level of positive growth in the last ten years, courtesy of the three largest markets - the US, the UK and China, which accounted for 84% of the entire market's total value - no surprise there.
The UK has in fact reclaimed its 2nd position despite Brexit worries, achieving just under $14 billion, still quite behind the US with $29.9 billion. Sales in China, however, saw a slight decline of 3%, stabilizing at $12.9 billion.
The number of transactions has also reached its highest level since 2008, increasing by 2% to an estimated $39.8 million.
Numbers by Sectors
When it comes to dealer sales in 2018, they reached an estimated $35.9 billion, up 7% compared to the year before. The best-performing segment for sales year-on-year was dealers with turnover between $10 million and $50 million - up 17%, while the poorest performance was down 18%, below $250,000. For 2019, 29% of the dealers expect their sales to be lower than in 2018, yet 30% are quite optimistic. They biggest challenge remains finding new buyers.
A total of $29.1 billion in 2018 is how much the sales at public fine and decorative art and antiques auctions reached, 3% more than the year before. Works selling for over $1 million accounted for 61% of total sales, yet only 1% of the lots sold. Half the fine art auction market's value went to the Post-War and Contemporary sales - $7.2 billion, meaning a 16% increase, while the number of sold lots decreased by 5%.
A 6% rise in sales was seen at art fairs, which have reached $16.5 billion in 2018. On average, dealers took part in four fairs last year, down from five fairs reported in the surveys of 2016 and 2017. However, attendance ranged between sectors and segments, with more than 25% of the sample having exhibited at 10 or more fairs.
Good news for those buying their art online - the global sales reached an estimated $6 billion, up 11% from 2017. They still make up for less than 10% of the total market value, yet e-commerce holds 12% of total retail sales in 2018. Most online-only companies still sell the majority of their works in the segment of $5,000 and below, with less than 10% of transactions reported at price points above above $250,000.
Talking about Artist representation and gender, larger primary-market galleries tended to represent fewer female artists - 38% of those with turnover up to $1 million were women, versus 35% for those over $1 million, and 28% for those over $10 million. 36% of the artists these galleries represented in 2018 were female, and the sales of their works accounted for 32% of their annual turnover. In addition, only 24% of the artists exhibited at art fairs were female.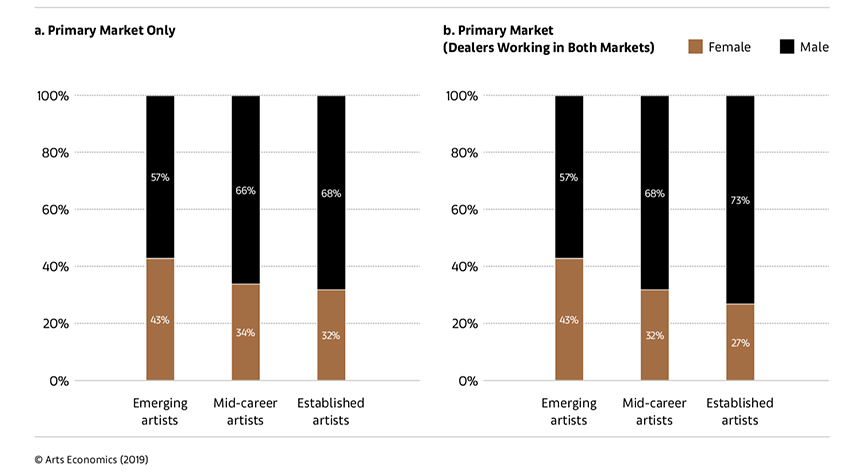 Find more information in the full UBS and Art Basel Art Market Report 2019 below.
UBS and Art Basel Art Market Report 2019