The art market is certainly facing some challenges as we speak - the coronavirus, also known as COVID-19, has already postponed big players such as Art Basel in Hong Kong.
Although there was virtually no virus in 2019, the global sales of art and antiques were still down 5% compared to the year before, reaching an estimated $64.1 billion. In the latest annual report traditionally released by UBS and Art Basel, there are some consistencies with the previous years; the US, the UK and China are still the most important markets on the global scale, with the US accounting for 44% with a 5% decline as well. Lower numbers reasonably happened in the UK given the uncertainties of Brexit (9%), and in China (10%).
But this is only the beginning of the comprehensive art market report for 2019 - here are its highlights and things you should know going forward.
The UBS / Art Basel Art Market Report 2019
Between 2016 and 2018, the art market saw a fairly steady rise in sales, which 2019 now brought back down to just above the 2017 level, according to the UBS / Art Basel report. The only bigger country seeing a rise was France, with sales advancing 7% in value to $4.2 billion and a 7% share of the global market.
The report also looks back at the entire decade, since it began with the historically low point in 2009 - since then, the market has increased in value by whopping 62%, with a peak reached in 2014, with the still all-time high of $68.2 billion. Furthermore, sales in the US have grown by circa 130%, more than twice the increase in any other market (for comparison, in China it was 61% and in the UK 42%).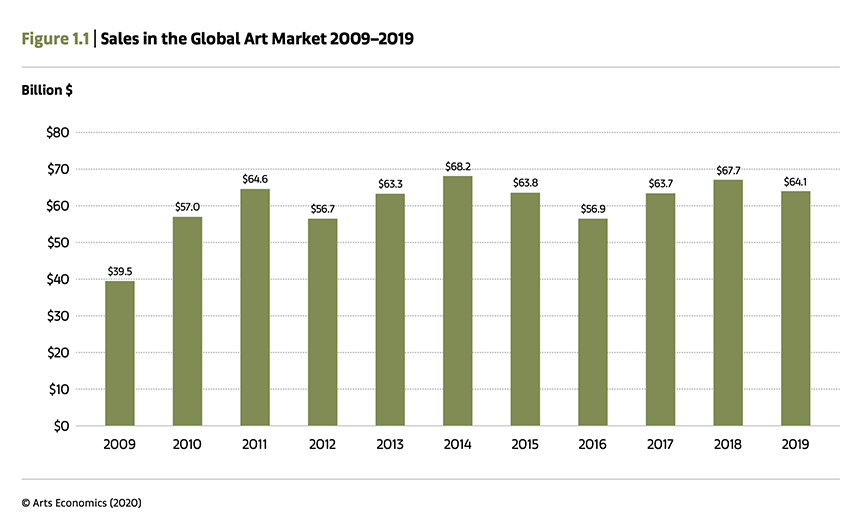 How The Dealers Were Doing
The dealer sector accounted for 58%, reaching $36.8 billion. The majority (84%) of individual transactions in the dealer sector were for prices below $50,000, but these represented a smaller share of the value of sales at 27% in 2019, down 10% from 2018, with more value shifting to the higher end.
For dealers, 2019's biggest challenge was finding new buyers; they accounted for 40% of the sales with a turnover smaller than $500,000. 57% of galleries' total sales came from their top 3 artists.
When it comes to female artists, their representations by galleries rose to 44%, along with their share of sales which is now 40% (compared to 32% in 2018).
Once again, the top-selling sector of the arts is Modern art, which had the highest median price at $42,635, six times the level in the contemporary sector. The median was down 38% from 2018, restoring prices in the Modern sector to 2017 levels. Contemporary dealers also saw a decline of 25% from $9,335 to $7,000, while there was a rise of 11% for dealers in the decorative art and antiques sector.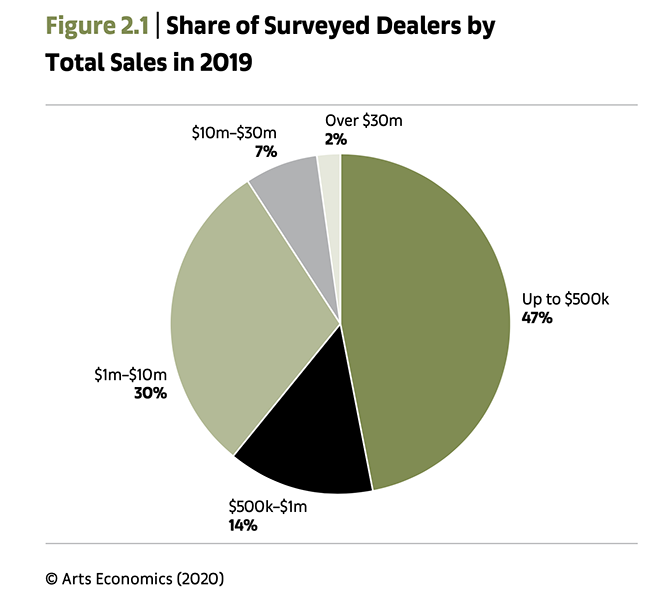 Who Are The Buyers?
Sales to private collectors once again dominated in 2019 - 70% - while the next biggest shares were taken by private institutions (6%), international museums and local and national museums (5%), and interior designers and art advisors (4%).
In terms of their demographic profile, buyers aged between 40 and 64 years were the largest buyer segment for dealers in 2019, accounting for a stable share of 62% of their total buyers (down just 1% from 2018). The biggest growth year-on-year was in the number of buyers under 40 years of age, which advanced in share by six percentage points to 19%.
While the contemporary sector had the largest share of younger buyers (21% under 40 years), the second highest was in decorative art and antiques, despite these sectors being often typecast as more suited to an older demographic. The Modern art sector, on the other hand, had the largest share of older buyers, with just under half of their base of clients reported as being 65 years or older.
Across all dealers, the average share of female buyers was 36%, which although a minority, advanced by 9% on the figures reported in 2018.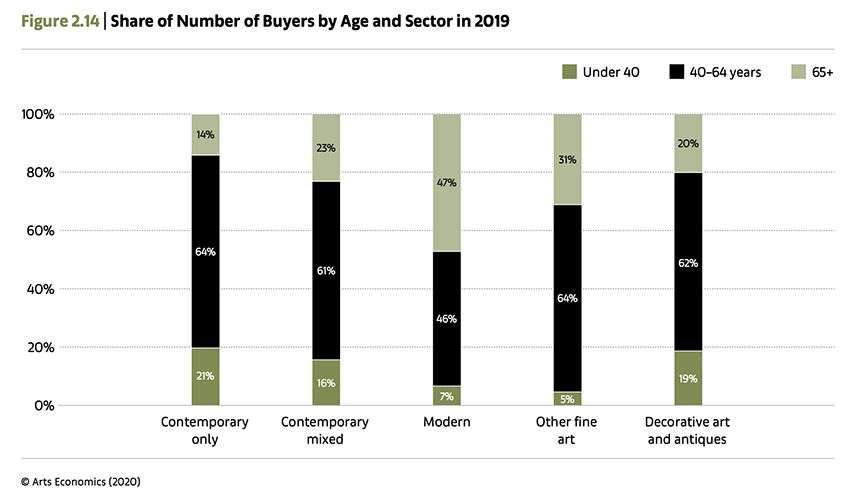 Auctions
When it comes to auctions, sales in both public and private sales made up 42% of the market, also down by 4%.
Sales at public auction of fine and decorative art and antiques (excluding auction house private sales) reached $24.2 billion in 2019, down 17% year-on-year. On the other hand, the private sales increased, with Christie's and Sotheby's having sales of over $1.8 billion.
Works selling for more than $1 million accounted for 55% of the total value of fine art sales in just 1% of the lots sold. The segment of works sold for over $10 million has been the key driver of growth in value since 2009; however, it was the worst performing in 2019, declining 39% in value (and with 35% fewer lots sold).
Post-War and Contemporary art was the largest sector of the fine art auction market in 2019, with a share of 53% of global fine art auction sales by value. Sales reached $6.1 billion, a decline of 10% year-on-year. Works created in the last 20 years accounted for 23% of the value of sales.
The Modern art sector remained the second largest in the fine art auction market in 2019, with a share of 25% by value. After two years of strong growth, sales declined sharply in 2019, falling 32% to $2.9 billion.
Sales of all Old Masters works reached $843 million in 2019, falling 10% year-on-year, the sector's third year of declining values. Just under half (46%) of the value of Old Masters works sold in 2019 were by European Old Master artists.
The buyers in auctions were, once again, the private collectors (68%), while private institutions accounted for 6%, art advisors 5%, interior designers 4%, local/national museums 3% and international museums 2%.
As expected, the US, China and the UK maintained their dominant position in auctions as well, with a combined share of 84% of the market.
To no one's surprise as well, works of art by female artists accounted for just 7% of the lots sold and 6% of the value of sales in the auction market.
In 2019, living artists' works accounted for 44% of the value of sales in the Post-War and Contemporary sector, down 3% in share year-on-year. Works selling for over $1 million accounted for 54% of the value of the living artists' works, with the largest segment being lots sold between $1 million and $5 million.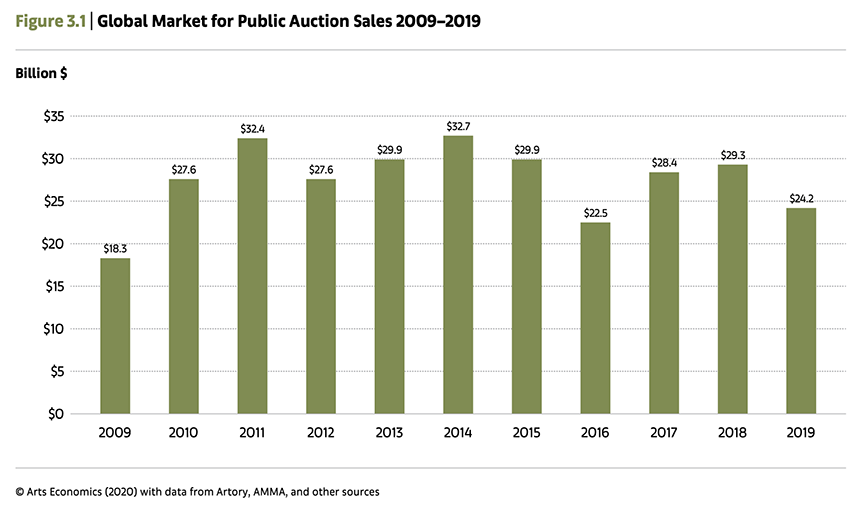 Art Fairs
For art fair sales, the situations fluctuated by very little: $16.6 billion in sales in 2019 compared to $16.5 billion in 2018. Dealers reported that 15% of these art fair sales were made before the fair ($2.5 billion), 64% during the fair ($10.6 billion), and 21% after the fair as a direct result of exhibiting at the fair ($3.5 billion).
The share of dealers' annual sales by value made at art fairs has grown from less than 30% in 2010 to 45% in 2019, declining 1% year-on-year from 2018.
While fairs accounted for 30% of sales for dealers with turnover of less than $500,000, this rose to 47% at the higher end for dealers with over $10 million in annual sales.
The number of fairs declined 7% year-on-year in 2019, but was still higher in number than any year prior to 2018.
In 2019, dealers reported spending an estimated $4.6 billion attending and exhibiting at fairs, a decline of 4% year-on-year. On the other hand, visitor numbers at a selection of the major art fairs reached 1.2 million, increasing 4% year-on-year and by 13% since 2013.
Most fairs were visited in the US (28%), the UK (13%), France (7%), China and Switzerland (6%).
When it comes to environmental awareness, most fairs (73%) were actively engaged in recycling programs for waste, and 38% had specific initiatives to re-use the physical infrastructures of the fair. As climate change issues escalate, methods to increase the sustainability of the art market and its practices will continue to be at the forefront of gallery and art fair discussions and actions.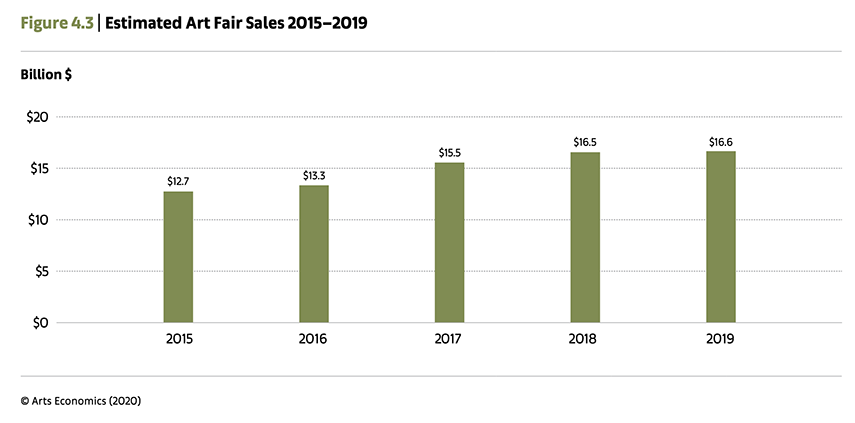 Online Sales
Online sales of art and antiques were estimated at $5.9 billion in 2019, a decline of 2% year-on-year, and accounting for 9% of sales in the art market by value.
For those dealers who made online sales in 2019, 57% were to new buyers, and for second-tier auction houses new buyers accounted for 34% of their online sales.
While online sales are impacting the auction sector at all levels, they are critically important for smaller auction houses. Auction houses with sales under $1 million made 23% of their sales online versus 4% for those with sales over $10 million.
Millennial collectors were the most regular users of the online channel, with 92% having bought online. 36% of millennial collectors who purchased online had paid over $50,000 for a work of art or object online, including 9% who had spent more than $1 million.
A survey of second-tier auction houses in 2019 indicated that, on average, 19% of their sales were online, stable on 2018, with around half of those made through third-party platforms.
Instagram's most effective use in the sector to date has been as a marketing tool, helping to spark interest in sales and offline experiences.
Despite the continuing advance of e-commerce, most collectors still preferred to buy offline, with the online platforms only being the first preference for 9% overall.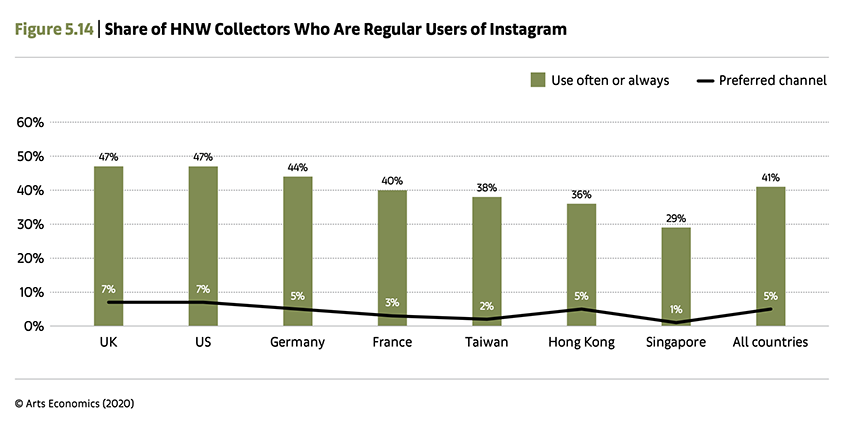 What The Future Holds
Regardless of the Coronavirus at the moment, the outlook of the art market in 2020 poses the same challenge as in the past three years: finding new clients. For established galleries, this is a key concern, as some of their existing clients who have supported them for decades reach capacity and age out, says the report.
The economy and the demand for art and antiques continues to be a problem as well. Along with participation at fairs and its costs, internet and online sales, and the increased regulation of the art market and cross-border trade, especially in light of Brexit and the turbulent US-China relations.
Find more information in the full UBS and Art Basel Art Market Report 2020 here.