What is the impact of COVID-19 on the gallery sector? The new UBS and Art Basel report reveals the way an average art gallery has been coping with the crisis caused by the ongoing pandemic during the first six months of 2020.
How has the pandemic affected their businesses and sales? What means of support and methods of adaptation have they taken in response to it? How has the COVID-19 crisis changed high net worth collectors' interaction with the art market and art galleries?
The survey, conducted by Clare McAndrew of Arts Economics, in collaboration with sociologist Taylor Whitten Brown of Duke University, answers these questions and more. This initial research will be followed by a second, follow-up survey to be conducted in December 2020 as part of Arts Economics' annual art market report (The Art Market 2021), which will be published in March 2021.
Below are the key highlights of the Mid-2020 UBS and Art Basel Report on the Gallery Sector.
How Are Art Galleries Doing Right Now?
Almost all art galleries in the world (93%) had closed their spaces between January and July 1, 2020, with an average closure period of 10 weeks.
Upon reopening, the most common new safety measure implemented in response to COVID-19 was physical distancing (84% of galleries) - this included altering the gallery layout, limiting visitor capacity, and efforts to reduce staff schedules by allowing remote work. 70% of the galleries used personal protective equipment for staff and visitors.
In early July, 21% of the galleries surveyed were still closed - 45% of those had chosen to stay closed, while 40% was obliged to do so by their governments. The rest either stayed closed because of the usual summer break or because of renovations, for instance.
Because of the pandemic, many galleries have had to lay off staff - one third of the galleries surveyed downsized their staff in the first half of 2020. Galleries that downsized then lost an average of four employees, with around half of the losses being full-time employees (and ranging from one to 40) versus 25% contracted workers. The biggest losses were reported by multi-premise galleries, which averaged a loss of 12 employees overall. Galleries with turnover of between $250,000 and $500,000 reported the largest share of those downsizing, at 38%. 42% of those galleries are based in Africa, 38% in Germany and Spain, and 36% in the UK.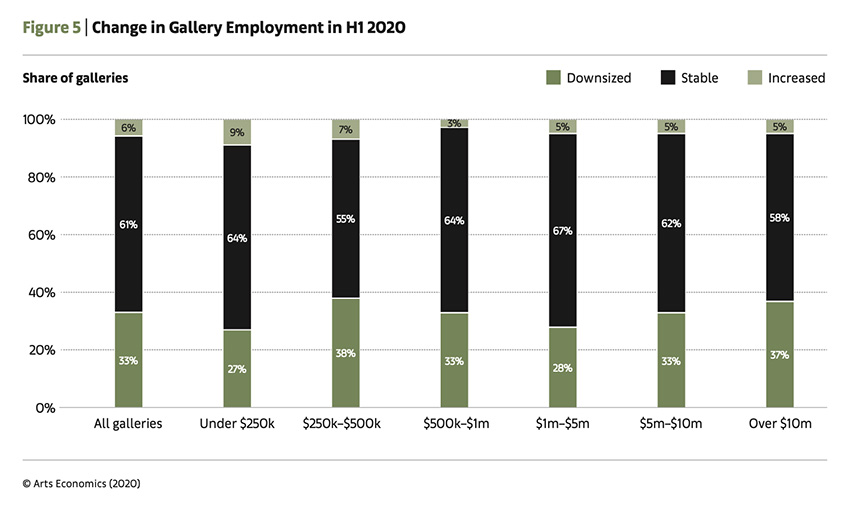 Sales in the Gallery Sector
Because the sales in the gallery sector depend largely on traveling and in-person contact, these have been strongly impacted by COVID-19. While many businesses have managed to continue trading, values (and volumes) have dropped significantly. Of galleries surveyed, 83% reported a decline in the value of their sales.
Comparing to the first six months of 2019, the sales in the same period in 2020 dropped by 36% on average, with the biggest fall reported by smaller galleries (with turnover of less than $500,000). Asian galleries reported a higher than average decline of 41%.
When looking at the rest of the year, most galleries felt safe that sales would not make up for their shortfall. 79% thought overall 2020 sales would be lower than 2019.There is a bit more optimism for 2021, although even then only 45% of galleries expected the sales to increase from 2020.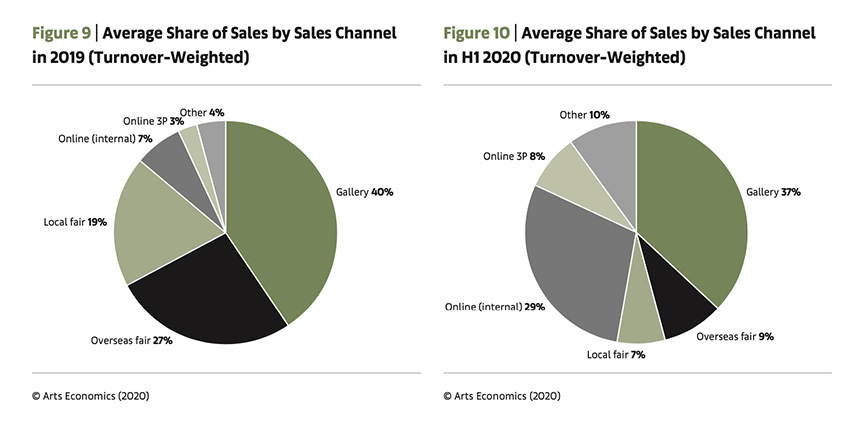 Online Sales
When it comes to online sales, their share rose from 10% in 2019 to 37% in the first half of 2020, the majority of those (29%) carried out directly by the galleries via their own websites, social media channels, online viewing rooms, or email. 8% were facilitated entirely by a third-party platform.
Galleries with the largest turnover showed the highest increase in online sales, with those in the $10 million+ segment rising almost fivefold to 38%.
However, one quarter of the galleries surveyed reported no online sales in 2020.
Looking ahead, most of the galleries felt that the share of online sales in the sector would continue to increase. 66% through the rest of 2020 and all of 2021 would look good.
Thanks to the digital technology, 26% of online sales were to brand new buyers who had had no contact with the gallery, while 29% went to new buyers who previously had contact with the gallery offline. 32% was reserved for regular online buyers with previous contact.
To enhance online sales, 72% of galleries worked on new and special content for their websites/online platforms during the first half of 2020, while 69% also increased their social media presence. Just over half of the sample also reported using online viewing rooms on their own websites more than in 2019, although 34% said they had never used this strategy. Anecdotally, some dealers felt that the term "online viewing room" is vague and useful for marketing purposes only, with little difference between this and their regular websites, to which they could apply various content enhancements without it being termed an online viewing room or OVR.
Online exhibition tools such as virtual reality (VR) or 3D imaging and tools for buyers such as augmented reality (AR) were the least used of all listed strategies. The survey revealed that 56% of galleries had never used VR or similar tools and 72% had never used AR or other similar technologies. Some dealers commented that they felt these tools did little in their current format to enhance the viewer experience, but many were hopeful that technologies would improve in the future and might become more useful for enhancing exhibitions and sales.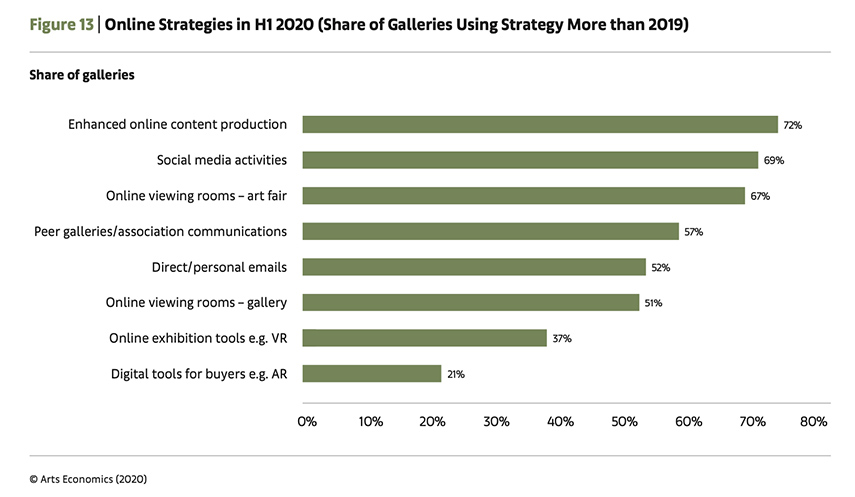 Art Fairs and Exhibitions
With virtually only virtual art fairs this year, galleries' sales via this channel were radically reduced - to 16% compared to 46% in 2019. 91% of galleries believe art fair sales would not improve in the second half of 2020, and only one third is hopeful for 2021 as well. But because they didn't travel or pay for fair participation, galleries saved up some money that was used to cover the lack of sales, for instance.
On the Exhibitions front, up to half of those planned for 2020 were either cancelled or postponed. On average, galleries went from the seven exhibitions they had planned for the year to a revised program of four. Cancellations were a bit less frequent in some markets in Europe, such as France and Germany, which averaged a cancellation rate of 33% versus 38% in Greater China and the US. South America had one of the highest regional averages at 63%.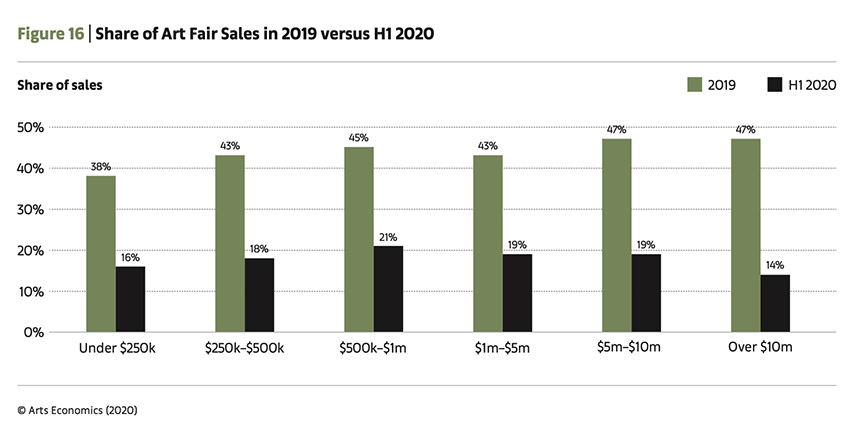 Supports and Strategies
In most countries, galleries have gotten help from their governments, as part of emergency support packages, grants, and subsidies for small businesses and workers, received by over half of the galleries surveyed.
With art fair costs removed or radically reduced for the first half of 2020, rent and payroll costs have become some of the biggest concerns of galleries. The way they've been dealing with this depends largely on their location: galleries commented that it is not only the amount of funding and assistance available that mattered, but also the ease, terms, and immediacy of access. Galleries and their associations in many regions flagged issues regarding the high levels of bureaucracy and large amounts of small print and paperwork required in order to access public aid, while some economies took up to three months to release national stimulus packages allowing for access to support.
Looking ahead, the majority of galleries responding to the present survey (79%) felt that the remainder of the year was going to continue to be very difficult, with a majority expecting sales to continue to decrease. 45% of those surveyed expected an upturn in sales in 2021.
What about gallery collaborations? 60% of galleries said they had engaged in some form of collaboration during the first six months of 2020 in response to the pandemic. By far the most common form of collaboration was with other galleries within their sector (78%), while just over half had collaborated with another gallery in their country. Alternative forms of collaboration mentioned by galleries also included working with auction houses, artists, gallery associations, universities and scholars, curators, designers, hotels and other retailers, and also those with charitable organizations, including fundraising drives to help those affected by COVID-19.
For the rest of the year, galleries will focus on boosting online sales and cutting costs to maintain profitability. They will also try to widen their base of buyers while also maintaining their relationship with their existing clients.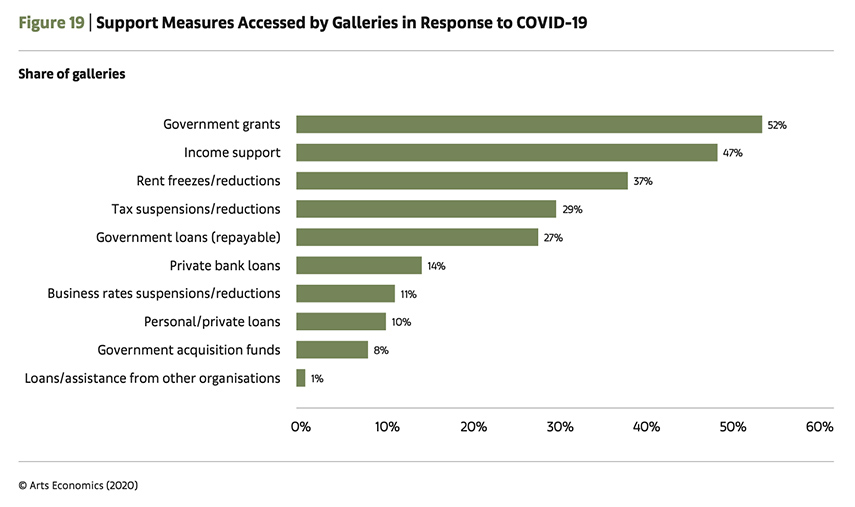 A Look at the Collectors
Interestingly, although the COVID-19 pandemic distracted many high net worth collectors from their collections in the first half of 2020, the survey indicated that most supported the arts and helped ensure the survival of galleries, artists, and museums - 92% have purchased a work of art in the first six months of the year! The average number of works purchased in the first half of 2020 was four versus six in the full year for 2019.
Less than one quarter of collectors buying in 2020 had spent less than $50,000, while a majority (56%) had spent over $100,000, including 16% spending over $1 million.
75% had purchased via a gallery, with the most common method of accessing the galleries being through their physical premises (41%) or buying directly through a gallery website or online viewing room (38%), while one third had made purchases by phone or through emailing the gallery. The online viewing rooms of art fairs and online third-party platforms were also used by just over one third of the collectors to buy works of art in 2020.
Across all collectors, 32% had bought directly using Instagram - as expected, while boomers were much more likely to have bought at auctions or physical galleries than their younger counterparts,17 online channels were much more widely used by younger segments of collectors.
During the first half of 2020, online channels were at times the only way that galleries, auction houses, fairs, and artists could access some collectors. The most commonly used channel for purchasing art in the first half of 2020 was through galleries' websites or via email (44%).
85% or more had visited online viewing rooms for galleries or fairs during 2020, with just less than half of those having used them to finalize the purchase of an artwork. For them, the most highly valued feature of the OVRs was the range of different inventory available through the platforms from different galleries and artists. The second highest valued feature was having a price or price range displayed for works of art for sale. Price transparency has been an important aspect of the development of online viewing rooms - most (81%) felt it was important or essential to have a price posted when they were browsing through works of art for sale online, while a further 16% thought it was helpful but were happy to contact the gallery for a price. Only 3% said it was not important (and 1% would prefer not to have the price posted).
41% were focusing only on galleries they had bought from before and had established relationships with, while a further 37% said they were doing this alongside being open to working with new galleries.
Speaking of collectors' outlook, of the collectors surveyed, 59% felt the COVID-19 pandemic had increased their interest in collecting, including 31% saying that it had significantly done so. Conversely, 27% said it had no effect, while 14% said it had made them less interested at this time. 70% of millennials reported that they felt the pandemic had increased their collecting interests, including 42% significantly so.
Despite the ongoing restrictions on travel and events, most collectors (82%) were still actively planning to go to exhibitions, art fairs, and events in the next 12 months, and a majority (57%) hoped to attend these events both locally and overseas.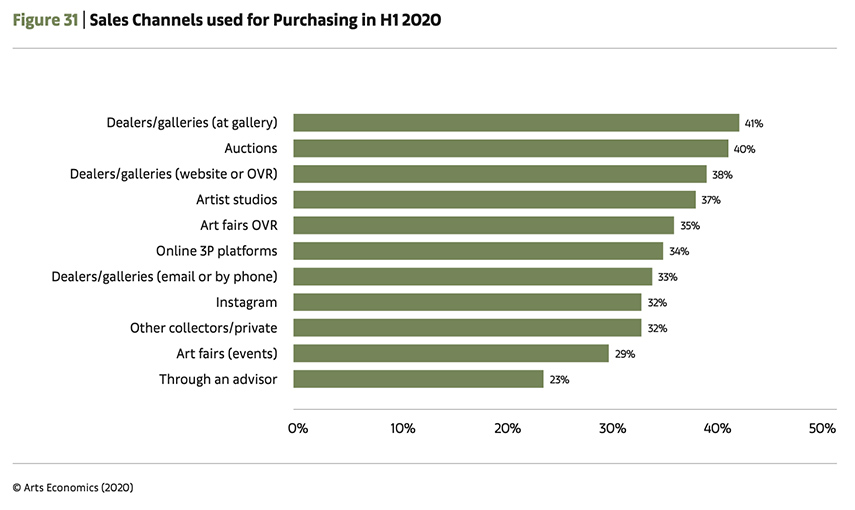 What Does The Future Look Like?
Galleries are in a particularly vulnerable industry for this pandemic as they are heavily reliant on events, travel, and discretionary or non-essential purchasing. With an average of 36% in sales drop already in 2020, most galleries are bracing for further declines. Galleries at all levels are being forced to review their strategies, and success will depend on the health of the companies' balance sheets going into the crisis, how resilient their supply chains and relationships are, what forms of assistance are made available, and how adaptable they can be to changed consumer behaviors and new economic realities.
Because only 14% of collectors are actively looking for new galleries, these will have a hard time establishing themselves or gaining a competitive foothold.
And so, many galleries are trying different strategies and engaging in collaborations, both on- and offline - online sales, for instance, have provided a lifeline for many already during the first half of 2020, and many galleries expect online sales to persist as a growing portion of their turnover even beyond the pandemic.
The full Mid-2020 UBS and Art Basel Gallery Sector Report report can be downloaded here.