The twenty-first edition of UBS Investor Watch thoroughly analyzed what motivates people to collect works of art by investigating what drove their needs to acquire artworks in 2017.
This interesting survey offers us valuable insights into the world of elite art collecting, exploring the collectors' relationships with pieces and the way they go about collecting them.
This survey[1] dabbles with what these individuals believe fuels their enthusiasm and spurs their need to collect.
It allows us to explore the mindsets of prominent art collectors, finding out how important things like passion and profit are to them, how necessary advisors really are and how they envision their collections' futures after they are passed on to an heir.

Both Sides of the UBS Survey
UBS AG is a Swiss global financial services company co-headquartered in Zürich and Basel that does these sorts of surveys on a regular basis. It's a firm providing wealth management services to clients, dealing primarily with investment advisory and brokerage services.
The twenty-first edition of UBS Investor Watch saw precisely 2,475 high net worth investors questioned in order to get to the bottom of their collecting ways.
All of them have at least $1M in investable assets, or at least they had at the time the survey was taking place between the 15th and the 25th of September 2017.
Exactly 608 of them had at least $5M of assets at the time of surveying.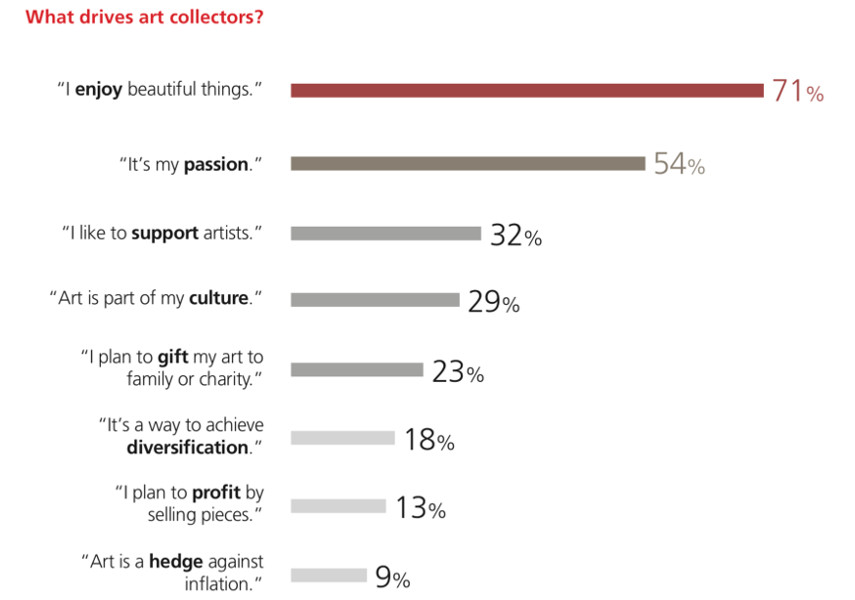 Passion VS Profit
The main goal the survey was interested in achieving was to establish what motivated collectors to spend time and money on artworks during the year of 2017.
Although not many were surprised that passion outweighed the potential profit, we were still very pleased to find out that collectors were mainly driven by the appreciation of what they personally saw as beautiful artworks (71%) and the passion for expanding the collection (54%).
Furthermore, 32% of collectors stated that they like to support up-and-coming artists, while 29% agreed that they see their collections as something deeply rooted in their respective cultures.
About 23% of the interviewed individuals noted that they plan to gift their art to charities and 18% of them said that they see the collection as a means of achieving diversification.
As the survey found out, profit is rarely a driving factor for someone collecting art.
Only 13% of the collectors said that they plan to sell their art at any point in time, while a mere 9% stated that they see their collections as a hedge against inflation, usually a big aspect of art investing strategies.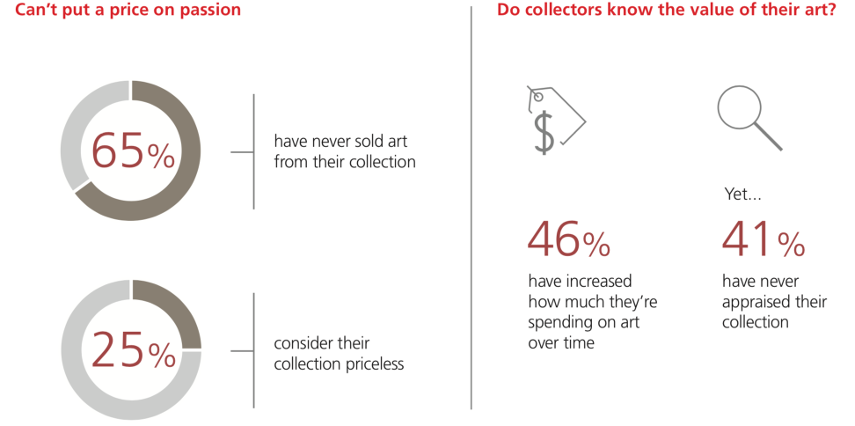 The Thrill of the Hunt
It's often said that one cannot put a price on passion and that definitely applies within the realm of art collecting. As a result, 65% of collectors revealed that they never sold a single piece, while 25% of them said that they view their collections as priceless.
This may also explain why 41% of them have never appraised their artworks, as some collectors are simply not interested in selling what they have.
While selling is off the table for many, the year of 2017 saw 46% of the surveyed collectors increase the amount of money they're spending on art.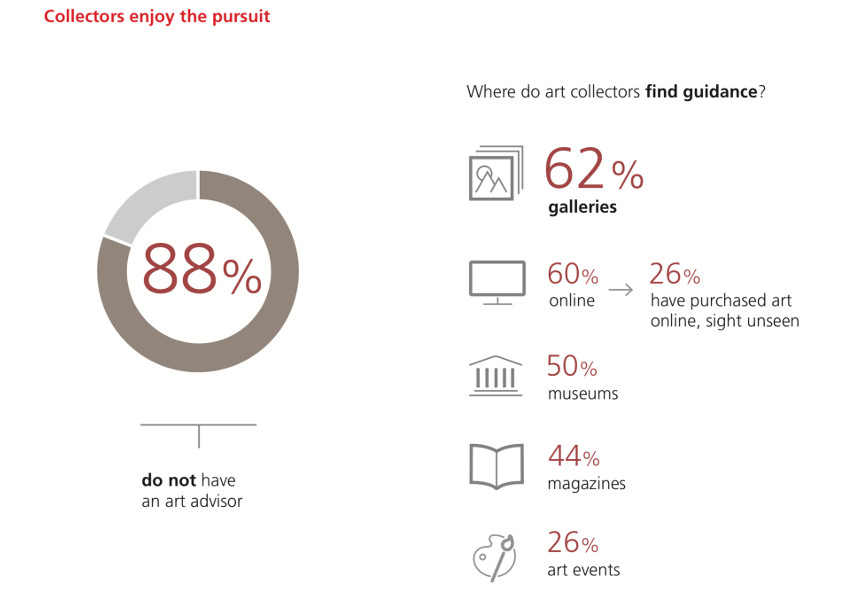 A Surprising Lack of Art Advisors
Since passion plays such a huge role to contemporary collectors, it's not a surprise that they enjoy the process of pursuing new artworks to add to their collections.
For many, this is the main reason why they start collecting in the first place - yet, it was interesting to find out that 82% of collectors questioned during the UBS survey said that they do not have an art advisor[2].
This is somewhat surprising as, due to the notorious lack of transparency, it would make a lot of sense to anyone investing large amounts of money to have an expert who would aid the purchasing process with some strategic advice.
It would appear that most collectors seem to follow their own counsel when buying art, primarily relying on local galleries (62%), online research (60%), services of museums (50%), art magazines (44%) and various events (26%).
Since we mentioned these events, it should be said that the survey also explored which art happenings were the most popular ones among those seeking to expand their collections, finding out that the most visited ones were Art Basel, The Armory Show, TEFAF, Frieze and Venice Biennale.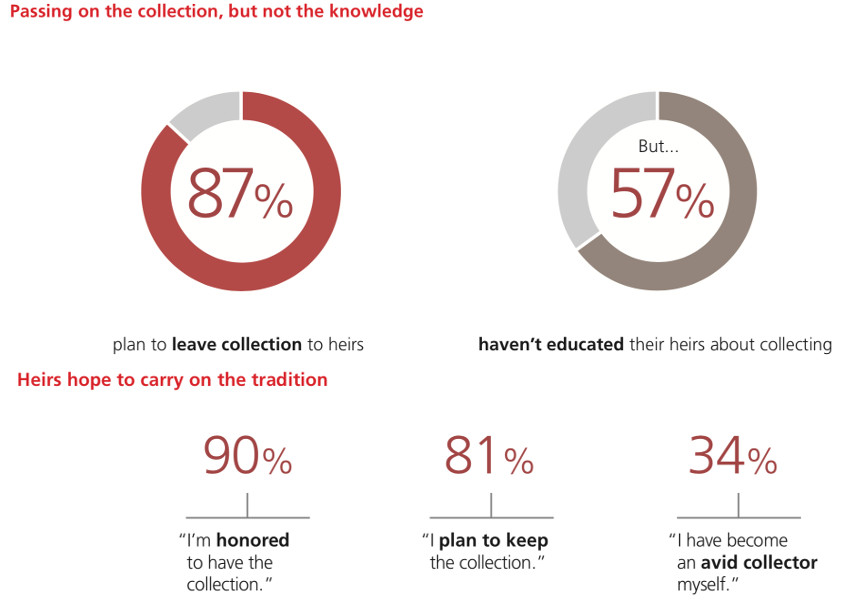 The Question of Heritage
It would appear that most collectors are aware of the fact that their artworks will have to eventually be passed down to an heir[3], ideally one of their own choice.
This is a big question for those who assort artworks and an incredible 87% of collectors stated that they plan to leave the pieces to their heirs.
However, 57% did not yet start to educate the heirs about what they will be inheriting despite knowing the importance of being prepared for art ownership (Just to clarify, by preparing them, the UBS and its surveyed collectors mean making the heirs able to manage, appraise or sell works from the collection).
Nonetheless, it appears that, as far as the the surveyed collectors are concerned, leaving their art to heirs is a much more comfortable scenario than selling it to an unknown party.
As far as the actual heirs of the artworks go, it would appear that most of them are honored to be the ones who will eventually inherit the collections. Nine in ten heirs say that they will be happy to receive the collection at some point in their life.
Eighty one percent of them say that they plan to keep the collection after its passed down to them, and 34% of them revealed that they became avid collectors themselves after finding out that an assortment of artworks shall be passed down to them.
References:
Anonymous, 2017, For the love of art - UBS Investor Watch, UBS [Dec 18, 2017]
Milburn, R., November 8, 2014, Art Advisors: Are They Worth It?, Barron's [Dec 18, 2017]
Anonymous, January 20, 2016, So You've Inherited a Painting, Kathryn Markel Fine Arts [Dec 18, 2017]
Featured image: The Elena and Anastasie Simu Collection, via mnar.arts.ro. All images via ubs.com.