Burning Giraffe Gallery is pleased to announce the latest Ugo Ricciardi art exhibition Nightscapes. Featuring the newest of the artist's fascinating photography, the featured black and white photographs explore the silence of the night, and the interruption of such stillness by jerky movements of the drone of light in the dark, captured through a long exposure. These images, which are the evidence of overnight journeys in a landscape surrounded by a muffled winter silence, own a narrative of fairy tales and an atmosphere of dreams.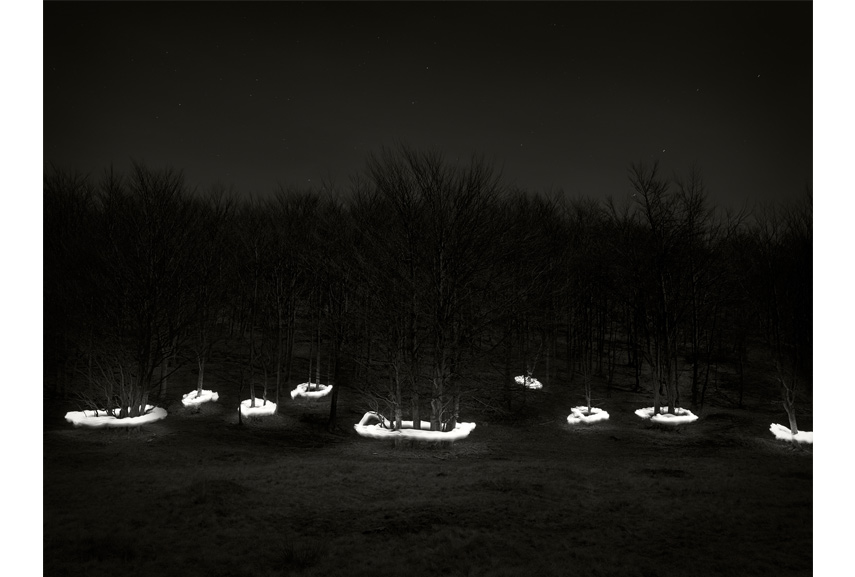 Ugo Ricciardi's Photography - The Nightscapes Series
Stimulated by his trips to Africa and the United States, Ugo Ricciardi launched a series of personal projects which tackled the issues of the transience of existence and transformation. One could easily say that his featured project Nightscapes follows such deep issues concerning the human life. The darkness of the photographed streams, forests, trees, and mountain valleys is interrupted by a poetic presence - the dancing light which vibrates in frantic circles. These, as if they were elements of a poem rather than of visual art, expose to us the duality between nature, its silence, and stillness and the frantic day to day life in the city. In his own words, the artist describes the atmosphere of his settings: "The curtain has fallen and no one visits these woods. The air that moves the leaves is silent, dry, and even the water flowing has a delicate sound, like the passing of a dream."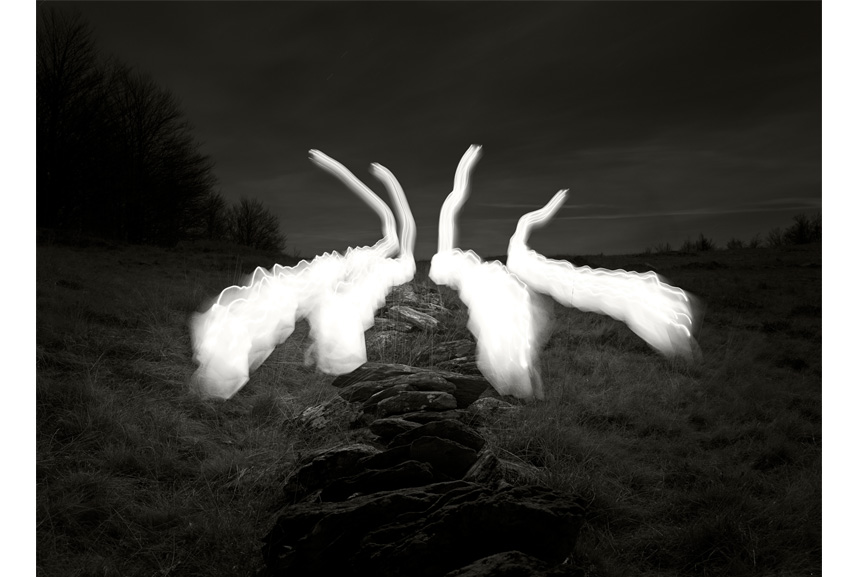 About Ugo Ricciardi
Ugo Ricciardi was born in Turin where he currently lives and where his own photography studio is based. Fascinated with the world of photography, the artist concurrently works on his own personal projects alongside commissioned pieces which allow him to investigate still life, portraiture, and fashion photography as well. Some of his famous clients include international brands such as Roncato, Mondadori, Keramine H, Lisap) and publishing in magazines such as Institute Magazine, Officiel Indonesia, and Cosmopolitan.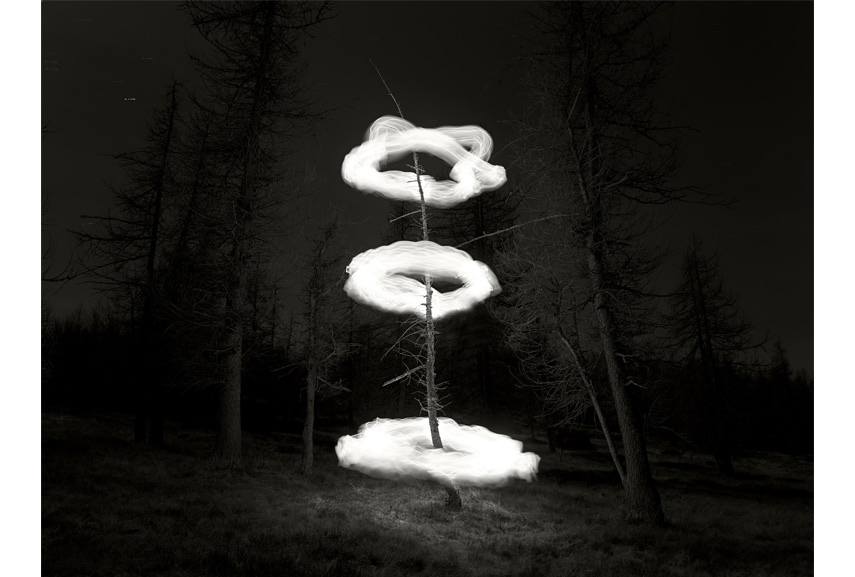 Ugo Ricciardi Art Exhibition at the Burning Giraffe Gallery
The Burning Giraffe Gallery in Turin celebrates both young and established artists whose work pushes the boundaries of contemporary art production today. This time around, the gallery is delighted to announce Ugo Ricciardi art exhibition Nightscapes. Featuring the works of his latest personal project, the showcased black and white photographs investigate the silence, the stillness, and the slow passing of time. Turning towards Nature, Ricciardi exposes for us the poetry which surrounds us that many of us are ignorant to. "The stars are here now, and they are dancing, and, while the sky is reversed, the cold earth becomes heaven and spiritual chaos dies down for a while."  The fascinating exhibition Nightscapes will last from February 23rd, 2017 through to April 8th, 2017.
All images courtesy of Burning Giraffe. Featured image: Ugi Ricciardi - Nightscape 40, detail;Ugi Ricciardi - Nightscape 12; Ugi Ricciardi - Nightscape 42; Ugi Ricciardi - Nightscape 44