The renowned German performance artist Frank Uwe Laysiepen better known as Ulay died at age of 76 on 2 March 2020 in Ljubljana, Slovenia. This notable figure was celebrated for his early gender-bending Polaroid works, and the collaboration and partnership with the leading performance artist Marina Abramović; however, in retrospect his entire activity as an artist was marked by rebellion and socio-political questioning.
Shortly after the news of Ulay's death appeared, a long-time supporter of the artist and his gallerist Richard Saltoun stated:
We are deeply saddened by the news that Ulay (born Frank Uwe Laysiepen) has passed away at the age of 76. Ulay was the freest of spirits – a pioneer and provocateur with a radically and historically unique oeuvre, operating at the intersection of photography and the conceptually-oriented approaches of Performance and Body art. His passing leaves a momentous gap in the world – one that will not be so easily be replaced. We hold his family, friends, and colleagues close in our hearts during this time.
Last year under the curation of Birte Kleeman, Richard Saltoun Gallery hosted an exhibition revisiting Ulay's domains and his lasting commitment to exploring and expanding the medium of photography including his early works from the 1970s as well as more recent projects.
Ulay developed a specific method by using photography and conceptual strategies of performance and body art to produce multilayered collages and Polaroid photos exploring the construction of gender identity. The solo performance There is a Criminal Touch to Art that gained him a reputation of a radical artist before he met Abramović in 1976, lasted for thirty hours during which Ulay stole a painting The Poor Poet by Carl Spitzweg from the Neue Nationalgalerie and hanged it in a Turkish family's living room in Kreuzberg.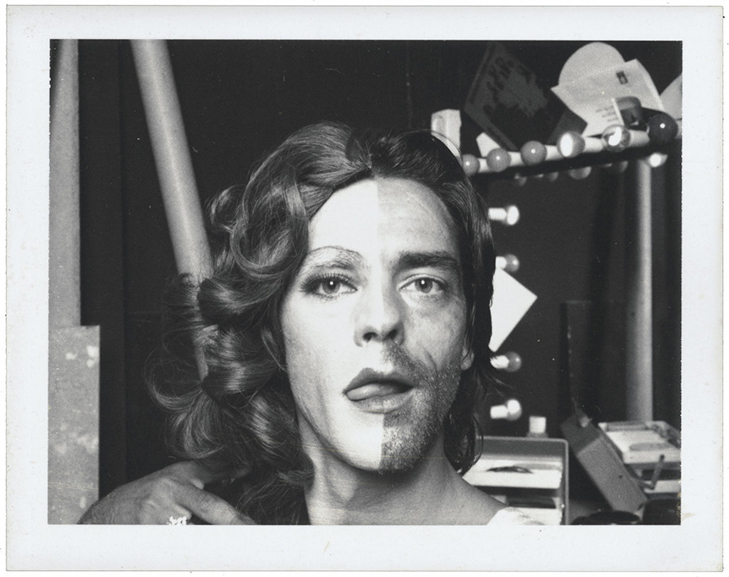 Two Of Hearts - Marina and Ulay
Now, to better understand Ulay's contribution to art history, it is mandatory to pay special attention to the collaborative years between 1976 and 1988. Shortly after they met, Ulay and Abramović started living and working together - the two activities were inseparable to such an extent that the couple developed a specific lifestyle to conduct their artistic research properly. To explore the ego and artistic identity, they began producing works characterized by constant movement. The leading principle of their method was expressed in their Relation Works (1976–1988) manifesto:
Art Vital: No fixed living place, permanent movement, direct contact, local relation, self-selection, passing limitations, taking risks, mobile energy.
Ulay and Abramović proclaimed themselves as a collective being called The Other, and referred to themselves as parts of a two-headed body; they acted and dressed like twins and established a firm relationship based on complete trust. Both Ulay and Abramović were interested in their cultural traditions and the ritual, and so they focused on testing the physical and mental limits of the body, as well as the male-female principle, nonverbal communication, and transcendental meditation. In the following years, they released a series of legendary performances, Nightsea Crossing (1981-1987) being the most celebrated ones (where they set across each other silently for seven hours), that were not exploring gender ideologies, rather the extreme states of consciousness and their connection to space and the audience.
Their relationship was intense in both professional and emotional terms, and in 1988, Abramović and Ulay decided to conduct a spiritual journey that eventually ended their relationship. For this durational performance under the title Lovers, each artist walked from one end of the Great Wall of China, they meet in the middle and departed from each other for good. It took the couple eight years to grant permission from the Chinese government to perform the work, and by that time their relationship was completely dissolved.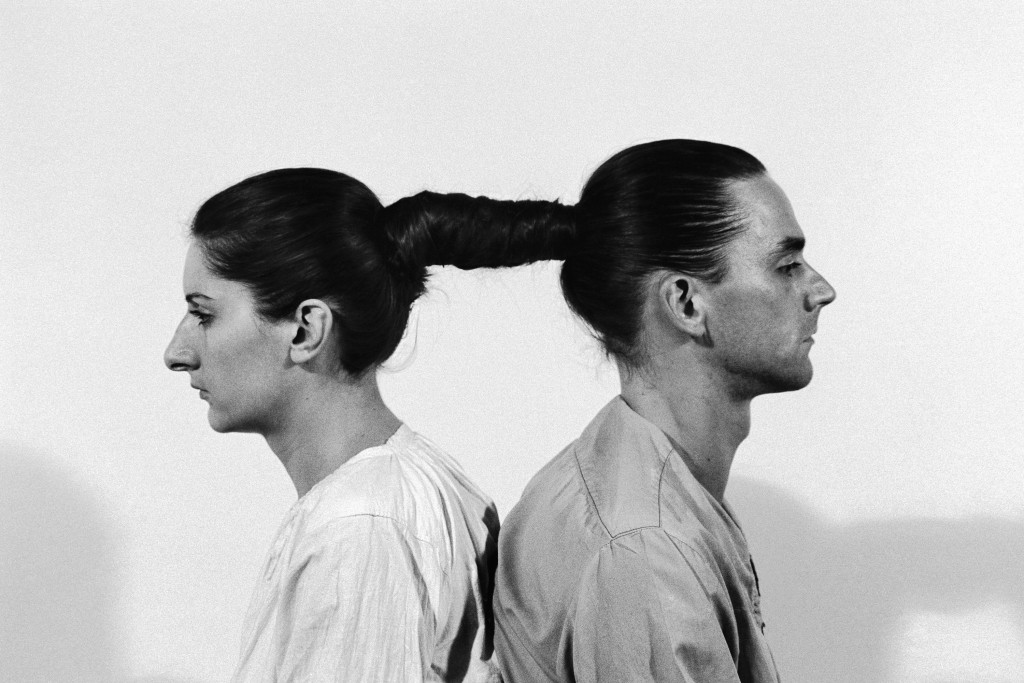 The Legacy of Ulay
After splitting from the grandmother of performance art, as Marina Abramović is often referred to, in 1988 Ulay returned to the Polaroid, and in the early 1990s experimented with a giant camera that produced Polagram images in size bigger than the artist himself. The following projects such as Can't Beat the Feeling: Long Playing Record (1991 - 1992), Bread and Butter (1993) and Berlin Afterimages – EU Flags series (1994 – 1996) were focused on the position of the marginalized individual in contemporary society and critical articulation of nationalism and its symbols. Although he was working mostly with photography, Ulay kept the interest in performativity that was expressed through a constant provocation of the audience during numerous performances, workshops, and lecture-performances throughout the late 1990s and early 2000s.
In 2010 Abramović and Ulay reconnected for a brief moment while she was performing The Artist Is Present at MoMA in New York. However, a year later the artist was diagnosed with cancer, and the period of treatments, travels, and encounters with friends (including Abramović), was featured in 2013 documentary called Project Cancer: Ulay's journal from November to November by director Damjan Kozole aimed to recapitulate his life and art.
Ulay recovered from lymphatic cancer in 2014, and a year later he decided to pursue Abramovic in court since claiming she didn't pay him royalties agreed by a 1999 contract regarding sales of their collaborative works. In 2016 a Dutch court order Abramović to pay Ulay €250,000 for his share of sales of their works, as well as to secure full accreditation to joint works listed as by Ulay/Abramović covering the period from 1976 to 1980, and Abramović/Ulay for those from 1981 to 1988. Despite all of these disagreements, and the silence between the two, Abramović posted on her Instagram account a brief statement regarding Ulay's death:
It is with great sadness I learned about my friend and former partner Ulay's death today. He was an exceptional artist and human being, who will be deeply missed. On this day, it is comforting to know that his art and legacy will live on forever.⠀
Marina Abramovic and Ulay, The Artist is Present, MoMA 2020
Ulay at Stedelijk Museum
In the fall of 2020, The Stedelijk Museum in Amsterdam will host a retrospective of Ulay's work, which will present the crucial points of his practice such as his focus on performance and the performative aspects of photography, his investigations of gender identity and the body, the prevailing critique of the society and politics, and the artist's liaison with Amsterdam, the city which embraced him since the late 1960s.
Rein Wolfs, director of the Stedelijk Museum, and Hripsimé Visser, curator, had been working closely with the artist on this exhibition. Just a few weeks ago, in liaison with Ulay, they made a first choice of art works of the show. The Stedelijk Museum will finalize preparations for the exhibition in close cooperation with the Ulay Foundation.
In a statement, Rein Wolfs said:
It is with deep regret that we learned today of the news that Ulay has passed away. Over the last few months, we had been in close contact concerning his upcoming show at the Stedelijk, and this news comes as an enormous shock. The art world has lost a pioneer in performance art, and Amsterdam has lost one of the driving forces in the city's artistic community since the 1970s. Ulay made a momentous contribution to the art world in Amsterdam. Our thoughts are with Lena, his wife. We will continue to work on the exhibition with her and the Ulay Foundation.
With the exact dates to be announced, the Ulay exhibition at The Stedelijk Museum will take place November 2020 through April 2021.
Ulay, Performing Light, Richard Saltoun Gallery, January 2019
 Editors' Tip: Whispers: Ulay on Ulay
Uwe Frank Laysiepen, better known as Ulay, was a pioneer of Polaroid photography and one of the central figures of European performance art since the 1970s. A singular presence among the artists of his generation, his radically innovative work in partnership with Marina Abramovic received critical acclaim worldwide. With the exception of his 12-year collaboration with Abramovic, much of the work that makes up Ulay's long career is not well known outside of Europe. Compiled by Maria Rus Bojan (who has published extensively on Ulay), Whispers: Ulay on Ulay reveals an extremely innovative oeuvre, coherently rooted in a personal life philosophy guided by strong ethical principles. "I produced a very bizarre body of work," Ulay said of his artistic career, "I experimented a lot: You have to if you are aiming at something that does not exist yet." In a long, thematic interview with Alessandro Cassin, Ulay speaks openly about his life and career. This unusually generous volume provides new insight into the early work and current endeavors of the artist.
Featured image: Ulay, © Photo by Primož Korošec, courtesy The Ulay Foundation.