This year's Gallery Weekend Berlin is one of the most exciting ones in recent years. Some 47 local art spaces and galleries are participating in the official program, while many others throughout the city will also offer noteworthy program. For instance, at Mario Bermel Fine Arts, the visitors will be able to find selected artworks by the German artist Uli Fischer, which will form a dialogue with Fine Tribal Arts in a unique way. According to the gallerist, the focus of the show is the juxtaposition and interconnection of patina between old African artworks and the textile ones by Uli Fischer, much of whose practice is based on process.
The Past and Present within Contemporary Textile Art
Uli Fischer is an artist whose fragments of worn textiles derive from an interest in everyday life, as well as banality in objects and practices. His textiles are "marked by life", through their patina and their empirical history, their age, function, materials in their core. Each of them has its own history and has obtained a soul, according to the artist; hence, the signs of their "lives" are made visible, while at the same time, Uli Fischer explores their artistic value and aesthetics within new contextual frames. Every element of life within various fabrics reveals their inner structure and coherence, revealing the inevitable transformation over time, where time itself turns into something corporeal, material, palpable.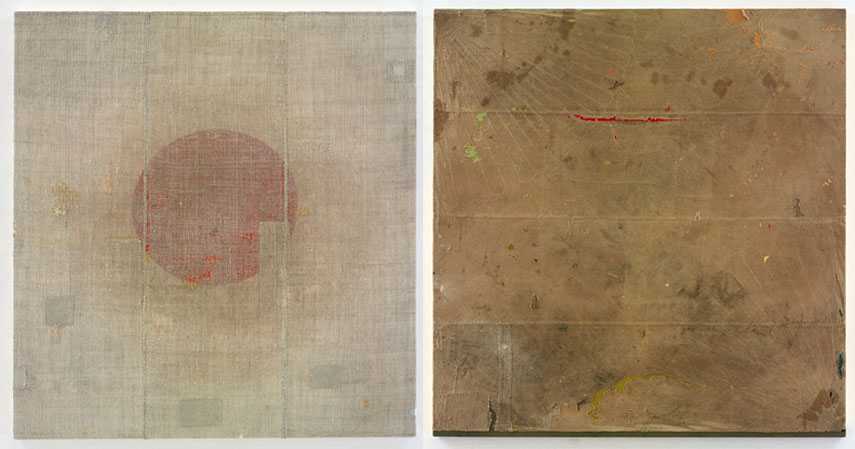 Uli Fischer at Mario Bermel Fine Arts
The artworks of Uli Fischer presented at Mario Bermel Fine Arts during Gallery Weekend Berlin are described as objects-paintings, results of the very best contemporary textile art can offer. The artist enters into a dialogue with the time flow, fabric properties and uses, as well as the choice and multiple combinations of materials, to capture elusive nature of human, hence material existence - all this through the artistic process of the realization. His pieces will be on view between April 28th and 30th, 2017, from 12am till 8pm in Grolmanstr. 51, Berlin, while we can see his art next at Kunsthaus Dresden, as part of an important group touring exhibition from September 2nd through December 3rd, 2017.
All images courtesy Mario Bermel Fine Arts.