The city of Fort Smith, Arkansas has quite rich and interesting history. It was a former real western town at border of the lawless Indian territories and has a rich history of legendary heroes and outlaws such as the Jesse James Gang and Billy the Kid. Perfect context for a street art festival, some would say. And it really was. The first edition of the Unexpected art festival that was organized by 64.6 Downtown and curated by JUSTKIDS took place from September 3 until September 12, 2015, in downtown Fort Smith. After one week of paintings during the Unexpected Art Festival, the urban landscape of Fort Smith has changed dramatically.
During a week, the participating artists painted 12 new murals. The completed murals includes world recognized artists Vhils, D*Face, ROA, Maser, Ana Maria, Bicicleta Sem Freio and Askew. However, in this article, we are focusing on murals that were painted during the Unexpected Art Festival, and we are presenting best murals created during this great art event.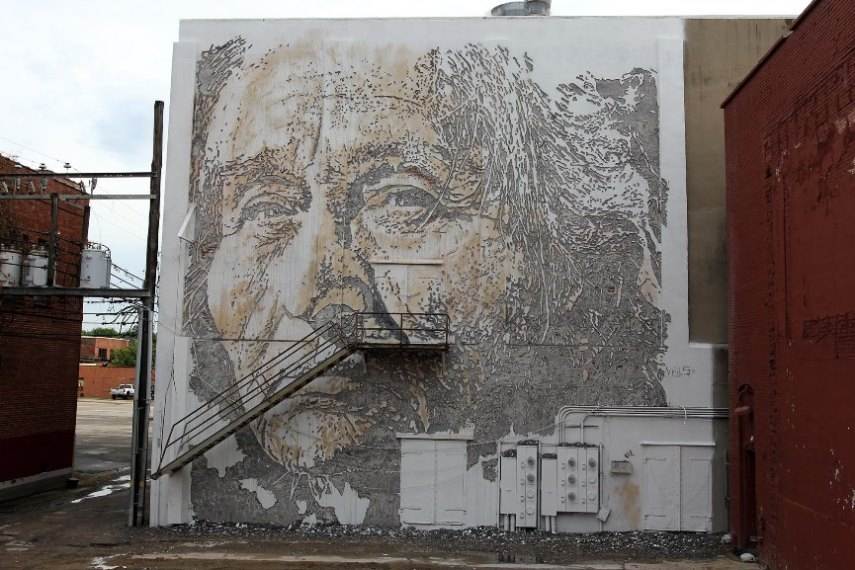 Vhils at Unexpected Art Festival – Mural Based on First Photographs Made From Native American
Portuguese street artist Vhils (Alexandre Farto) is, without any doubt, one of the most skilled and talented young artists on the urban art scene today. He is probably best known for his dramatic, oversized portraits made by carving directly into outdoor walls. In Fort Smith, Vhils (together with his team) used his unique excavating process of chipping away at the wall to create a striking portrait. The portrait was based on the first photographs made from Native American Cherokee.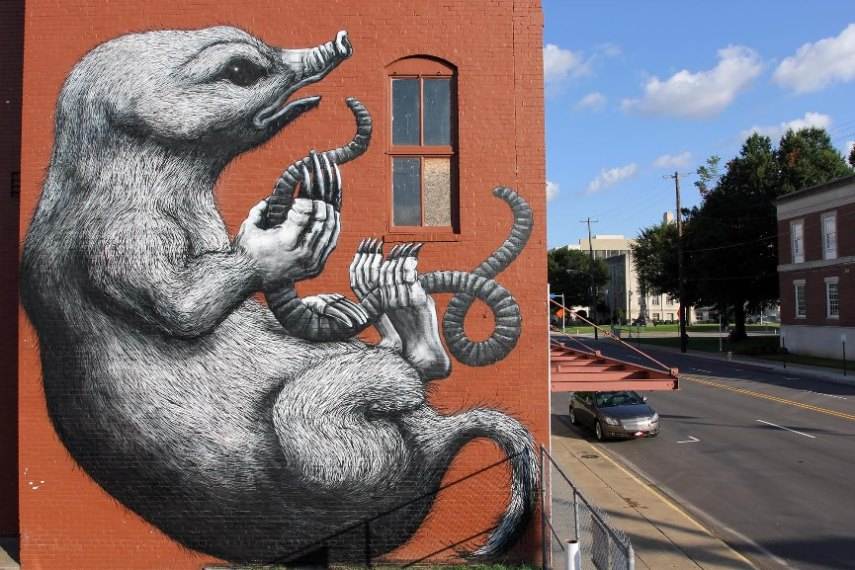 ROA – A Giant Mole
Belgian street artist ROA created hundreds of murals all over the world. This amazing street artist has risen to prominence over the last years after starting out painting animal forms in a disused warehouse close to his native Ghent, in Belgium. ROA is renowned for his unique portrayal of large scale urban wildlife, disquietly cohabiting city streets, hand painted in his distinctive black and white style. During the Unexpected Art Festival, ROA created a mural depicting a giant mole which is about to eat a yummy worm for its dinner.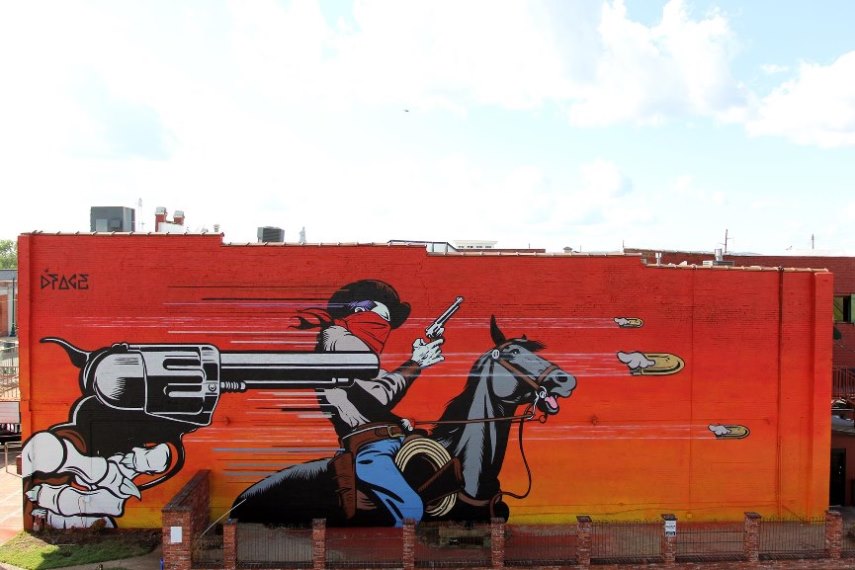 D*Face – Bad Lands
D*Face is one of the most prominent contemporary urban artists. During the Unexpected Art Festival, it seems that this amazing British artist was inspired by the local history. He created a huge mural showing the image of a masked cowboy riding his horse and a skeleton hand shooting a pistol. It took about five days for D*Face to complete this large piece.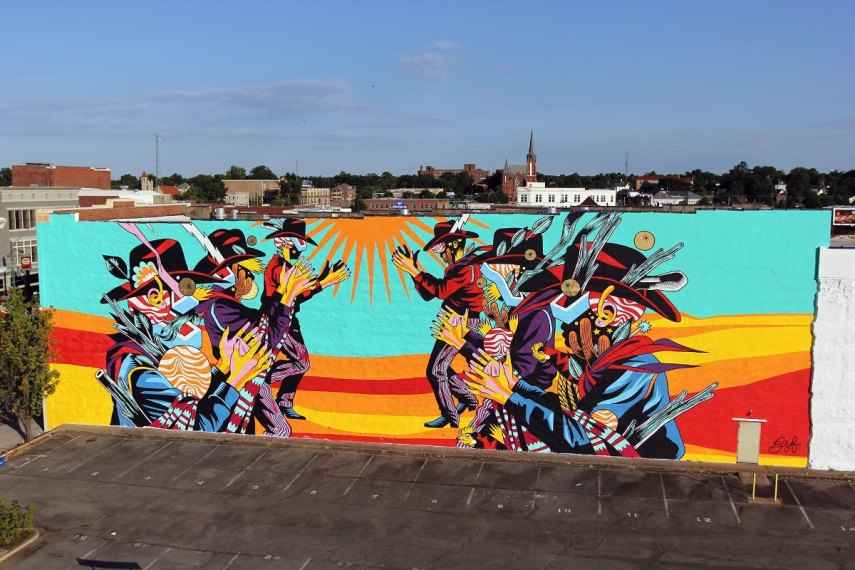 Bicicleta Sem Freio – Catira
Bicicleta Sem Freio (or Bicycle Without Breaks in English) was founded in Brazil in 2005. They became internationally famous for their large-scale public artworks in 2013 that can be seen in The Unites States, Europe and Brazil. The Brazilian duo spent over a week to create a big mural on the streets of Fort Smith, Arkansas. The piece is entitled Catira. Catira is a typical dance from the interior area of Brazil, where Bicicleta Sem Freio are from, and is performed by ranchers and farmers. This piece is their tribute to the town of Fort Smith, Arkansas.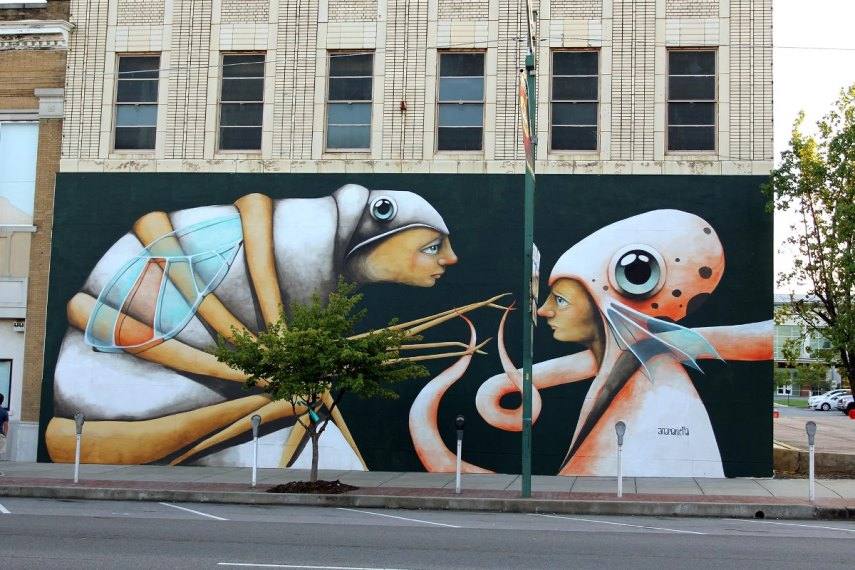 Ana Maria at Unexpected Art Festival
Houston-based artist, born and raised in Puerto Rico, Ana Maria graduated with a bachelor's degree on Animal Sciences and simultaneously started to make art with the local street art scene. She paints and draws animals with exaggerated human features to create sympathy for her subjects. At Unexpected Art Festival, this amazing Puerto Rican street artist brought to life some of her signature unique and cute creatures with these two human-faced hybrids.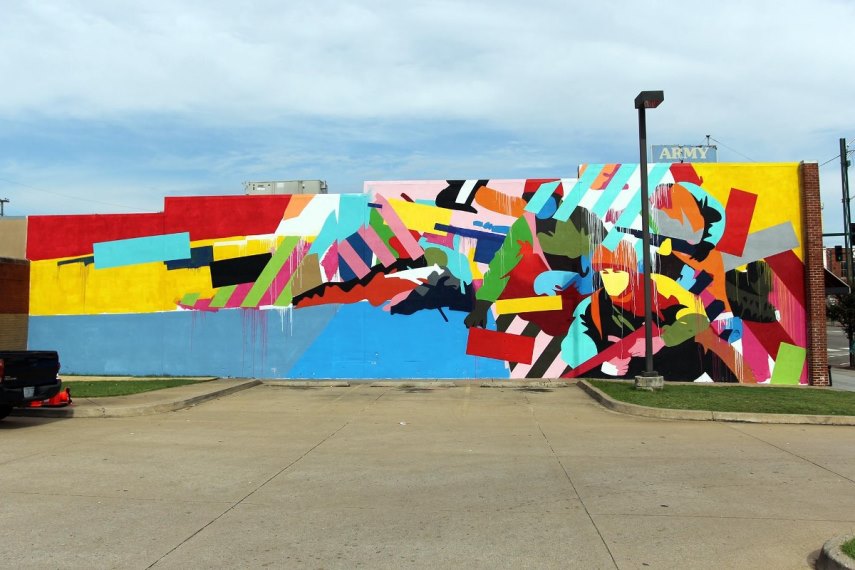 Maser – Geometric Imagery in Fort Smith
Maser is not only a street artist. He also creates works on canvas, video and 3D installations. Maser first started painting graffiti in his native Ireland in 1995 and quickly gained a reputation as one of the most innovative artists working in the field. At Unexpected Art Festival, Maser created a huge mural on the busy Garrison Avenue, Fort Smith. The artist's new peace is featuring his signature geometric imagery combined with a series of colorful army soldiers.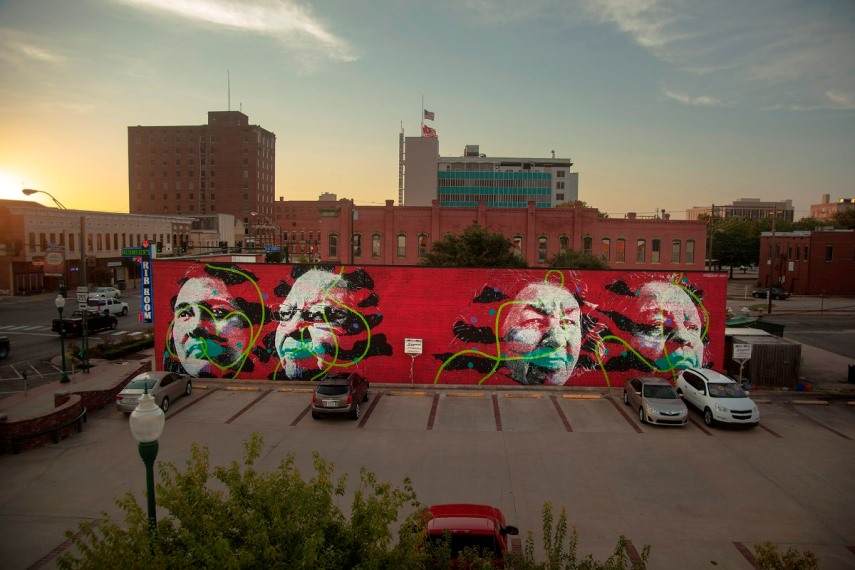 Askew – Cherokee Women
Askew or Askew One is recognized worldwide for his unique approach to graffiti art and remains at the forefront of the international art scene through constantly exploring new and exciting styles. During his stay in Arkansas, Askew met some members of the Cherokee Nation. Few days later, he painted photographed portraits of the Cherokee women.
Sign up for My WideWalls for FREE and be up-to-date with contemporary and street art.
All Images courtesy of JUSTKIDS.