One of the interesting shows for all the followers of street art in Seattle that marks the beginning of this year is Unpredictable Gravity, hosted by the Roq La Rue Gallery in Seattle. The curator of this excellent charity exhibition is Robbie Lowery, and the concept of the exhibition is inspired by a personal struggle with cancer, as he himself explained: The idea for Unpredictable Gravity was sparked while my wife was undergoing chemotherapy to dissolve a massive tumor growing in her chest. As we began to share the news to our artist friends, it was an eye opener to learn that most had their own stories to share, whether it was family or friends, and in a few instances, the artist themselves that had undergone their own treatments for cancer. Since so many artists have been affected by cancer in one way or another, it only made sense to have a group show that gave back to the charities and organizations that helped them and their families through their trying times.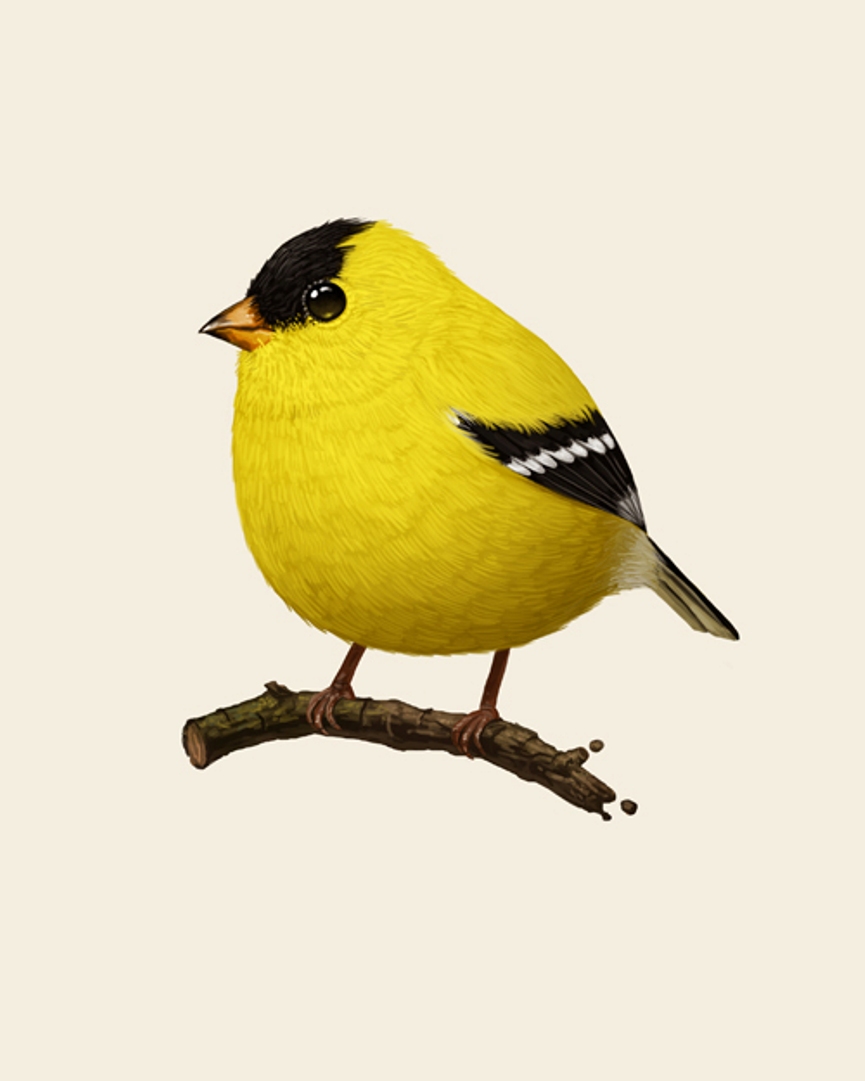 The exhibition was opened on January 9, in a celebratory manner. Beverages and treats were served, and a limited edition print by Mike Mitchell titled American Goldfinch was available to the visitors at the special price of $35. The opening was a complete success, since the first night 20 thousand dollars were raised for the cause.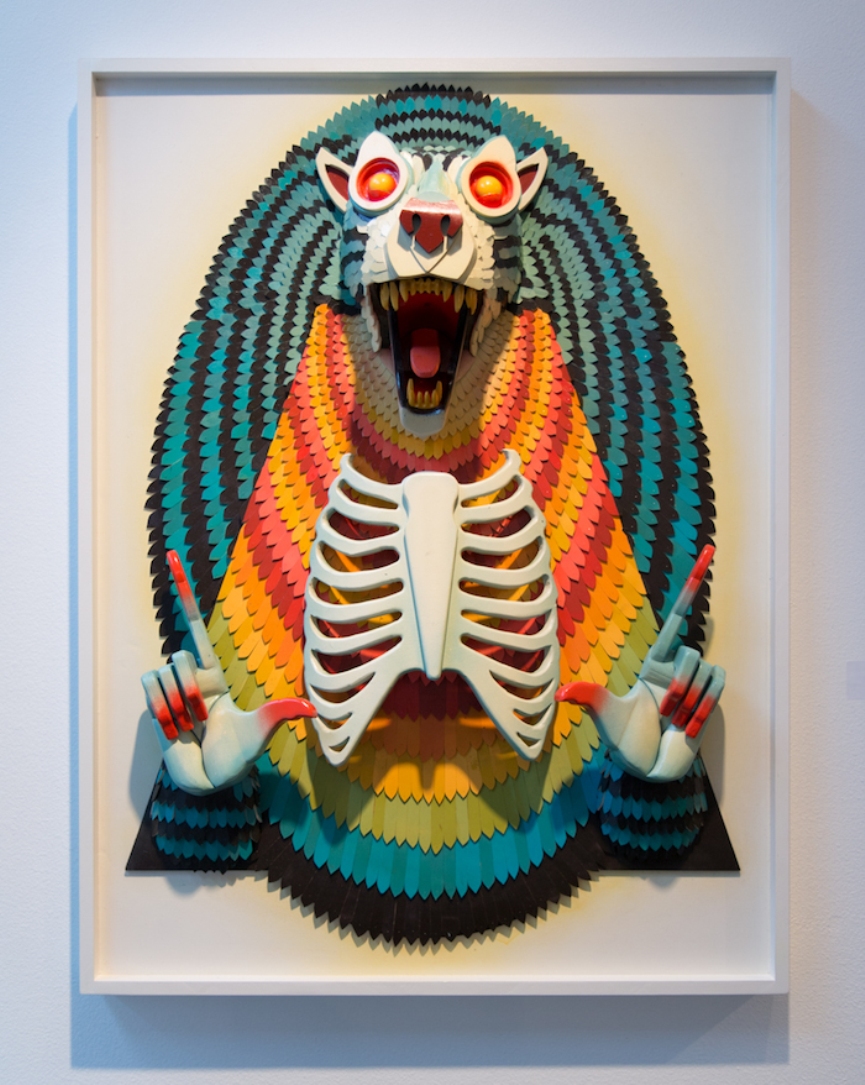 Charity Exhibition
The gallery allowed the artists to choose among the three charity organizations, to which one they would like to donate the proceeds coming from their artwork. The Seattle Cancer Care Alliance, Seattle Children's Hospital, and the Leukemia & Lymphoma Society are these cancer fighting organizations, and the gallery will divide its donation evenly among them.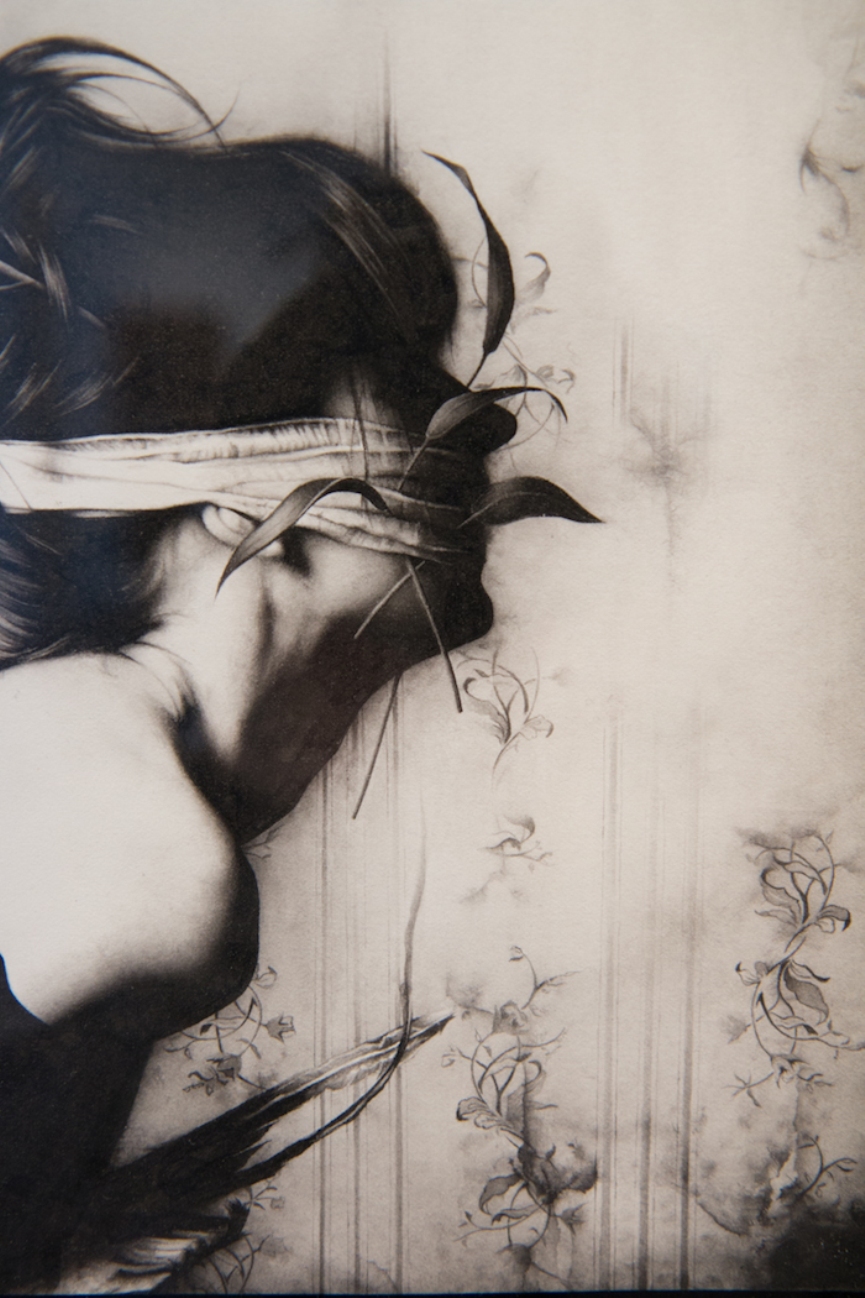 Even though the show was not sold out on the opening night, the quality of the artwork presented promises that not many pieces will remain available for long. An expressive canvas by Ashley Wood and the piece depicting the levitating girl by Jeremy Geddes chosen for the exhibition poster were gone immediately. No longer available are also a striking vulture by Esao Andrews, the dainty piece by Sail, surrealist deer by Josh Keyes, one of the Joao Ruas pieces, imaginative graphite drawing by Sam Wolfe Connelly, and the stunning sculptural piece, made of fiberglass by ThreeA, titled 1:1 Soot Diver Head. Since the show will run through March 9, it is more than worth it to visit Roq La Rue charity exhibition, and experience these works directly, as they will be soon unavailable to the public.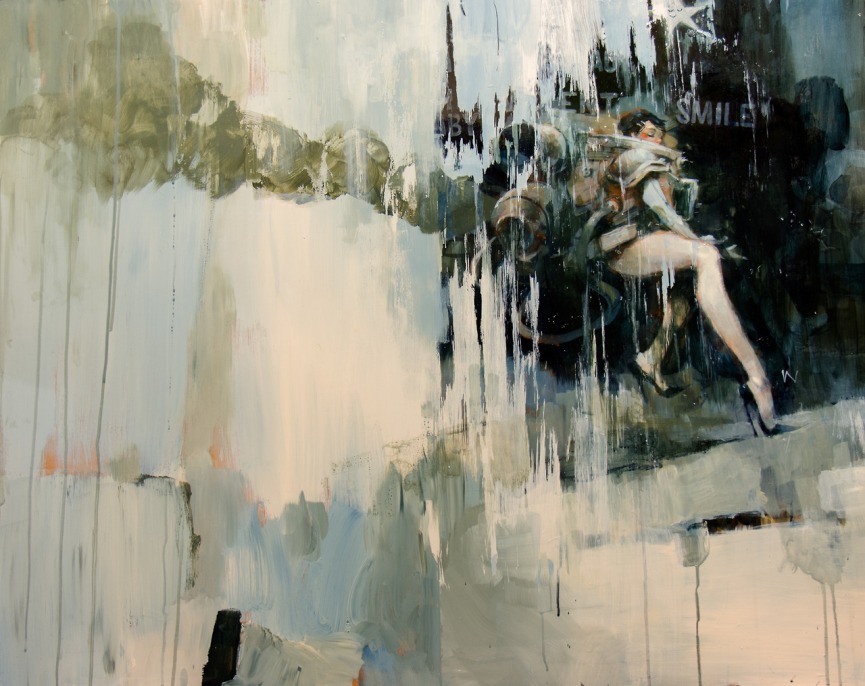 While a phenomenal surrealistic painting by Brian Despain is put on hold, as well as the baroque-like hyper-realistic work by Jacub Gagnon, the AJ Fosik three-dimensional piece is still available. The totemic assemblage titled Bite The Grass, typical of AJ Fosik's oeuvre, goes for $8500.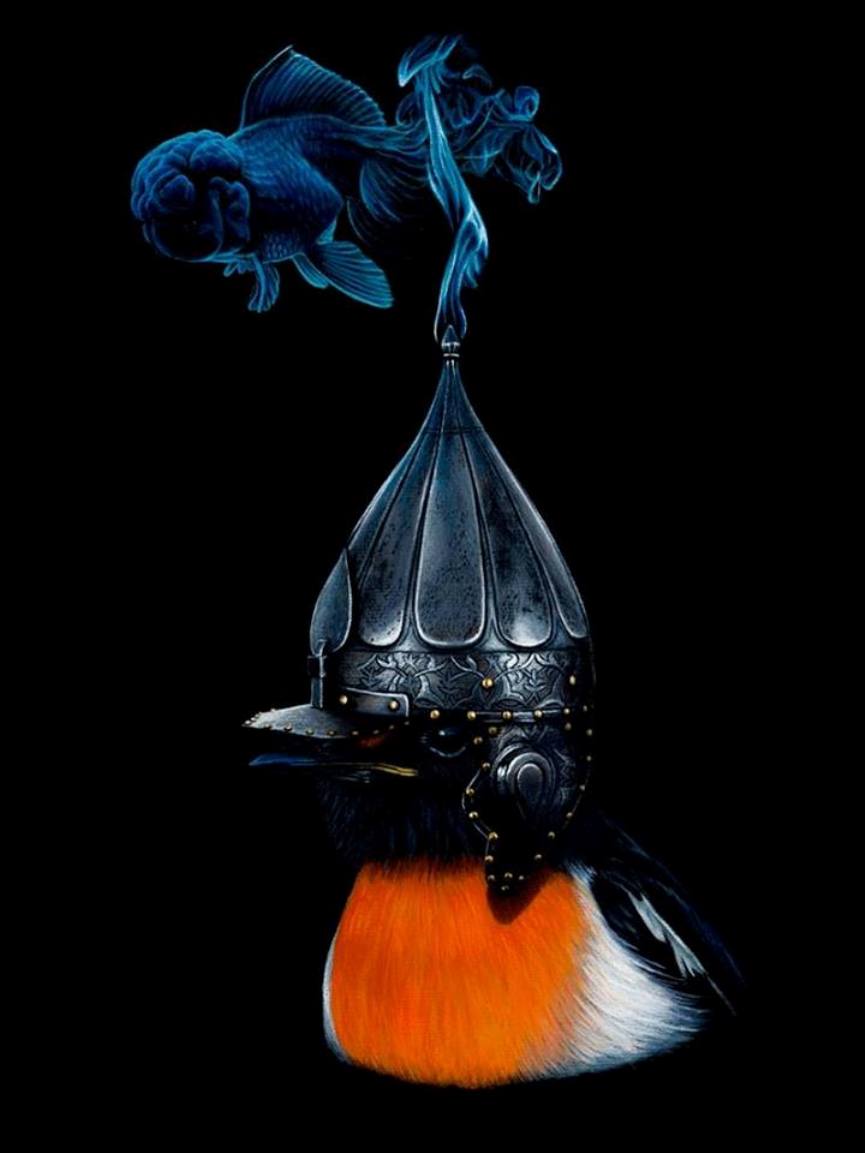 There is still time for art collectors to take part in this charity exhibition and enrich their collections with artwork by John Brophy, Camilla D'Errico, Phil Hale, Ross Richmond, Christopher Thompson, Thomas Doyle, Esao Andrews, Ben Templesmith, Ego, Menton Mathews III, Tyler Stout, Todd Karam, Peter Ferguson, Martin Wittfooth, Brett Amory, Matthew Dunn, Ryan Heshka, Syd Bee, and Derek Nobbs. The print by Mike Mitchell was available shortly after the opening through an online shop the gallery established, but it was soon sold out as well.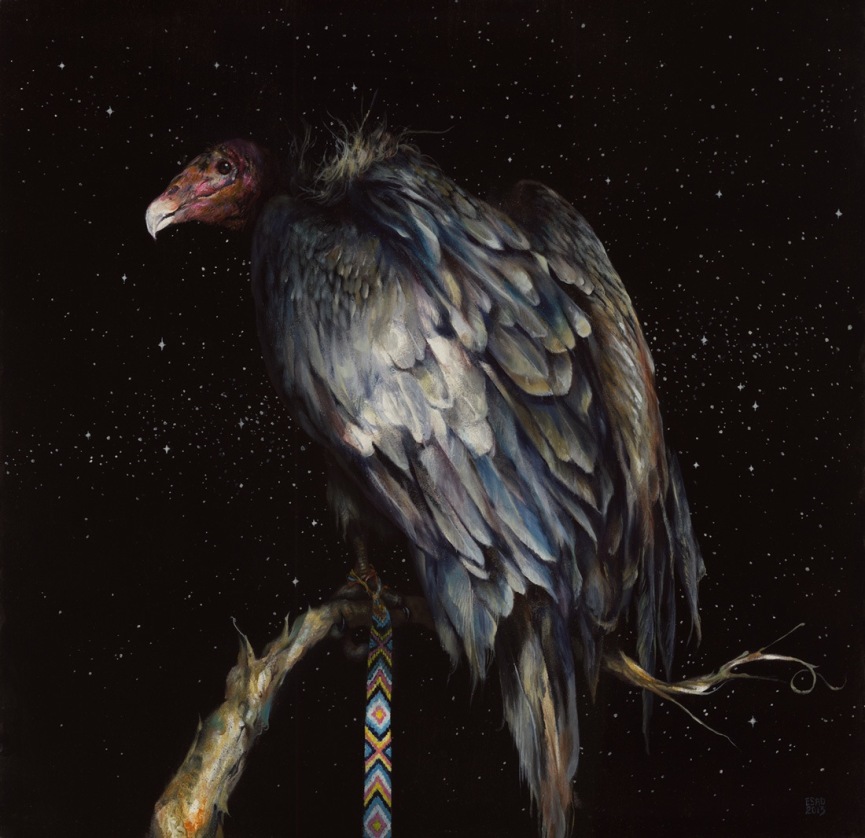 Exhibition Review
Besides the successful monetary aspect of this charity exhibition, Unpredictable Gravity is an event that brought to light a lot of amazing artwork. Dedicated primarily to pop surrealism and underground contemporary styles, Roq La Rue has elected the perfect curator for this exhibition Robbie Lowery's experience and connoisseurship enabled him to make a diverse, but still coherent selection of artists that were to produce art for this occasion. Unpredictable Gravity is not only a show for a good cause, but also a superb mirror of the contemporary art scene dedicated to the realistic expression.