Taking place within a marvellous architectural structure on an actual beach in Miami Beach is the UNTITLED Miami, an international curated art fair founded in 2012. Now in its fourth year, the event has once again created an established environment for all contemporary art disciplines, through careful selection of galleries, artist-run spaces and non-profit institutions and organizations. To accompany it, there is an extensive program, which features performances, discussions, events and special projects, all developed from a fruitful collaboration between artists, gallerists and UNTITLED Miami's experienced curatorial team. The 2015 edition will see over 120 exhibitors from over 20 countries worldwide, for one strong and diverse array of exceptional contemporary art.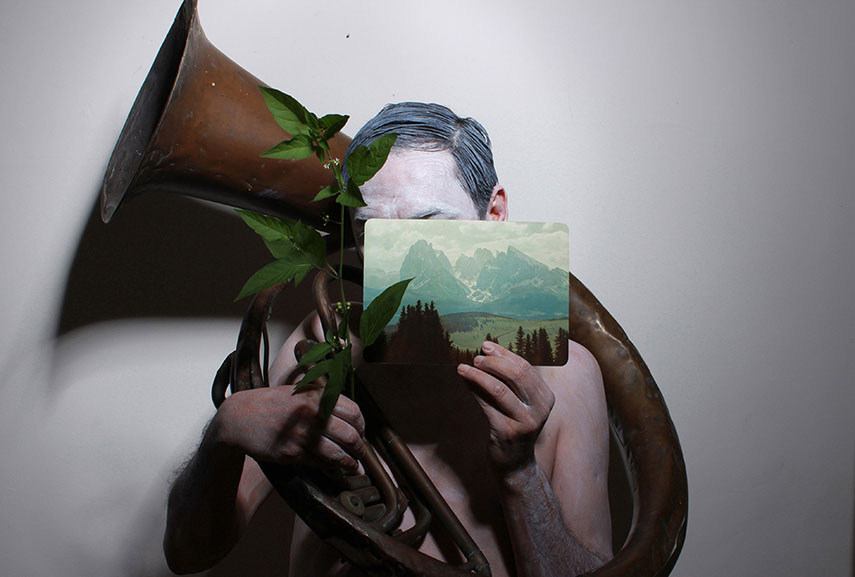 The Program
Continuing the tradition of having a comprehensive program ranging from installations, performances and special projects, UNTITLED Miami will introduce its visitors to an innovative take on an art fair experience today. Encouraging interaction at various locations indoors and outdoors, the program includes three special projects submitted by exhibitors, a series of performances, free original posters created by renowned international artists specifically for UNTITLED Miami, a live broadcast of conversations and talks, and much more. Let's get into details.
Set within exhibitors booths or at various locations throughout the fair, the Special Projects section will showcase three works located near the entrance and a series of others outside the fair venue. The first of three is a large-scale sculptural installation by Ronald Bladen, presented by Loretta Howard Gallery from New York, entitled Chevrons (1974), the minimalist piece consists of nine monolithic black sculptures arranged evenly in three rows, activating and highlighting the space between and surrounding the sculpture. The second, presented by Galerie Laurent Godin Paris, features a series of pentagonal canvases, edged with jingles fashioned from flattened bottled caps, titled Earth Quartet (2013) and executed by artist Scoli Acosta. Based on mathematical puzzles, design and geometric variations, Elise Ferguson's Tess Ramble presented by Romer Young Gallery San Francisco is a three-panel site-specific artwork in dialogue with two other special projects.
Outdoors, an artist-run project space in Brooklyn, helper, will present several site-sensitive works, such as Tiki Bar, a fully functioning watering hole which will also feature objects and editions. The chairs surrounding the bar represent Birgit Rathsmann's collection of deck chairs. From there, the visitors can also use metal detectors to find buried cast sculptures by various artists in El Chapo's Revenge. The Bronx Museum of Art will present an exhibition of works from Cuba, entitled The Cell. At SITE Santa Fee there's a card game by Pablo Helguera, Nuevo Romancer Nuevomejicano, and a book signing with David Taylor.
UNTITLED Miami has worked with three artists who have conceived Performances meant for the location of the fair. Amanda Keeley and her Dance Constructions performance explores history of choreography and dance, putting the body in juxtaposition with a geometric sculpture, entitled Double Arc, activated by the movement of the dancers. Madeline Hollander's MILE uses one mile as the axis for a dance choreography, representing the total distance traveled by each dancer and evoking everyday gestures and dancing elements in one. In the poetic The Dance of the Designer Refugee, Carlos Rigau presents a water ballet, using the ocean itself as a participant of a narrative focusing on refugee transportation. The act will be viewable through binoculars.
Returning for the second time at UNTITLED Miami, there will be a series of 10 free Limited Edition Original Art Posters, created by today's most influential artists such as Marina Abramovic, John Baldessari, Vanessa Beecroft, Parket Ito, Sam Lewitt and many others. Throughout the venue, the visitors can discover limited edition lounge chairs which display his signature poetic phrase A RESPITE AT SOME POINT ASAP by conceptual artist Lawrence Weiner, and are designed by Sébastien de Ganay, available for purchase, but also rest. Untitled, radio on Wynwood Radio is a live broadcast of interviews, conversations, performances, curated playlists and sound-based works, streamed online and live from UNTITLED Miami via web station Wynwood Radio Untitled.
List of Exhibitors
The Participants
More than 190 galleries, artist-run spaces and non-profit organizations and institutions will participate at UNTITLED Miami, presenting a versatile selection of contemporary artists working in all media. Among them, Eric Firestone Gallery New York, with artists like Miriam Shapiro, Agathe Snow and Jen Stark, Dittrich & Schlechtriem Berlin, and Central Sao Paulo, with Nino Cais. Also at the fair, Pierogi Gallery with Daniel Zeller, among others, Häusler Contemporary with artists like Keith Sonnier and James Turrell, Benrubi Gallery with photographer Delphine Burtin, the Aperture Foundation with five talents, The Bronx Museum of the Arts with Tania Bruguera, Steve Turner with Joaquin Boz, Ivan Comas and Michael Staniak, Sandra Gering Inc with David Levinthal and many more.
The Location of Untitled Miami Beach Art Fair
Untitled Miami Beach Art Fair - Practical Visitors Information
Untitled Miami Beach 2015 will take place on the beach at Ocean Drive and 12th Street from December 2nd through 6th. The Press Preview and VIP Preview are scheduled for December 1st from 4pm to 8pm (pre-registration required, VIP card holders only). Fair hours will be 11am to 7pm everyday, 10am to 5pm on closing day. Ticket prices range from $28 for General Admission to $18 for Discounted Admission (seniors and students), Miami Beach residents and groups of 15 or more (per person). The entrance is free for children under 12. For more information, visit the official website.
Featured images in slider: Yara Pina - Untitled 02, 2014. Charred chair. Courtesy of Gallery Nosco Ltd
; Left: Tamar Ettun - Yellow, Orange, Red Gloves Bird, 2015. Mixed media. Courtesy of Fridman Gallery / Right: Frank Gerritz - Four Center Split Screen III, 2015. Painting. Courtesy of Galerie Christian Lethert; Left: Joris Van Der Moortel - A sudden gall of unheard-of violence, 2015. Neon, wood, resin speaker, microphone and acoustic guitar, cable wound. Courtesy of: Denis Gardarin Gallery / Right: Andrej Dubravsky - Locker Room, 2015. Acrylic on canvas. Courtesy of Dittrich & Schlechtriem; Left: Ivan Navarro - Unruled, 2015. Industrial paint on MDF board. Courtesy of Baró Galeria / Right: Matthew Craven - Steps/body, 2015. Ink, paper. Courtesy of Asya Geisberg Gallery. All images courtesy of UNTITLED Miami.