The largest art fair in Berlin, Berliner Liste, is featuring a particularly fresh section in its 13th edition - the Urban Art Section. Curated by gallerist and street art connoisseur, Guillaume Trotin, the section consists of nine booths, dedicated both to galleries and an international group of artists, representing the diversity of the urban contemporary scene. One of the additions to the gallery and artist roster of the Urban Art Section is the Widewalls Booth, where our Online Platform participates as a representative of the digital culture and its impact in the street art and contemporary art world today.
We spoke to Guillaume at our booth - the first in the Urban Art section - about the approach he had when he was devising this new concept for the Berliner Liste, about the Open Walls Gallery, and the artists present at the fair.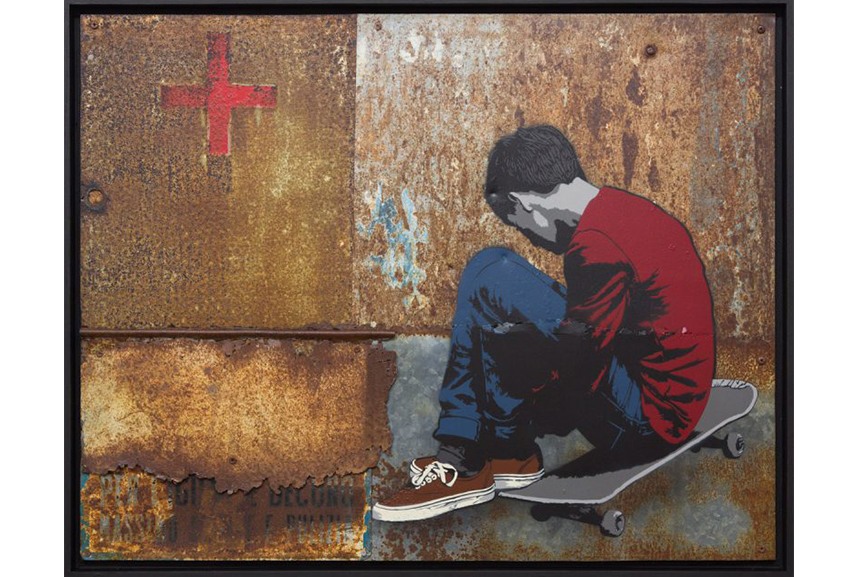 Open Walls Gallery Presents Alias, Madame and Anton Unai
The diverse roster of the Open Walls Gallery dedicated its booth to artists Alias, Madame and Anton Unai. Alias' stencil artworks impress right at the start, for their visceral nature is only comprehensible when combined with the texture of scrap metal he uses as a background. Madame's theatrical box-framed pieces light up the space, while Anton Unai's collages invite the eye to inspect the multi-layered canvas more closely. Along with the three artists at the booth, Guillaume Trotin introduces Thomas Marecki and his Lodown magazine pages, as well as separately curated booths belonging to the artists OX and Jordan Seiler, while a pop-up booth belonging to Vermibus came up as a surprise of the Urban Art section of the fair.
Our editor Ana B.K. met Guillaume on the second day of the fair to talk about his curatorial approach and the intriguing roster of represented artists.
Start following Widewalls on Soundcloud for live reports from 2016 Berliner Liste fair and interviews with world's leading artists and art professionals.