The idea around which the Urban Art Biennale Asphalte #1 in Charleroi, Belgium is formed is quite straightforward:  Charleroi must stop wanting what other cities already have; it must invent better and something else. Therefore, the main goals of the festival relate to making the city more appealing and positioning it on the Belgian cultural, artistic and social scene. The festival began this Saturday on June 7th and will run the entire summer through October 26th. For more program information visit: asphalte-charleroi.be.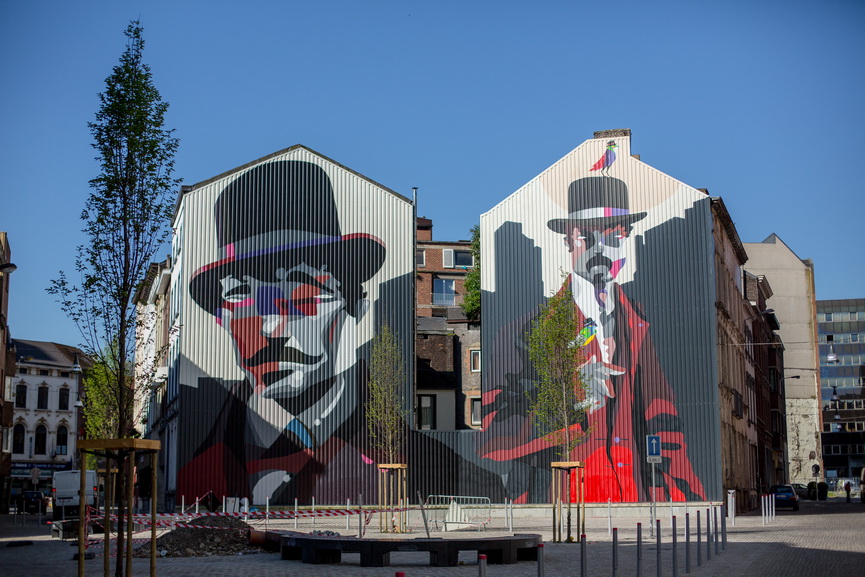 Inside/Out Smile!
Driven by an NPO of the same name, Asphalte#1, a new edition of the festival, is making a comeback this season, following the "Asphalte#0 2012 edition, Inside Out/Smile!" within which JR plastered 750 smiling faces all over the city walls for more than 6 months. Structured around visual arts as central theme but executed around complementary sub-themes such as theatre, dance or collaborative citizen projects, this year's Charleroi Urban Arts festival took over the city on May 3rd up to October 26th.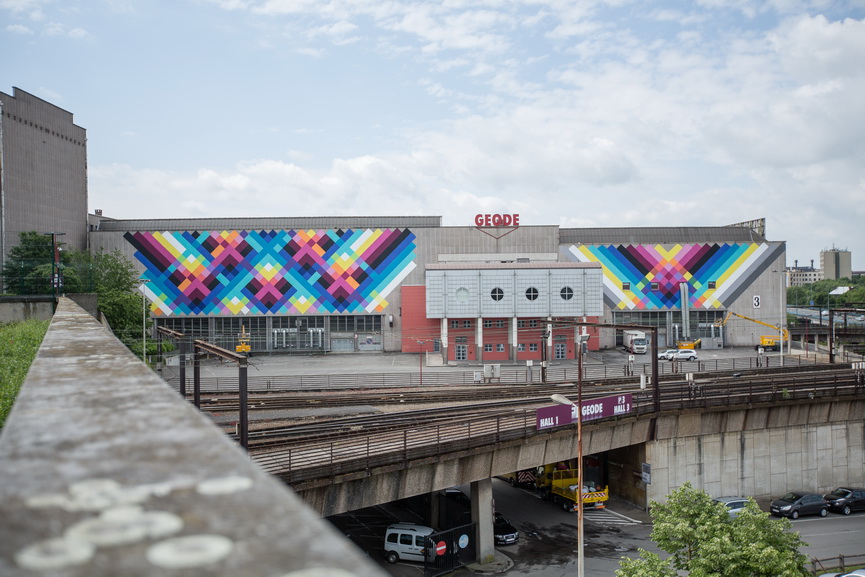 Visual Arts Axis
One of the many projects of the festival is Visual Arts Axis, proposed by the contemporary creative space B.P.S.22, involves urban art interventions by artists from up and down Europe, Belgium and USA. It started on June 7th, and runs until the end of the festival, October 26th. B.P.S.22 will showcase renowned artists, including Maya Hayuk (USA), Invader (F), HuskMitNavn (DA), Steve Powers (USA), Escif (E), and Hell'OMonsters (B) Boris Tellegen (NL), Todd James (USA), Sixe Paredes (E), Parra (NL), Poch (F), and Sozyone Gonzalez (B). The artists will be investing in areas affected by urban decay, wastelands and little-known buildings to regenerate the city, under the supervision of curators Alice van den Abeele and Raphael Cruyt.
Swimming Pool
They will take over various sites in order to perform their artistic creations. One such is the HQ, the former swimming pool of the Université du Travail, and now the rallying point for the Biennial event. The water has been drained and the pool has been converted into an unusual cultural space where the public will be welcomed at various events. The line-up of Asphalte#1 also features other activities in the city of Charleroi such as concerts, exhibitions, workshops, and performances, giving the public the opportunity to enjoy urban art in all its variety.