Well now, great news for urban art collectors! Art Contemporain Urbain auction is about to take place at Digard Auction house, and this auction is considered to be as probably one of the most important auctions of urban art in recent years. Digard Auction is the leading house for Banksy's works and Art Contemporain Urbain will feature works by prominent urban and contemporary artists, such as Damien Hirst, Jeff Koons, Conor Harrington, Jef Aerosol, Nick Walker, Invader, Swoon, Shepard Fairey, Keith Haring, JonOne, and - of course - Banksy. All in all, more than 150 artworks will be put up to sale.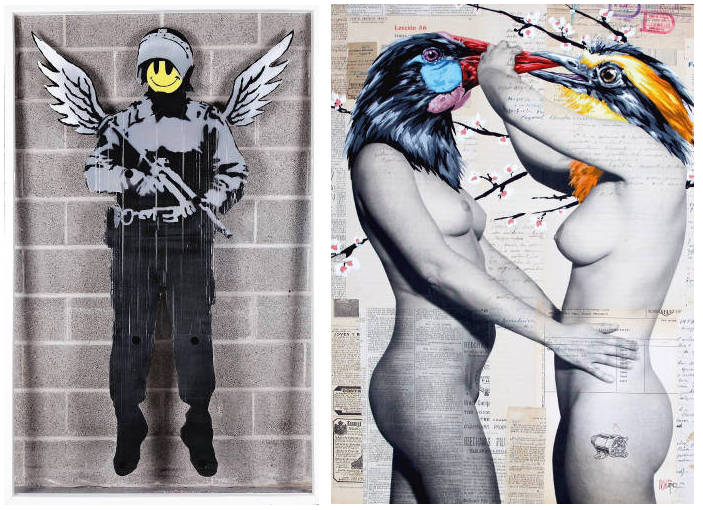 The Star of Art Contemporain Urbain Auction at Digard House
So, the auction house that is known as the leading house for works by Banksy is organizing an auction. Who do you think will be its star? :) Among many Banksy's works that will be auctioned at Digard Auction, the most important piece will be Silent Majority from 1998 (Lot 81) that was made in colaboration of Banksy and Inkie, and that could go over half of a million dollars - it is estimated at $435,962 - $654,013. It's a huge painting (240 x 993cm) that was spray-painted on a trailer and signed in white spray paint by both artists. Back in 1998, the owners of the trailer agreed with Inkie and Banksy that artists could use the side of their home as a canvas, and decided to paint over the artwork if they (the owners) didn't like it. Luckily, they've liked it. Silent Majority depicts setting of an illegal rave party, which were in their prime at the time. This artwork is one of the earliest works by Banksy, and also - a rarity - it was created with the property owners' permission. Also, this piece is important for it was probably one of the last times Banksy painted in public - painted, mainly, and did not use stencils. Another Banksy's important work will be put on sale - Flying Copper from 2003 (Lot 80) - and its value is estimated at $130,826 - $163,529.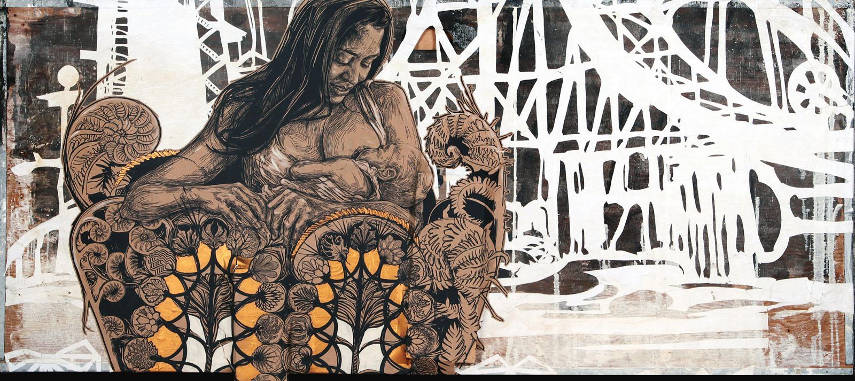 What Else will be on Sale at Digard Auction
Two days prior to sale at Digard Auction, some well known artists will be painting live in front of the auction house (Brusk, Case, Inkie, Kashink, Mast, Rone, Set, VinZ Feel Free), and the mentioned Silent Majority will be on display for public viewing. Some of the most sought pieces will be works by the Irish former graffiti artist Conor Harrington, who still paints outdoor murals, and his gallery career is on a strong rise - his Untitled work (165.5 x 180cm, spray paint and acrylic on canvas) is estimated at $32,683 - $43,578. JonOne's Kay Dogg Blue Brush Strokes from 2004 is estimated at $19,598 - $27,220. Also, Nick Walker will be represented with four works - he first started making stencil graffiti at Bristol in the early 1980's, and is considered to be an artist that Banksy was influenced by. This unique sale will be the kind of an auction at which literally everyone can buy an artwork - some low estimates are as low as $650. The auction starts on Monday, June 1 2015 at 4 PM at Digard Auction in Paris at Hotel Drouot.
Sign up now for My WideWalls and be up-to-date with contemporary and street art.
Featured image: Banksy - Flag on Formica, 2007 (Lot 24). Estimated at $14,165 - $16,340.
All images courtesy of Digard Auction.
Your oppinion is valuable to us! Please join us for a discussion on our Facebook page.